Perform mass mailouts without the need to subscribe to an online service. This review explains the author's experiences of several years with the software being reviewed and discusses some of the benefits of using it as opposed to online services.
Introduction
I decided to write this review after seeing several questions on Experts Exchange similar to this example question which asks for recommendations on Mass Email Software. Each time I see a question like that asked, I also see recommendations to subscribe to an online Mass Mailing Service such as Mail Chimp, Get Response, Constant Contact, and many others.
Yet many people, myself included, don't like to subscribe to an online service to be able to mass mail friends and clients. I prefer to have everything local and retain total control over everything, never having to rely on an online service to send my mass mail-outs to my clients. Not to mention that over time, due to no ongoing costs, it can be considerably cheaper as well!
---
Author's Disclosure - Whilst I do promote SendBlaster software via an affiliate link on my company website, neither I or my company have any other financial affiliation with Sendblaster software. I have not been paid in any way for the writing this review. Also, despite there being a fully functional free version available, I have also purchased the Pro Version (and subsequent upgrades) of this software since Version 2 was released.
---
All that out of the way, let's get on with the show...
Why Sendblaster?
Because many years ago, I went searching for locally installed mass mailing software and after trying several different solutions at the time, I found Sendblaster to suit my needs perfectly. I used the free version for a while, but as it was easy to use and allowed me full control of everything I did without having to rely on an online service, I decided to upgrade to the Pro version and haven't looked back since.
So what's so good about it?
Ease of use is the biggest advantage in my opinion. Very intuitive to use and I can use any SMTP server I like, without a cost and I've had zero "Spam" issues with my mailouts because it includes an excellent built-in spam checking score that allows me to adjust my mailouts in order to pass most spam filters.
Also, by including full details of my domain in the background of the email headers, as well as always including a valid Un-Subscribe link, not once in all the years I've been using it has my domain been flagged as a spamming source, which is one of the disadvantages of just using a local email client like Outlook to send mailouts with CC or BCC lists.
Finally, from the word go, I have always gone with the idea of people opting into my mailouts, rather than just assuming they want to receive my emails and having them Opt-Out after getting them without asking for them first. This stops the chances of receivers of my mailouts flagging or reporting any of my emails as Spam. I hate spam as much as anyone, so I believe this to be the "only" way that mailouts should work!
Taking a detailed look at Sendblaster 4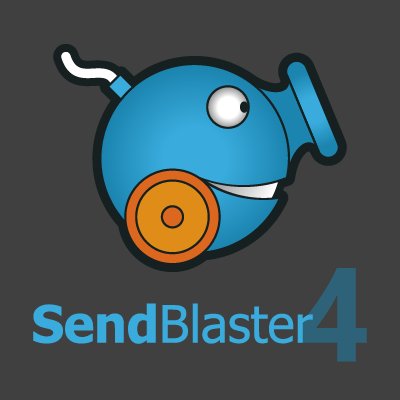 System Requirements - Per SendBlaster's website
XP / Vista / Windows 7 / Windows 8 / Windows 10 / MAC OS X
Microsoft Internet Explorer 8 or higher
100 MB of available hard-disk space
1 GB of RAM
Internet connection (broadband connection recommended)
Downloading and Installing the Free version of the software
Note: For the purpose of this review, I downloaded and installed the (Fully Functional) Free version of SendBlaster 4 into a Windows 7 (64-Bit) Virtual Machine.
1. Download the Free version of SendBlaster 4 using this Download Link
Tip! Click any of the following images to get a full-sized view!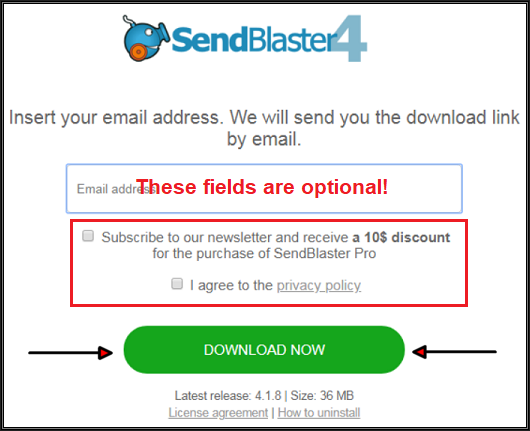 You'll be asked for an Email address and given the option to subscribe to their newsletter as shown above, however, neither is required if you don't want to give your email address or subscribe.
2. Just click the "Download Now" button to download the installation package. At the time of writing, you will get a "Sendblaster418.zip" file that is about 36MB in size.
3. The Zip file contains just one file - "Setup.exe" - Extract it to a temporary folder and run it.
4. Select your language (Default is English - United States) and click OK. SendBlaster install begins. Follow the easy prompts to allow the installation to complete. The install will default to C:\Program Files (x86)\SendBlaster4\ but you can change that to any location you like. I just left everything to Defaults
5. Once the install completes, you'll get a SendBlaster4 icon on your desktop. Double click it to start the program
6. Click your desired language from the 18 languages available and you'll get the following screen. Click the "Use Free Edition" button as shown below.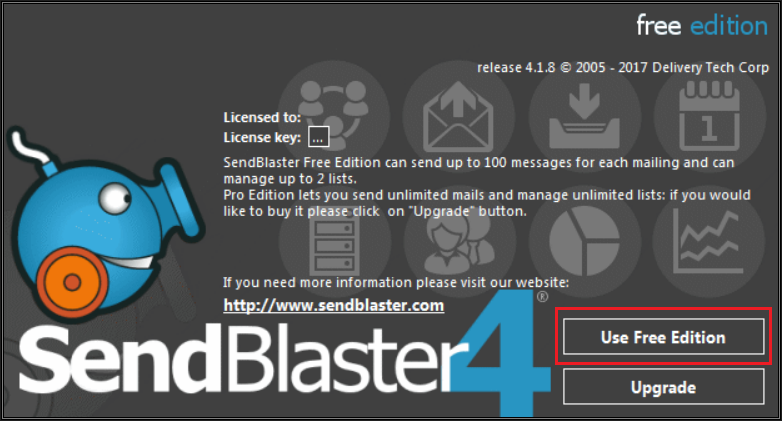 Note the following limitations of the Free Edition:
SendBlaster Free can send up to 100 messages for each mailing
The Free version can only manage up to two mailing lists. If you need more than that, you'll need to upgrade to Pro.
There are also only a limited amount of "Templates" provided in the Free edition, but you can easily make and save your own as well.
7. Even though the software is very intuitive to use, I suggest you watch the "excellent" quick Video Tutorial presented on the first run. It's only a couple of minutes long, but very useful. You can skip it if you wish.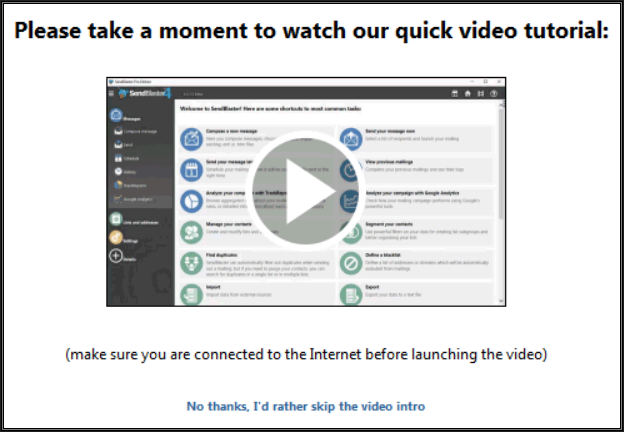 8. Once you've viewed (or skipped) the Video Tutorial, you'll be presented with the following screen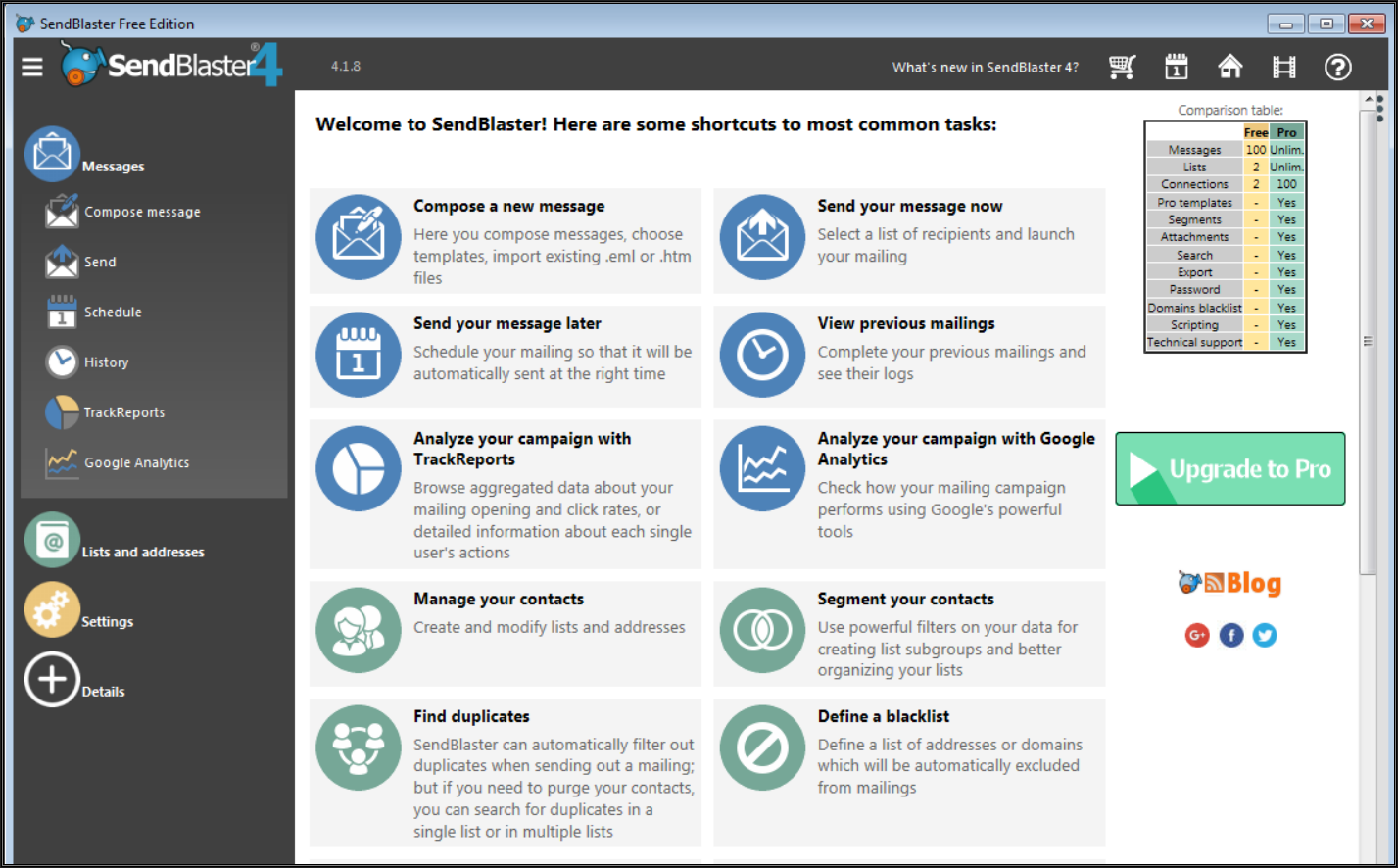 9. That's all there is to the setup process. You're now ready to start to send your first mailout and create (or import) an email distribution list.
Preparing your first Mail Out
Note: Any screenshots from here onwards will be from my own copy of SendBlaster Pro, however, the steps are identical in the Free Version.
The first thing you'll want to do is create a distribution list. Click "Lists and addresses" from the left-hand side of the screen and then click "Manage lists". The following screen presents itself;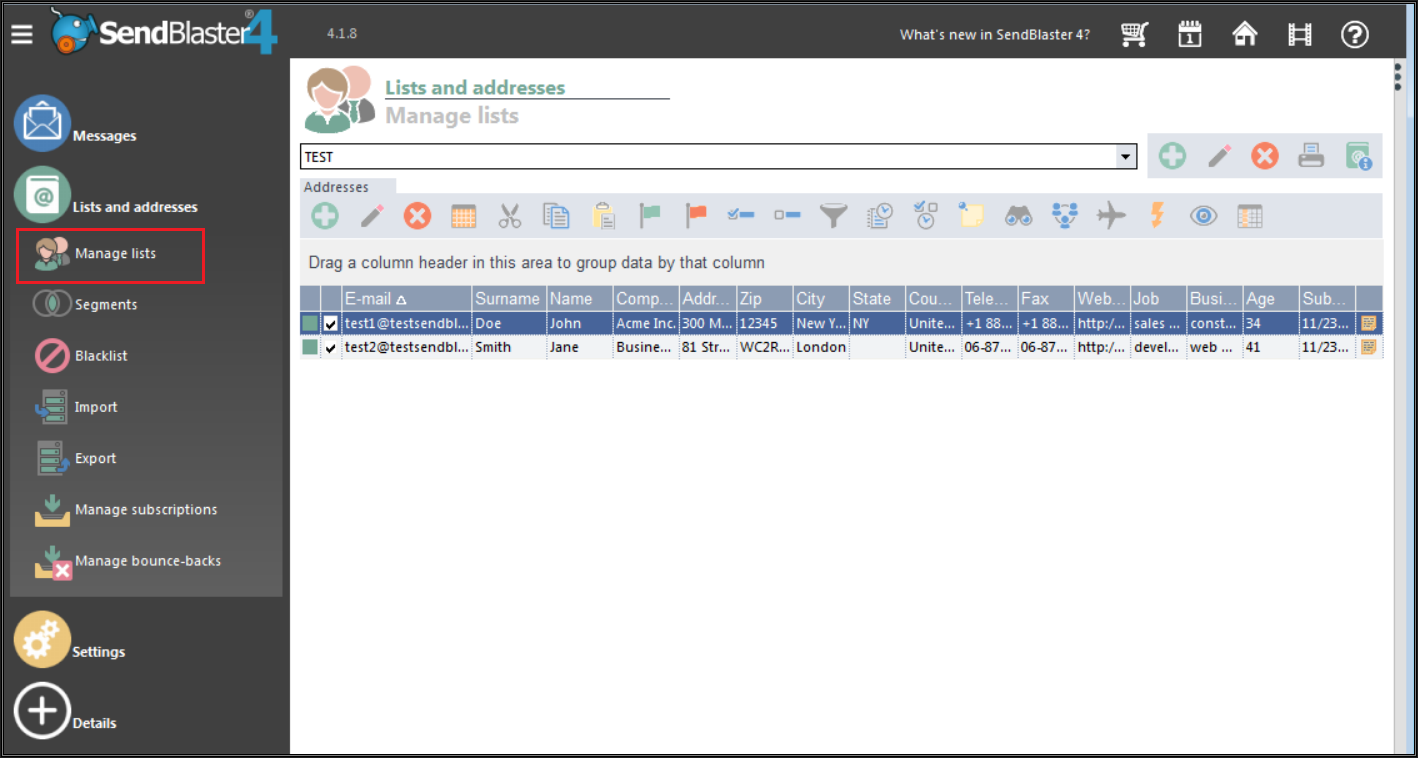 From here, you can manually add your own Distribution List, however, no one wants to sit there and manually enter multiple names and email addresses, so you'll likely want to create an Excel .csv (Comma Separated Value) file that you can import all of your contact lists from.
Let's use our address book in Microsft Outlook as an example of how to do that.
In Microsoft Outlook, go to your Contacts and then click File > Open & Export > Import/Export and select "Export to a file", then click Next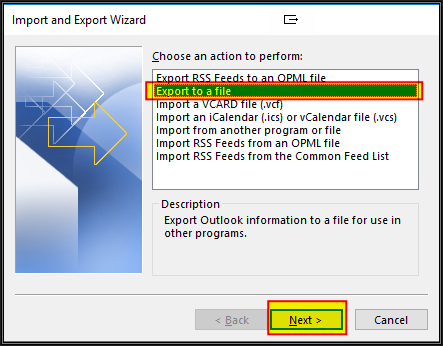 On the next windows, ensure that "Comma Separated Values" is selected and click the "Next" button again.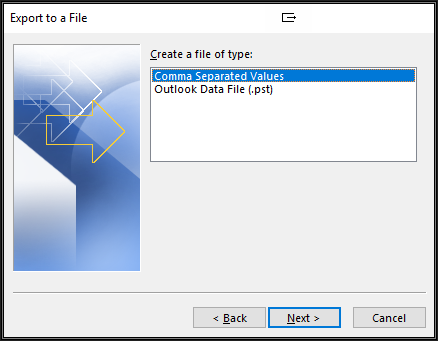 On the next window, ensure that your "Contacts" have been selected and click Next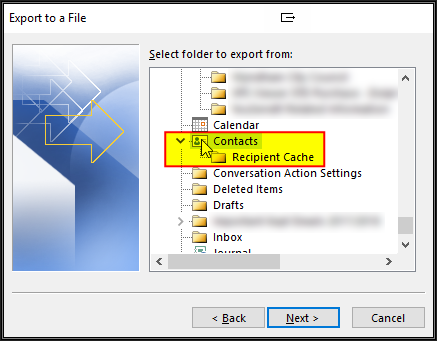 Use the Browse button on the next window to select a temporary folder to save your Contact.CSV file to. In my example below, I've just saved it to "C:\Temp" and named it "contact.CSV" - Click Next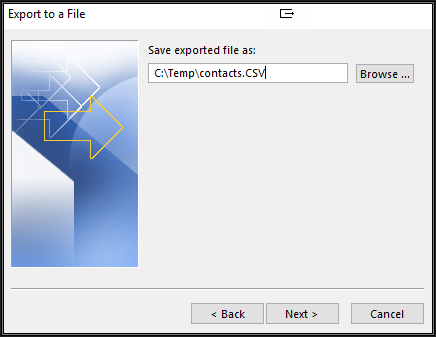 The next thing you'll want to do is to "Map Custom Fields" that you want to appear in the CSV file you're creating.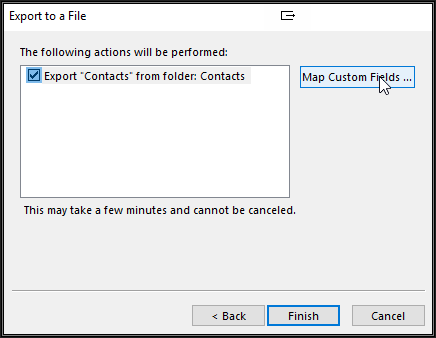 Here I find the easiest way is to click "Clear Map" and select the fields that you are going to need. In the example below, to be able to personalise each recipient's message, I've selected "First Name", "Last Name", "Company" and "Email Address" - Once you're happy with your selections, click the "OK" button.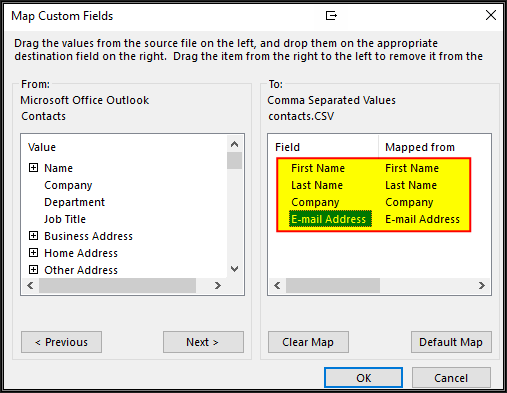 Now click the "Finish" button to save your exported contacts.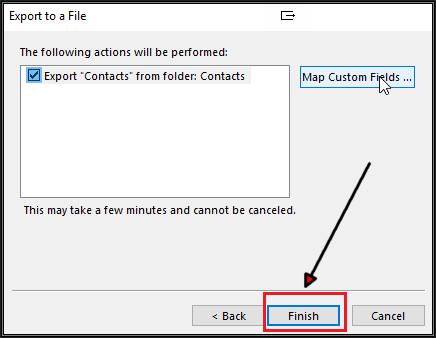 Outlook saves your "Contact.CSV" file in the folder you selected earlier. Now you may want to open that file using Microsoft Excel in order to be able to edit entries you may not want to be imported.
Note: Don't worry about any Duplicate entries at this point, SendBlaster will take care of those for you soon. Also note that the first row contains the Field Names that we selected earlier - First Name, Last Name etc.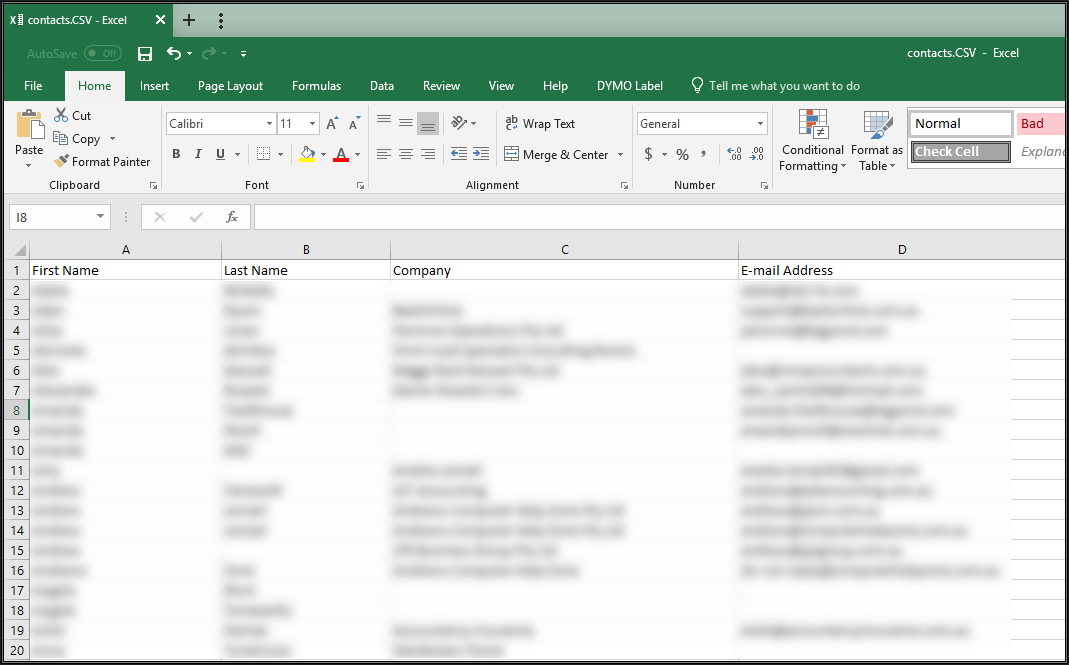 You now have the opportunity to massage and sort your list in any way you like. Remove any entries that you don't want to be included on the mailing list etc. Once you're happy with your list, Save the Contacts.CSV file again but make sure you keep it in .CSV format.
Importing the Mailing List into SendBlaster
Back on SendBlaster's Manage Lists window, click the + button on the right-hand side to create a New List

1. Give your list an appropriate name
2. Then click the Import Button

I suggest just leaving all options as default and then clicking the Import button again as shown below

On the windows that pops up:
1. Click the ... button to browse to and select your saved Contacts.CSV file
2. Ensure the "Field delimiter:" is selected as a "Comma"
3. Place a tick in "First row contains field names"
4. Click the Next button
Note that the "Don't add addresses when duplicated or already present in the list" option is ticked by default. This will prevent any duplicates in your CSV file from being imported into your list more than once.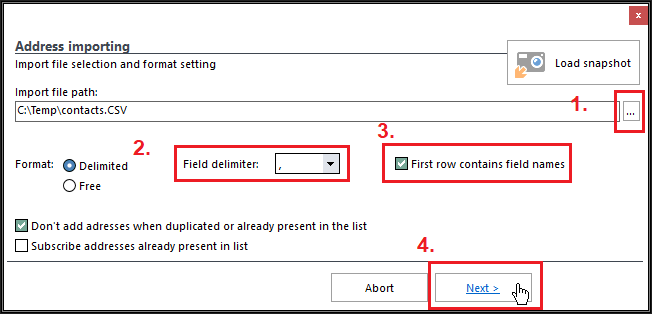 Next, we need to match up the Field Names in the first line of our Contact.CSV file. See below. Leave any unused field names blank and click the Next button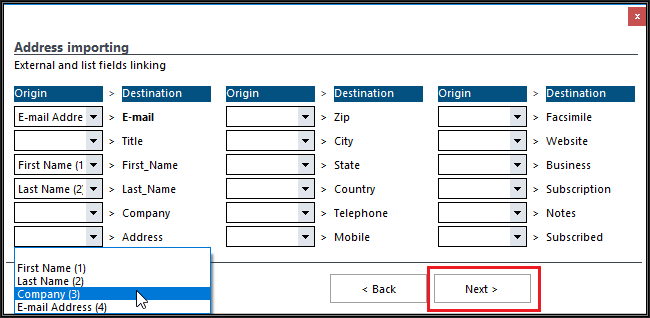 SendBlaster imports the entries from your CSV file and shows you a summary of the Import result. Click the OK button to continue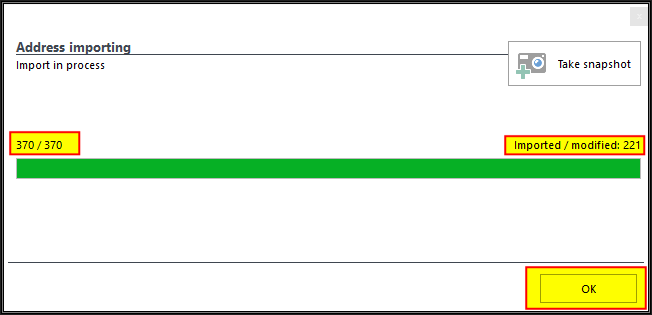 If you now click on the Manage lists option on the left-hand side of SendBlaster again, you'll be presented with the result of your Import process. See below

Creating and Sending your first Mailout
There are a number of ways you can create and send a mailout with SendBlaster. You can create your message from scratch using SendBlaster's Compose Message windows, use any of the free templates included with the software, or even just create your message using something like Microsoft Outlook or Word and then import it into the compose message window.
For the purpose of this review, I'm going to show the steps to use one of the Templates that are included with the Free edition of SendBlaster 4.
Step 1. Click "Compose Message"
Step 2. Click "All templates"
Step 3. Click "(Business) 4 business 01
Step 4. Click "OK"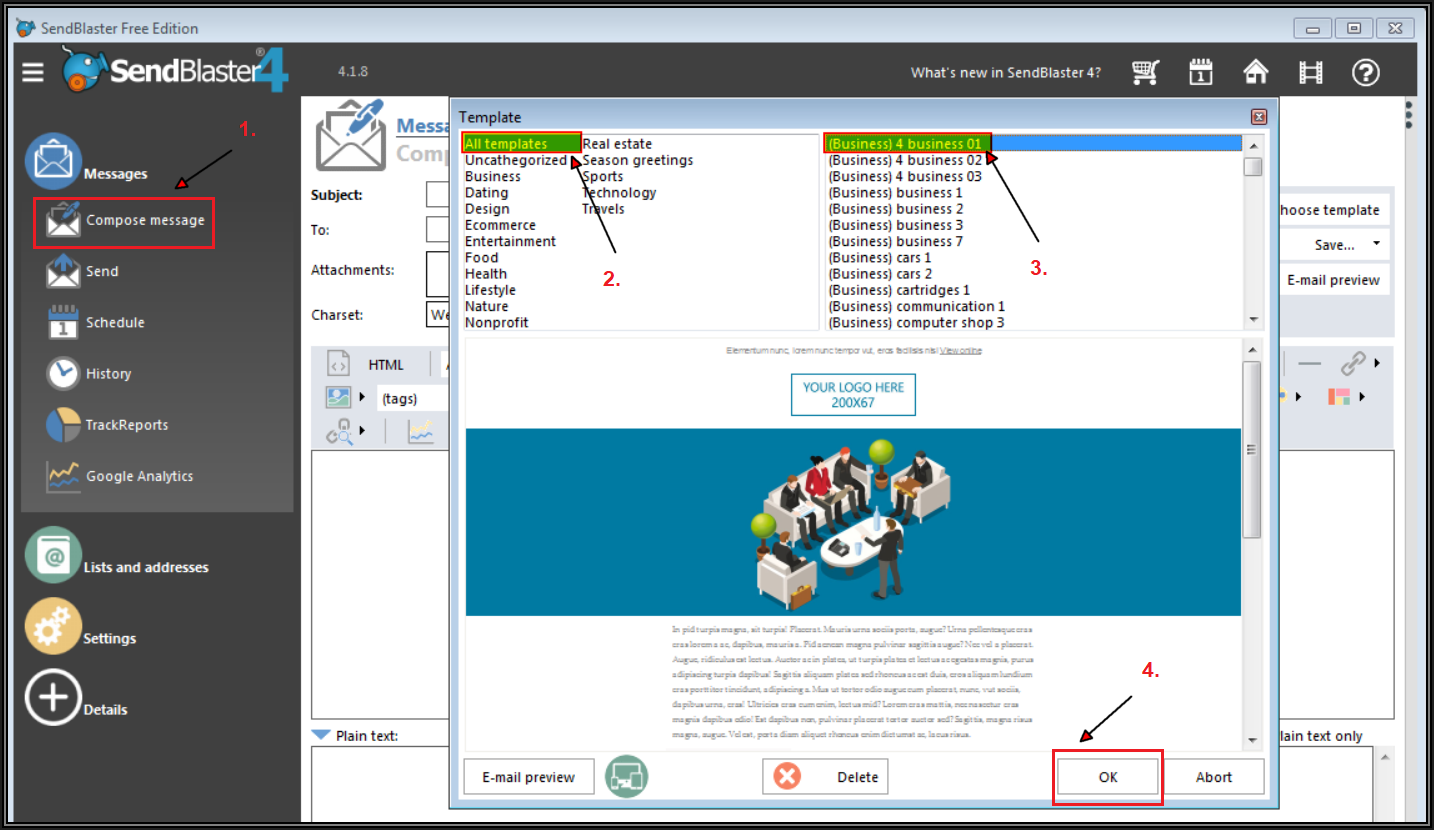 Step 5. Acknowledge the "Current message's contents will be erased. Confirm?" box by clicking OK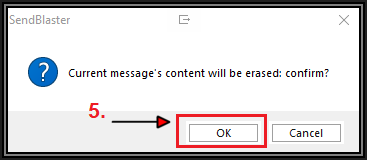 The template is inserted and ready to be edited to your liking. First, let's add our own Logo to the message
Step 6. Click on "YOUR LOGO HERE"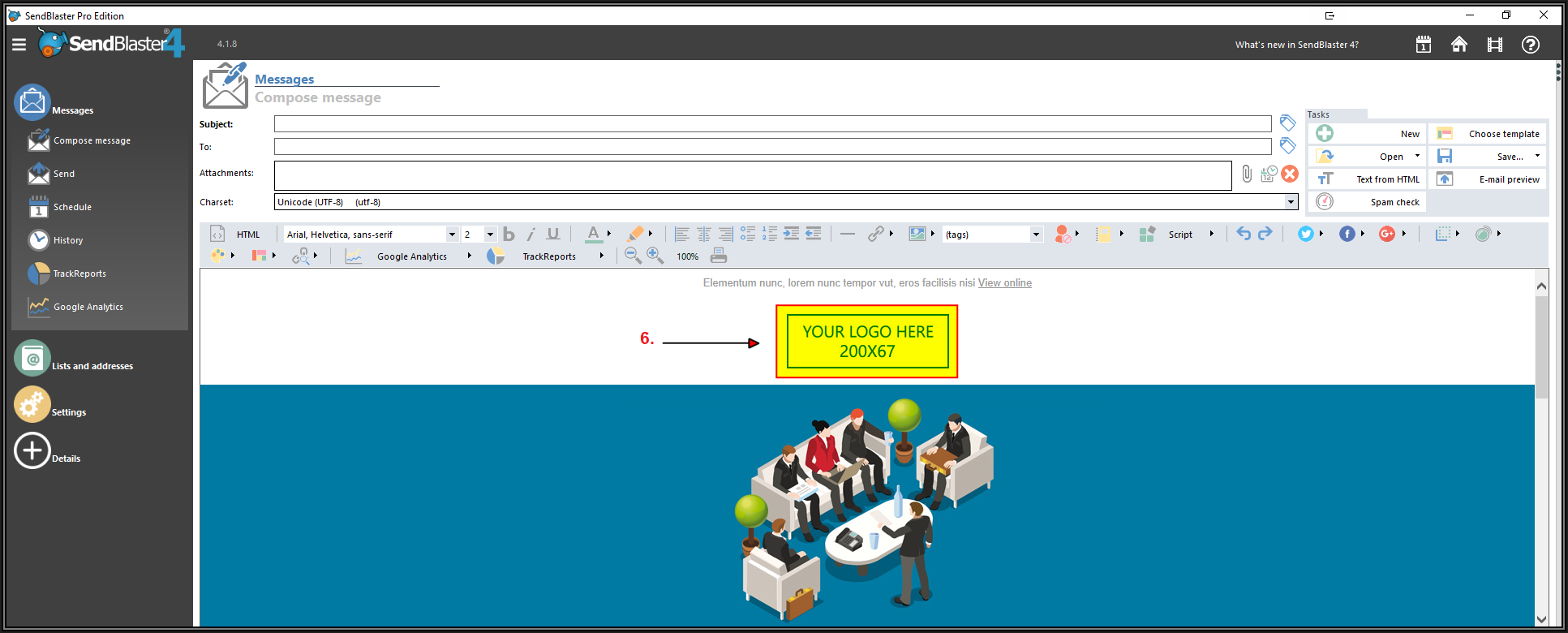 Right-Click and select "Crop and replace"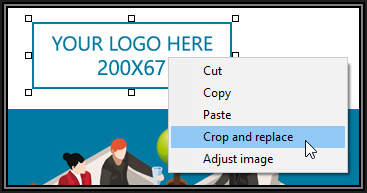 Step 7. Click the Load Image button, select the image you want to insert as your logo and then click the OK button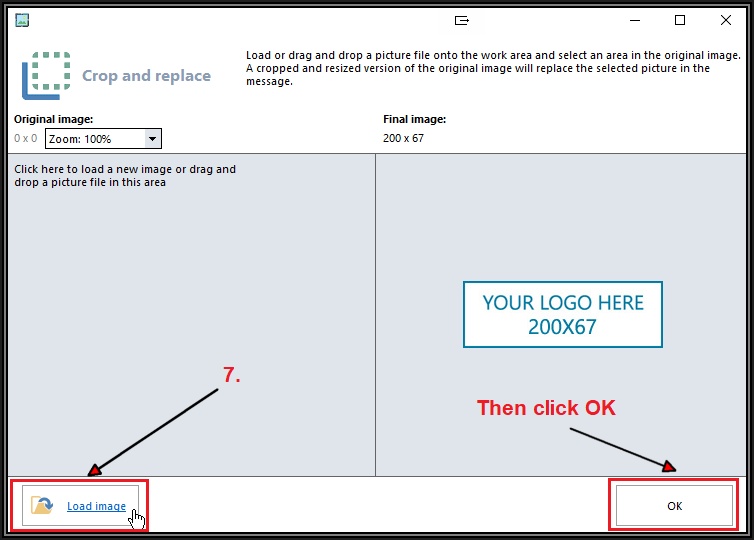 Step 8. Once satisfied with your selection, click the OK button. If you're not happy, re-edit your selected image and just try again by Loading Image again until you are satisfied. Your image now appears in the Logo Here space.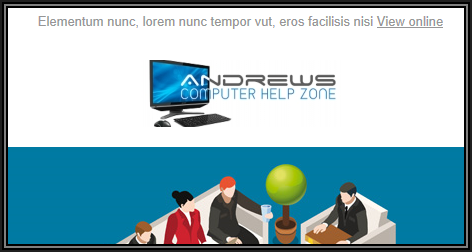 Now just scroll up and down in the SendBlaster Compose Message editor and replace the text to suit what you want your message to say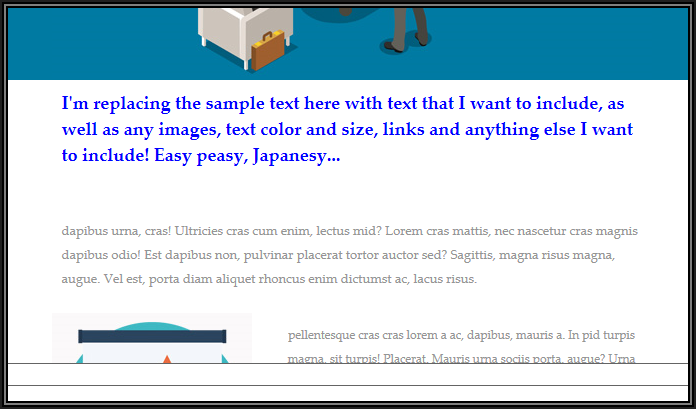 Once you think you're done with your edits, click the E-mail preview button to see how your email will appear in your own Email client

E-Mail Preview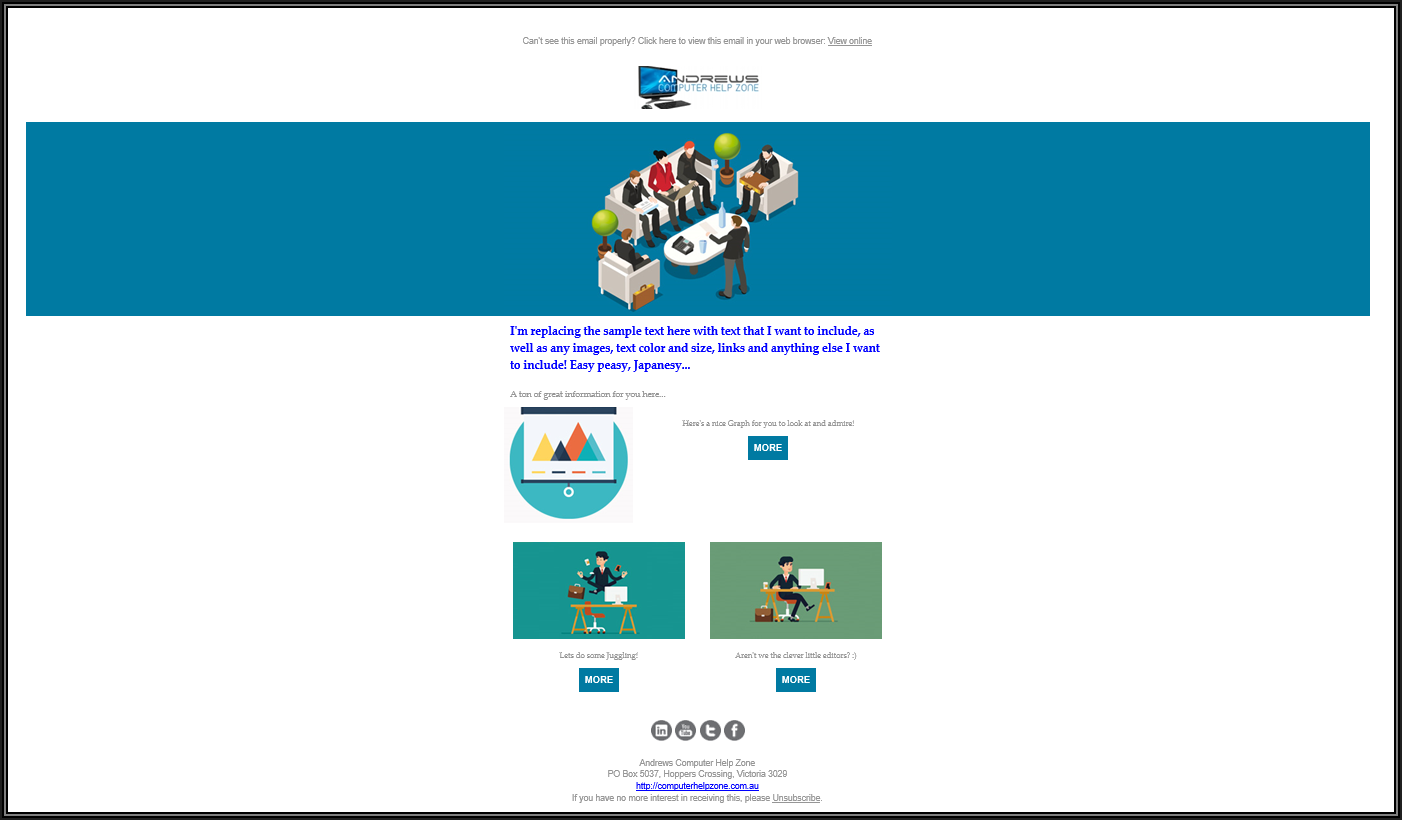 Press your escape key to exit the preview. Make further adjustments if you like, or if you're happy, move to the next step
Step 9. Ensure you give the mailout email an appropriate Subject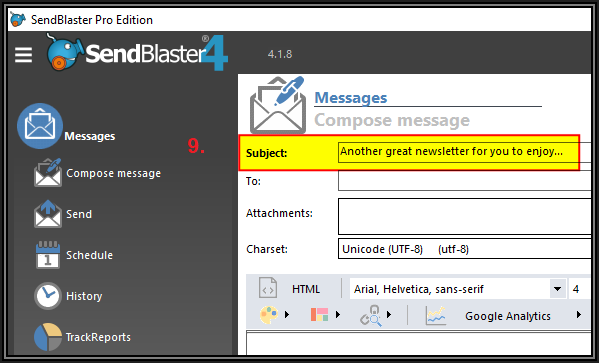 Note: For mass mailouts, disregard the "To:" field. If you have attachments you want to send with your email, you can attach them in the Attachments: field
The next thing to do is a step that I 'highly recommend' you perform with ALL of your mailouts, as it will stop a lot of your emails from being flagged as Spam by many spam filters!
Step 10. Check the Spam Score of your mailout using the excellent built-in Spam Checking Tool! Click the "Spam check" button on your composed email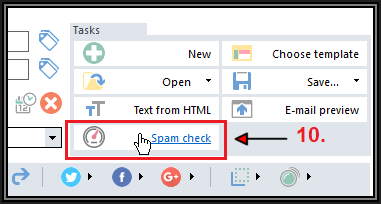 Mailwasher checks your composed message and gives it a potential Spam score. The lower the number, the better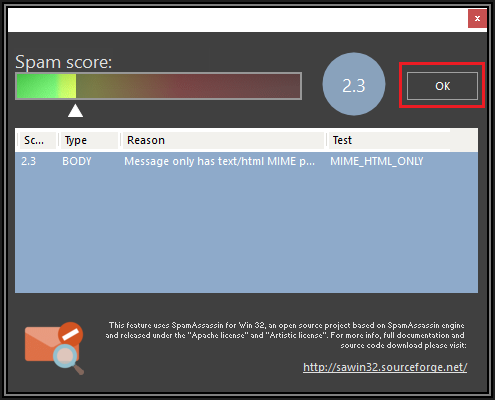 Note the spam score is only 2.3 in this example.
Not too shabby, but let's see if we can't reduce that number even further. Click the OK button as per the image above and then do the following;
Step 11. Click the "Text from HTML" button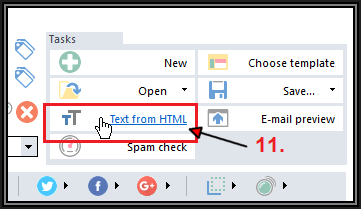 SendBlaster automatically converts your composed message into a "Plain Text" version, which is hidden behind the HTML message that your recipients will see. This makes many (if not most) Spam filters much happier with your message.

Now check the Spam Score again as per Step 10 above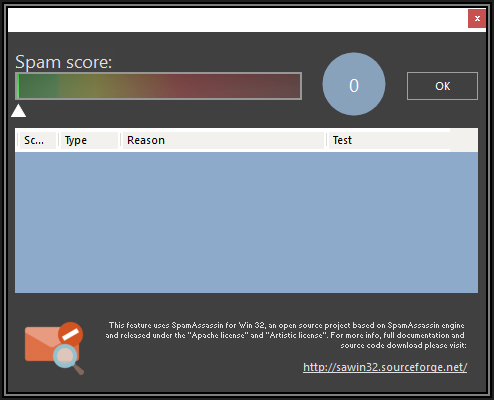 Note the Spam Score has now gone down all the way to "0" (Zero) so the chances of our message being flagged as Spam by various Spam Filters become far less likely!
Click the OK button to close this window.
Step 12. Now click the "Send" button to get ready to send your first mailout as shown in the image below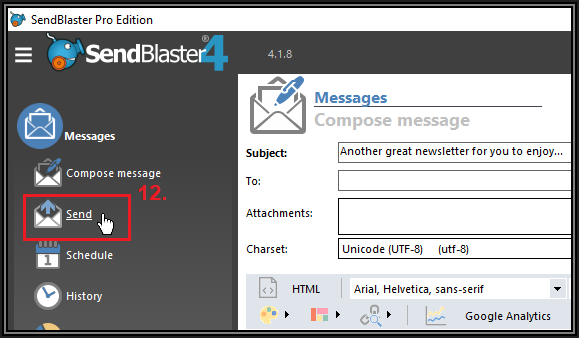 Sending your first Mailout!
Clicking the Send button as per the above image will take you to where you can configure your SMTP server settings. As this will be your first attempt, here's a list of what to do;
A) Select the "Distribution List" we created from Outlook contacts earlier on in this Tutorial above
B) Put in a valid "Sender email address:" - this is the "From" email address that will be shown on your mail out
C) Put in a valid "Reply-To email address:"
D) Add your Name or Company Name that you want to appear on the recipient's emails
E) Put in any valid return path email address for any emails that bounce back as undeliverable
F) Enter your preferred SMTP Server details here, or sign up and use a free trial of Turbo-SMTP if you like
G) Ensure you have the correct Port settings here, as well as SSL selected if your SMTP server requires this
H) This is where you enter your Turbo-SMTP username if you've elected to use it, OR your chosen SMTP server username
i) The password to your SMTP Server goes here
J) With all the above settings entered, click "Connection Test" to ensure all SMTP settings have been set correctly
K) Finally, so you need not enter all of this information again, use the "Take Snapshot" button and you can easily load all of your settings for your next mail out send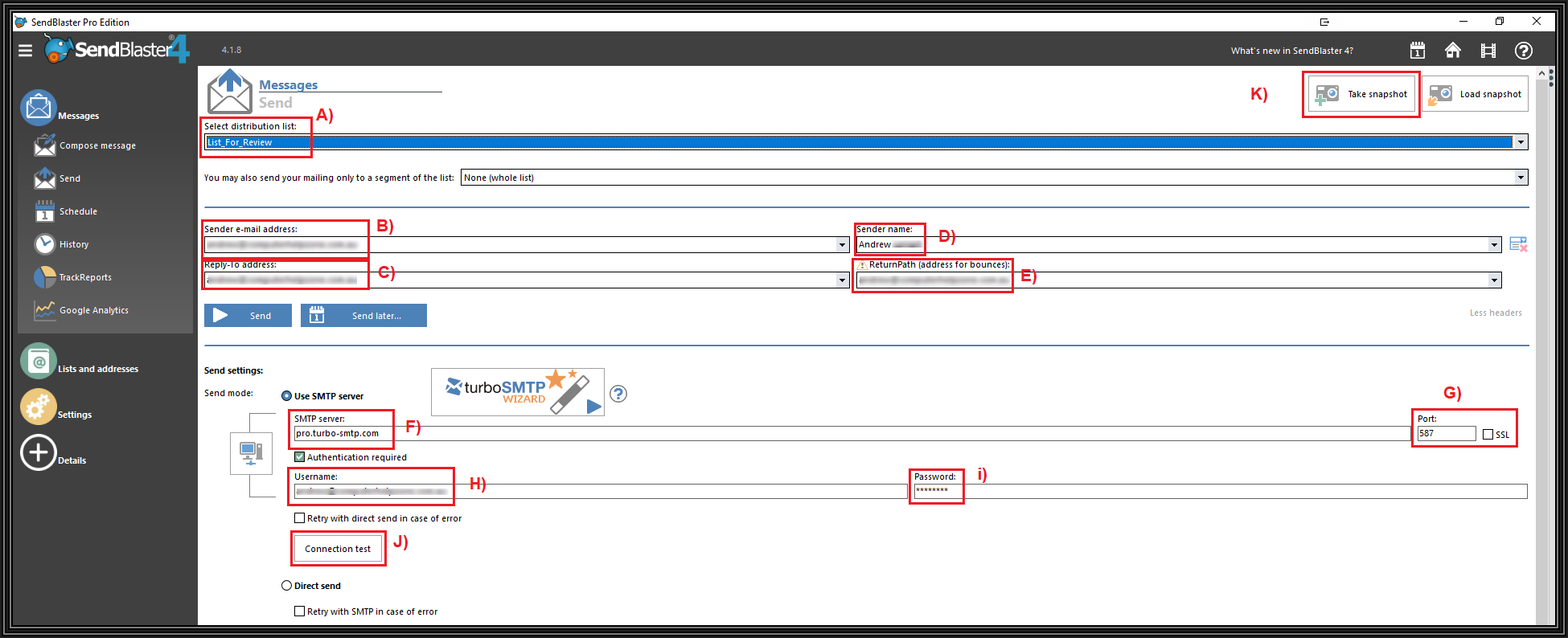 Further down on the same screen, we can specify a number of additional advanced settings, which for the purposes of this tutorial and review, I suggest you just leave as "Defaults" unless you run into any (unlikely) problems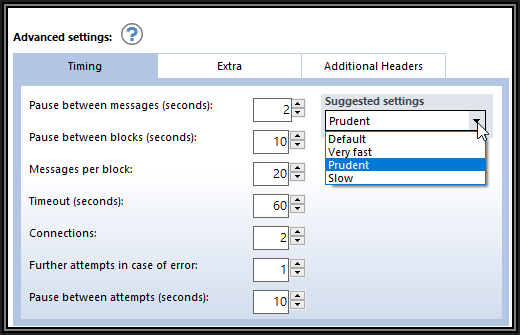 Once you're ready to go, hit the "Send" button to start sending your mail out right away, or if you prefer, schedule the send to a date and time you want SendBlaster to send your mail out for you by clicking "Send later..." and configuring your desired date and times

Clicking Send will immediately begin the mail-out process. At the completion of the send, SendBlaster will provide a report of all the addresses that have been sent, and whether or not any were unsuccessful. Any failed attempts, for whatever reason, can be resent at the end of the process with SendBlaster ignoring the successful deliveries.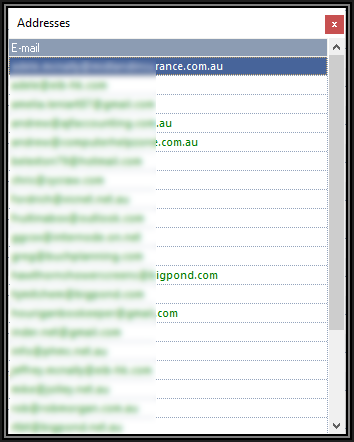 SendBlaster also retains a History of past mailouts which can be brought up and copied from, used again, altered and so on.
History of Past Mail Campaigns

---
Concluding Remarks
In this review and tutorial, I have only touched on the Basics of sending an email campaign with SendBlaster 4. It has, however, a huge amount of other highly useful capabilities and functions. Just a few as an example;
Create your campaign using your favorite editor and simply import it into SendBlaster
Automatically process Bounce Backs by unsubscribing email addresses
Automatically add new subscribers to mailing lists
Personalising each recipients email with a variety of tags
Analyzing the results of your email campaigns with full integration of Google Analytics
A comprehensive list of professionally created email templates included in the Pro version
Full integration with excellent MailStyler software
Sending each recipient a different attachment using programmable tags
Adding iCalendar attachments with your email campaigns
A whole lot more!
See SendBlaster's Newsletter Software Features page for a full list of its features.
Finally, please see this link: SendBlaster 4 Free vs Pro Comparison Table to see the differences between the totally free version of SendBlaster vs the one time purchase "Pro" Version. The free version has many excellent capabilities.
---
Why not just use Outlook or another email client?
Some folks reading this may think something along the lines of "Why install software and not just use Outlook or another favored email client to do such mailouts?" From my own personal experiences, the answer is easy.
You'll get bounce backs from valid email addresses
You'll reveal everyone's email address to everyone else if using the "CC" field for your lists
Your mail out will be flagged as "Spam" by most spam filters employed across the Internet, especially so if too many entries are included in the "BCC" field
Your SMTP provider may suspect your account has been hacked if sending several hundreds of emails at once and block your sending ability all together until you contact them. This can happen with Mass Mailing software as well, however, the ability to specify how many emails are sent at once and at what intervals makes this annoyance far less likely to occur
Almost impossible to personalize each message with a "Dear <Name>" or any other way you may want to personalize your emails for each recipient
If trying to send to say, 1,000 recipients, forget about using your email client for anything useful while the mail out is occurring
A whole lot more, but I think the point is made
Conclusion
I hope you've enjoyed and gotten some value out of this review and simple tutorial. As I said at the start, I have been using this software for many years and have become quite fond of it. It's never let me down and the campaigns I've launched with it have been (for the most part) very successful.
I particularly like the fact that you only have to purchase it once. There is no need to keep upgrading if you don't want to. If the version you use does everything that you need, then there is no more to pay if you choose to purchase a Pro copy. Indeed, I've often upgraded to the next versions purely to take advantage of newly introduced features "and" to encourage the authors to continue work on this excellent tool.
I personally dislike "Online Mass Mailing Tool" subscriptions because they change over time and the changes made may not always comply with what I prefer and enjoy. I know from many past discussions in user groups that many others share the same feelings.
Software such as this eliminates disappointments like that completely.
Author support (on the very rare occasions I've needed to use it) is excellent. They are very responsive (to both Free and Paid subscribers) and always try to help. I have observed features added or improved from end user requests. SendBlaster has come a long way since Version 2 when I first tried it out and it's only gotten better in my opinion. A highly polished locally installed Mass Mailing solution.
Once again, I have only touched on the capabilities and use of this software. If you have questions or any comments, I encourage you to share them in the comments section below this article at Experts Exchange.
Need Expert User Support?
Should you find that you need "Support" on any of the functions of this (or any other) similar software, I also invite you to make use of the Free "Ask a Question" function at Experts Exchange, where I and many other experts will try to help you solve any issues you may encounter.
---
Author: © Andrew Leniart
Freelance Journalist, Senior Editor, and IT Professional