Migrate Google Apps to Outlook 2016, 2013, 2010, 2007, etc. using Google Takeout and by configuring Outlook with G Suite account. Add Google Apps email to Outlook PST, EML, MBOX and MSG formats using SysTools Google Apps Backup tool.
Google Apps or G Suite is a collaboration suite provided by Google for using its services in different domain levels. It includes Gmail, Google+, Hangouts, drive, documents, etc. G Suite provides Google Apps for Work, Google Apps for Education and Google Apps for Business services for the effective usage in different scenarios.
Unlike Office 365, Google Apps is a web-based service. Also for the desktop-based usage of G Suite drive data, we can make use of Drive file Stream application provided by Google. But for accessing the Google Apps mailbox from a desktop, we have to access it using a desktop email client for which Microsoft Outlook is considered to be eminent among all.
To migrate Google apps to Outlook 2016, 2013, 2010, 2007, etc. we have to create the respective Google Apps email backup in PST file format using SysTools G Suite Account Backup tool and then import the PST to Outlook account.
Methodologies for Adding Google Apps Email to Outlook 2010
There are many possible approaches to switch from G Suite to Microsoft Outlook. Among them, top 3 methods have been discussed here to make it easy for any user to find the right solution. Any approach can be opted depending on the needs of a user.
Technique 1: Google Apps Migration to Microsoft Outlook Using G Suite Backup Tool
SysTools Google Apps Backup tool is designed with the sole purpose of migrating G Suite mailbox data such as emails, contacts, calendars and documents in PST, MSG, EML or MBOX file format. It supports all the latest versions of Windows operating system including Windows 10. Some important features and working steps of Google Apps email backup tool includes:
Step 1: Export Google Apps Email to Outlook using Single or Domain User Account:
SysTools Google Apps backup tool lets the users migrate G Suite data using either Individual user account or Domain User account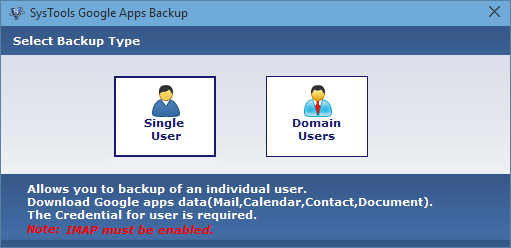 Step 2: Provides Different File Formats to migrate Google Apps to Microsoft Outlook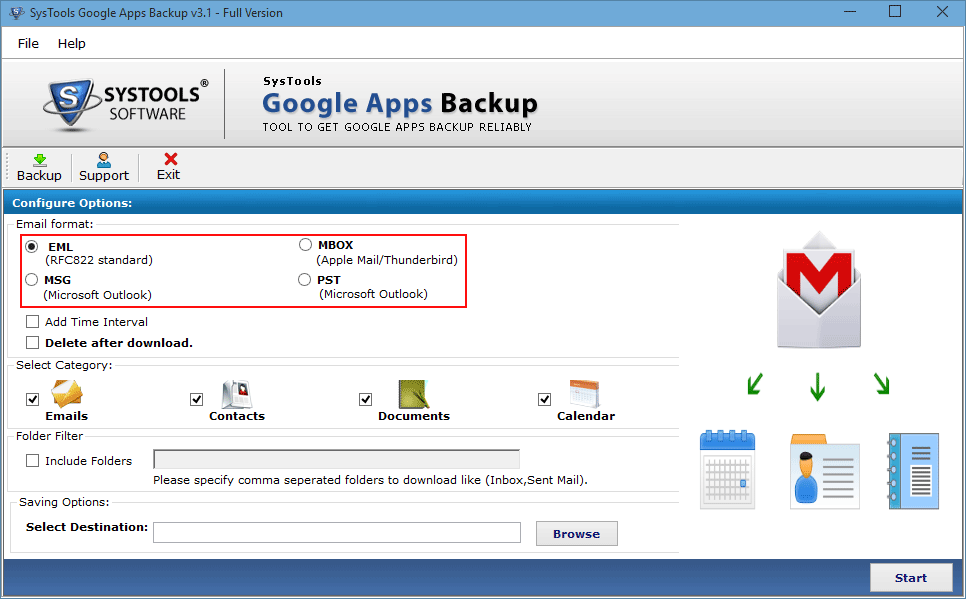 Step 3: Choose the Items to be transferred from Emails, Contacts, Documents, and Calendars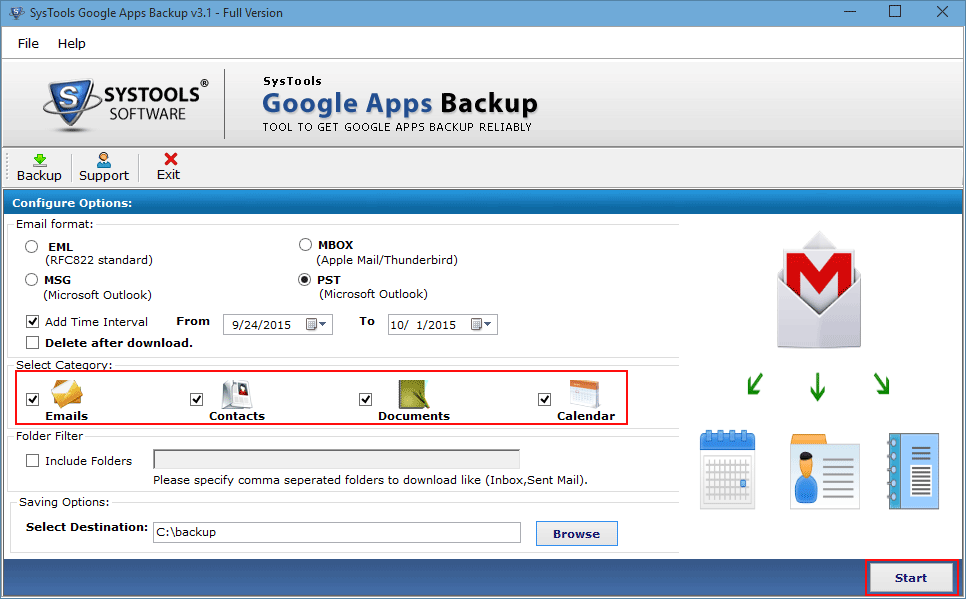 Step 4: Browse the Destination Location to add Google Apps Email to Outlook 2010, 2013, 2016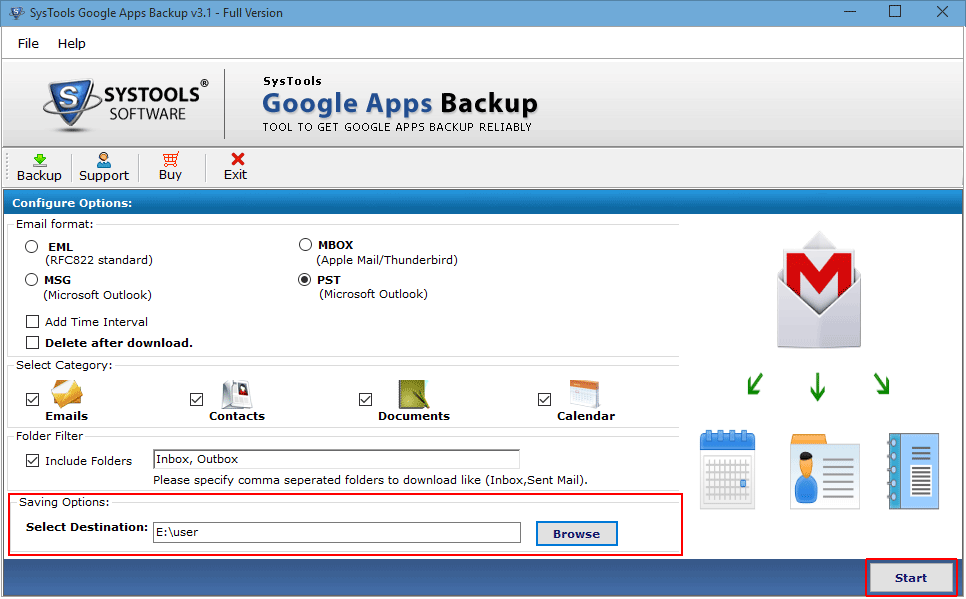 Technique 2: Generate PST File With the Help of Google Takeout
Many people do not know about Google Takeout. It is free of cost-utility equipped by Google Apps to archive the data in 4 unique ways:
Add to Drive
Add to Dropbox
Add to OneDrive
Send download link via Email
Note: If a user is opting for "Send Download Link via Email", then the link will expire after 7 days. So, the archive file must be downloaded within 7 days.


Google Takeout downloads the emails and saves them to MBOX file format. In order to export it to MS Outlook, they should be converted to PST file format. To import it to the PST file, a user needs to follow these set of instructions:


Launch MS Outlook application
Select the option of Import and Export
An import and export dialogue box will open up on the screen. Select the option of "Import from another program or file" to add Google Apps account to Outlook 2016.
Browse and choose the desired Outlook PST file and then, press on Next


Technique 3: Configure G Suite Emails in MS Outlook to Create .pst File
A user needs to follow the given set of instructions to configure Google Apps emails in Outlook:
Enable the two-step verification for Google Apps and generate a password which will help to connect with Outlook
Select the option of File and then, click on Add Account option
An Auto Account Setup Page will emerge on the screen. Here, enter the details like name, email ID, password
Hit on Next and then click on Finish
MS Outlook is configured with Google mail and the emails are visible in Outlook
Select the option of File >> Open and Export and then, Import/ Export to migrate Google Apps to Outlook
Choose the option Export to a File and then, click on Next
Select Outlook data file (.pst) as file type and then click on Next button
Select the Google account which is to be exported and do not forget to select the Include Subfolders checkbox
Browse the destination location where the resultant PST file is to be stored and then click on Finish
Navigate to that location to confirm whether PST file is present there or not
Limitations of Manual Methods:
Time Consuming due to the lengthy process
Chance of Information mismatch
Data Loss
If you are facing any of the limitations mentioned above while adding Google Apps email to Outlook 2016 using the above-mentioned approaches, go to SysTools Google Apps backup tool. This is considered as the professional approach to adding Google Apps email to Outlook 2010. The tool generates very efficient results in the shortest time possible. The working of the utility is so simple that even a user from the non-technical background can easily use it.


The Bottom Line
While switching from one platform to another, it is required to change the file formats. Similarly, in the case when a user needs to migrate Google Apps to Outlook, the emails from Google Apps should be converted to .pst file extension. To do this, various solutions have been proposed. If any problem is faced while going for manual method, an automated tool is also described briefly.