Learn how to reduce mailbox database size of Exchange 2016,2013, 2010, 2007 and other versions. As Storage Limits for Exchange Mailboxes in Exchange versions are different. Try to use Defragment mailbox to remove whitespace to shrink the mailbox size of Exchange Mailboxes to increase performance.
Exchange Server is the most widely used Email Server Application that runs on Windows server OS. Moreover, the latest version brings a variety of features, technologies, and services to MS Exchange server. It offers email scheduling, various applications for custom collaboration and emailing service applications.
There are so many issues that Exchange Server Versions users may encounter. One of the most frequently asked questions is how to reduce the mailbox size of Exchange Server. Therefore, in the upcoming section, we will discuss the top four solutions that will help to reduce the size of a mailbox database on Exchange.


Facts Behind Exchange Storage Limits
For different Microsoft Exchange editions, the storage allocation may be a little bit confusing. Thus, to resolve this issue Exchange server 2016 enables the creation of a storage group, which is available in an individual mailbox. In addition, the maximum storage capacity for Exchange 2016 is 16TB for a single database mailbox.
If the storage capacity is exceeded, that may damage the standard functionality of MS Exchange server and to fix this, the user needs to reduce mailbox database size of Exchange Likewise, go with some other versions of Exchange Server as follows:
For 2007: Maximum storage allows 250 GB and 50 storage groups
For 2010: Maximum total drive storage capacity 2TB and 100 Storage groups.
For 2013: Maximum storage allows 2TB, and storage groups reduced from 100 to 50.
To know more about the memory consumption in Exchange, so that ESE (Extensible Storage Engine) can perform efficiently. You need to understand following storage information:
Required minimum memory per mailbox server
Database Cache Metrics
Default mailbox database cache sizes
Let Starts with Minimum Memory Per Mailboxes, Here we are taking reference for Exchange 2010 Server.
Know Mailbox Database Cache sizes in Exchange 2010
Now view the Default Mailboxes Cache size, so that you can get information to know how much space used by Mailboxes while performing Effectively:


Hope above information helps Administrators to know memory consumption of mailboxes in Exchange 2010 Version.
Reason For Oversized Exchange EDB File
The Basic reason behind the oversize EDB File is the number of messages sent and received in User Mailbox. To know deeply, understand the amount of Database I/O Consumed by user and usage of Exchange Active Sync. View the given above table to understand IOPS per Mailbox activity and Cache Mailbox Database.
However, the EDB database mainly reaches beyond the limit might fall and leads to EDB file corruption and that leads to the solution, how we can reduce mailbox size Exchange Server Mailboxes. It is quite complicated to resolve this problem. Thus, in the below section, we will discuss a complete solution to recover Exchange EDB file in a clear way.


Manual Steps to Reduce Size of Exchange Mailboxes
A user can go through the following Manual steps to reduce .edb file size and regain that space back. Exchange user can go for "Defrag Command" or drop Move Database and create new Exchange Database and after removing the white space and undesired items, the user can again store the desired Database.
Delete Unwanted Data from Microsoft Exchange
This is the best clear-cut solution once you realize that the server is running out of space, first empty your unwanted Server data. Remove the number of stray Logs from each server and keep in mind that both servers are constant and also contain same logs. Simultaneously, make sure that you are not deleting your all useful files(.edb). It is a lot of effort but can help us to reduce Exchange Mailbox database size. You may find that it is not bringing down the size of EDB file do not worry space is released. Microsoft Exchange server can use that space for adding a new data file.
Shrink Exchange 2010 Database - Using Offline Defragmentation Process
Using Defrag method we can reduce the Exchange Mailboxes size by clearing the White Space Stored in Database. To Defrag the Exchange Mailbox, get the help of Eseutil, the complete database file can be dismounted at the duration of Defragmentation process. Once the Defrag procedure is done by Eseutil, the new files are created. The previous and latest files along with temporary generated file will also prevail on you.
Go through following set of instructions:

Step 1: Open the Exchange Management Shell to run the following command for dismounting or reducing EDB file size C:\ Windows\ system32>cd D:\ Mailbox\ 'database name D:\ Mailbox\ 'database name'> Dismount-Database 'database name
Step 2: Run Eseutil utility to defrag Exchange EDB database file D:\ Mailbox\'database name'>eseutil /d 'database name'.edb /t\\ testserver \defrag\temp.edb
Step 3: Now, perform the below command to mount the complete database: D:\ Mailbox\ 'database name'> mount- database 'database name"
After that, you will notice that Exchange database file (.edb) is packed and all the white spaces are eliminated. To do this, the Eseutil execution is done successfully and now, you can run a complete backup of the database file.
Remember: Other end users cannot access their messages when you need to defrag it. You want some space on your local disk, i.e., at least 110% the size of the database to execute defragmentation. If you do not have any free space then, you can specify an unlike temporary location while performing Eseutil commands to decrease mailbox size Exchange.


Using EMC to Move Exchange 2010 Database
Now, Dismount the Exchange Database with EMC (Exchange Management Console) which is finished by choosing the EDB Mailbox, then right-click on it you will receive the Dismount Database option for dismounting the database.
Follow the below procedure:
Open the Exchange Management Console, choose Mailbox in the Organization Configuration
Then, choose the particular mailbox that you would like to move by right-clicking on it and choose another option to Move Database Path.
Under the appeared new windows of Move Database Path, provide the new path for each data file and log file. Click the Move to continue with a course of action to minimize the size of EDB file.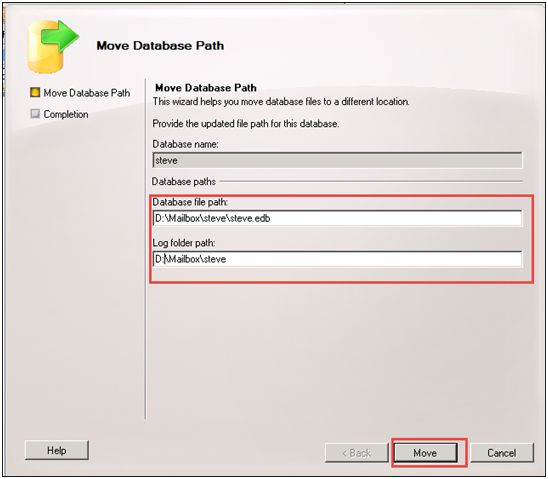 You will receive an alert message showing "To perform the move operation, the database must be temporarily dismounted, which will make it inaccessible to all users. Do you want to continue?" you should press Yes button to continue.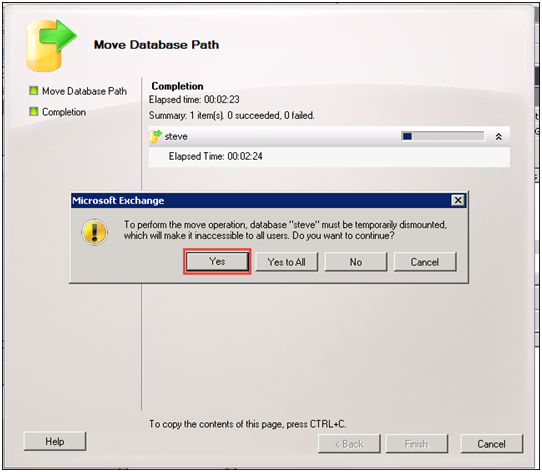 Remember: It will take time to migrate EDB mailbox to another location, which totally depends on EDB file size. After completing this task, you can close the wizard by choosing the finish button. After this run backup of your EDB and follow above mention defrag command to shrink or decrease the size of mailboxes.
Reduce Size of Exchange Mailbox 2013 / 2016 Version
In Exchange Server 2013 and 2016, you can drop the Old Database and create new Database and save them into another location as the backup till you defrag all the Database and again move data to newly created Database.
If you are using MS Exchange 2013/ 2016, then this approach will help you. EAC (Exchange Admin Center) can help you to export the entire Exchange mailbox, the migration process will help you to reduce the size of EDB file that is too big in size.
Follow these 4 simple steps for executing the migration:
Start Exchange Admin Center and Select the Mailbox Tab and choose the Desired mailbox

Right Click on it and choose the Export option.

Now Provide the path to save the File.

Select a recipient for sending the notification after completing the entire task
.

Click on Next and choose Finish button
Professional Way to Reduce Exchange Mailbox Database Size
In any case, if the above-stated methods do not work properly then, users can take help of SysTools Exchange Recovery Tool. The software allows Offline or Dismounted Large Exchange EDB File and reduces the size of Exchange 2016, 2013, 2010 Mailbox by offering selection of desired mailbox folders and Date Range Filter that can help users to save only desired information from different section such as emails, journals, contacts, tasks, calendar and keeps the same folder hierarchy throughout the Conversion process of Exchange to PST File format.
In the section below we will discuss working steps that can help in reducing the size of Exchange Mailbox.
You can Download the Demo Version of Software from below Link:

Now Launch the software and Add Large Size Exchange EDB File within the software.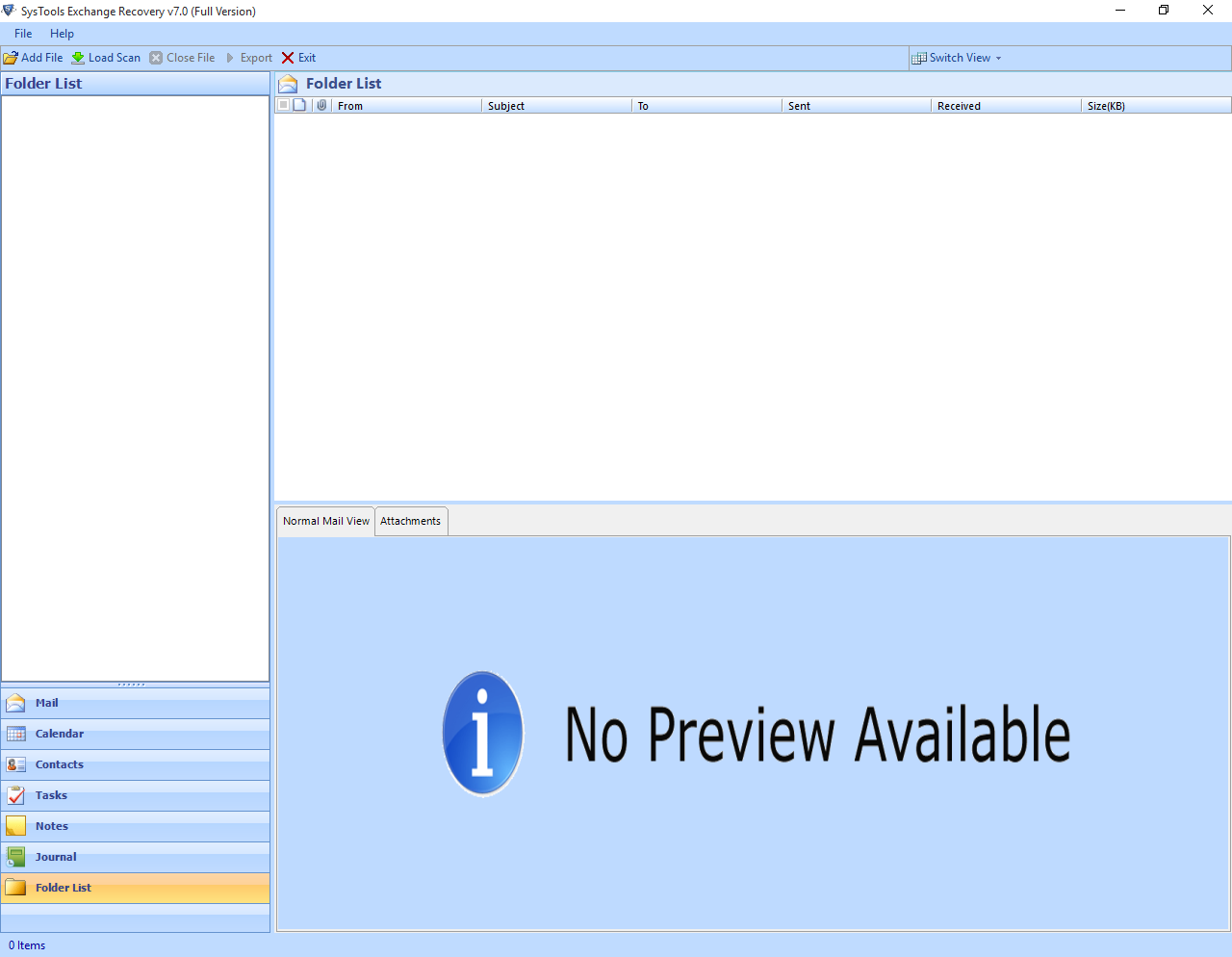 Browse the File and software will scan the Exchange Database file with "Advance Scanning Mode"
Now Select the Desired Folder and uncheck the unwanted folder to reduce the size of mailboxes and then select an option to Export Data back into "PST" File type and "Advanced Setting" option.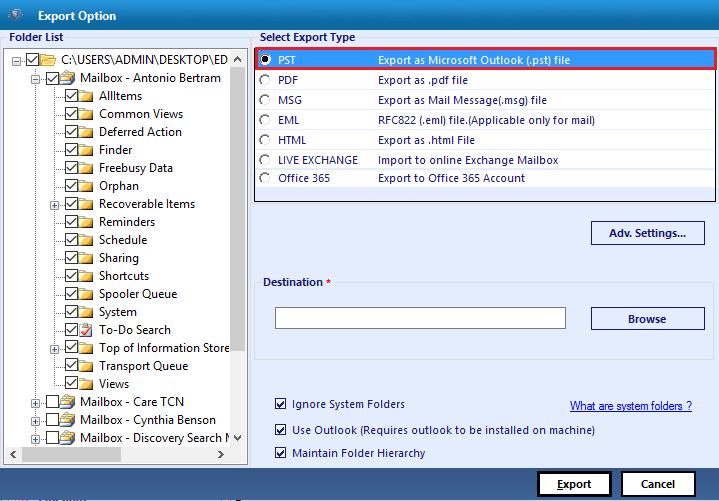 A user can also select "Date File Option" to customize the export the desired data of species that range that can help in reducing the data.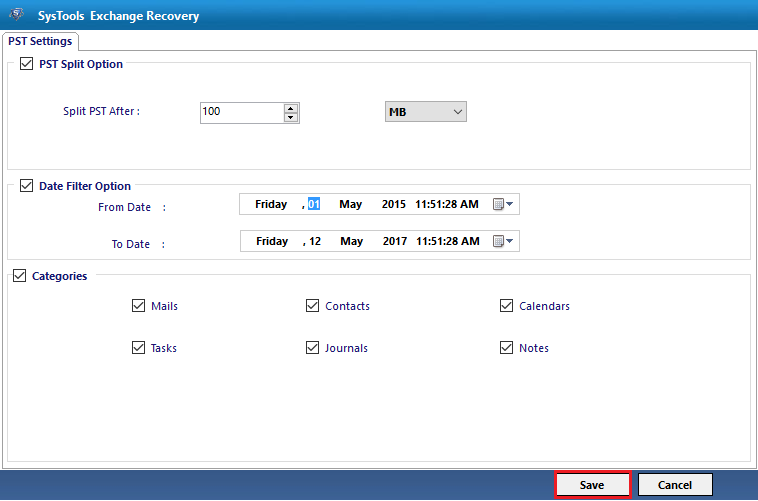 Now, choose Split PST File option, which enables you to break PST after the declared file size and stored them into Desired Destination path using Export Button so that Exchange Database reduced in size. Now you can easily import the Split File into Exchange Server without any hassle and import PST file again into Exchange again. To know Complete Working of software, you can visit Working Guide of Software.


Time to Conclude
In this blog, we have discussed four best solutions to reduce mailbox size of Exchange server. As everyone knows, Exchange Mailbox migration is quite difficult that may cause data loss. The large transaction log files are created during the whole process and it will take several days to accomplish the task.
Thus, it is highly recommended to take help of a reliable SysTools Exchange Recovery Tool to migrate the data into PST file format and divide the resulted PST File according to Size (MB or GB and Shrink Exchange 2010 Database. With this application, users can export multiple Exchange Mailboxes into PST format. Also, we have explained the complete working steps of the tool in a clear way.