Read to know how to split Outlook PST files into smaller parts. The article explains 4 top tricks to easily split large PST files. For quick splitting of oversized PST files, it also suggests SysTools PST Splitter software. So, you can choose either method to easily split your PST files.
Microsoft Outlook is a widely used Personal Information Manager (PIM) and email application which uses a Personal Storage Table (PST) to store all its mailbox items, such as emails, contacts, calendars, etc. Each Outlook mailbox has certain default size restrictions.
For example in Outlook 2007 the WarnLargeFileSize is 19 GB and MaxLargeFileSize is 20 GB. Beyond this limit, Microsoft Outlook pops up notifications that filename.PST has reached its maximum size. An unfortunate result of this is Outlook performance degrades and in most cases, users are unable to access their mailbox items.
Thus, it is better to split Outlook PST files into smaller parts to avoid such conditions. But, the question is how to divide large PST files? Well, to answer this question, we have come up with this write-up. Here, we will discuss some easy and cost-effective methods to divide Outlook's PST files.
However, before going to the solution section, let's take a quick glance at reasons for breaking up large PST files:
To avoid data loss due to Oversized PST file
To enhance Outlook performance
To sort the data coherently
Top 4 Manual Techniques to Split Large Outlook PST Files
There is no inbuilt utility provided by Outlook to divide a large PST file. But there are many indirect ways that can help you to manage your oversized PST files. In this section, we will discuss possible manual solutions to split PST files. All users have to do is to follow the guidelines sequentially, to avoid any kind of data loss condition.
#Approach 1: Using Import and Export Option
First, launch Outlook application on your computer
Click on the File tab and select Account Settings >> Account Setting
A new dialog box will appear now, Click on Data Files tab and click on Add
'Create or Open Outlook Data File' window will open now. Here, select the file name and the location of PST
Hit the OK button and close the Account Setting window
Click on File >> Open >> Import
Import Export window will open now. Click on Export >> Next
Now, select the PST file and click on Next to continue split PST file procedure
Expand Folder wizard will open now. Here, click on the folder or sub folder to export from and hit the Next button
Browse a destination to save this new PST file and name this file
Choose the appropriate option and click on Finish
'Create password for PST' window will pop-up. If you want to create a password protected PST then, enter a password otherwise click on the Cancel button
A new PST file will be created now, which can be viewed via Outlook
#Approach 2: Utilizing the Move to Folder Feature
Open Microsoft Outlook application to begin the process
From the primary screen, click on File >> New >> Outlook Data File
Doing this will display a new dialog box. From here, select the oversized PST file that needed to be split and click on OK button
'Create Microsoft Personal Folder' wizard will pop-up now. Here, type an appropriate name for this new PST file
Choose one or more folders to move in this newly created PST file
Now, go to the Edit menu and click on the Move to Folder option
Move Items wizard will be displayed now. Here, click on the New button
Type a name for this folder in 'Create New Folder' window
From 'Select where to place the folder' option, click on the new PST file and hit the OK button
Eventually, click on OK to end the process
#Approach 3: Using PST Archiving Method
Open Outlook on your local machine
Select the PST file from which data will be moved to the new file
Then, click on the File tab and select Archive
Archive this folder and all sub folders wizard will be displayed now
Here, select all the folders that are required to move
Archive items older than option will appear and from here, you can select any date from the calendar
Browse a location to save this file and name this newly created PST file
Finally, click on OK button and a new PST file has been generated at the preferred location
Demerits of Manual Methods
High probability of permanent data loss
Lengthy and time-consuming procedures
Technical expertise required to perform
Try SysTools PST Splitter Software For Quick Results
All manual methods to break up large PST file are free of cost, however, they comprise some serious drawbacks which can make users think twice before using them. Thus, to overcome all the limitations of manual techniques, we recommend users to use a trusted third-party solution i.e., SysTools PST Splitter.
This is one of the most reliable ways to divide large PST file into smaller parts to avoid the 2 GB PST file corruption issue. This application is completely safe and secure to download and run. Due to its simple and easy-to-understand GUI, every technical (as well as non-technical) user should be able to operate this software without any difficulty.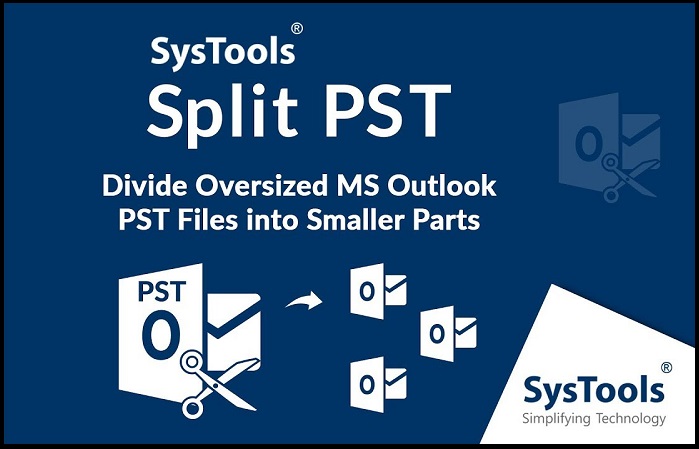 The tool comprises many eminent features and some of them are mentioned below:
Break large PST into smaller parts by Date, Year, Size or Folder
Supports to split both Active PST file as well as Archive PST file
Capable to split all PST items: Emails, Contacts, Calendars etc.
Divide both UNICODE and ANSI PST without file size restriction
Outlook application installation not required to break PST file
The Final Verdict
Splitting Outlook PST files is an essential procedure to avoid PST file corruption. However, breaking up large PST files that comprise our crucial information is not a risk-free task. Thus, to perform this operation successfully, we have tried to compile all the possible manual solutions for the same. In the event manual methods do not work, or the user does not have sufficient technical knowledge to execute them, they can opt the mentioned third-party tool. This software will split PST files easily without any data loss.