Know how to repair Exchange Database of 2016/ 13/ 10/ 07 using eseutil /p, /r, /d Powershell commands. Also fix Dirty Shutdown and Event 501, 533, 1216 ID Error using inisteg and New-MailboxRepairRequest to repair Mailbox Database of Exchange 2016 /13/10/07 and other below versions.
Exchange Server is a collaborative server by Microsoft that provides services like email, calendar, data storage and data sharing. In the present business world, Exchange Server occupies a prestigious spot. However, corruption in the Exchange Server is a commonplace phenomenon that badly affects both the users and the Exchange Admins. Since repairing Exchange Server database is a complex matter, Admins find it a tough task to perform. To make this puzzling process easier, this post will describe how to repair Exchange Database using manual approaches. Prior to that, we will see the list of errors that may occur due to Exchange Database corruption.
Errors Generated Due to Corrupts or Damaged Exchange Database Mailboxes
The corruption of Exchange 2013 database can lead to different errors. We have made a list here that includes some of the common errors caused by damaged Exchange Server.
Error -501 (JET_errLogFileCorrupt): It occurs due to the presence of corrupt log files in Exchange Server.
Error -533 (JET_errCheckpointCorrupt): This error appears when checkpoint files get damaged or removed.
Error -1216 (JET_errAttachedDatabaseMismatch): The error appears when the header information saved in the log files get deleted or does not match.
Dirty Shutdown State Exchange Error: If the system is closed while log files are still in the cache memory, this error named dirty shutdown error occurs.
1056749110 Exchange Error: While moving mailboxes, if there are more corrupt items than mentioned in the mailbox, this error will be visible.


Different Approaches to Repair Exchange Database 2013
When Exchange database becomes damaged, there are two approaches available for repairing and restoring the data. The manual approach and technical approach. In the section below, we try to follow eseutil commands manually and some automated solution created to repair corrupt Exchange database.


Manual Approach to Exchange Server 2013 Repair
Corrupt Exchange server can be repaired by using eseutil and New-MailboxRepairRequest cmdlet. Both the utilities come built in with Exchange Server.
Eseutil Utility to Fix Exchange Server Corruption
Eseutil is a command line repair tool that is capable of repairing EDB, ESE, STM, and LOG files. Tasks like integrity checking, database repairing, and defragmentation can be executed through this utility. eseutil should be used in offline mode so users must unmount the exchange store before initiating the repair process. There are multiple eseutil commands available for various purposes. However, only a few are necessary to repair a damaged Exchange database. Now we will discuss the commands that will come handy for users who want to fix damaged database of MS Exchange.
ESEUTIL /p: This command stands for repair, which is our main purpose of this utility. It can fix database pages that are damaged and corrupt. However, it does not manage the logical relationship between tables situated in Server database. Users have to additionally use ISInteg utility to coordinate the relationships.
ESEUTIL /r: To fix log files related corruptions, this command is used frequently. This command restores a database by replaying or forwarding transaction log files.
ESEUTIL /g: The aim of using this command is to verify the database integrity. It is useful to check if there are any corruption issues in the database. Using this command, users can easily know whether the store had been unmounted or shut down properly or not. This command can verify the logical integrity of page level or ESE level of Exchange database. However, it cannot check the integrity of Information Store level.
ESEUTIL /d: Once the repairing is done, this particular command can be used to defragment the database files. Any whitespace that may have emerged during repairing will get removed during defragmentation. Ultimately, it will reduce the total physical size of Exchange database by terminating indexes and blank pages. This command should not be used often.


New-MailboxRepairRequest PowerShell Command to Fix Database Corruption in MS Exchange Server
Apart from using eseutil utility, users can take the help of PowerShell command called New-MailboxRepairRequest to resolve corruption issues. Users need to have permission to run this command. It will help users by performing these tasks:


Finds corruption in search folder (SearchFolder) Command: NewMailboxRepairRequest -Mailbox tony@contoso.com -CorruptionType FolderView
Calculate the number of folders that are not showing exact values (AggregateCounts)
Views folders that are not providing accurate contents (FolderView)
Fixes the problem when provisioned folders are wrongly pointing into unprovisioned parent folders (ProvisionedFolder)


Technical Approach to Repair Corrupt Exchange Database
The discussed manual approach is often unable to fix a damaged Exchange database. If users face such situations or they want to skip the drawbacks of a manual approach, they can choose the technical approach.
In this approach, they can use SysTools Exchange Database Repair Tool. The software is capable of repairing major database corruptions in Exchange Server 2013. This software not only repairs your damaged Exchange files but also exports it into Live Exchange Server after fixing. Let's learn how to repair Exchange Server 2013 corruption using the program:
Launch the application on your machine and click on Add File button.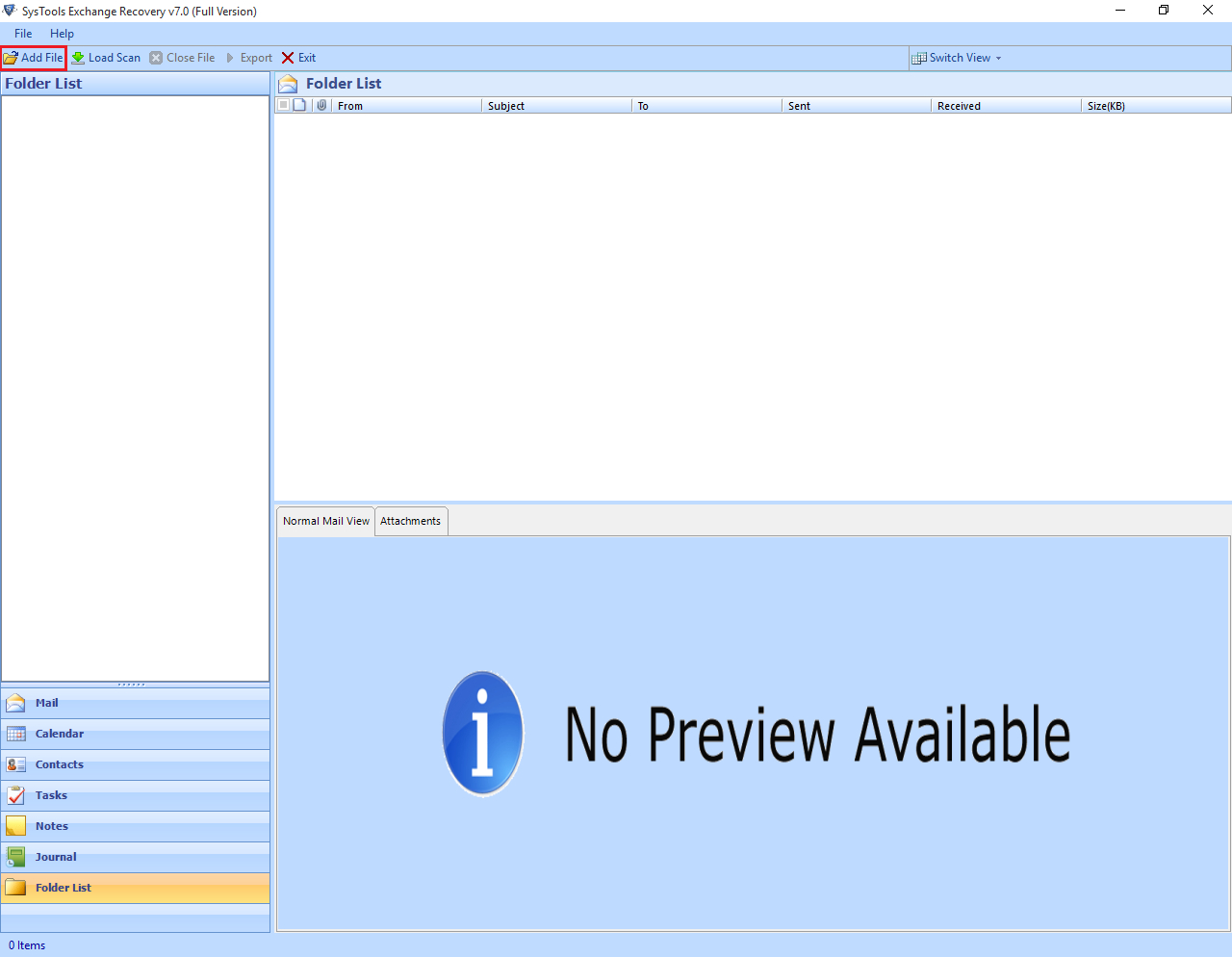 A window will appear. Enable the radio button of either Select File or Search File options. For Select File option, click on [… ] button to add EDB files of your choice. For Search File option, either enter the drive name where the EDB files can be found or ask to search all drives.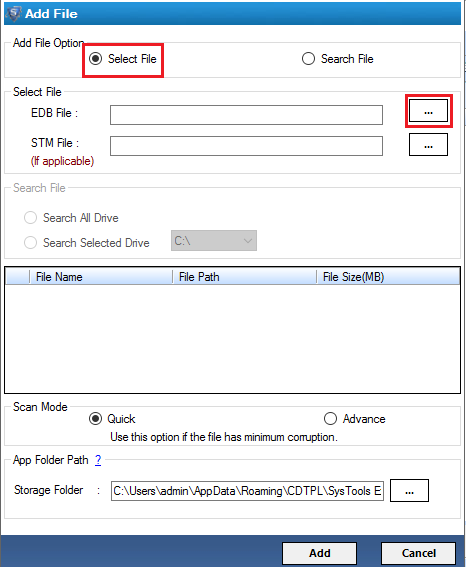 After the EDB files get loaded on the software, select the scan mode. For mildly corrupted database file, select Quick scan. To repair highly corrupt Exchange database 2013, select Advanced scan. In case the quick scan does not show any files, you can run the process in advanced mode again.

Note: Click on Add button. The application will start scanning the EDB files. When it is done, it will prompt you for showing the results.
Users can select the desired folder from the left pane and see all items of that particular folder. Email, contacts, calendar, Journal etc. folders of Exchange mailbox can be viewed. Every file can be viewed in normal view or attachment view.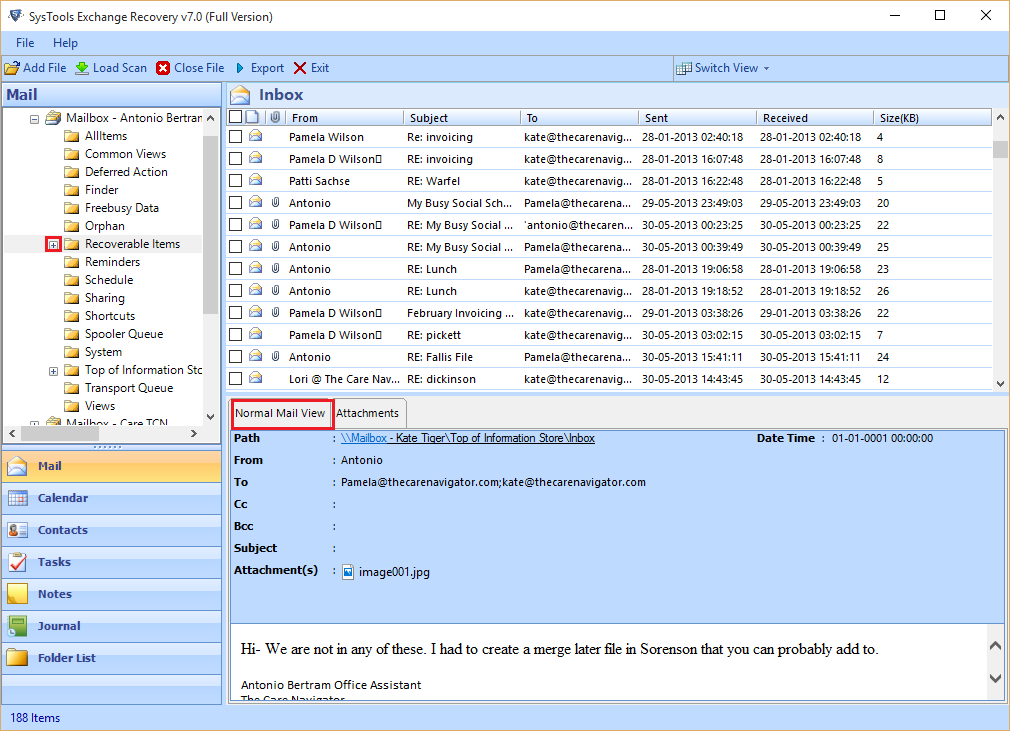 Click on Export button to select and export repaired EDB files. Users will be given a number of choices of different file format such as " PST, PDF, MSG, EML, HTML" File Format.


A user can also export the repaired exchange Database file into Live Exchange Server and Office 365 Account using the Export option.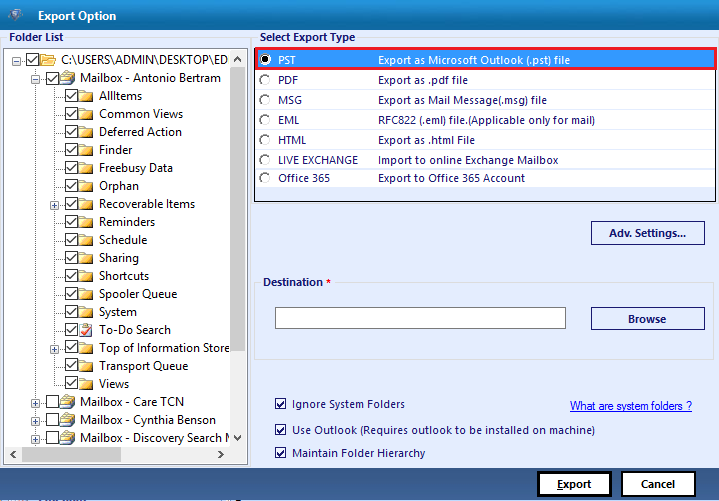 Note: To export data in Office365 and Live Exchange Server, provide the Credentials correctly, To learn about the working process, you can refer to the Working Guide.


Your data will be successfully transferred to Live Exchange Server. You can open your account and see if the repaired files got migrated or not.
Database corruption in Exchange Server Database in 2016/ 13/ 10 and other below versions faced by users due to a number of errors, which are responsible for the greater inconvenience. In this write-up, we have stated how to repair Exchange database 2013 using the manual and technical method. While the manual method can fix minor corruptions, the mentioned program can resolve minor as well as major corruption cases. To repair Exchange Server 2013 database damages of any type, choose the mentioned automated solution.