With more and more people using iPhones and iPads for email collection we are seeing more problems arising from misconfiguration.
Preparation
The first thing to be aware of is that for ActiveSync to work correctly you must be using Exchange 2003 SP2 or higher.
There should be a commercial SSL Certificate installed. Whilst it will work without a commercial certificate, it can be fraught with problems and for the sake of $60 for a SAN/UCC Certificate is it really worth the hassle?
If still using Exchange 2003 then a SAN/UCC certificate is not required.
You will need to ensure that you have port 443 forwarded from your router/firewall to the internal IP address of your Exchange Server.
NOTE: Whilst ActiveSync can be configured to work without SSL this is not recommended as port 80 is required to be forwarded from your router/firewall to the Exchange Server. Also all usernames/passwords/data transmitted between the portable device and Exchange will be in clear text and not encrypted.
Configuration
To setup the Exchange Server account on the iPhone or iPad we need to first select the Settings option.
From settings select "Mail, Contacts, Calendars" as highlighted in red in the image below.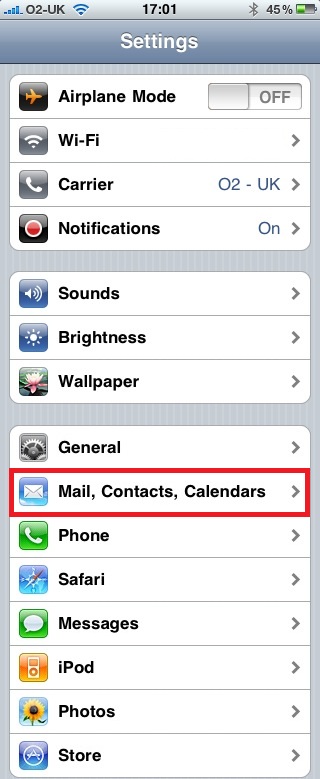 You will then be presented with the screen below. From here select the Add Account option.

Once selected you will then see the screen below that will display all the options for setting up email accounts on your iPhone. The one we want is Microsoft Exchange.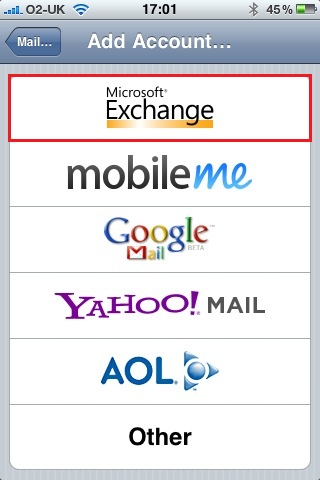 Once we have selected Microsoft Exchange you will be presented with the screen below that will ask you for some details regarding your account.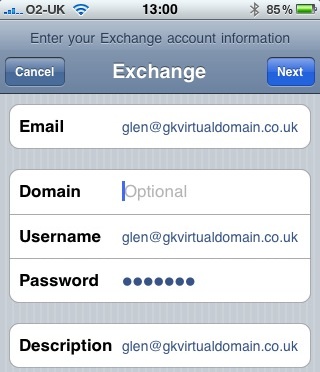 In this screen, you will need to enter your email address, username & password. I normally enter the email address as the username thus negating the need for the domain name.
If you find this method does not work then you will need to enter the NETBIOS domain name associated with this Exchange Server. You can find this by right clicking on the user using Active Directory Users and Computers and select properties. Then under the Account tab the NETBIOS domain name will be listed. If you enter the domain name on this screen then the username should also be the one that appears on the accounts tab.
Once you have entered the details press Next, at this point the iPhone will attempt to
autodiscover
your Exchange Server details. If this fails then you will be presented with the screen below. Please note it is not unusual for the first check to fail.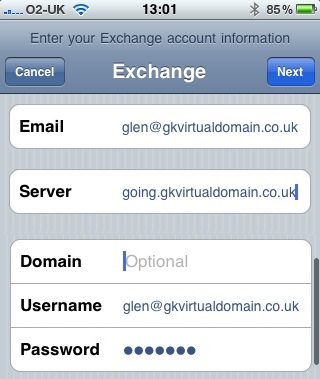 If you see the screen above then it might be a little confusing as it looks very similar to the previous screen. What we have here is the option to enter the server information. This is the same details that you would use for Outlook Web Access. So if you use
https://outgoing.gkvirtualdomain.co.uk/owa
for OWA then the server information you would enter here would be outgoing.gkvirtualdomain.c
o.uk.

Once you have entered this press Next.

At this stage if you are using a self-signed certificate you will be presented with a certificate dialog box and you must select "Accept". If your account has been successfully configured you will see the screen below that will allow you to select what options to synchronise with Exchange.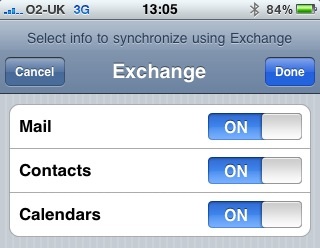 Further Reading
There are known problems with administrative users when using ActiveSync and this has been covered in an article here by Alan Hardisty: https://www.experts-exchange.com/articles/Software/Server_Software/Email_Servers/Exchange/Activesync-Working-But-Only-For-Some-Users-On-Exchange-2007-2010.html
Troubleshooting ActiveSync with Exchange 2003: https://www.experts-exchange.com/articles/Software/Server_Software/Email_Servers/Exchange/Exchange-2003-Activesync-Connection-Problems-FAQ.html?cid=2035