Recover Mailboxes Database from Failed Exchange Server after disaster recovery. Use Recovery mode to extract back user mailboxes data of DAG (Data availability Group) member. Also, repair the Corrupt Exchange database using SysTools Exchange Recovery after recovering mailbox from failed Exchange.
Exchange Server is the emailing, scheduling, contact, calendaring, and collaboration platform set up on the Windows Server OS. It is used by both small and large-scale organizations. There are some situations where Exchange Server crashes or fails. The main reasons behind this issue is an inconsistent state in Exchange Server.
However, Exchange Server recovery is not such an easy task for any Exchange admin. So, it is important to always be prepared for any disasters. This is because any of type of disaster in a data center will affect the server mailbox so it is best to have a recovery plan. Thus, this blog will let users know how to recover mailboxes from failed Exchange 2016 Server without any loss of data.
"My mailbox server is the member of DAG and is creating some issue when I tried to access it. Being an admin, I think that Exchange Server is either crashed or there must be some corruption issue. I have heard about /m:RecoverServer set up to recover Exchange Server. But in the case of database availability group member server recovery, there are few changes in /m:RecoverServer set up. Can anyone tell me, how to repair mailboxes from failed Exchange 2016 database availability group member server via the same recovery set up?"



Precaution Before Recovering Failed Exchange Server
Before performing the manual activity to recover Exchange mailboxes from a failed Exchange Server, you need to first identify the problem properly in that only some of the database is corrupted, or if users are not able to access mailboxes and a restoration is needed.


Step by Step Guide to Recover Mailboxes from Failed Exchange 2016 Server
Microsoft Exchange Server 2016 setup has a switch /m:RecoverServer, which can be used to rebuild Exchange Server. This Recovery Mode set up will read the configuration details from the AD (Active Directory) for a server using the same name as a server (on which you are running the setup). After that gathering information, the original Exchange files and services are installed on the Server. All roles and settings that are stored in the Active Directory are practically implemented on the Server.


Remember Points While Recovery Failed Exchange Server Mailboxes
Location: Check the location of the Exchange Server installation. If it is stored at some location other than the default location, then a user must have used /TargetDir Setup. And, if a user has not used /TargetDir switch, then Exchange program files are installed on the default path only i.e., %programfiles%\Microsoft\Exchange Server\V15 In order to determine the Exchange Server program files, install location, follow the steps below:
First of all, you need to open ADSIEDIT.MSC or LDP.EXE tool, for that select "Window + R" and type "ADSIEDIT.MSC" Command.
After that, simply go to the following location:
CN=ExServerName,CN=Servers,CN=First Administrative Group,CN=Administrative Groups,CN=ExOrg Name,CN=Microsoft Exchange,CN=Services,CN=Configuration, DC=DomainName,CN=Com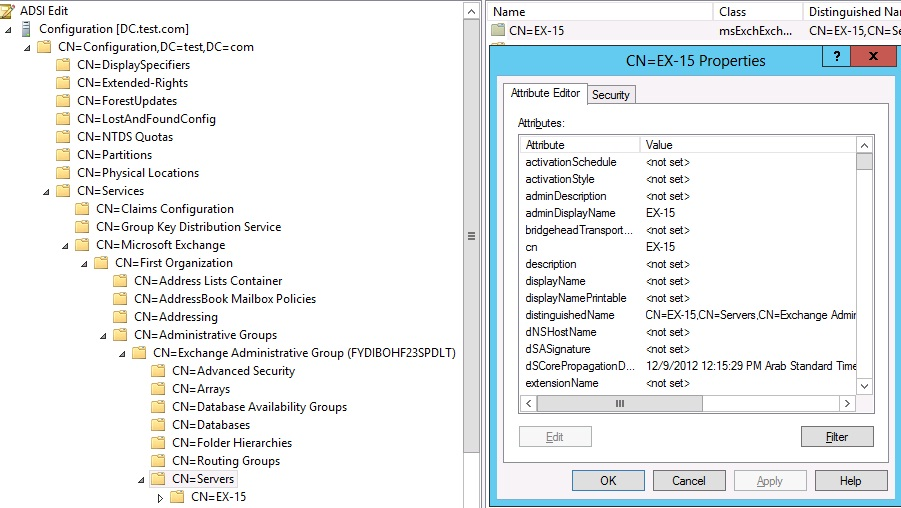 Then, right-click on the Exchange server object >>Properties.
Next, you have to find out the msExchInstallPath attribute and contains the current installation location.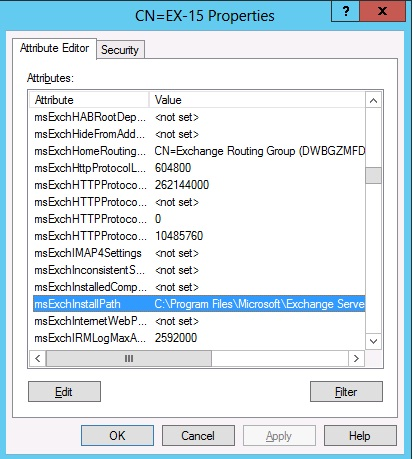 Now, to recover mailboxes from failed Exchange 2016 Server, use setup /m:RecoverServer by following the steps mentioned below:
Find any replay lag or truncation lag settings for copies of any mailbox database, which are there on the server and are recovered via Get-MailboxDatabase cmdlet.
Get-MailboxDatabase DB1 | Format-List *lag*
After that, you can remove copies of the mailbox database, which exist on the server via Remove-MailboxDatabaseCopy cmdlet.
Remove-MailboxDatabaseCopy DB1\MBX1
Now, its time to erase the configuration of the failed server from the DAG with the help of Remove-DatabaseAvailabilityGroupServer cmdlet:
Remove-DatabaseAvailabilityGroupServer - Identity DAG1 -MailboxServer MBX1
Note: If the DAG(Data Availability Group) member that you want to remove is offline, then you have to add the Configuration Only parameter in the preceding command. If you are using the ConfigurationOnly switch, then you have to manually exclude the node from the cluster.
Next, reset the account of the server computer in the Active Directory

After that, open command prompt or CMD window. Then, via original setup media, execute the command given below:
Setup /m:RecoverServer
As the setup recovery process completed, you need to add the Recovered Server to the Database Availability Group (DAG) with the help of Add-DatabaseAvailabilityGroupServer cmdlet:
Add-DatabaseAvailabilityGroupServer - Identity DAG1 -MailboxServer MBX1
When the Exchange Server is added back to the DAG, reconfigure the copies of mailbox database via Add-MailboxDatabaseCopy cmdlet.
Add-MailboxDatabaseCopy - Identity DAG1 -MailboxServer MBX1
Note: The replay lag or truncation lag time of the database copies added before is greater than zero. You can simply use ReplayLagTime and TruncationLagTime parameters to reconfigure those settings:

When you have successfully recovered mailboxes from failed Exchange 2016/2013/10 Server and other below versions using Recovery mode, its time to place the database at the right place. After restoring the database, you have to mount the certificate again in Exchange Server.
After mounting the Exchange Database, if users unable to view the mailboxes data items due to corruption issues in the database. To overcome this problem first, you have to repair EDB file of Exchange Database. In order to recover corrupt EDB file data in a trouble-free way, try Exchange Recovery software.
Some prominent features of the tool are given below:
EDB Recovery Software Supports to Recover Deleted Emails from Exchange Mailboxes
Repair Exchange Private & Public Folders (Priv.edb, Pub.edb) & STM Files
Supports Recovery from Dismounted & Offline EDB files
Support for Exchange Server 2016, 2013 & All Below Versions.
Recover Exchange Mailboxes to Live Exchange Server.
It is capable of repairing all data stored in the EDB files without any hassle. Some characteristics of the tool are given above that can help in recovering mailboxes from failed Exchange Server EDB Files.