Get an overview of the Top 5 best Exchange Recovery Software solutions offered by different Organizations to repair and recover an Exchange mailbox database. Blog deals with the overview, prominent features and price description of best Exchange Recovery products.
There are situations in which Exchange database becomes dysfunctional because of improper system shutdown, hard drive failures, sudden Server breaks down, etc. These circumstances can cause all business activities to go into an inactive state. In addition to this, it increases the chances of Exchange EDB file corruption and makes it completely inaccessible. Another possible issue is that a user has accidentally deleted a mailbox or some crucial data items from the server which can result in permanent data loss. Due to all such issues, it can become difficult for users to mount the database.
However, the root cause of almost every problem in Exchange Server is a corrupt EDB file. Now, to deal with these problems, it is important to establish a healthy Exchange setup. And, to attain this, recovery of Exchange database is very important. Thus, we discuss the top 5 best Exchange mailbox (.edb) recovery software for server administrators. Users can have a look and choose between them based on their requirements.


Top 5 Best Exchange Mailbox Recovery Software
Every Exchange administrator in their career would have experienced an issue while working on Exchange Server. Now, to manage all issues in a proper way, there is a number of tools available online. But trying any of them randomly is not at all a good choice. Thus, to make this choice somewhat easy for the users, top five Exchange Mailbox (EDB) Recovery software are covered here. In order to choose the best from the rest, continue reading blog.


#1 SysTools Exchange Recovery
One of the top 5 best software is SysTools Exchange Recovery Tool. It can be used as a complete solution to repair corrupt EDB file of Exchange Server. The software is designed so that it is can recover all data items stored in EDB file without any loss of data. For example, emails along with attachments, tasks, calendars, etc. It is a simple and reliable recovery software irrespective of the version of Exchange Server. Some other major benefits of this software are:
Key Benefits
Capable to recover deleted data from Exchange mailboxes
Allows to recover both dismounted and offline EDB files
Save recovered EDB file in PST, EML, HTML, MSG, and PDF format
Option to recover both public and private folder of Exchange EDB file
Maintain folder hierarchy intact as original even after conversion.
Provides an option to recover selective data from Exchange EDB file.
Capable to search for Exchange EDB file on the local drive automatically.
Import Exchange EDB emails to Live Exchange Server and Office 365 account.
Price: $299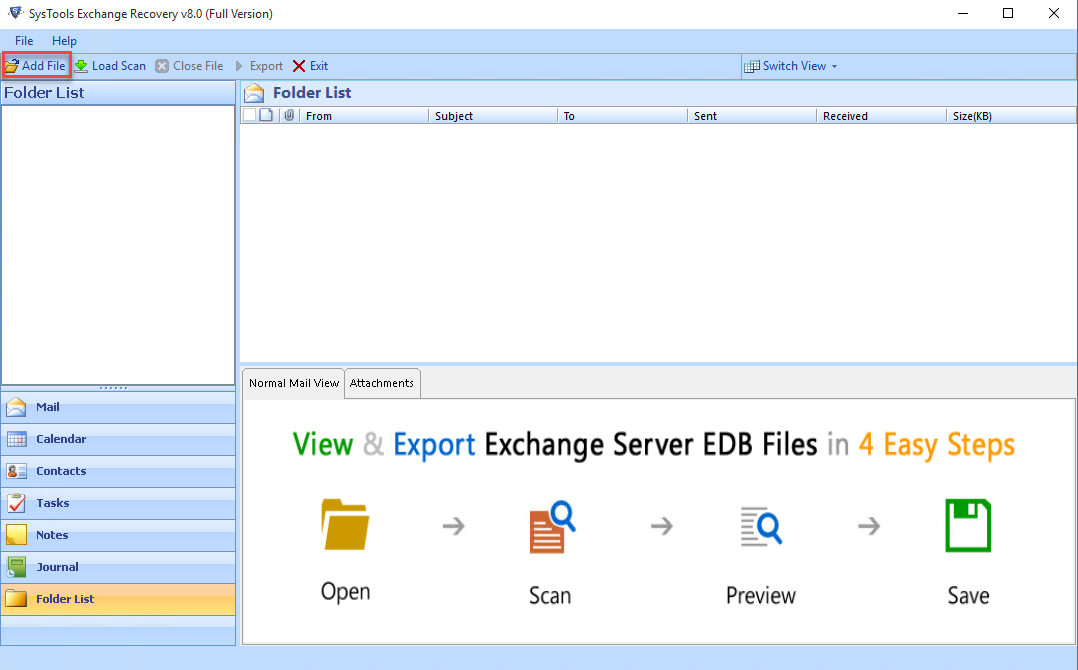 #2 Quest Software
Quest Software is another popular name to recover damaged Exchange database in a fast and simple way. It permits users to search for an email via advance factors, patterns, or customized queries. It also allows users to compare online mailbox with the respective backup in order to keep it up-to-date always. Apart from this, the other major advantages are:
Key Benefits
Perform united and intelligent search and reduce overall response time.
Allows to do a comparison and restore data quickly to get back on the track as soon as possible.
Have migration support also to confirm the migration of data and capable to resume migration in case of power failure or bug in the system.
Option to convert EDB emails to PST/ EML/ MSG/ TXT format. It also permits users to move EDB emails to Office 365 account.
Guarantees minimum interruption to IT resources and minimize the response time significantly.
Price: $ 11. 33 per unit (Minimum quantity: 50)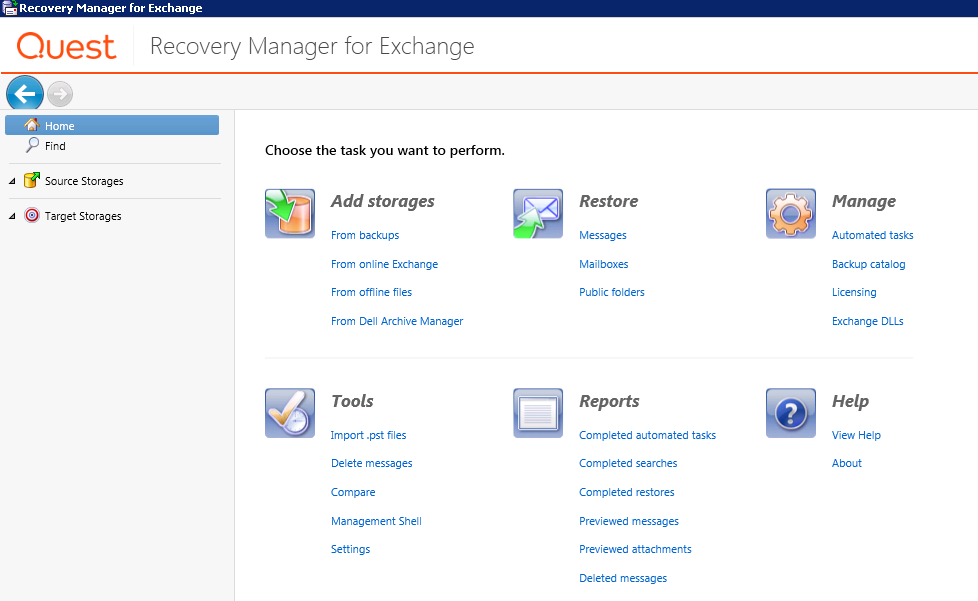 #3 Office Recovery for Exchange Server
Another powerful and efficient Exchange Server Recovery software is provided by OfficeRecovery. The Recovery for
Exchange Server is one of their best development to repair corrupt Exchange Server mailboxes including all data items. It allows recovery of both EDB and STM files of Exchange Server. After recovery, it converts Exchange EDB file data into PST format. Another major benefit of this software is that it keeps folder hierarchy and data integrity intact as original after recovery.
Key Benefits
Supports recovery of email addresses from AD storage.
Capable to recover folders and emails with associated attachments.
Allows recovering calendar, contacts, appointments, etc. from EDB file.
Recover date of creation for all data items stored in a user mailbox.
Option to restore email messages with RTF & HTML formatting.
Compatible with all version of Microsoft Exchange Server.
Price: $799


#4 RecoveryFix for Exchange Server
This Exchange Server Recovery software is also one of the widely used application to recover inaccessible EDB file. In addition, this software is also capable to remove any level of corruption from EDB file in just a few simple clicks. The tool is intelligent enough to convert EDB to PST format without any file size limitation. Some advances features offered by this software are:
Key Benefits
Recover all data items like email, contacts, etc., of Exchange mailboxes
Provide a preview of EDB file data items before recovery
Maintains data integrity and meta properties intact as original
Fix errors like dirty shutdown, JET errors, registry errors, etc.
Supports all versions of Microsoft Outlook & Exchange Server
Price: $299
#5 RecoveryTools for Exchange Server
This is another feature-rich software offered by RecoveryTools. It is one of the popularly used application to repair severely corrupt EDB file. This application also allows users to recover public or private folder of Exchange mailbox without any file size limitations. Moreover, the software supports the recovery of EDB file from Exchange Server 2016/ 2013, and all below versions. Apart from all this, it permits users to extract data from dismounted, offline, and orphan EDB file. Some other benefits of using RecoveryTools for Exchange Server are:
Key Benefits
Recover and export all data items like emails, contacts, etc., from EDB file
Perform deep scanning to repair badly damaged EDB file of Exchange.
Capable to recover and export multiple EDB files to Outlook PST format.
Option to recover permanently deleted emails from Exchange Mailboxes.
Maintain all emails header and attachment even after recovery.
Price: $299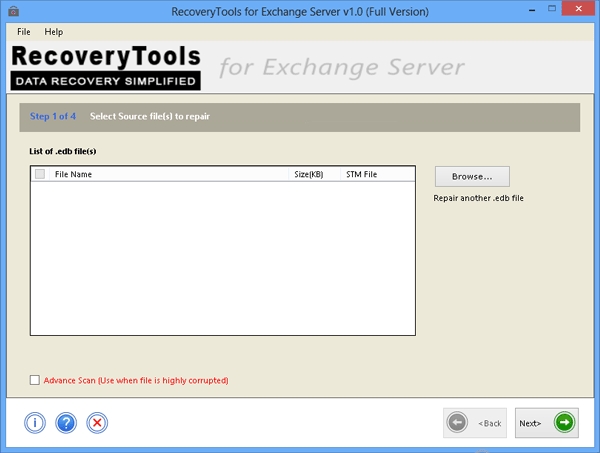 Conclusion
Depending on the requirements, one can choose between these top 5 best Exchange Mailbox (.edb) Recovery software. They all are best in recovering corrupt or dismounted Exchange EDB file when compared with Exchange Recovery software of other brands.