The purpose of this article is to describe things one should know before moving to Office 365. There are lots of parameters in place that need to be checked.
There are lots of concerns when moving to a new platform which can be quite daunting for an admin department, so there are quite a few things to consider when moving to Office 365. Here we describe some important information that must be considered before making a transition.
The following critical items can be useful to any IT department, technical staff or regular non-technical businessman. There are lots of parameters in place that need to be checked. Here is a list of all the things that a user must consider when upgrading to Microsoft cloud server.
Things To Know About Moving to Office 365

Here are some of the important factors to consider before making an export to O365 cloud services:
Migrating is Not a Simple Process: There are about 50 steps in the total process. It can be daunting at first but Exchange server 2010 SP2 has reduced them to single digits. But the entire task is still more tedious and requires lots of advanced planning. If mailbox data is minimal IMAP transfer can be considered for a few users.


Change in Email Address: This is a given that all the users moved to Office 365 cloud will have a new user ID. All the account owners will have a default email address ends in onmicrosoft.com. Unless the user owns the domain, there need to be changes made in the configuration in order to use the old email ID.


Re-establish Spam Filtering: This is a major difficulty faced by many who moved to Office 365 cloud. The spamming need to be set again as all the old filters would disappear. The new service has Microsoft Forefront Online Protection for Exchange which needs to be configured separately.


No more Third-party Utilities: Many companies build programs to support the current client-server architecture. There are designed to make the routine task much easier and simplify everyday activities. These are not supported by Office 365 servers.


Different Management Tools: The on-premise Exchange uses different applications to manage the server environment. Earlier, EMC was used and now, Exchange Control Panel or ECP. Also, user accounts are created through this interface rather than through the Active Directory users.


There May be Routing Issues: Be prepared for some DNS issues which are given. Inform all users about the delay in receiving and sending messages. There can be a problem for non-Microsoft servers.


Reset File Server Permissions: The Active Directory accounts cannot be used to manage file access after decommissioning them. It is important to move all the data beforehand.


Unable to Connect to Mobile Devices: There may be some hiccups when accessing the new Office 365 mailbox through a phone or tablet.


Prepare for Multiple Queries: It is likely that users will come up to the admin department with queries to configure their account. The staff should be prepared to manage multiple phone calls and emails after the complete migration process.


Expect Total Loss Of Control: There may be a situation which may be difficult to handle. There may be bugs and errors which a normal user may have no control over.
Save Office 365 Mailbox Like A Professional!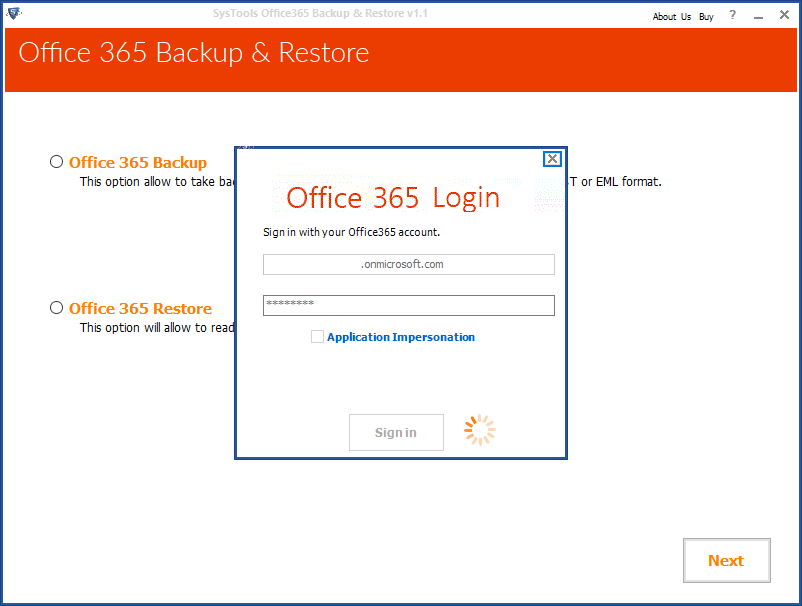 Making a decision to move to Microsoft cloud is a big leap from an in-house on-premise Exchange environment. It takes a lot of time to deal with each error and secure data at the same time. Careful planning and consideration must go into moving to a new platform as there are chances of corruption and data loss at every step.
There are ways to secure conversions by using third-party applications like SysTools Office365 Backup & Restore. It can download each email with attachments from multiple folders at a time using personal login details. It can save them emails, contacts, calendar and notes to PST and EML format. Also, the user can restore multiple mailboxes (PST files) to an Office 365 account. Admin credentials are needed to export selective user's complete mailbox data to Outlook data file(.pst). The application works on all available versions of Windows 10/8.1/8/7/XP or earlier ones.
Conclusion

There are great facilities and benefits when upgrading to Microsoft cloud services. It has multiple new functionalities like real-time document and calendar sharing. It is a great step and provides all the Software-as-a-Service applications needed. There are things to know about moving to Office 365 which are crucial and important. These are the factors which must be considered before making any big plans. It must be taken seriously during the planning phase of the export. This post mentions all the details in a precise format. These must be noted carefully before making the transfer.