Here is the list of top 3 best PDF Restriction Remover software with their key features and pros and cons. One can choose the specific PDF security remover program according to their need.
Do you ever came across a PDF file which cannot be copied, printed edited, signed, commented? If yes? Then, it is because of protection. To remove these restrictions, you need to know the best PDF protection remover software.
But, it is much more important to know about owner level security in PDF files. Basically, owner level restrictions protect the PDF document from copy, edit, print, extract, sign, comment, etc. But, sometimes it is required to remove security from PDF files. Therefore, in this post, we have discussed best PDF restriction removing software which helps users to perform the desired task in a reliable way. The most effective tools to unlock protected PDF documents are discussed here:
SysTools PDF Unlocker
Kernal for PDF Restriction Remover
SoftSpire PDF Security Removal Tool
Why Do Users need to Remove Security from PDF Files?
Let us understand the situation why a user needs to remove protection from PDF files via a user query:
"I am having some PDF invoices which does not allow me to copy data. But, I need to copy invoice data and add to the excel sheet on urgent basis. Due to protection, this file does not give me the required permissions. So, can anyone please suggest me best PDF Restriction remover software using which I will be able to remove security from PDF files."
One of the best PDF restrictions remover software is SysTools PDF Unlocker tool. This program allows you to quickly remove restrictions from PDF files. With this reliable utility, various restrictions like the copy, print, edit, extract, comment, sign, and document assembly protection can be removed. The tool creates an unlocked PDF document which is free from any security restrictions. Further, this tool does not require the installation of Adobe Acrobat to unlock protected PDF document.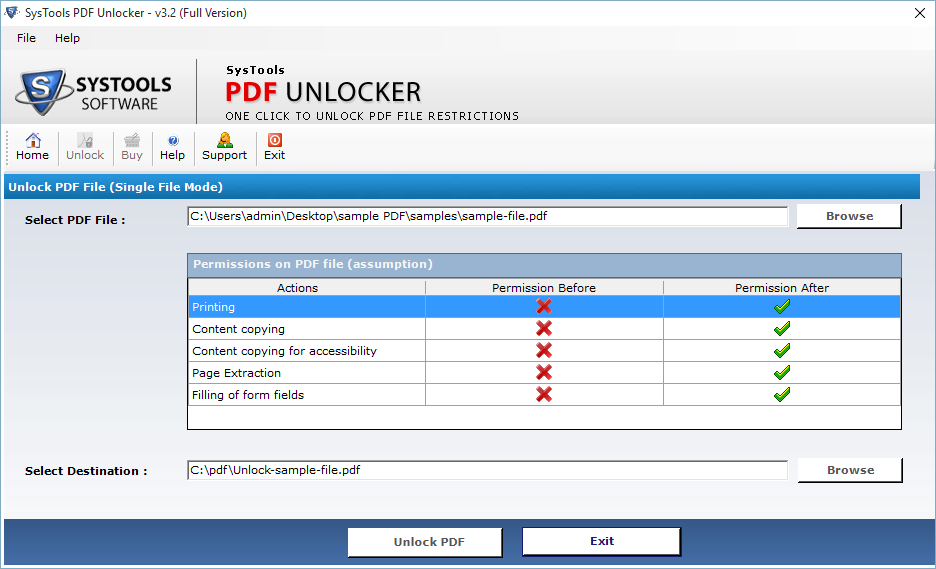 How Is the Software Distinct?
Provides the preview of permissions associated with PDF file
Option to save the unlocked PDF file
Shows the permission status in Before and After column after removing protection
The tool supports Adobe Acrobat with 128 / 256-bit encryption
Unlock protected PDF document and maintains file integrity
Compatibility
Adobe Acrobat: Unlock PDF file of Adobe Acrobat 9.0, 8.0, 7.0, 6.0, 5.0, 4.0, 3.0, 2.0, 1.0
Operating System: Windows Server 2012, 2008, 2003 and Windows 10, 8.1, 8, 7, Vista, XP
Positive Traits
Easy and fast Utility
Secure and reliable
User-friendly GUI
Guarantees to remove PDF Restrictions
2. Kernal for PDF Restriction Remover
Another smart software in the list of top 3 PDF protection remover software is Kernal for PDF Restriction Remover. Using this software, all the local restrictions present in PDF document are removed. This software ensures removal of security from PDF files in a reliable manner.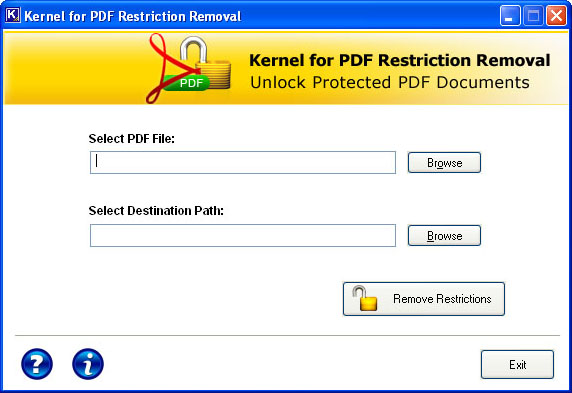 How Is the Software Distinct?
Remove restrictions from PDF like e-books, user manuals etc.
Maintains the file structure, formatting, and content for the document
Stand-alone utility to does not require Adobe Acrobat or Reader
Compatibility
Works smoothly with PDF documents created by all versions of PDF creators
This PDF Restriction remover tool supports Windows 10, 8, 7, and all below versions
Positive Traits:
Negative Traits
Does not preview the permission status of PDF file
The trial version of the tool does not support PDF files beyond 200 KB size
3. SoftSpire PDF Security Removal Tool
This tool to remove restrictions from PDF files provides dedicated PDF unlocking functionality. This tool allows users to browse secured PDF document and after removing security they can save the unlocked file at any location. The tool will unlock protected PDF document while preserving the data integrity of Adobe PDF files in a reliable way.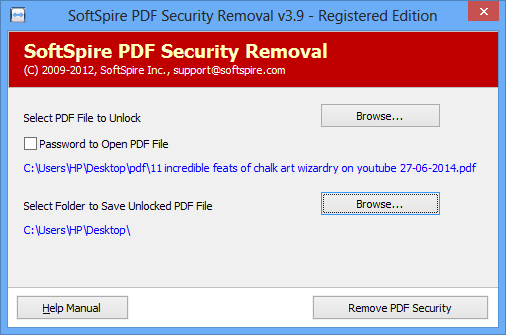 How Is the Software Distinct?
Preserves Table of contents of PDF files
High technical knowledge is not required
Compatibility
Support Adobe 11.0 & all below versions of PDF files
Runs on any Windows operating systems
Positive Traits
Works efficiently
Preserve data integrity
Negative Traits
Does not preview the associated permission of PDF file
Know How to Remove Security from PDF Using SysTools PDF Unlock Tool

Follow these simple steps and unlock protected PDF documents fastly
Download and Install the PDF Unlocker Software
Then, click the Unlock icon given in the menubar
Browse PDF file and view security restrictions on it
Select the destination folder to save the resultant PDF
Hit, Unlock PDF button & see all restrictions are removed from PDF
Time to Conclude
Securing PDF files is mainly done to enforce other controls over the use of your documents. However, users can add any type of protection in PDF files but, at times is needed to remove security from PDF files. Therefore, considering all requirements we have provided 3 different methodologies or PDF Restriction remover software to unlock protected PDF files easily.