An explanation of How the Recycle Bin works and how to configure it so that it works for you just as you want. Enjoy!
Pre-Ramble about Feedback
I've had some great feedback about Part-1 and Part-2 of my article series about Mailwasher since it's been published so far, as well as from Nick Bolton who is the CEO of Firetrust and is now a very welcomed member at Experts Exchange!
I've also got some great feedback via private email using the Contact Us link on my Website. New users to Mailwasher appear to be embarrassed in posting their feedback and questions in the comments section of my articles which to me is a great shame.
Everyone: Please note that I am unable to answer and provide help via private email due to time restrictions, so...
I strongly encourage anyone reading these article to post their feedback in the comment section below these articles and to use the FREE Ask a Question feature at Experts Exchange to seek help.
Don't feel embarrassed in doing this - the only stupid question is the one that's never asked and I promise that no one will feel less of you for asking for help.
With the above said, let's get to the point of this article! Here's a question that I've gotten (slightly reworded for grammatical purposes).
Hi, I tried to use the Recycle Bin in Mailwasher but it didn't work? Can you tell me why??
What to check and do if the Recycle Bin won't work for you
If the Recycle Bin isn't working for you, the most likely cause is because you MUST have SMTP (Simple Mail Transfer Protocol) details set up in Mailwasher. If SMTP details have not been entered into Mailwasher, then it will be unable to email messages back to you because it has no way of sending those emails. To show you how to do this, I'll explain in a step-by-step fashion how to ensure you've set up SMTP details in Mailwasher.
1. If you followed the instructions I provided in Part-1 of this series and set up an email account with SMTP details that worked, then you "should" already have SMTP details set up in Mailwasher. The SMTP part of the account configuration can be skipped by users though, so keep reading.
Even if you did follow the steps in Part-1 of this series, and the Recycle Bin still isn't working for you, then you may have skipped the Outgoing tab which includes SMTP details. Check to make sure that for every email address you've configured into Mailwasher, that you have entered valid SMTP information in the Outgoing tab, especially into the account that you select for the Recycle Bin to email messages back to you. See below...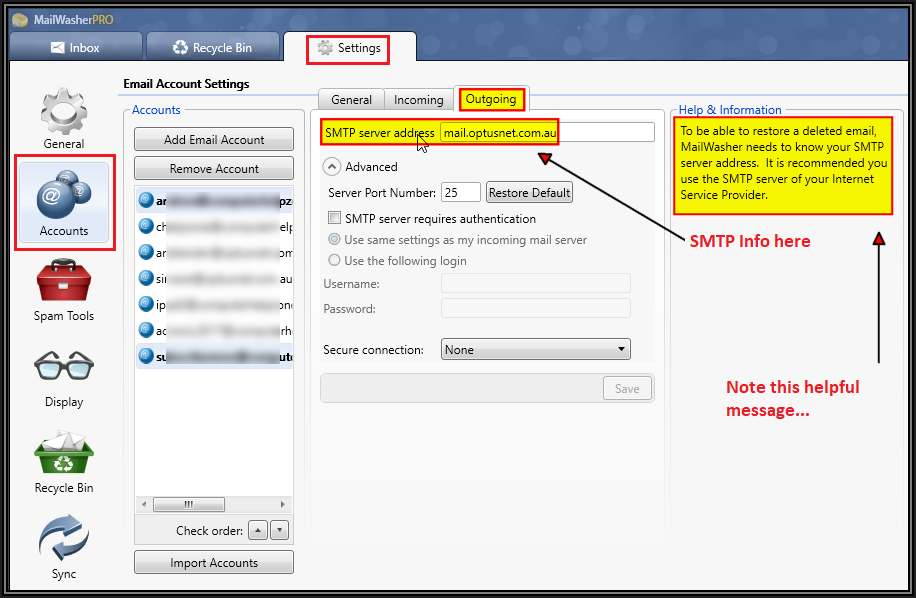 Configuring the Recycle Bin In Mailwasher Free or Pro
The reason your Recycle Bin function isn't working is that you've not configured it properly. Here are some step-by-step how to configure your Mailwasher Recycle Bin so that it works as expected, just as it does for me.
!Tip - Click on any image below to get a full-sized view!
1. Firstly, go to the (A) Settings tab in Mailwasher and click the (B) Recycle Bin icon on the left side of the screen.
Ensure you have selected the Restoring option under Categories - see below
You then need to select which Email Account you want Mailwasher to use in order to email deleted or processed emails back to you. Do this by using the (C) Drop arrow ("Fall back account to restore emails") and selecting the email account you want Mailwasher to use. Note that this will only be available once you have entered some email addresses into Mailwasher.
Use the drop arrow to select the email address you want Mailwasher to use when sending back accidentally deleted messages, or even processed messages that you may just want another copy emailed back to you.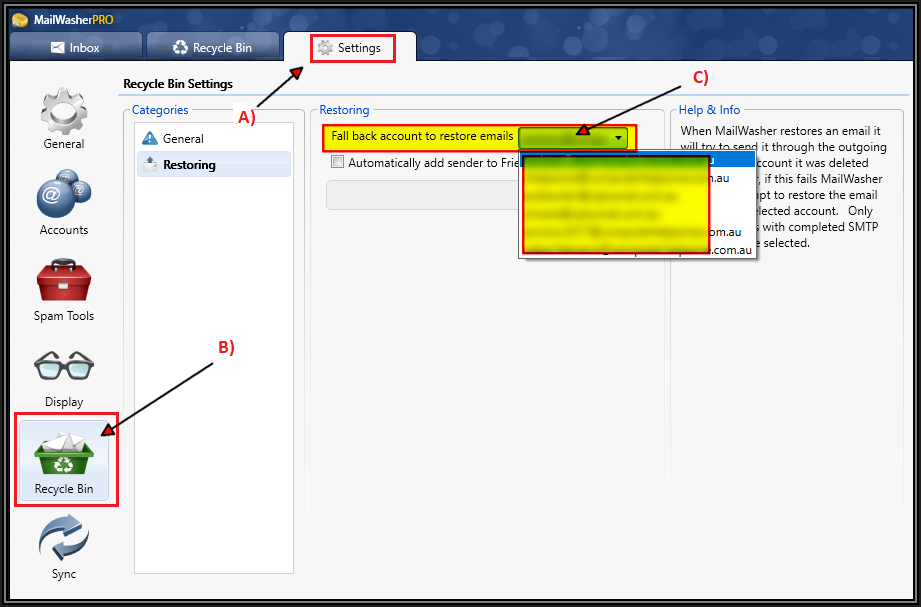 2. Now you'll want to configure how long Mailwasher will keep a copy of deleted and process emails. To do this, go to (A) Settings > (B) Recycle Bin > (C) General (under Categories) and the (D) "Store deleted emails for" section. See below: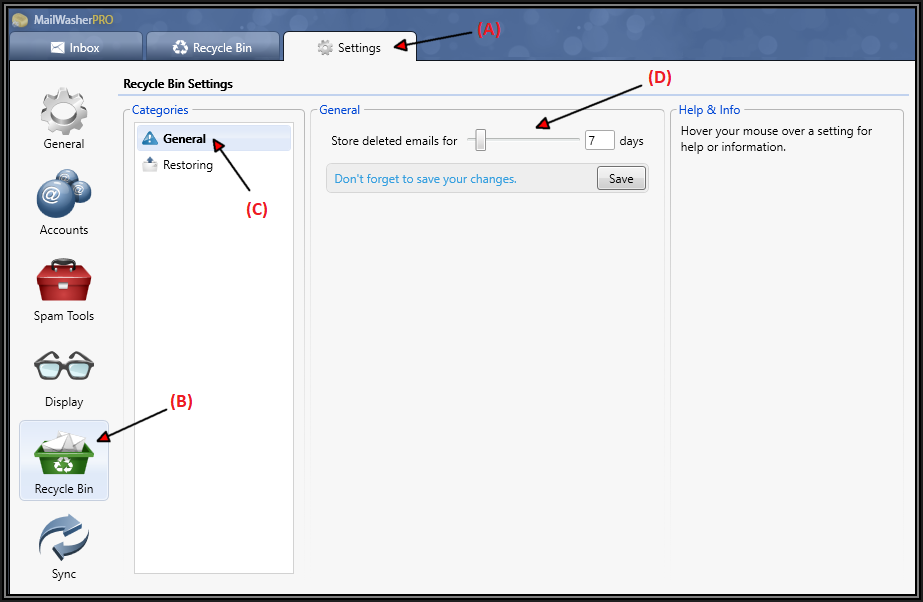 You'll note that the (D) "Store deleted emails for" slider defaults to 7 days.
To maximize its effectiveness, drag the "Store deleted emails for" slider all the way to the right so that it stores deleted and processed emails for 60 days. This tells Mailwasher to give you the ability to restore any email that arrived for the last two months!
You can select the number of days from 0 (which effectively disables the Recycle feature) all the way to 60 days. My own preference is to select 60 days as it doesn't affect the performance of Mailwasher and allows me time to go through the history of deleted and processed emails for two months. The space used by Mailwasher to store emails for 60 days is negligible.
Some additional info about the Recycle Bin Feature you need to know
How Mailwasher Stores Emails
After a default install, Mailwasher only stores the first 200 lines of emails. The reason for this is that it's faster to download previews of emails. So if you accidentally delete an email with more than 200 lines and say it may have a large attachment, then all you're going to get back when you restore is the first 200 lines of the email(s) being restored and not the attachment. We can easily improve on this and here's how.
Firstly, go to (A) Settings > (B) General > (C) Checking Mail > (D) Spam Throttle (Highlighted in Yellow)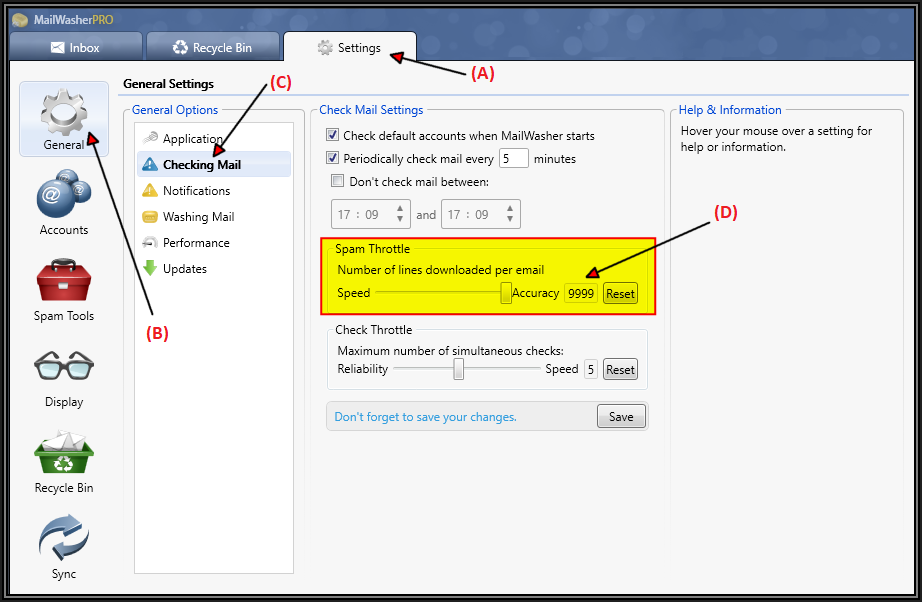 To make the most out of the Recycle Bin feature, drag the "(D) Spam Throttle" all the way to the right, so that it gives an amount of "9999" The price you pay for changing this setting to such a high number is that the downloading of emails will be slower if you have large emails waiting for you on your mail server.
I personally consider this a very small price to pay as it's rare that super large emails are waiting for me so the benefits of downloading the entire emails in case I want to restore them far outweigh the speed of Mailwasher downloading a copy of all emails for me to preview. Besides that, all the checking and downloading of emails is done in the background for me, so I don't even notice it until Mailwasher notifies me that there are emails for me to review and examine.
By the time all of that downloading happens, I now have the ability to preview and restore entire emails with attachments without having to lose any information if I happen to need to restore an accidentally deleted email. For that reason, I strongly recommend that you configure the settings as I've illustrated above.
However, you may feel differently so if you do, (A) Hover your mouse pointer over the Spam Throttle slider and you'll get some (B) Recommendations from Mailwasher as to what settings may choose to suit "you" best. Everything is configurable to your liking and that's yet another reason I enjoy this tool so much! See below for what I'm talking about.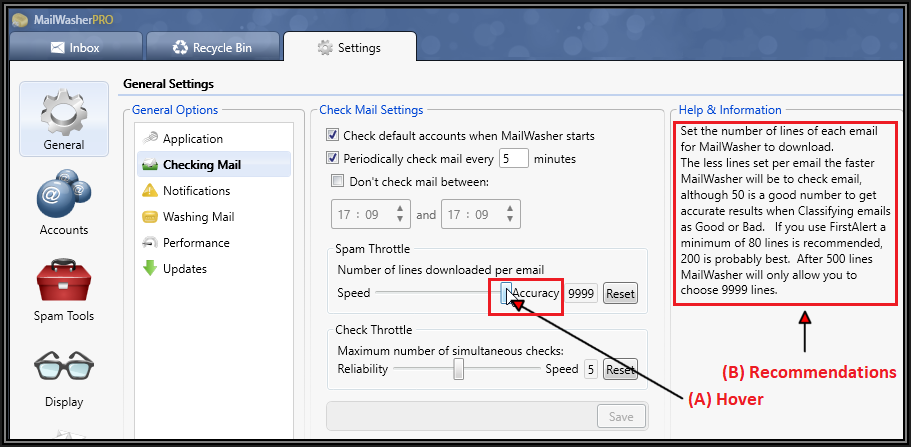 I hope that helps you in configuring the Recycle Bin in Mailwasher to work the way "you" want it to. If you're still having problems, please leave a comment below this article or use the free Ask a Question function at Experts Exchange, where I and many other experts will be more than happy to assist you.
And please, don't be shy or embarrassed to use this forum to ask for help. There's many very talented experts just waiting to help.
That's it for Part-3 of this write-up for Mailwasher Pro. In Part-4 I will cover yet another question that I've been asked about, such as this one;
What's the difference between POP and IMAP configuration in Mailwasher? How do they work? What can they recover??
Part-4 of this series will be written soon and will cover the above question and more, so do watch this space.
For those of you that haven't read Parts 1 and 2 as yet, links to them are included below;
Part-4 of this series is now available via the following link:
I've also created a couple of videos on this topic. View them here:
Author: Andrew Leniart
© Copyright 2018 All Rights Reserved