This article covers the things you should know about Email backup in Office 365. Backing up emails is the most crucial part that generally neglected by users.
Nowadays, most organizations and home users use different types of email clients for their work. Emails become a part of our day-to-day life that every personal and formal communication can be done with the help of emails. But imagine that one day you may find that all of your important email communication will no longer exist in your email application.
It would definitely be a horrific situation to lose crucial emails messages. Consider that if the same situation happened in an enterprise, then it may lead to a huge loss of information. Moreover, such situations can be easily prevented by taking a backup of email at regular intervals. Email backups are the most appropriate way to get back email messages after deletion. So, after considering it, in this article, we will discuss how to backup emails in Office 365 nimbly and in a proper way.
Explore the Term Email Backup in Office 365
On a fundamental level, the term backup refers to a replica of data that can be restored in a case where the original data has been deleted. When this word "backup" is read along with email, it becomes Email backup. It is nothing other than a copy of email messages that are stored in a backup file, and, can be accessed anytime in the future. The idea behind Email backups in Office 365 is to prevent data loss and act as a data protection layer.
Many people are often confused with the terms "archive" and "backup". They treat both terms in the same way, but archive and backup both are both different processes. At some extent, both convey the same meaning, i.e. store copy of data files. Although, email archiving means to store data items that are not so much important and currently can be useful in the future. On the other hand, email backup can save entire data files and recover them if and when necessary.


Requirements of Office 365 Email Backup
There is always a risk of data loss on both platforms i.e. locally or in the Cloud. So, it is a good practice to take Office 365 email backups to recover data whenever it is required. There are a multiple of reasons for backing up emails in Office 365, and the major ones are listed below:
It may be possible that a user is in a hurry and accidentally deletes emails. So, with the help of an Office 365

mail backup file, deleted email can be easily restored.

Any attack by a malicious program on an O365 application can also lead to data loss.

Malfunctioning of any hardware parts may also lead to the deletion of emails in Office 365 that may result in data loss.
Which Office 365 Email Backup is Suitable?
According to different needs, you can choose the best Email backup for you Office 365 plan, generally, backups are categorized in three ways:
Full backup: It is a type of backup that saves all the files or folders. It is considered as

a first backup.
Differential Backup: It copies all the data that has been modified since the last full backup. For example, A full backup is performed on Sunday and then on Monday a differential back up is made. Accordingly, in the newly created differential backup file, all the modifications added in Sunday's full backup are also saved.
Incremental backup:

With the help of this backup option, users can backup the changes that

were

applied to the previous incremental backup cycle. Among all types of backup, this one is the fastest and space-friendly.
What are the Features Important for Office 365 Email Backup?
Automatic:- The Office 365 email backup software must be fully automatic and backup the

complete mailbox items in some simple steps.
Backup Types: It is clear from the above that there

are 3 different types of backup options. So, it is important for software to take at least a full backup as well as differential backups efficiently.
Granular level Recovery: The best backup solution should provide the facility to backup certain items from the folders and restore them at a granular level. Thus, in such a situation, when only an individual file is lost, a user only requires restoring a single file from the backup instead of the entire mailbox.
Maintain Folder Hierarchy: A good backup solution

should

keep the folder hierarchy & metadata structure remain same throughout the entire process.
Why Choose SysTools Office 365 Backup & Restore Tool?
SysTools Office 365 Backup & Restore Software is one of the best types of software available that ensures full backup, differential backupsand Schedule Incremental Backup of Microsoft Office 365 efficiently. Also, this $19 software provides the facility to restore Office 365 emails back to the Office 365 tenant.
Basically, it is designed for mailbox backups in Office 365 to Outlook supported PST files and store them locally on the system. Moreover, when the user needs to restore the data from it, they can use the same tool and can recover easily. Apart from this, the utility also has some added advantages:
Backup of Single & Multiple Account: The software allows the user to take regular backup of a single or multiple user accounts by scheduling Office 365 mailbox backup.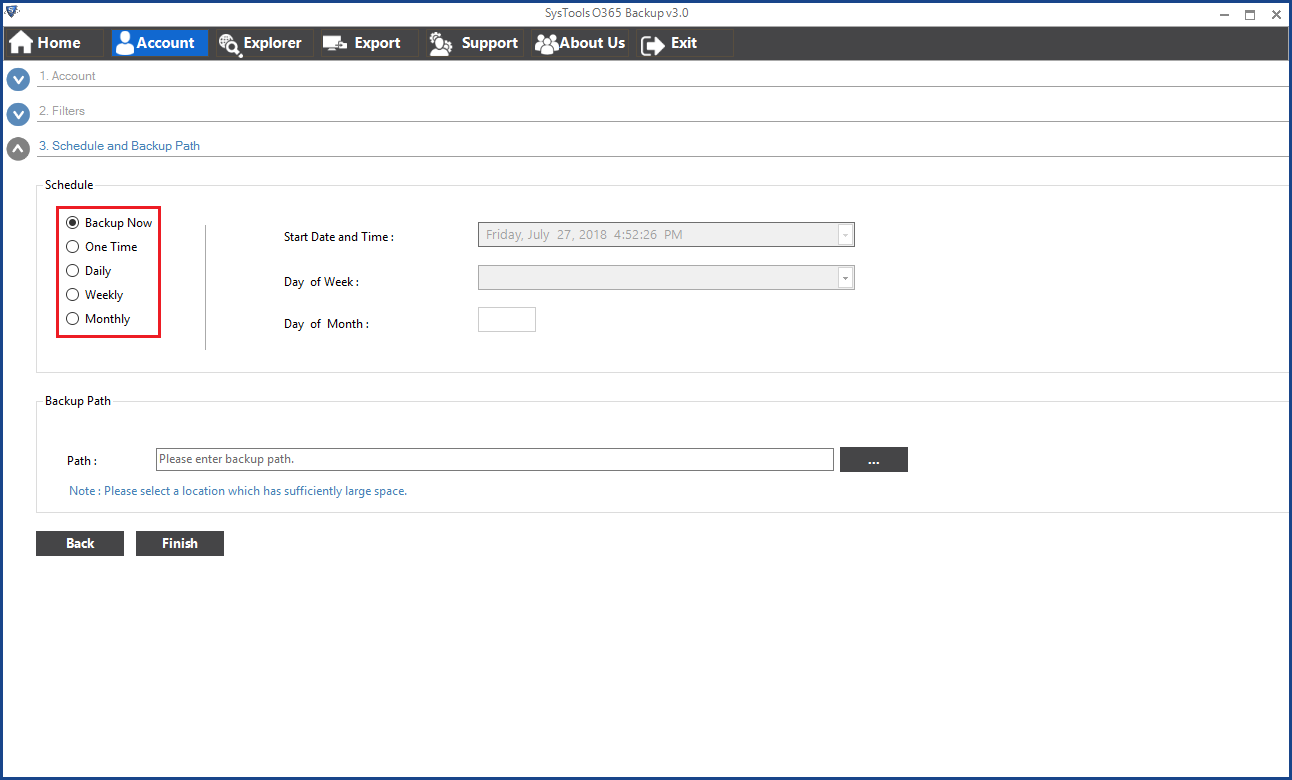 Date Filter Option: The filters allow users to take only the backup of selected data items instead of the complete folder. By doing this, users save time, as well as storage space.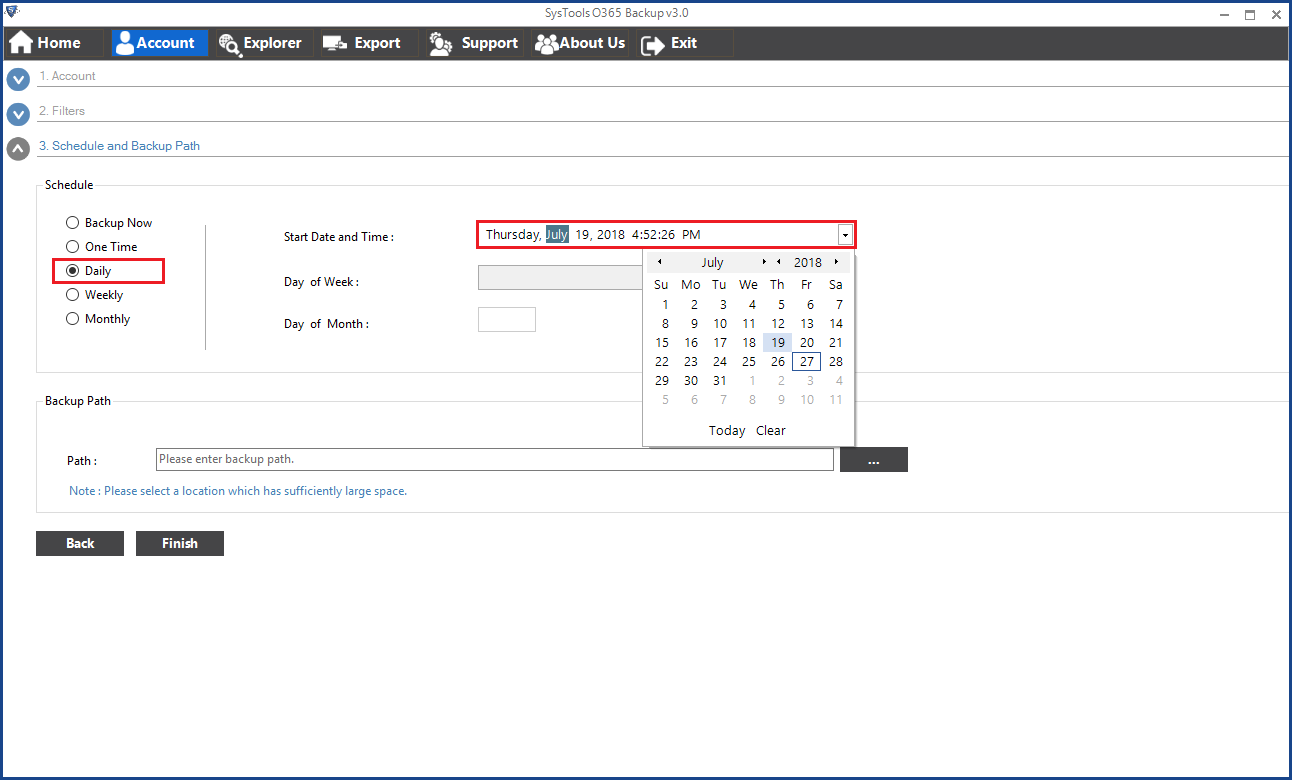 Smart User Interface: The straightforward and self-explanatory interface makes the complete process smooth and facile.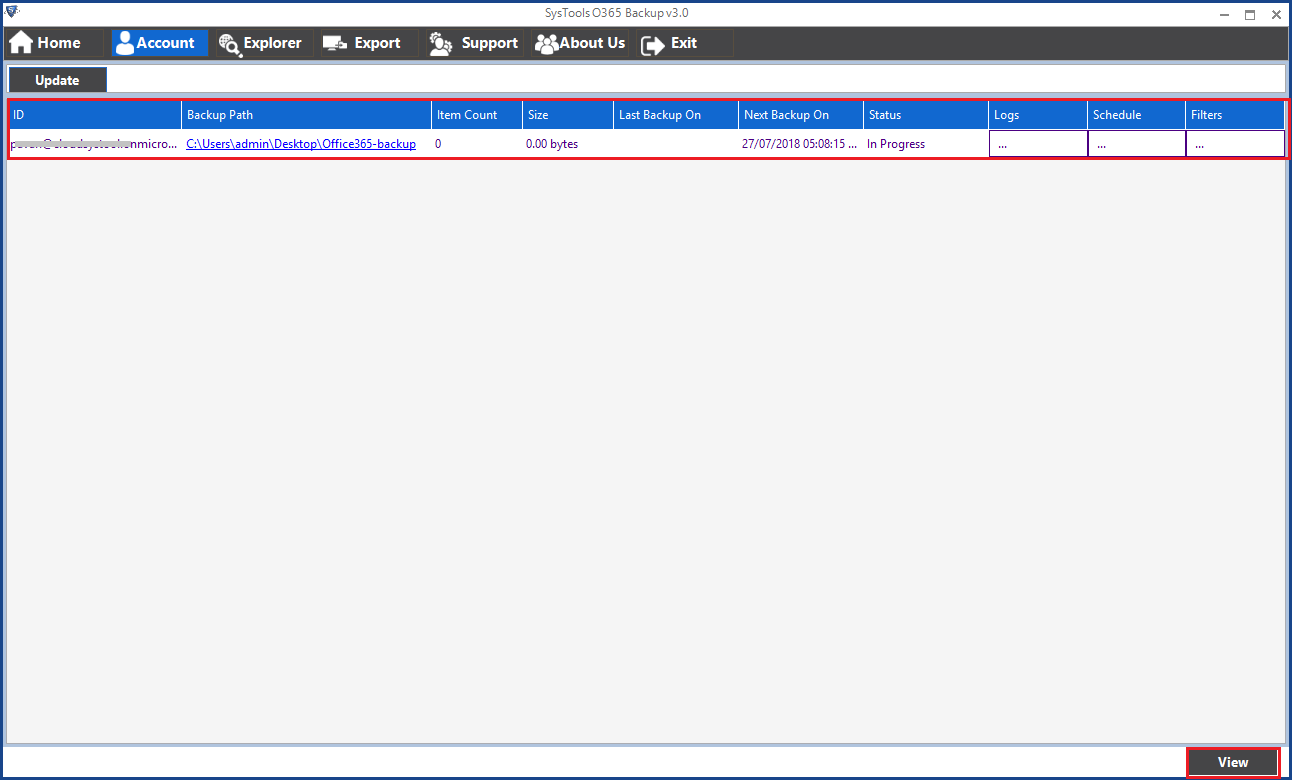 Export Backup Mailbox to PST: The software permits users to backup Office 365 Mailbox and export to PST formats i.e. Outlook supported PST files. The .eml formats are further supported in many email clients such as Outlook Express, Windows Live Mail etc.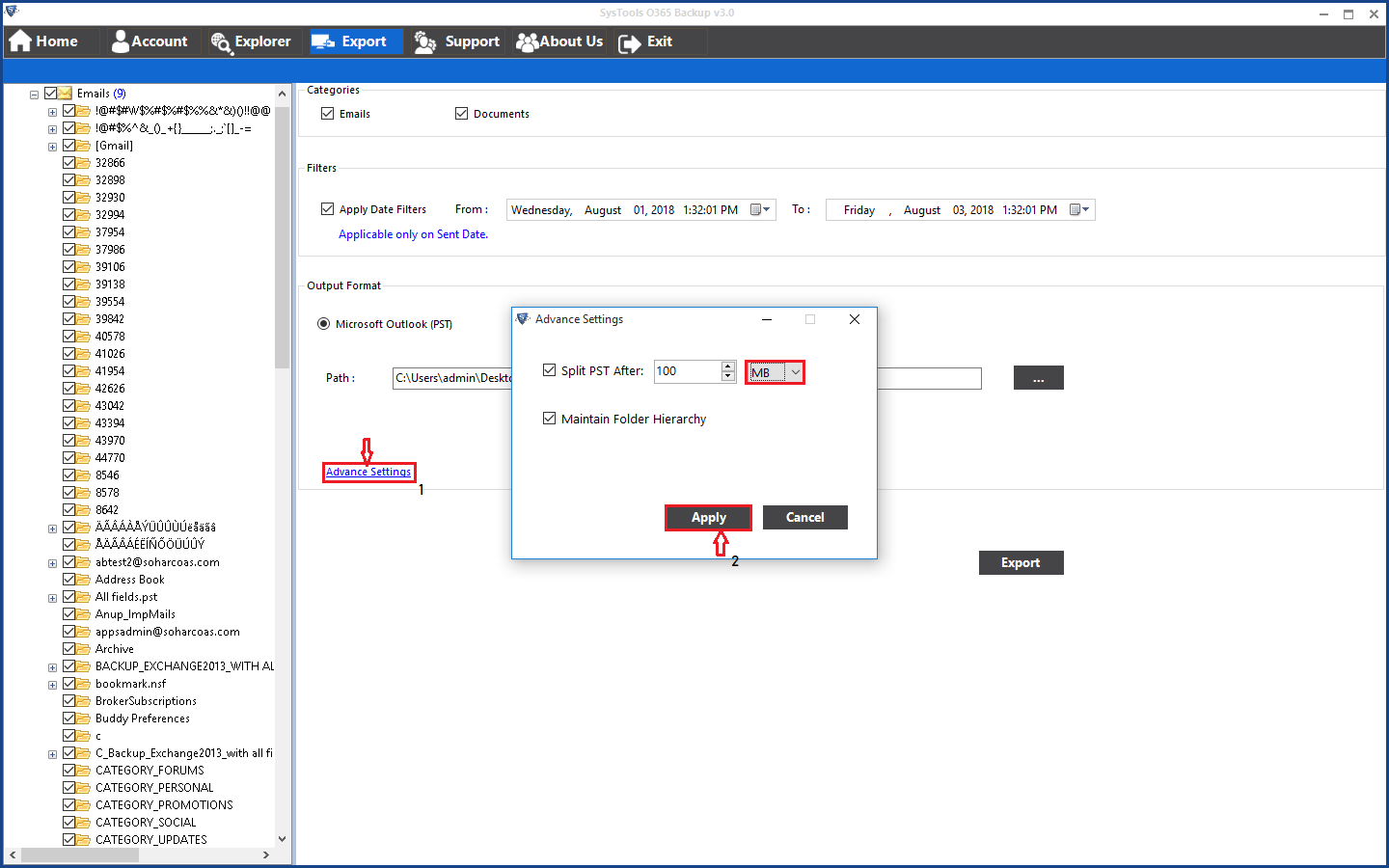 Restore Office 365 Mailbox from Backup: The Email Backup in Office 365 Software restores multiple PST files back to Office 365 Online. The user can select the folder and/or mailbox they want to restore back.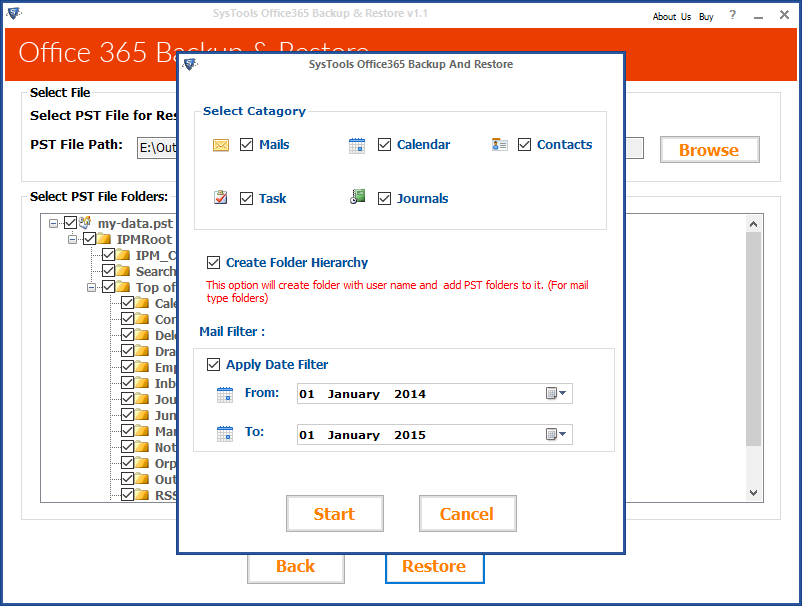 See full working Of Office 365 Email Backup Software:- https://www.systoolsgroup.com/office365-backup/how-it-works.html
The Observational Verdict
Email backups in Office 365 Online are very important for an enterprise to run a steady business. But, many organizations underestimate the power of an email backup and end up stuck in a serious data loss scenario. Hence, as this blog suggested, to take a regular backup of Office 365 files by using a professional tool named as SysTools Office 365 Email Backup and Restore for a safe & secure backup is advisable.