Learn how to Syncronize all of your Outlook Contacts, Tasks, and Calendar entries with the Free copy of Gmail - you don't need a G-Suite subscription and this article will tell you how to do it! Different profiles can be set up too! Enjoy!
Preliminary Note: This is Part-1 of a Series of Tutorials that I will be writing about this fabulous utility.
Tutorial and Review of Sync2 by Andrew Leniart
A little Background History
Back in early April of this year, I asked a question (How to get Outlook Calendar to Synchronize correctly with Gmail Calendar?) at Experts Exchange and the general consensus from the Experts that replied was that the only way to do it effectively was to have a Google G-Suite subscription. I wanted to achieve this with a free Google account, so those answers were not terribly helpful to me. I purchased a G-Suite subscription and tried their tool, but I wasn't happy with how it performed, nor with the chat support I experienced, so I cancelled my G-Suite subscribption within 48 hours!



Since then, I kept searching for a solution and finally found one that works brilliantly - without the need for a paid
G-Suite subscription! It's a utility made by 4Team Corporation in Coral Springs, Florida USA.
Introducing a most excellent tool - "Sync2"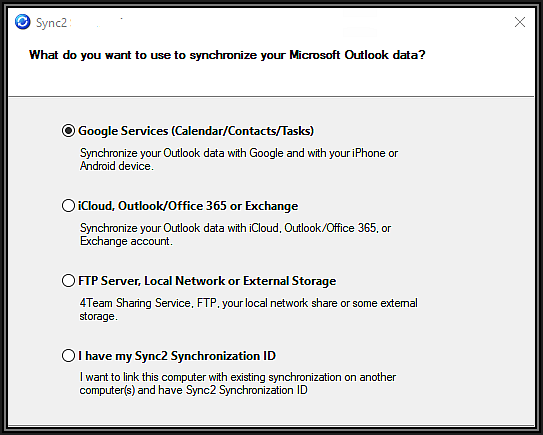 I liked this utility so much, that I purchased a license within 24 hours of trying it,
long before my trial period had expired!
Obtaining and Installing the Sync2 Trial
Firstly, you'll need to go to the Sync2 website and download the installation file.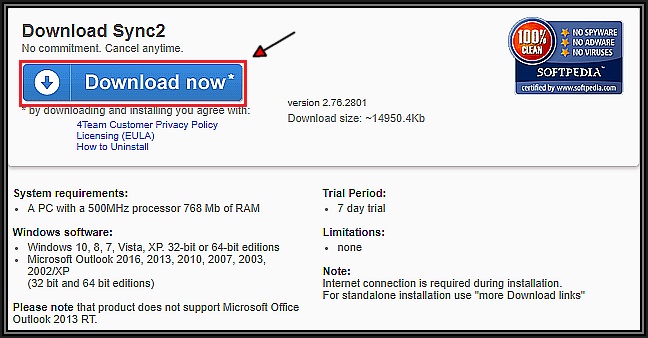 Note: You'll get a prompt to provide your email address, agree to product-related news and updates, as well as to receive promotional emails. You don't need to enter this info if you don't want to - just wait a few seconds and your download will begin regardless.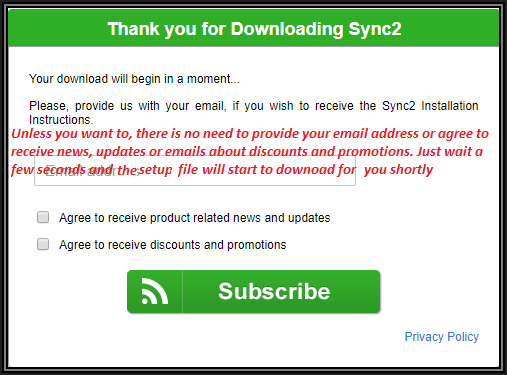 Your download of "sync2_setup.exe" will commence - Double-click the setup file, select your desired language for the program to operate in and click the OK button: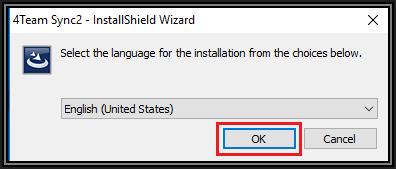 Accept the license agreement and then click the Next button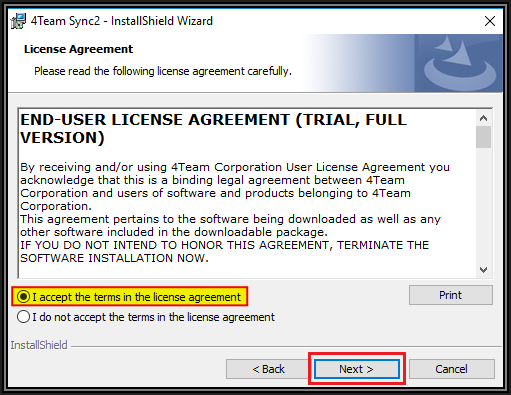 If installing on a Windows 10 system, click the Yes button on the UAC (User Account Control) prompt to tell Windows you approve the app to make changes to your computer and the software will install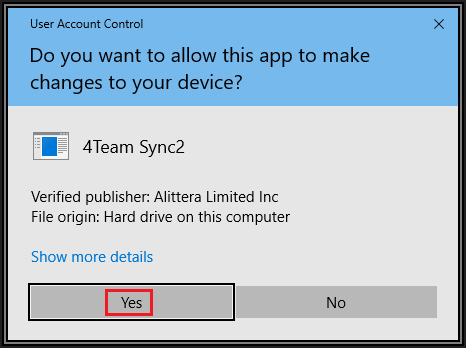 No restart of Windows will be required so leave the "Launch 4Team Sync2" box checked (or ticked) and then click the Finish button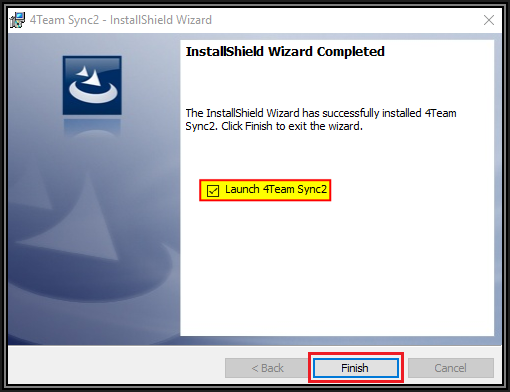 Sync2 will start for the very first time and the Synchronization Setup Wizard will launch. As this is your first time using it, you probably won't already have a License for it, so select Use Trial Version to get a temporary license key that will allow you to use ALL of its features for 7 days and click the Next button.
Initial Configuration of 4Team's Sync2 Utility
You have three options to select from here, but for the purposes of this tutorial and review, we're going to select synchronizing our Outlook Calendar, Contacts, and Tasks with Google. Click Google Services (See below) and then click the Next button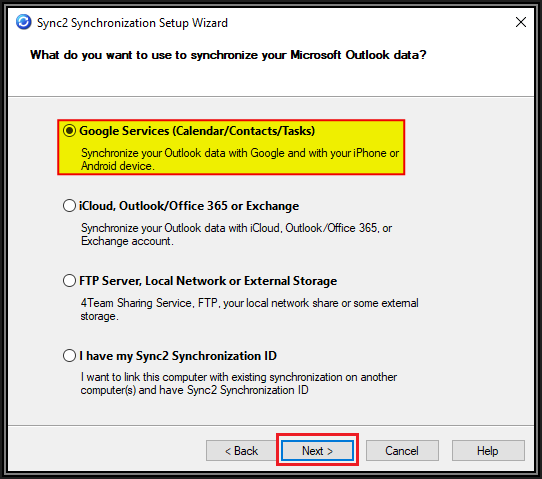 Next, you get the opportunity to select what you want to synchronize with Google. For the purposes of this tutorial and review, I've checked everything as highlighted in yellow below and click Next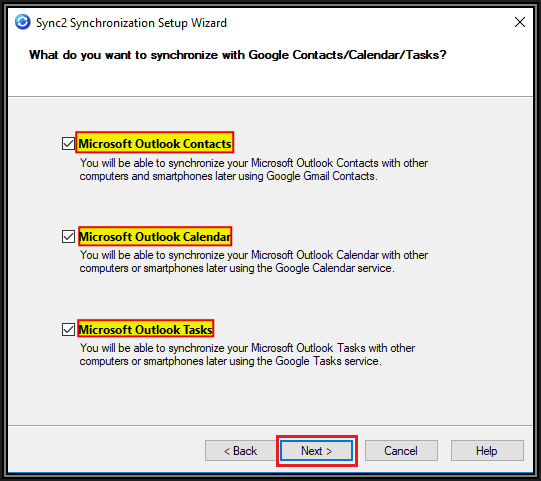 You'll now need to log in to your Google Account. Click Login to Google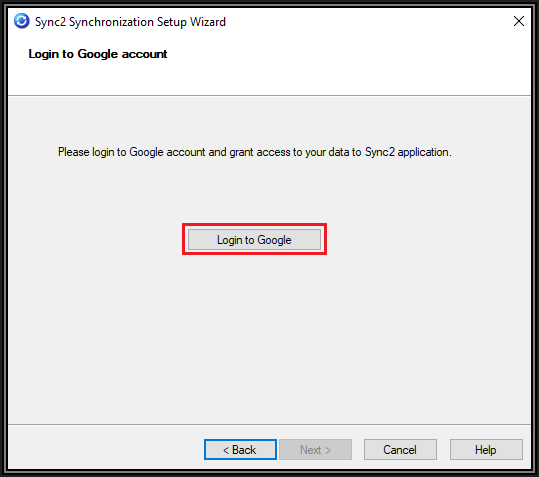 Sign in to your google account by putting in your @gmail.com username and then click the Next button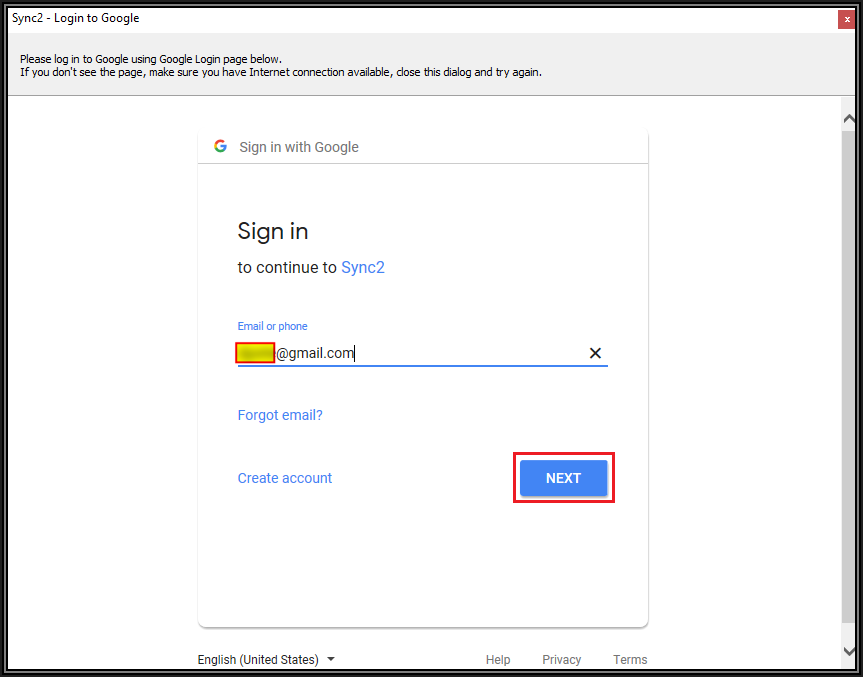 Put in your Google password and click the Next button again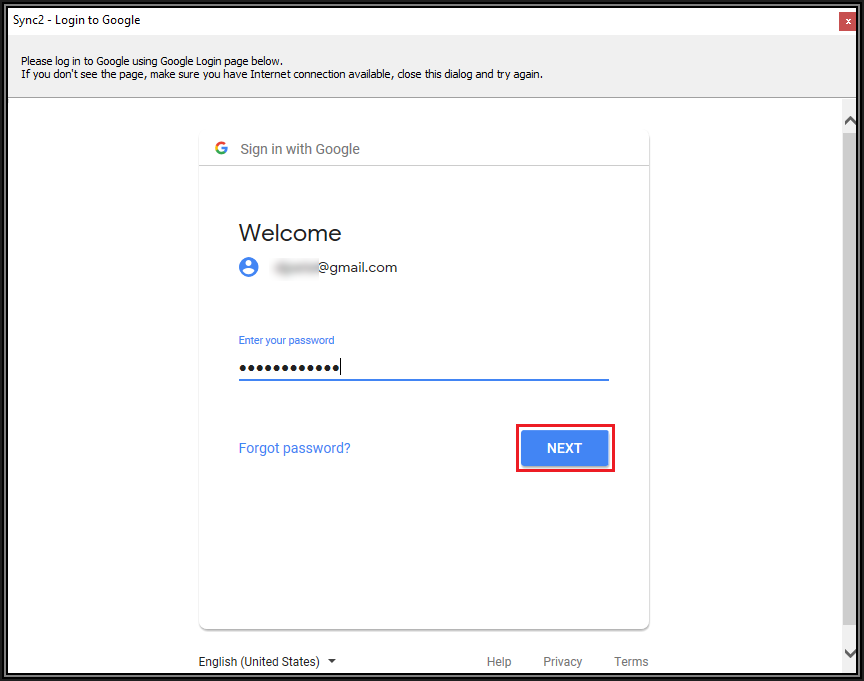 If all goes well, you now have the opportunity to select what you want Sync2 to access in your Outlook and Google account for synchronization purposes (highlighted in yellow) For the purpose of this exercise, I decided to allow Sync2 access to my Outlook and Google Contacts, Calendar(s), and Tasks
Once ready, click the Allow button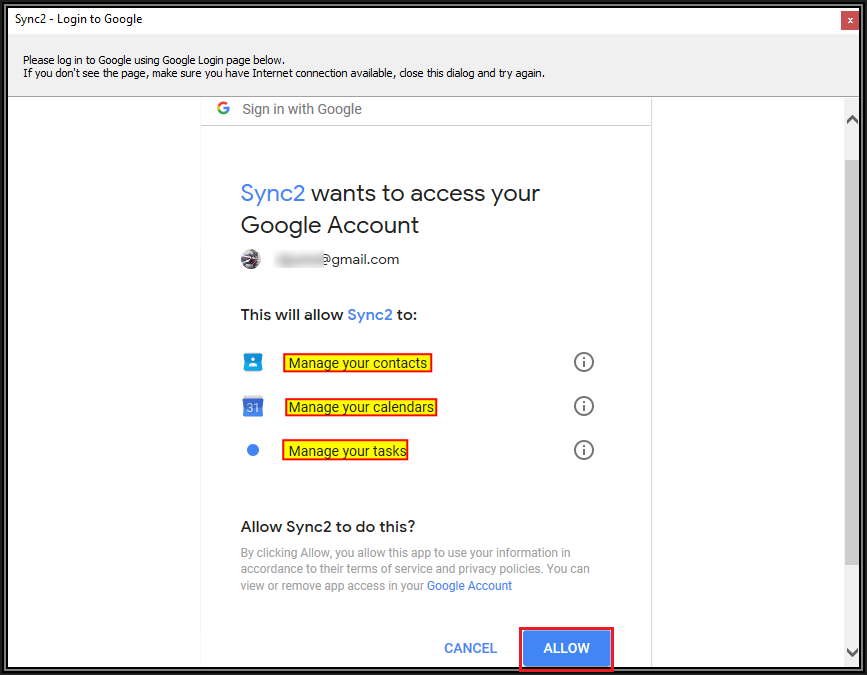 Click the Next button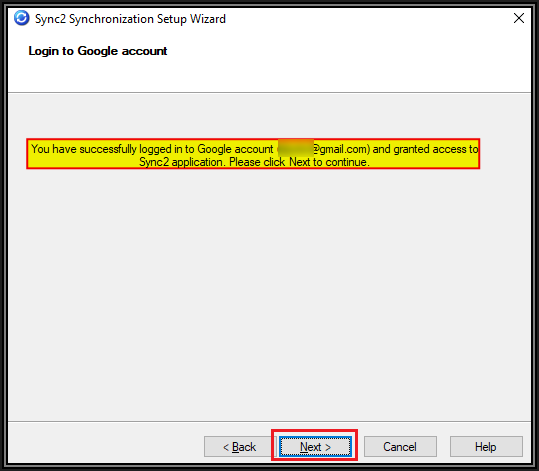 Leave the Configure advanced synchronization settings un-checked for the time being until you learn how it all works (you can set those later anyway) and just click the Finish button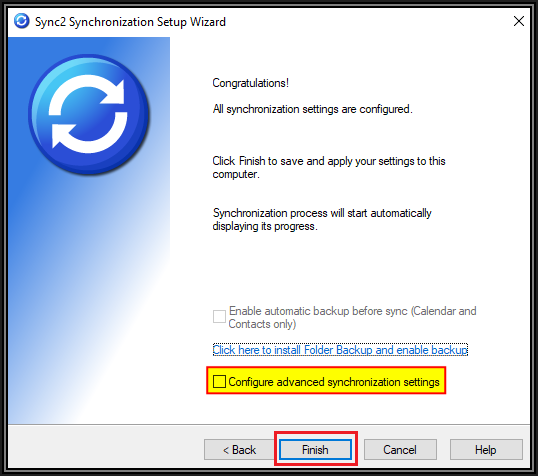 After you click the Finish button above, you'll get the following screen and the first synchronization between Outlook and your Gmail account happens automatically. I used a POP3 connection to my Gmail account, but I've tried both and it works just as well with an IMAP connection!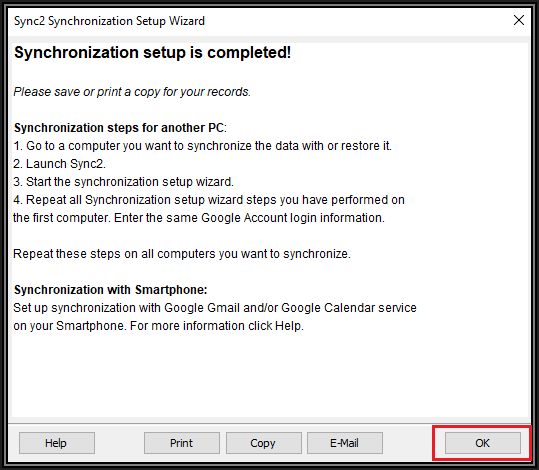 As soon as you click the OK button above, the first synchronization occurs between your Outlook and Gmail account. I'll show you the results of both after the sync happened below
Outlook Contacts Google Contacts
The exact same scenario happens with Tasks and Calendar. What is in your Outlook it transferred to Gmail and what is in Gmail is transferred (or synchronized) into your Outlook - and it all happens automatically, even if Microsoft Outlook and your Gmail browse are both closed - and at time intervals that you specify!
Additional Advanced Configuration items of "Sync2"
What we've covered above is the basic installation and a default configuration of Sync2, however, are some additional and advanced configuration options of this great little tool that I'll briefly show you. To configure Sync2 to operate the way "you" want it to, go through the following steps.
Double click the Sync2 icon you will find on your Desktop or from Windows Start

The Syn2 Confuarion and reporting window opens as shown below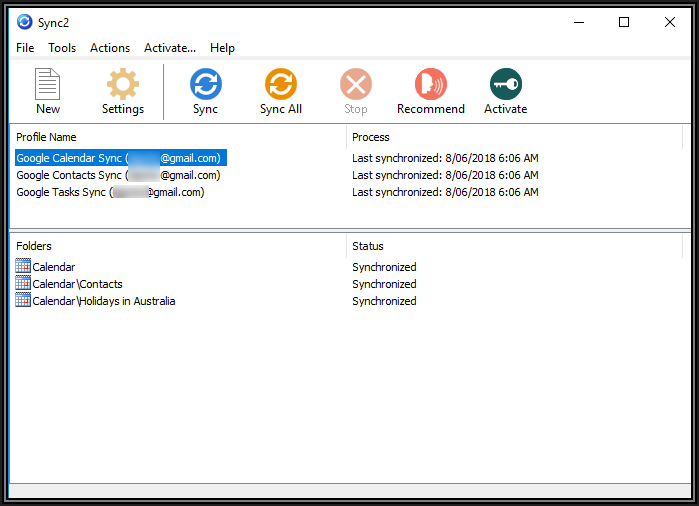 Now let's take a look at what all the cool Menu options Sync2 makes available to us are for.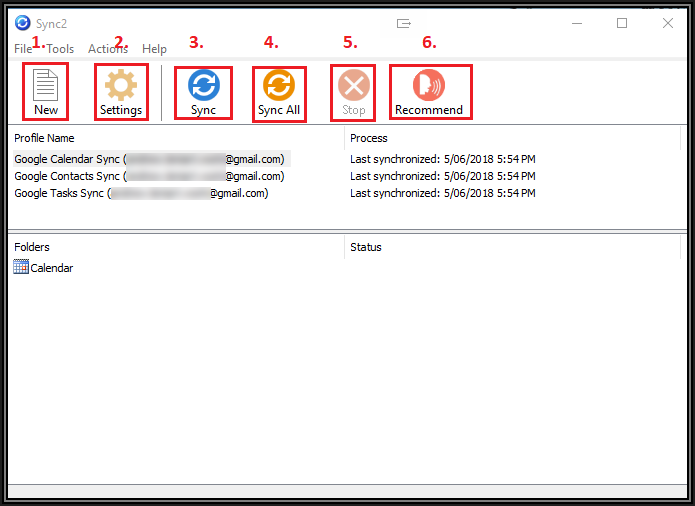 1. New - Clicking the New button gives us an opportunity to set a new profile in order to change the settings on how things behave. For example, if you click New the following box will pop up. For this example, I want to save my currently saved data to an FTP Server so that I can sync it again with this, or another computer. To do this, we'll need to create a new profile. Let's go through the steps.
Creating a New Profile in Sync2
1. Select the highlighted option in the graphic below and click the Next button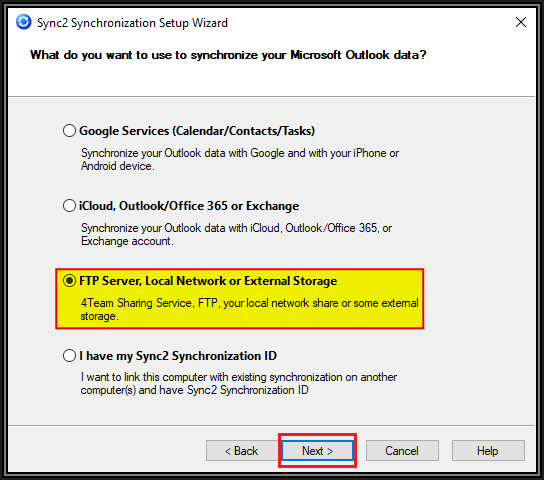 2. Now at this point, we could select an FTP Server, iCloud/Office 365 or Exchange or just to another computer on our network. For this exercise, I'm going to use a networked folder on my network. To do this, click the highlighted option as shown above and then click the Next button
Select the Network option as shown below and then click the Next button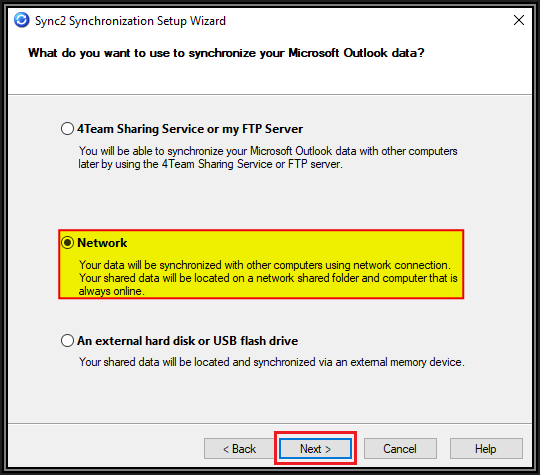 3. On the next screen, use the Browse button to select a networked folder and then click the Next button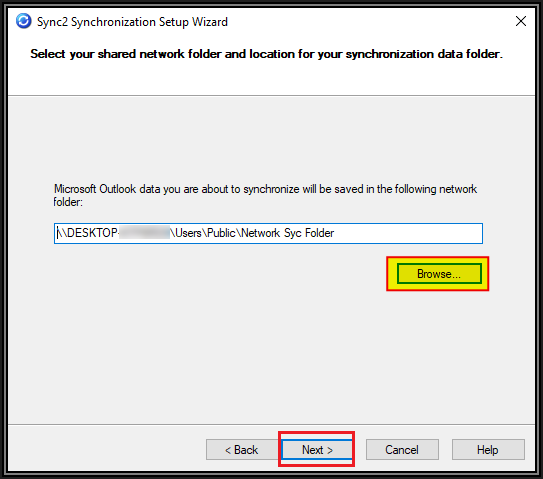 4. A new Profile Name and Folder is automatically created to be used for your synchronized data; Note that you can choose the profile name and folder manually at this point if you like, but I'm just going to leave it as default as shown below and click the Next button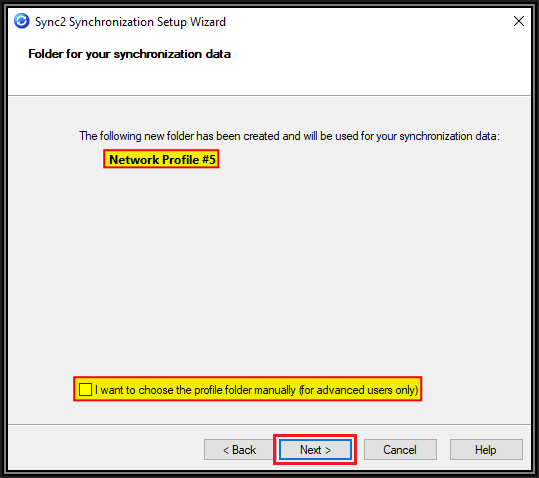 5. That now completed our synchronization configurations. Once you click the Finish button as show below, the first Synchronization process will start automatically and display its progress! Go ahead and click the Finish button as shown below now.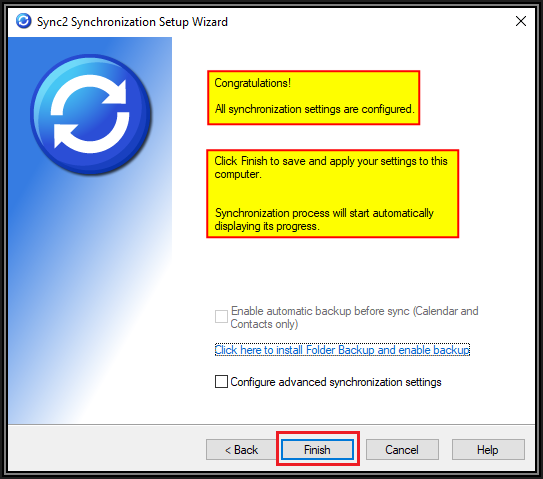 Synchronization setup is completed!
Yes, it's that easy!
6. Take a note of the Sync2 Synchronization ID ( 1D1F in this case ) - you'll need this later when you want to go to another computer to synchronize your data with. As shown in the screenshot below, you can repeat these steps on all the computers you want to synchronize! Acknowledge the message by clicking the OK button, or if prefer, make a Print out of the page, take a copy of the text or even email it to yourself.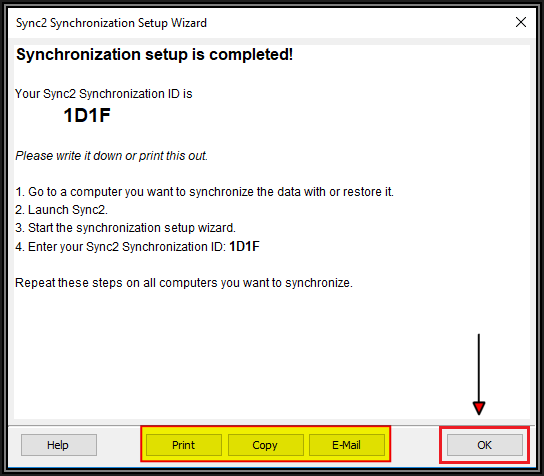 Note below that the profile we just created has now been syncronized for the first time and can be re-run at any time we want. I have mine set to run every 5 minutes automatically.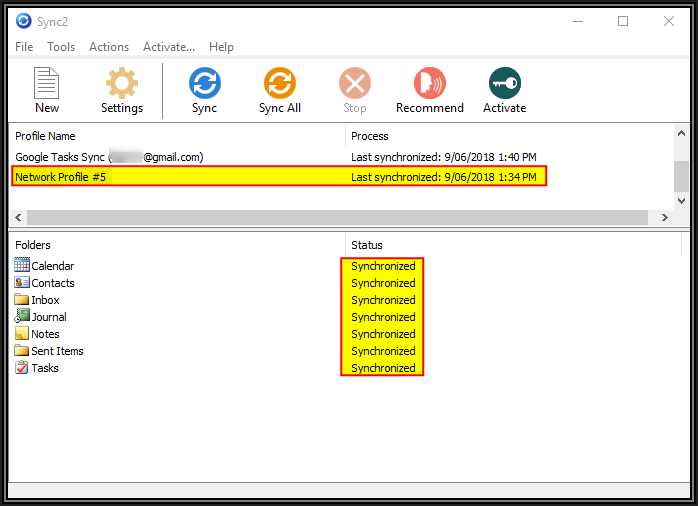 For those of you curious as to what the Network Folder we created earlier looks like and contains, here's a few snapshots to show you what mine looks like: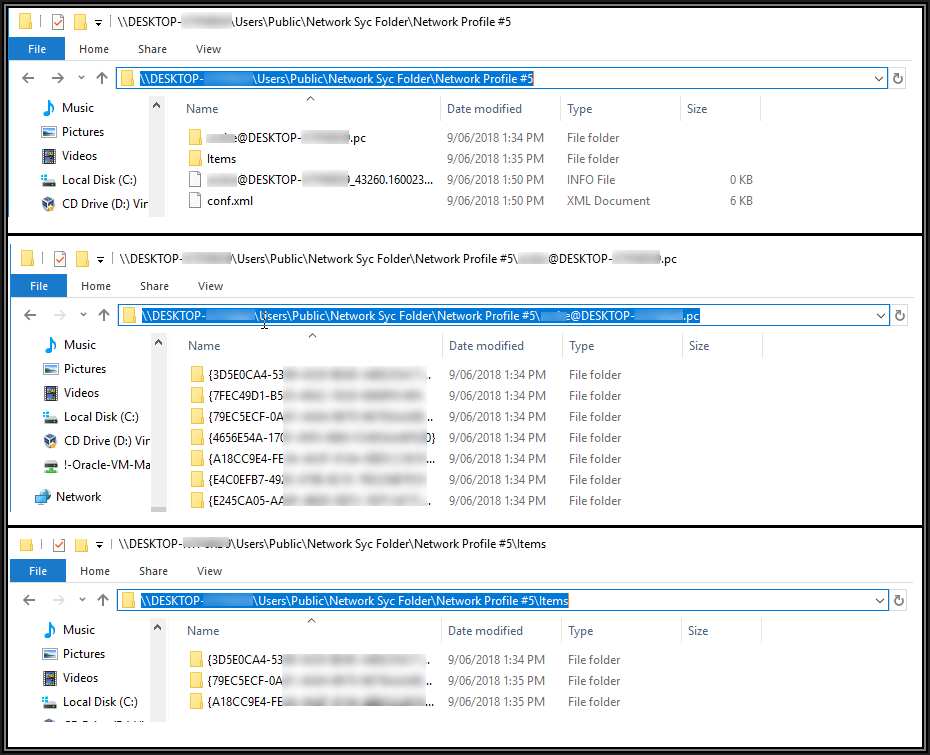 Synchronizing with other computers
Synchronizing your data with other computers is simplicity itself.
A) Go to the computer you want to synchronize your data with (or restore it)
B) Install Sync2 and launch it
C) Start the Synchronization wizard
D) Enter your Sysn2 Synchronization ID that we created above. Ie: 1D1F and click the Next button as shown below
Now, how easy was that? :-)
The conclusion of Part-1 of this Series about Sync2
That concludes Part-1 of this Tutorial and Review of Sync2. Everything in this tutorial was tested and worked perfectly. All screenshots were taken during the writing of this Tutorial.
Finally, in Part-1 of this series, you've learned the following;
An introduction to a little known about utility that does everything that Google's solution does for those with a G-Suite subscription and more


How to Obtain and Install Syc2


How to configure Sync2 for its very first use with a FREE Google account


How to create a new profile in Sync2 for different tasks and synchronizations you may want to do


How to Synchronize between two or more computers over a local network


What to expect in Part-2 of this series
In Part-2 of this series, I will be covering the following:

(A) Explaining the various Menu Items, what they do and when to use them
(B) Exploring the variety of Settings you can set in Sync2 to make things even easier
(C) How and when to use the Sync item
(D) How and when to use the Sync All item
(E) When it might be useful to use the Stop function
(F) Explaining what the Recommend button is all about and how it can benefit you and your friends
---
Need Support?
I hope you've gotten some value out of this article and tutorial. However, should you need support with Sync2, (or anything else for that matter), then I strongly encourage you to use the free Ask a Question function at Experts Exchange, where I and many other experts are ready and willing to help you.
---
About the Author
I am an IT Professional, Professional Freelance Journalist, and Blogger, and an all round nice guy! :)
Contact me for additional information by accessing my Experts Exchange Profile Page.
Andrew Leniart
© Copyright 2018 - All rights reserved
---
If you found this review interesting and helpful, please do click the Thumbs Up symbol to the bottom left of this article. It provides me with positive feedback and really helps me out! It also gives me an indication of what type of articles to write in the future.