Lotus Notes NSF to PST Converter is a reliable and smart solution for all users who want to move Lotus Notes Database (.nsf) to Outlook PST. Therefore, in this blog, we are going to discuss why Lotus Notes NSF to Outlook PST Converter is preferred by users rather than any other converter.
There many email clients that play an important role in business communication. The data exchanging process and the conversation between two entities become smooth and effortless with an efficient email client. Lotus Notes is one of the email clients which is used with the different server applications (local and collaborative) including email, calendars, personal information manager and the Web.
Notes Storage Facility or NSF is a file format supported by a Lotus Notes database. This NSF file consists of emails, calendars, journals, contacts, to do list etc. On the other hand, Outlook is one of the email applications which is highly used by users around the globe. It is a part of Microsoft Office Suite, mostly used as an email client by various users. Moreover, it also includes calendars, contacts, task manager, notes etc.
Nowadays, most people are switching from Lotus Notes to Outlook as Outlook is a complete personal information manager with the number of amazing features. So, most people prefer Outlook over Lotus Notes. Now, if a user is migrating from Lotus Notes to Outlook, then he/she need to transfer all the NSF data into PST file format. Outlook only supports the PST file format, not NSF. So, users are always in search of an automated utility using which can perform the conversion task easily. Therefore, in this write-up, we are going to discuss a smart solution which can convert complete Lotus Notes to Outlook without any data loss issues.
Benefits of Outlook Over Lotus Notes
There are many benefits of using Microsoft Outlook, it is a prime reason why users are converting from Lotus Notes nsf to Outlook pst . Some of the advantages of Outlook are discussed below:
Information Storage
In Outlook, data is stored in two file formats that are PST and OST. A user can access PST file data in an offline mode, whereas OST file can be accessed in both an online and offline mode. The storage space of Outlook PST is 50 GB. [Ed: This storage space is adjustable and also depends on the version of Outlook being used] Lotus Notes: All the Lotus Notes data that include emails, attachments etc are stored in a single file format that is NSF.
Pricing Factor
As is it known that Outlook is a part of MS Office Suite, there is no need to purchase it separately. Lotus Notes, on the other hand, is an expensive service. A user has to spend lots of dollars to avail themselves of it.
Account Synchronizing
A user can easily Sign In with multiple accounts in the Outlook application. With Lotus Notes, a user has to login each to email account separately. This implies that a user cannot Sign In with multiple accounts simultaneously.
Maintenance Cost
A user does not face too much complexity in the maintenance of Outlook, while on the other hand, Lotus Notes requires many assets for its management and maintenance.
Graphical User Interface
Outlook has a user-friendly and easy to understand interface. Both technical and non-technical users can work with Outlook easily. Lotus Notes has a complicated user interface which makes it difficult for a user to understand and work with it. The user must have the technical knowledge required to work with Lotus Notes.
Why Should One Pick SysTools Lotus Notes NSF to Outlook PST Converter?
Most users are searching for a trustworthy solution so that they can convert their NSF data into PST format without any data loss. Lotus Notes NSF to Outlook PST Converter is an automated utility on which every person can rely. By using this software, users can easily migrate Lotus Notes database to Outlook in just a few clicks. A user can easily operate this utility due to its user-friendly interface. Moreover, no technical expertise is required by a user to work with this utility. Both professional and non-professional users can use this utility without any problem. There are many features associated with this utility and some of them are explained below.
Features of SysTools NSF to PST Converter
With NSF to PST Converter, a user can convert complete Lotus Notes database, including emails, calendars, tasks, notes, journals etc. into Outlook PST format. Provides an option to convert all the emails with attachments including images, documents etc. of any type.

A user can also save the emails and contacts into a single PST file. Additionally, folder to folder mapping is also possible by using this software. The utility also provides an option to export data in bulk amount from NSF to Exchange Server mailboxes. While the migration process, the folder and subfolder structure and, hierarchy are maintained.


A user can also apply an email filter by selecting the emails of the specific date range. Similarly, the tool also provides an option to export calendar entries of a specific date range.


With Lotus Notes to Outlook Converter, a user can also select the folders he/she want to export according to the requirements. Provides an option to filter out the duplicate contacts while the export process. Compatible with Lotus Notes 9.0/8.0/8.5/7/6 and all the below versions.
Lotus Notes NSF to Outlook PST Converter – How It Works
To migrate Lotus Notes data items to Outlook, a user has to follow the step by step process given below:
First of all, download and install NSF to PST Converter on your local machine. Then launch it on your system and you will be able to see the initial screen of the software.
Click on the Browse button to select the NSF file which you want to migrate. Then locate the NSF file and then click on the Open button.
Now, you have to select Lotus Notes contacts file that is named. nsf by clicking on the second Browse button. Select the name .NSF file and click on the Open button.
You will be able to see three Export Options that are;
Migrate Contacts into Single PST File: With this option, you will be able to convert Lotus Notes contacts into a separate PST file.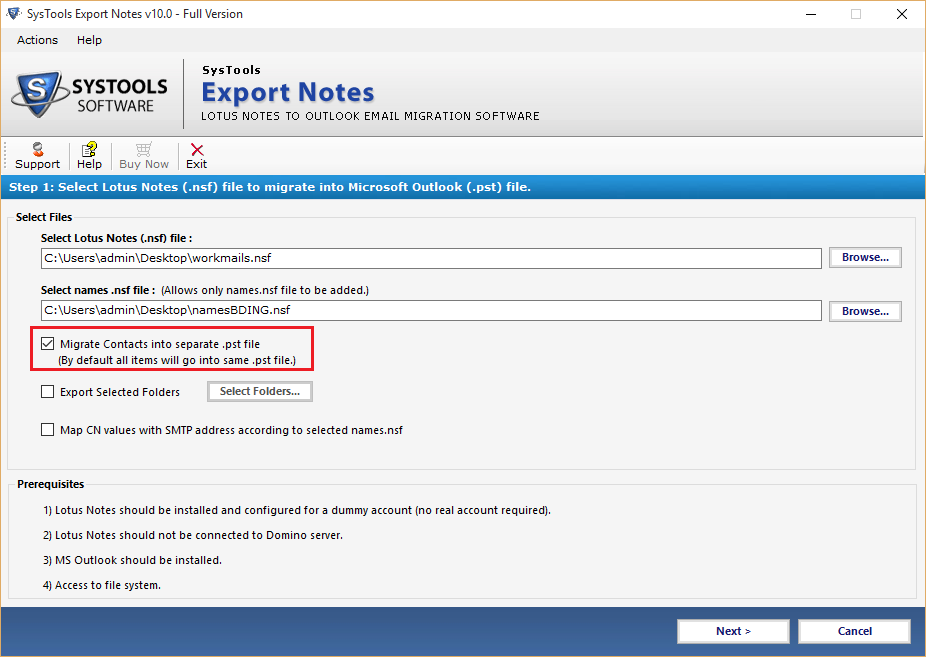 Export Selected Folder: A user can export the selected folder according to his/her requirements. To select the folder, click on the Select Folder option.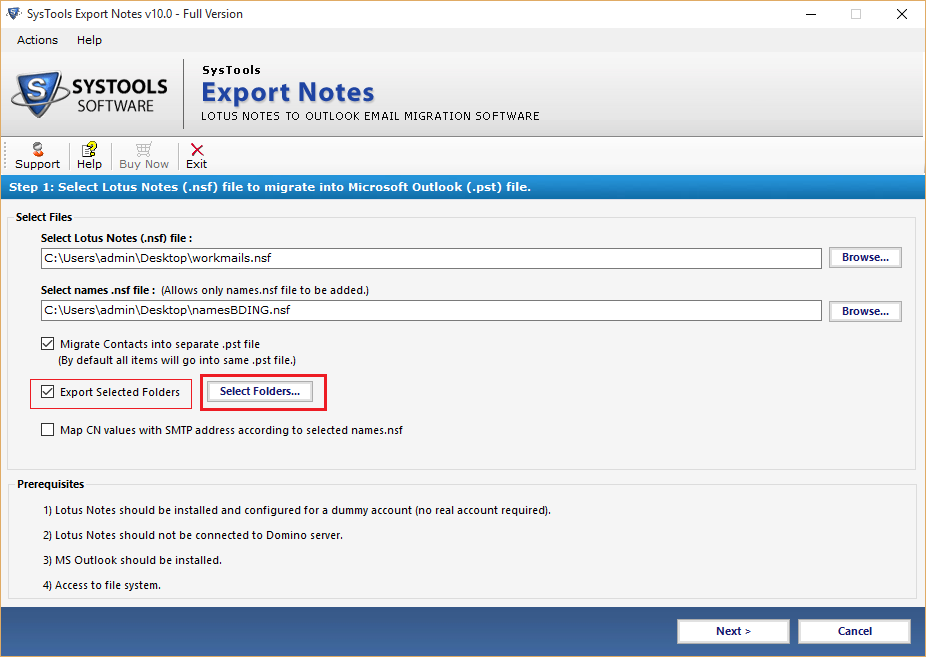 Map CN values with an SMTP address to selected names .nsf files: You can select this option if required by clicking on the checkbox corresponding to it. After selecting the appropriate Export option, click on the Next button.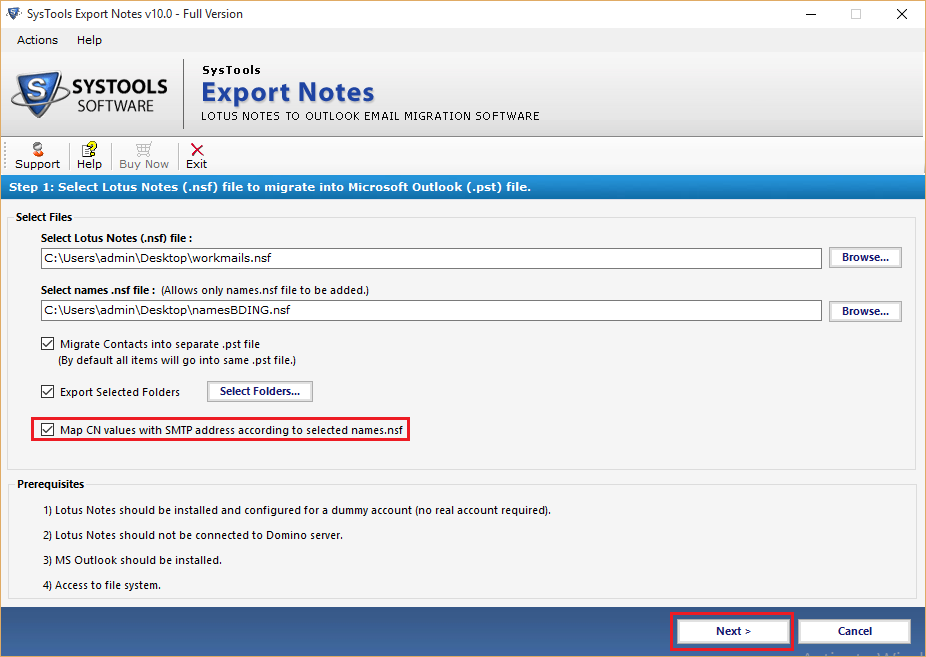 Now, you have to select the Categories which you want to Export. Additionally, you can also apply filter according to your necessities for each category.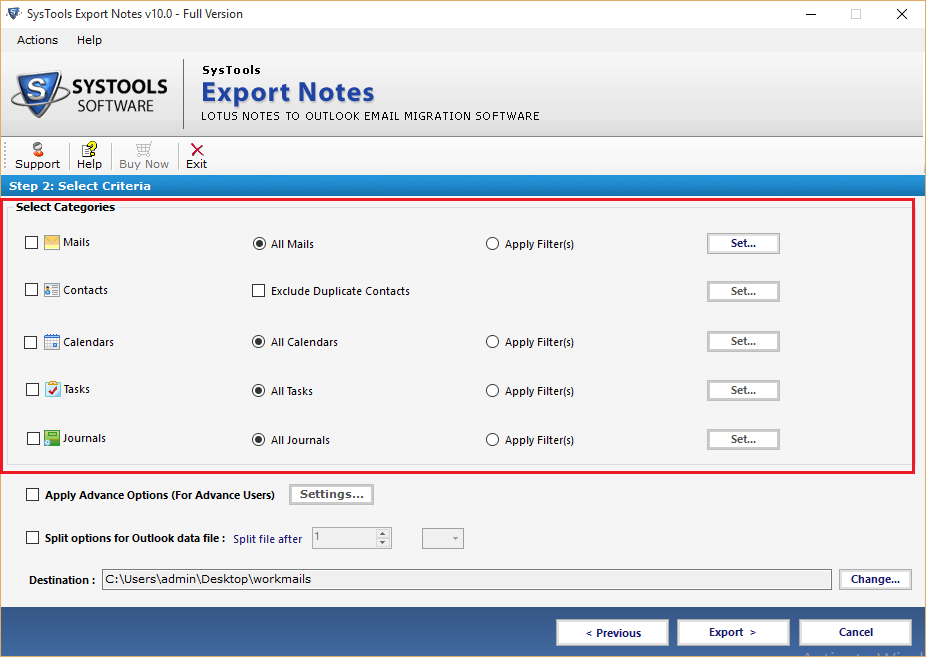 If you select Mails Option, then you can click on the Apply filter(s) radio button to apply the filter and then click on the Set button.
Now Email Date Filter dialog box will appear, add the date interval to export the mail according to date and then click on the Apply button.
Select the Advanced settings and option to Split Outlook data file
Select the location where you want to save exported data and then click on "Export" button to begin the process. After the completion of the Export process, the message will be prompted Exported NSF File(s) successfully.
The Bottom Line
It is very important to use a trusted and easy to use utility to convert Lotus Notes NSF files to Outlook PST format.
Sometimes, situations occur in which users have to face data loss while moving data from Lotus Notes to PST. Therefore, we always suggest opting a smart yet simple approach that is NSF to PST Converter to migrate Lotus Notes database to Outlook in a hassle-free way.
I hope you found this information helpful.