The article describes how to export Yahoo Emails to your Computer to Backup Data by trying the best two approaches. Using a manual method that is quite lengthy and boring and another is using SysTools Software, a quick solution to export emails from Yahoo.
Despite being the target of hackers several times in the last 10 years, a significant number of people worldwide still use Yahoo Mail. While many use it as a dire necessity since they have used a Yahoo id to create many accounts in past years.
However, some people use still it out of pure love for Yahoo as it may have been the first email ID of many Internet users. Whatever the reason, if you use Yahoo, you must know how to export Yahoo emails to your computer.
This is extremely important for Yahoo users as the client does not have top-notch security. In this post, we will describe the techniques to backup Yahoo emails to your PC using a manual approach and also a method using:
SysTools Yahoo Backup Software.

Readers will also gather knowledge about the necessity of making a Yahoo Mail backup.
Importance of Exporting Yahoo Emails to Computer
Every conscious Yahoo mail user should export their emails to their computer in order to back up their data. We all know that in past years, credentials of every existing Yahoo account have been compromised. There is no guarantee that will not happen again.
If some ransomware attackers get hold of your Yahoo data and prevent you from recovering it, then it could cost you millions. To protect yourself from such an undesirable scenario, it is better to export all of your Yahoo data to your system. Thus, even during data loss and data theft, you will have another copy of your Yahoo data.
How to Export Yahoo Emails to PC / Local System / Hard drive
Unfortunately, Yahoo Mail does not contain an export option to allow users to migrate their data to their system. According to Yahoo itself, users can copy and paste every email they want to save to their system using any text editor.
Else, they can also save each email separately by opening the email and pressing CTRL+P keys together. When prompted for Printing, click on Save to save the email in PDF format. As it is evident that this process is extremely time consuming and boring, we will be discussing two different methods to export your Yahoo emails to your PC.
Manual Method
The manual method requires configuring your Yahoo Mail account to any desktop-based email client like MS Outlook or Mozilla Thunderbird. One good thing about Yahoo is that it offers a direct IMAP connection for all of their users.
As a result, users do not have to manually enable IMAP in Yahoo. All they have to do is to enter Yahoo ID and password to add the account on the desktop-based emails. Before that, go to the Account Settings of Yahoo to disable Two-factor Authentication and allow access for "Less Secure Apps." In that desktop-based email, make sure the IMAP server settings of Yahoo are properly configured as below.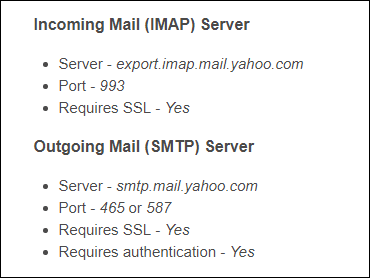 After the configuration is done, all Yahoo emails can be accessed from the desktop-based email. Users can drag and drop their important Yahoo emails on the desktop to save those emails. They can also export the folder-wise data using an add-on names ImportExport Tool.


Limitations of Manual Technique To Export Yahoo Mail
Though it is possible to export Yahoo emails to the computer using the manual method, it is quite inconvenient for the user. First of all, users need to take the help of a desktop-based email client to execute the procedure. If they adopt the process of drag and drop for selective email export, it will take a lot of time. Moreover, by manually exporting the data, users can avail the emails in any one particular format. Considering all these drawbacks, it is better to use the automated method.
SysTools Software to Export Yahoo Mail to PST
When it comes to applying automated methods to export Yahoo emails to the computer, there are multiple applications available. If you are a conscious user and want to avoid any type of data loss, we suggest you choose SysTools Yahoo Backup Tool.
This application will migrate all of the emails in your Yahoo Mail account to your PC in no time. You do not have to perform the lengthy configuration process as this tool has been developed to simplify the export process. Users can perform the whole process of exporting Yahoo emails to PC in four easy steps: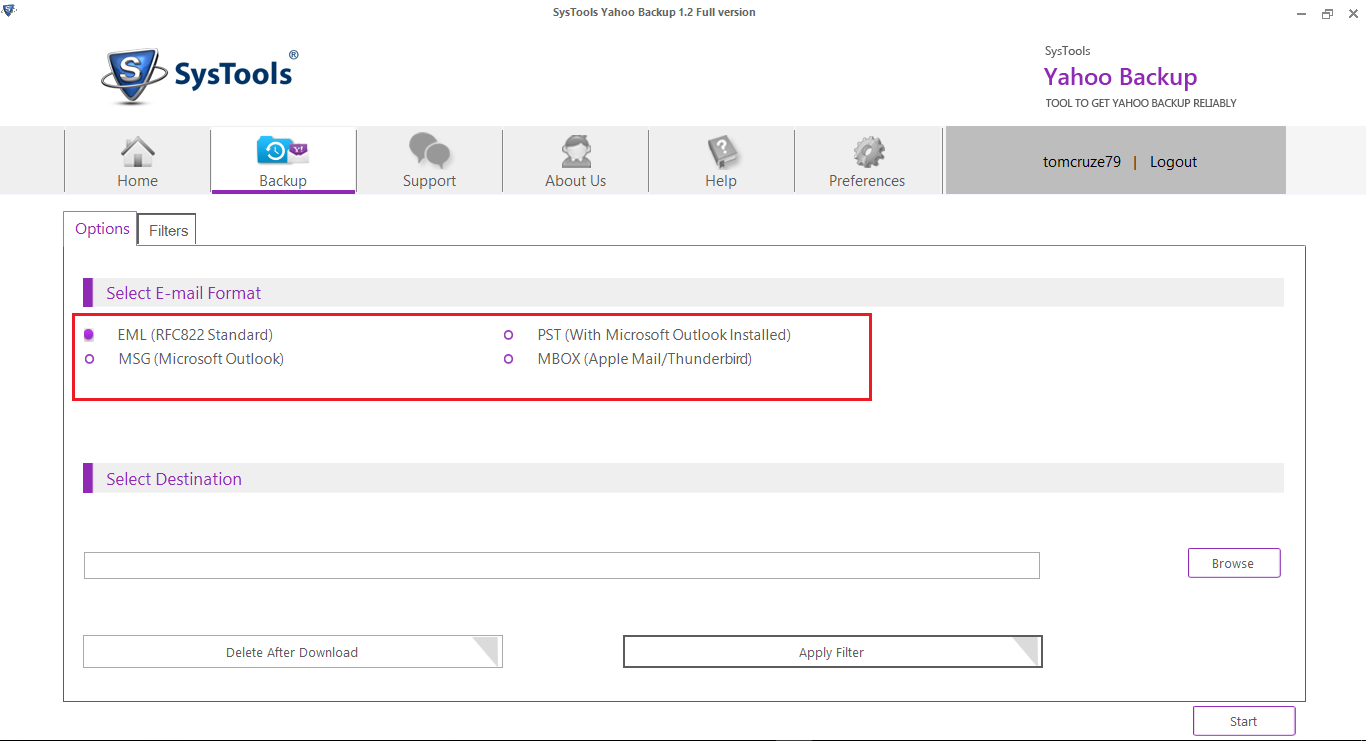 a) Launch the application on your computer and enter ID and password of your preferred Yahoo account.
b) On the next screen, select from PST, MBOX, EML, and MSG as the resultant file format. Also, select the destination folder and click Start.
c) Select one or more folders to export Yahoo data to your computer. You can also use the Time Interval option to filter the emails for migration.
d) After all, these are done, click Start. All your chosen Yahoo emails will be exported to your PC.
See full Working:- https://www.systoolsgroup.com/yahoo-backup/how-it-works.html
Why Choose SysTools Yahoo Backup Tool
Exports Yahoo emails to computer/ hard disk/ pen drive
Option to save data in PST, EML, MSG, and MBOX formats
Filtering option for selective Yahoo Mail email migration
Bandwidth throttling and time slot scheduling available
Conclusion
Considering the vulnerability of Yahoo Mail against hackers, it should be mandatory for all Yahoo email users to have a backup of their Yahoo data. One good way to backup Yahoo is to export Yahoo emails to the computer. In this way, the data not only stays secured but is always available for instant access when online Yahoo access is not possible. In order to migrate Yahoo emails to PC, SysTools Yahoo Backup Tool is undoubtedly the choice of the professionals.