Are you also looking for a free solution to open an EML file format? But do not know how to open .eml format in windows? Now, no need to worry, as this blog describes the best possible approach to view EML files on your personal machine.
EML is the acronym for E-mail and it is a file format developed by the Microsoft Corporation. EML files store email messages in plain text formats. The structure of an EML file is standard and basically, it contains the header and the main body of the email. Its header part incorporates sender and receiver's email address including the subject, date and time etc., details. These files also indicate attachments and other hyperlinks that are integrated with the email message.
EML files can be utilized in different applications, servers, and email clients such as Windows Live Mail, Thunderbird, Entourage, Outlook Express etc. So, technically we can say that EML is an email file that is referred as the RFC-822 file format. Sometimes users receive EML data files yet, they cannot open EML file format due to the absence of the supportive application. Or, sometimes the EML supportive email client crashes or damaged. Therefore, it generates a hurdle for the users to open and view EML content with the help of SysTools EML File Extension Reader.
In this review page, we are going to introduce you with one of the best free EML File Viewer by SysTools for Windows OS. EML Reader tool is one such eminent way to open and view EML email messages along with integrated attachments. This software is laden with many advanced features and some highlights of this tool are mentioned in the below segment.
Key Features of SysTools Free EML File Extension Reader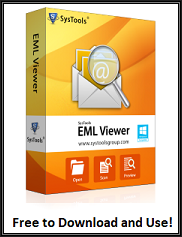 EML Viewer tool allows to open and view offline EML data files
Email client installation not required to open EML file format
Auto-locate and load emails: Windows Explorer Style interface
Preview EML files generated in different email applications
Two preview modes: Vertical and Horizontal file view mode
Preview all attachments of EML file with in-built EML Explorer
EML File Extension Reader is compatible with Windows 10 and all below versions
Descriptive Features of SysTools EML Viewer to Open EML File Format
View and Open EML Files: EML Viewer tool provides an instant view of EML file content with maintaining the proper formatting of emails. With the help of this eminent utility, one can read the email messages with their properties i.e., To, From, Subject, Received/Send Date and time, Size etc.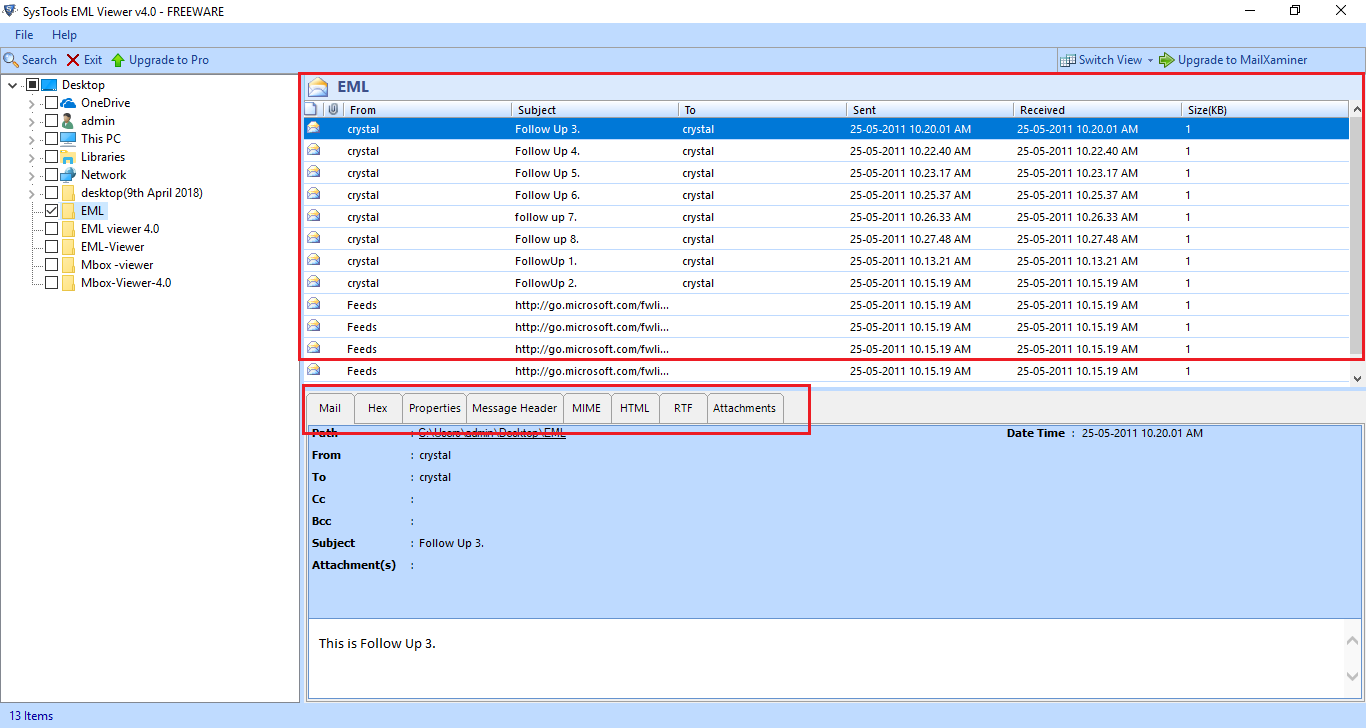 Preview Emails with Attachments: The EML File Extension Reader Software is capable to generate an attachment preview via its inbuilt viewer for the corresponding email message. One can open EML file format with integrated attachments such as .doc, .docx, .xls, .ppt, image files and all other types of data files with this tool.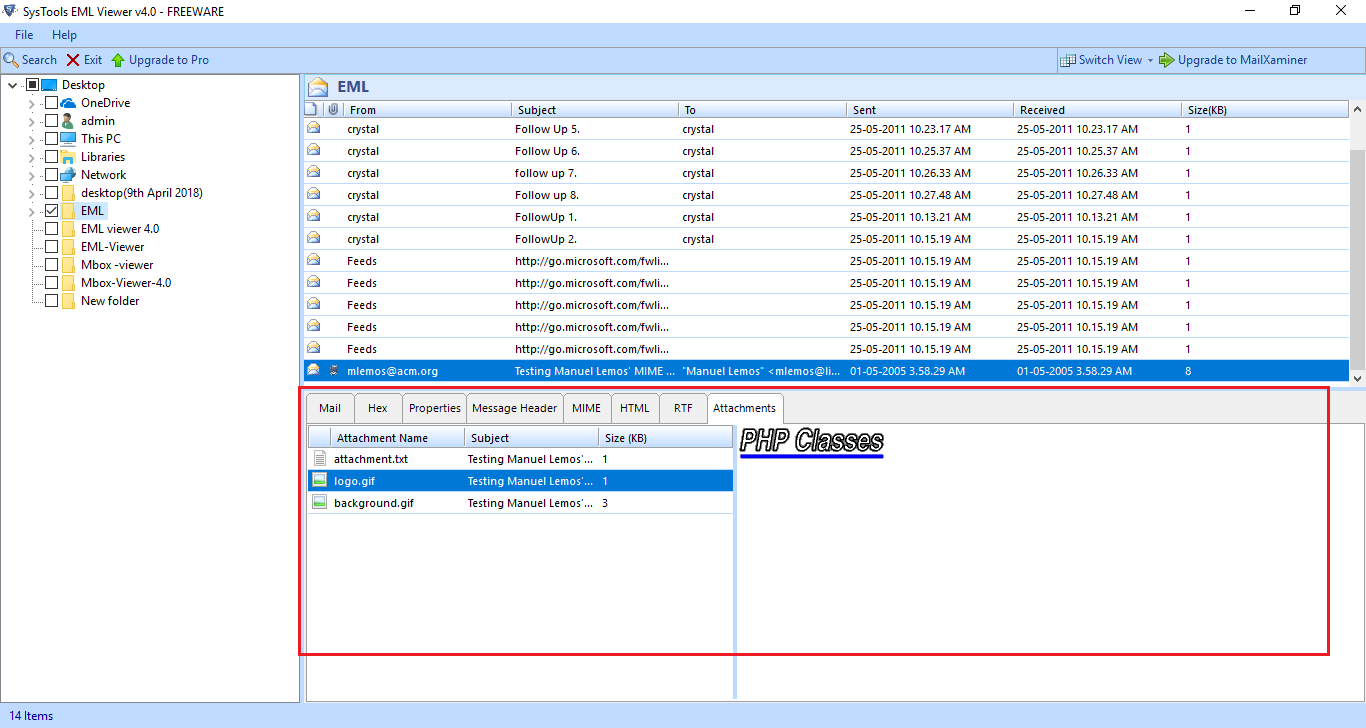 View Header of EML Message: The EML is a flexible email message supported by different email platforms. The header part of EML file includes the details about the sender, receiver, subject, etc., This EML header viewer tool has the ability to read and view the header information of EML messages.
Ability to Auto Load EML Files: After selecting the folder that contains .eml files, EML File Explorer tool automatically detects and loads all EML files. The tool also displays the total count of email messages within the browsed folder.
Open EML File of Gmail: Gmail emails headers can be saved as text files and later can be accessed as a complete message. When the header file in the text format, renamed as .eml then, it becomes the corresponding message. The EML File Extension Reader can easily open EML file format and view the Google Drive EML files.
View and Open Noname.eml: The EML Reader tool supports to view the email messages sent or received as attachments in the noname.eml format. When such attachments received on web-based email service then, they are usually inaccessible. This software allows users to view 'noname.eml' emails with attachments.
Open Google Apps EML File: Accessing the internet header on an email message exchanged over Google Apps is extractable as a text format file. With the help of Google Drive EML File Reader tool, it becomes possible to read the Google Apps EML file.
Availability of Free EML File Extension Reader
The EML File Opener tool is available for free of cost and users can download it from company's official website. With the help of this freeware, users can open EML file format. Users can add and view all the data items of EML files and also can take the preview of emails along with attachments with this application.
Technical Aspects of EML Viewer Freeware Tool
Visual perception section: Here is the detailed description of free EML File Reader software


Final Verdict
SysTools EML Message Viewer tool is an effective and efficient technique to open and view the EML files without installing supportive email application. For its user-friendly interface and technical working, we would like to rate this EML File Extension Reader software 9.9/10. The tool is totally free of cost and does not require even a single dollar to view the content of EML file on Windows OS. We highly recommend this program to all users who are required to view EML files without any hassle.