A simplified solution to fix "Apple mail does not open attachments of emails" error. Furthermore, an automated solution namely Mac MBOX Converter is also discussed to fix Mac Mail attachments problem. Before that, let us consider a real-life scenario that might be faced by users.
"I have used Apple Mail for so many years, but now I want to open all the email attachments from it. But, when I tried to access the attached files from the Mac OS at that time, an error message appears like this "Apple Mail does not open attachments of emails". So, kindly suggest me a reliable solution using which I can fix Mac mail attachment problems."
Nowadays, multiple Mac users have discovered the Mail app, which has stopped showing attachments. But, when you upgrade to Mac OS Sierra, manually it's not possible to remove the attachment files. In addition, existing email messages with attachments may appear as if the email attachments are simply disappearing.
When some apple mail users report that previously visible mail attachments seem to 'disappear', they can usually fix this issue with a two-step procedure. Thus, in the upcoming section, we will discuss a manual solution that will help to resolve "Apple mail does not open attachments of emails" problem in an efficient way.
How to Resolve "Apple Mail Attachments Not Showing"
The two-step process will work to exhibit any missing email attachments in Apple Mail app again. If you do not know what you are doing, you need to backup your Mac before starting this process. Rebuilding a mailbox should not be problematic, but it is always better to be safe with a new backup anyway.
First, you should start the Mail app on Mac machine if you have not done so far
Pull down "Mailbox" from the menu and select "Rebuild" with the bottom option, you can rebuild the email mailboxes, it will take a while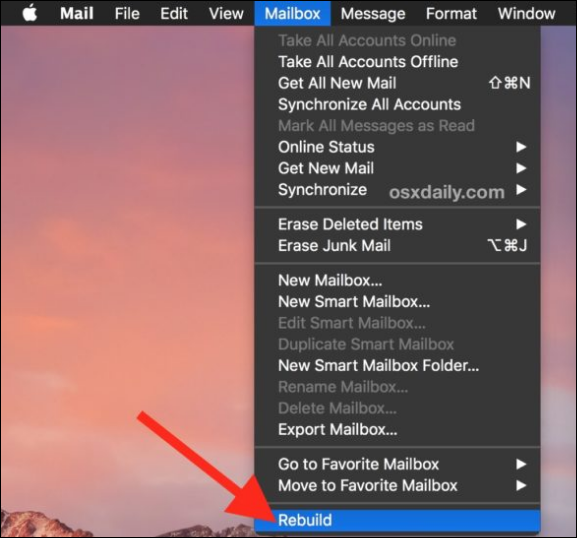 After that, select the "Mail" menu and then, choose "Preferences"
Select an option "Accounts" and navigate to the email account where Mac mail attachments disappeared from
Choose "Download Attachments" under the 'Account Information' tab and then, select "ALL" option
Finally, you can close the Preferences and open an email message along with attachment, it should be displayed again
All attachments should be visible again unless you either have to disable or they are in an incompatible format. Usually, if you are getting an incompatible attachment, they are from the Windows sender and this tip will be helpful to open the Winmail.dat files on Mac machine. Also, it is worth stating that very large file attachments are sent via Mail Drop. Assume that those mail attachments are sent from another Apple user with iCloud, thus there will be a downloaded link to the attachment, instead of an attachment.
Separately, you can also update to the new version of Mac OS Sierra, as of writing this 10.12.2. Back up the Mac and then, go to App Store Updates to find whatever updates of Mac OS which is available for the system. If you are avoiding Mac OS Sierra due to certain problems or some other reasons, obviously you would not need to install anything beyond incremental updates or security fixes for a specific version of Mac Operating System or Mac OS X instead.
Professional Way to Fix Disappearing Mail Attachments on Mac OS
If the above-described method is not working fine and it has some limitations which can lead to a worse situation for normal users like data loss etc. Thus, to avoid all the shortcomings, it is recommended to a user to select a reliable and effective solution i.e., Mac MBOX Converter Tool.
With this utility, users can easily transfer multiple Mac MBOX file to different file Formats. It is capable enough to maintain the data integrity, email attachments, folder hierarchy and HTML formatting will remain same. It has a simple and user-friendly interface that even a novice user can understand its layout without talking an expert help.
Wrapping It Up
Many times users may encounter an error message when opening an email attachment on Mac OS. Therefore, we came up with this blog to resolve "Apple mail does not open attachments of emails" issue. A step-by-step procedure is mentioned in the above section, users just have to follow every step very carefully. Also, we have suggested a commercial solution named as Mac MBOX Converter that will help to fix Mac Mail problems in an absolute way.