Know How to Backup OST to PST in Outlook 2016, 2013, 2010 with 4 Archiving Methods. This will enable you to backup OST file to PST with & Without Outlook Installation.
4 Archiving Tips to Backup OST to PST in Outlook 2016, 2013, 2010
Most organizations prefer Outlook for mailing purposes due to its security features. Also, Microsoft Outlook provides many options like emails, notes, tasks, and so on. Every user account of Outlook can be associated with two storage file formats like PST and OST. Major Accounts like Office 365, Exchange Server or any other IMAP Account, use OST File to store a copy of mailbox into your system.
However, users can still access all their emails, calendars, contacts (which are synchronized earlier) even when the internet connectivity is not available. They cannot access any new mail or send emails unless connection gets restored back. But, there are some factors like Synchronization issues that can cause OST files to become inaccessible and affect the performance. In such cases, it is necessary to backup OST to PST in Outlook 2016, 2013, 2010 & 2007
In this blog, we will discuss all possible manual workaround to create a backup of OST to PST in Outlook 2016. If manual solutions fail to do the same, and then it is better to use SysTools OST to PST Converter software. Now, let us have a look at some real-time user's problem.
Let's Understand the Scenario
"I am not an Outlook expert but I want to know why I cannot import OST files into Outlook. Please tell me how can I backup OST file to PST in Outlook 2016?"
Reasons to Backup OST to PST
There may arise certain situations due to which most of the users need to archive OST files to PST. They are:
Data Recovery: The backup of OST files in PST format helps users to restore accidentally deleted data from Outlook OST file. Even the highly damaged or corrupted files could be recovered from the PST file.
OST File Corruption: The OST files are prone to be corruption due to server breakdown, virus attacks, and many more other reasons. So, one cannot trust on the OST file or Offline data files for data storage. So, they need to Backup OST to PST format.
Synchronization Issue: One can only work with OST files without using the internet. But, modifications cannot be synchronized to the Exchange Server in offline mode. So, it is usually preferred to save OST files in PST format as a backup.
4 Archiving Tips to Backup OST File to PST in Outlook 2016, 2013 & 2010
Tip 1: Export Outlook OST File to PST
Before starting the process of conversion, make sure Outlook is running on your computer system and you are connected with the Exchange Server. There are following steps given below that helps to Backup OST to PST.
First, open the MS Outlook application on your computer system.
In this step, browse the mailbox folder from where you want to Backup OST to PST and click on Next button.
After that, select the destination location where you want to save the resultant PST files and click on Finish option.
Finally, you are able to check the backup files at the desired location, after completion of the process.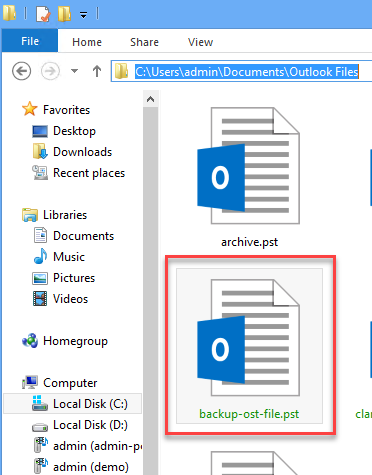 Tip 2: Archive OST file in PST Format
This archiving process is helpful to move files such as emails, calendars, etc. from OST to PST file.
First of all, open Microsoft Outlook application.
Now, select the defined file that you need to archive.
Browse the destination location to store the archived file in PST file.
Finally, click on Finish option.

Tip 3: Move OST to a New PST file
This method helps to take backup of OST file by transferring them into a new PST file. In order to move OST to PST follow the given below steps:
Open the Outlook application and then create a new PST file.
After that, drag all the folders from OST file that you want to convert and drop it in the newly created PST file.
Tip 4: Backup OST to PST without Outlook Installation
Above solution works perfectly in a case when you have Outlook Installed on your system. But what about when you do not have Outlook on your system? In such cases, when you have OST Files saved up at different locations of your system or backup of OST Files in Hard Drive. You can go for SysTools OST to PST Converter Software which has originally solved many users issue regarding Exchange OST Backup to PST.
Wrapping Up
Performing technical workaround manually can be a bit risky sometimes. When people migrating OST files to Outlook PST format, it could lead to terrible impacts like OST file corrupted or data may be lost. So, make sure that you have Backup OST to PST in Outlook 2016before beginning the conversion. For this purpose, software from SysTools helps a lot to backup OST file to PST format without Outlook installation.