Getting Error, Export Database to PST file failed in In Exchange 2016/13/10 due to file size, bad items, syntax error of Powershell commands. Fix file status issue by directly exporting mailboxes of Exchange into pst format via the export utility.
Exchange Mailboxes failed to PST format while moving user database to view in Outlook Application is a Common issue. The Export Process can be stopped due to various reasons and to find the exact reason can be a time-consuming process if the Administrator is new to Exchange Server. Even after using a solution to fix the issues, users can get stuck while performing the Export process.
When using a Power-shell command to move Exchange database to PST format, a user can try a Power-shell command called "New-MailboxExportRequest".
Common Command: New-MailboxExportRequest - mailbox user - FilePath \sharename\user.pst
Exchange Export Mailbox to PST File Failed - Common Error
Some common issues faced by users such as "Bad items", "Large Mailbox Size", "File Invalid" while moving Exchange Mailboxes and to fix these error, a different method can be used by the user, since using the wrong syntax can create a problem, so Administrators need to be careful using the Powershell Command.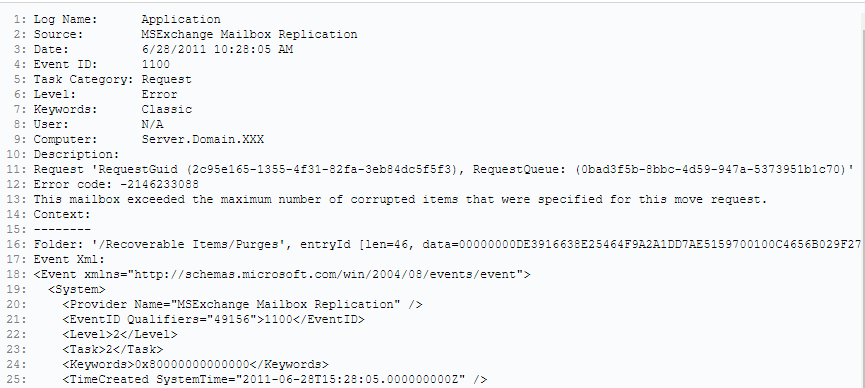 To avoid these kinds of issues, the user can go for an Automated solution such as "Exchange Export Tool" via SysTools to Directly export Exchange mailboxes to PST format without Powershell Command. Just Select the mailboxes, Browse the location to save file and mailboxes into a single PST file format.
Exporting Exchange Database to PST via Exchange Exporter Advantages
No need to Run PowerShell Command
Export Large Size mailboxes to a .pst format supported via Software
Browse Desired Location to Save and Open PST File to avoid "File Path Error"
Export any items of Mailboxes – Emails, Calendar, Contacts, Journal & Notes.
Folder Structure or Hierarchy of Folder maintained of Mailboxes
Different Filters for Mailboxes Categories to export Specific Data-Range data.
Save Exported PST File in Multiple PST File [Split Feature]
Progress Report to View and Save Exported items Details in Readable Document
Guide to Avoid - Export Exchange mailbox to PST File failed Error in Exchange Versions 2016/10/07
Before Going for the Full Version of the software, you can try the Demo -Version first, for that you need to Download the Software from the link below.



Now Install & Run Software with the system, ensuring the Prerequisites of the utility are met, such as:

Microsoft Outlook should be Installed and Configured Perfectly.
An environment of Exchange Needed to Run Software.
Account must be Impersonated to Run Software properly.
To Know about the Software Visit:

SysTools Exchange Export Tool
Provide Credentials: To access the mailboxes you want to export into a .pst file format, you need to provide Administrator Credentials such as "SMTP Address ", "Password", "Active Directory IP", "Exchange IP" and the Version of Exchange that you are using.
Select Mailboxes: After providing the correct details, the software displays a list of Mailboxes created in Exchange 2016/13/10 and below versions. If any "Permission" added with the Mailbox, you can view that within Preview Pane.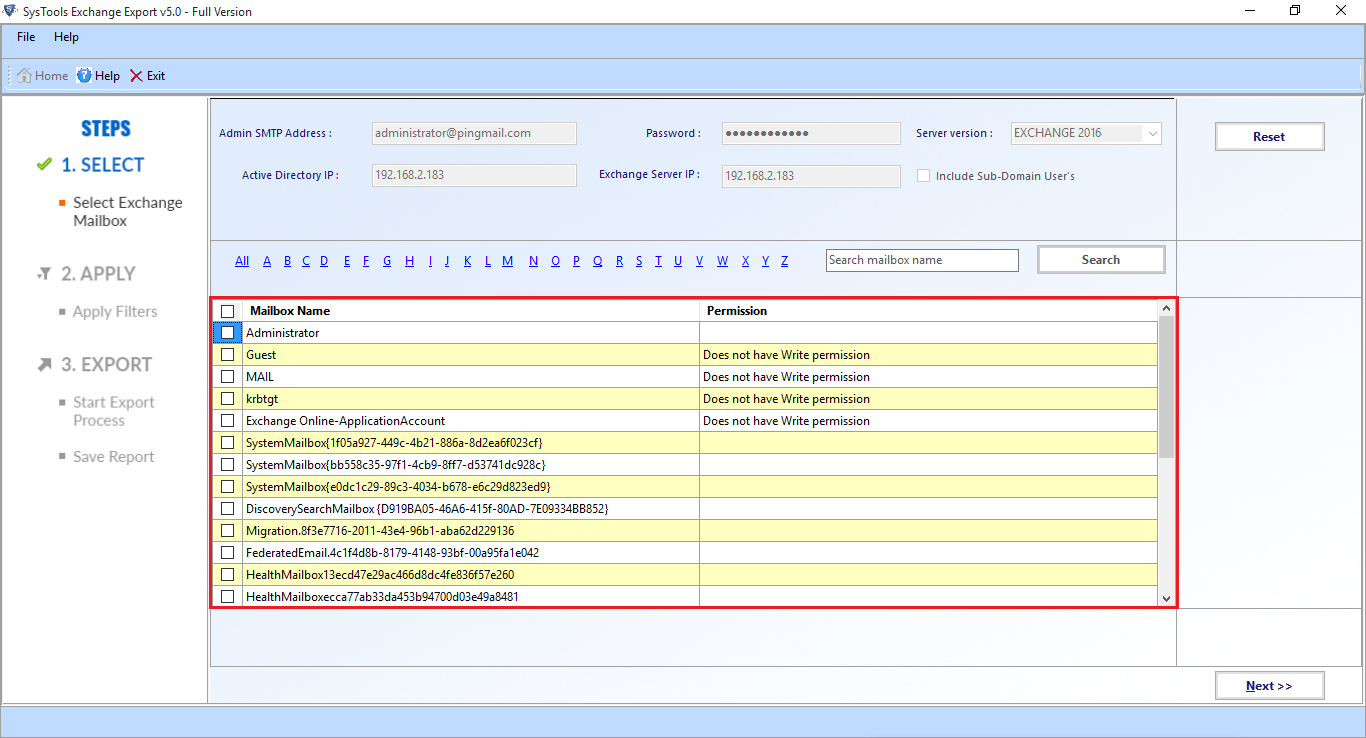 Select Desired Categories Items: Now select the items, you want to export them into PST format such as "Emails, Calendar, Contacts, Journal, and Notes."

You don't need to select all Categories, just select the specific category items to want to view in your Outlook Application.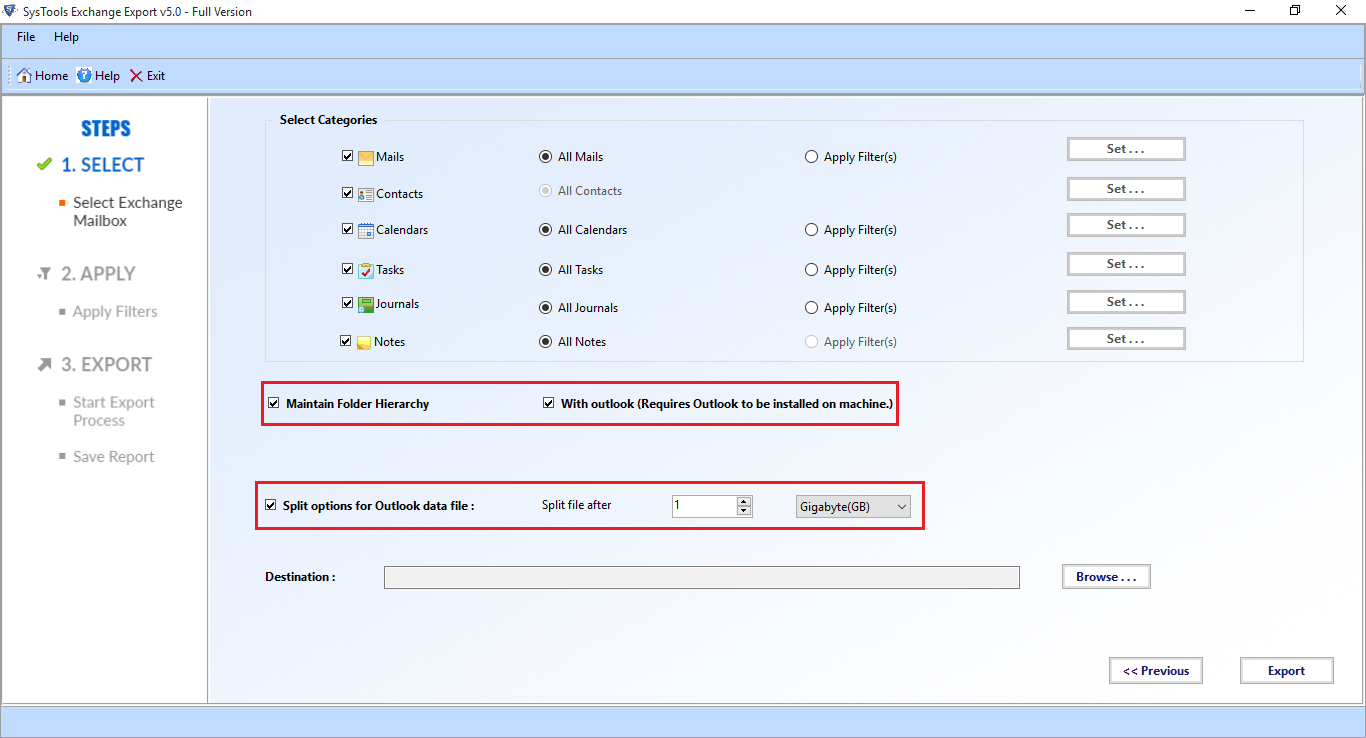 Filter and Save Export List: Use Filters to export saved items in mailboxes of specific Data-Range that can help you to save only the desired mailboxes items. A filter can be applied to all sections except the Contacts section. After Exporting Exchange mailboxes to PST format, a CSV file is created to view the moved items details that can be opened in word document application.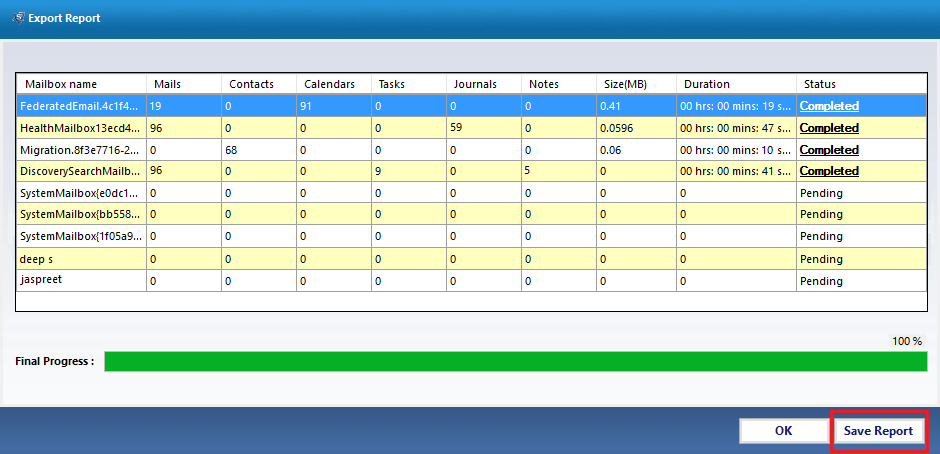 View PST Details in the Outlook Application: When mailboxes are saved in .pst file format, you need to move this file to the Outlook Application using the Import/Export Wizard. View and use the mailboxes for further process easily.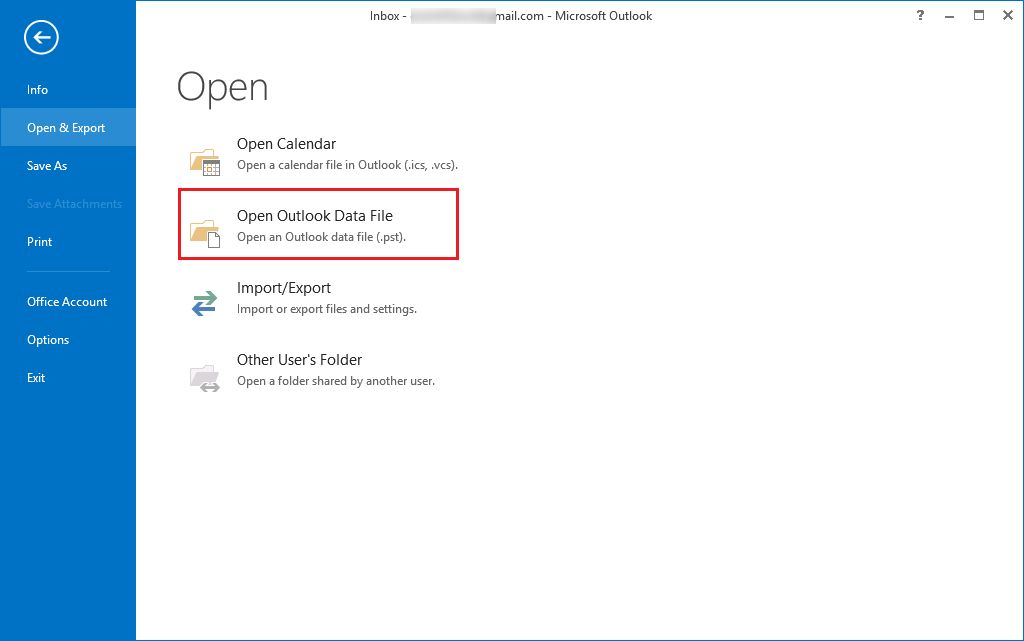 As you can see, within a few steps and no Power-shell commands needed to export Exchange mailboxes to PST file format, you can just go for the "User-Friendly" interface of the software that can help inexperienced Exchange Administrators to move data from one format to another without any data loss.
Note: If you don't know about the "Impersonation" Technique, please visit the following Link:


How Admin account must be impersonated, Video Link: Impersonation


Final Words
Download Export Utility to view Exchange user mailboxes details in Outlook Application and to avoid the "Bad items", "Large Mailbox Size", "File Invalid" errors. If the Exchange mailboxes are corrupted then you can go for a manual method first to check mailbox corruption in Exchange and try to fix it, then use export Exchange mailboxes to PST format only.