Would you like to have the ability to record both your inbound and outbound calls on your mobile with ease? Read on for a review of this excellent recently released App, along with instructions on how to use it. Enjoy...
For years I was a dedicated Apple iPhone user, yet despite many searches, I could never find a decent call recorder for my iPhone.
Having recently switched to a Samsung S9+ Android mobile, I finally found a utility that I think is brilliant and does everything I need and more!
This is a review of Call Recorder S9 - Automatic Call Recorder Pro available from the Google Play Store

What Capabilities does it have?
From the Google Play website...
Capabilities

Samsung Galaxy S9 and S9 plus optimized
Record your calls automatically while calling
Automatic Call Recorder
Advanced File Manager
You can play back, or save your call to mp3 files on your SD card
Record all outgoing calls
Record all incoming calls
Record all phone call conversations
Play audio-recorded conversations
Delete recorded conversations
Send calls to email




After Call confirmation dialog for saving the recorded call

Record incoming call
Record Outgoing call
Favorite
Search
Marking recordings as important
Multi select, delete, send
Excluded numbers
Set password to protect privacy
Set different audio format (MP3, WAV)
Different recording modes by number, contact, non-contact or just selected contacts
Enable/Disable call recording
Records all your phone calls
Play recorded audio
Share recorded items
Playback through speaker or earpiece on your phone




Share files

Dropbox
Google Drive
SMS
Whatsapp
Viber
Skype



My experiences with this App
Call Recorder S9 Pro is optimized for the Samsung S9 mobile, but not having access to other Android models, I can't confirm it works just as well on any other Android-based models. You'll just have to download and try it yourself sorry.
That said, installation is a breeze and pretty much the same process as installing any other Android-based app on your phone.
After installing the app on your phone, the first thing you need to do is just answer a couple of questions and go through the setup which only takes a minute or two. Once that's done, you're ready to go.
---
Here's the Main Menu Preferences Screen where you can modify a variety of settings and configurations.
!Tip: Click on any image to get a full-sized view in another tab of your browser!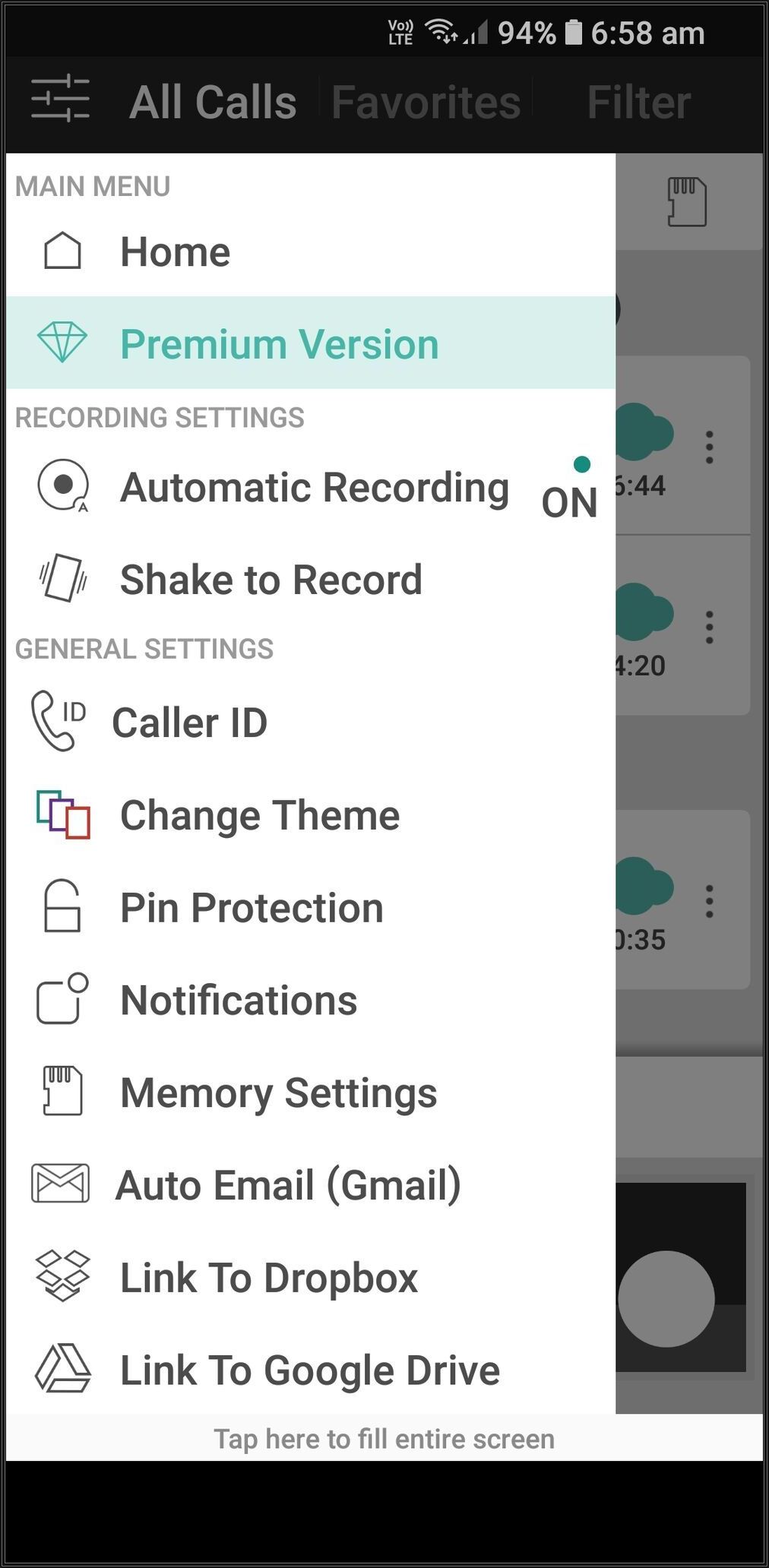 ---
Let's take a look at all the Options and preferences you can modify to your own liking and needs, one-by-one...
Automatic Recording
Tapping on the automatic recording option gives you the following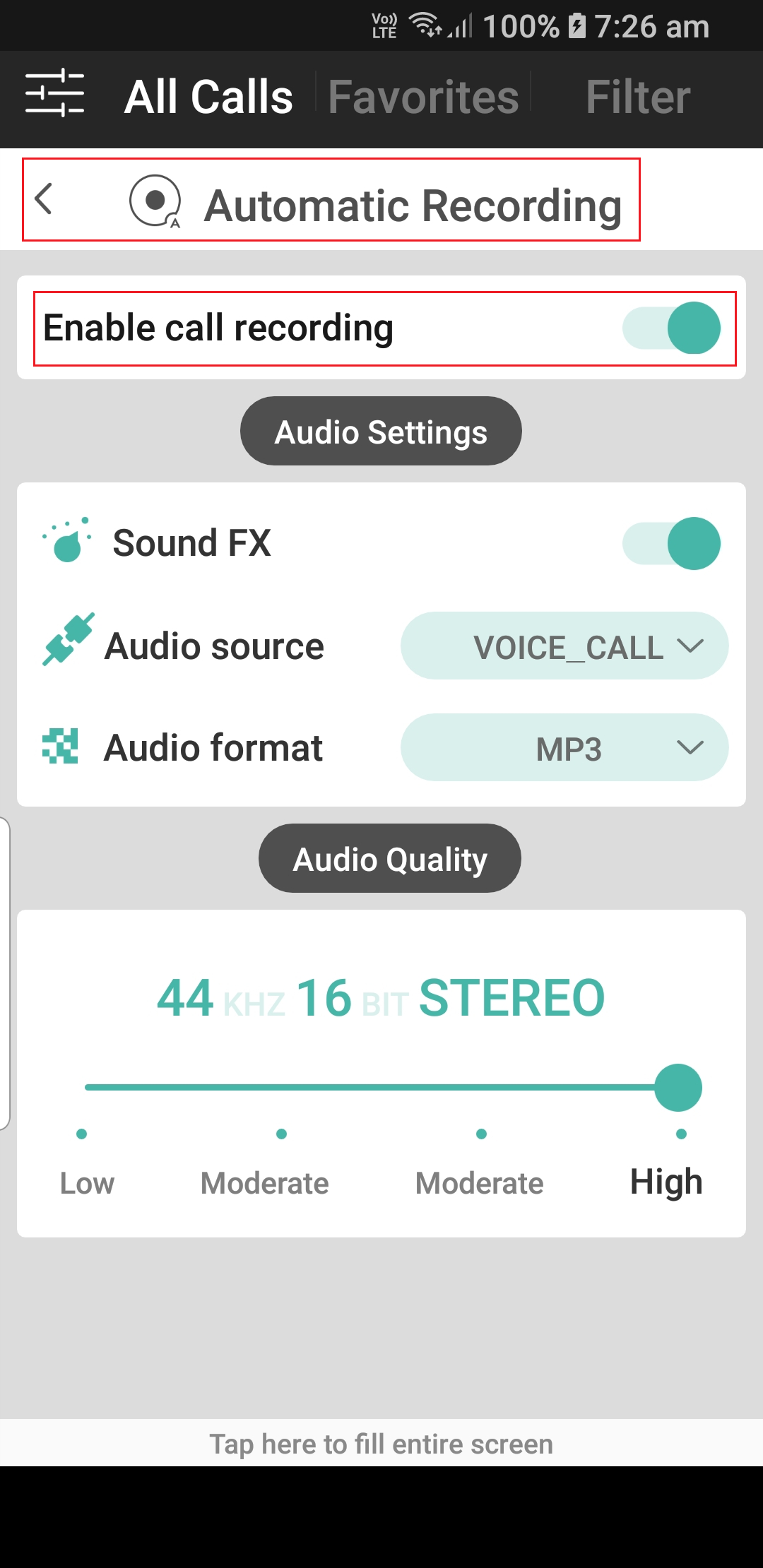 ---
NOTIFICATIONS
Here is where you can enable Automatic recording, The fact that you can set the app to announce that the conversation is being recorded should take care of any legal issues about recording a telephone conversation because the person you are speaking to is made aware that the call is being recorded.
To configure this function to your liking, simply (1) tap the "Preferences" icon at the top right, and then (2) tap the "Notifications" option as shown below.
You can also adjust the "Sound Volume" controlling how loud the announcement will be, as well as enable an "After Call Notification" for the app to give you a notification once the call has ended.
On the next screen, turn on (3) "Play Sound" as shown in the second screenshot above and then tap (4) "Choose Sound" to select what type of notification you want the app to sound when a telephone call recording starts. Here you can select the following;
Short Beep - which does exactly what it says
Coin Drop - Which makes a sound like a coin dropping
Male Voice - A male voice will announce the words "Recording Started"
Female Voice - A female voice will announce the words "Recording Started"
---
AUTOMATIC RECORDING
If you don't want to automatically record every call made or received, then once again, (A) tap the "Preferences" icon at the top right, and then (B) tap the "Shake to Record" option as shown below. You can then tap the "Shake Me" button and adjust/test the "Set Shake Sensitivity" to your own liking.
Once happy, then each time you receive or make a call, you can just shake your phone whenever you want to start the recording. Pretty neat right?
---
GENERAL SETTINGS
Tapping "General Settings" as per the first image on the left above, tapping "Caller ID" provides you with the following configuration options...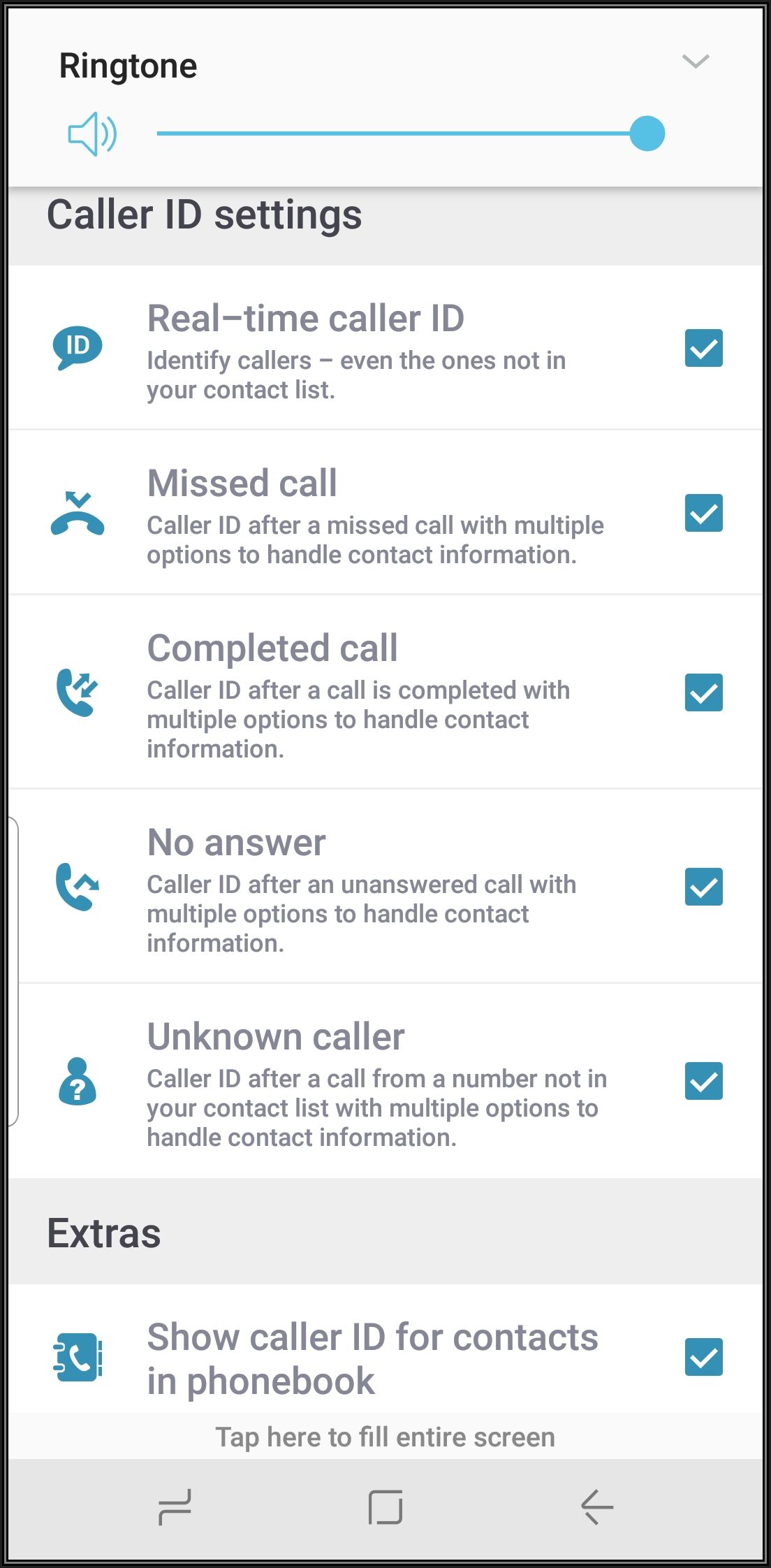 Caller ID Settings
Real-time Caller ID - This basically shows and identifies callers if they have Caller ID enabled on their phone, even ones not in your phone's contact list
Missed call - Caller ID after a missed call with multiple options to handle contact information
Completed Call - Caller ID after a call is completed with multiple options to handle the caller's contact information
No answer - Caller ID after an unanswered call with multiple options to handle the caller's contact information
Unknown Caller - Caller ID after a call from a number not in your contact list with multiple options to handle the caller's contact information
Under the Extras category, you can select whether or not to show the caller ID for contacts that already exist in your phonebook. You can also select (or disable) an option to "Use your location to improve search results".
There is also an option to "Read the Usage and Privacy Terms" for using the App, along with the Version Number of the App (4.4.9 at time of writing). It also lists your unique Client ID.
---
ALL CONFIGURATION OPTIONS
Back to the Preferences/Main Menu screen again, here's an explanation of what all of the options allow you to do...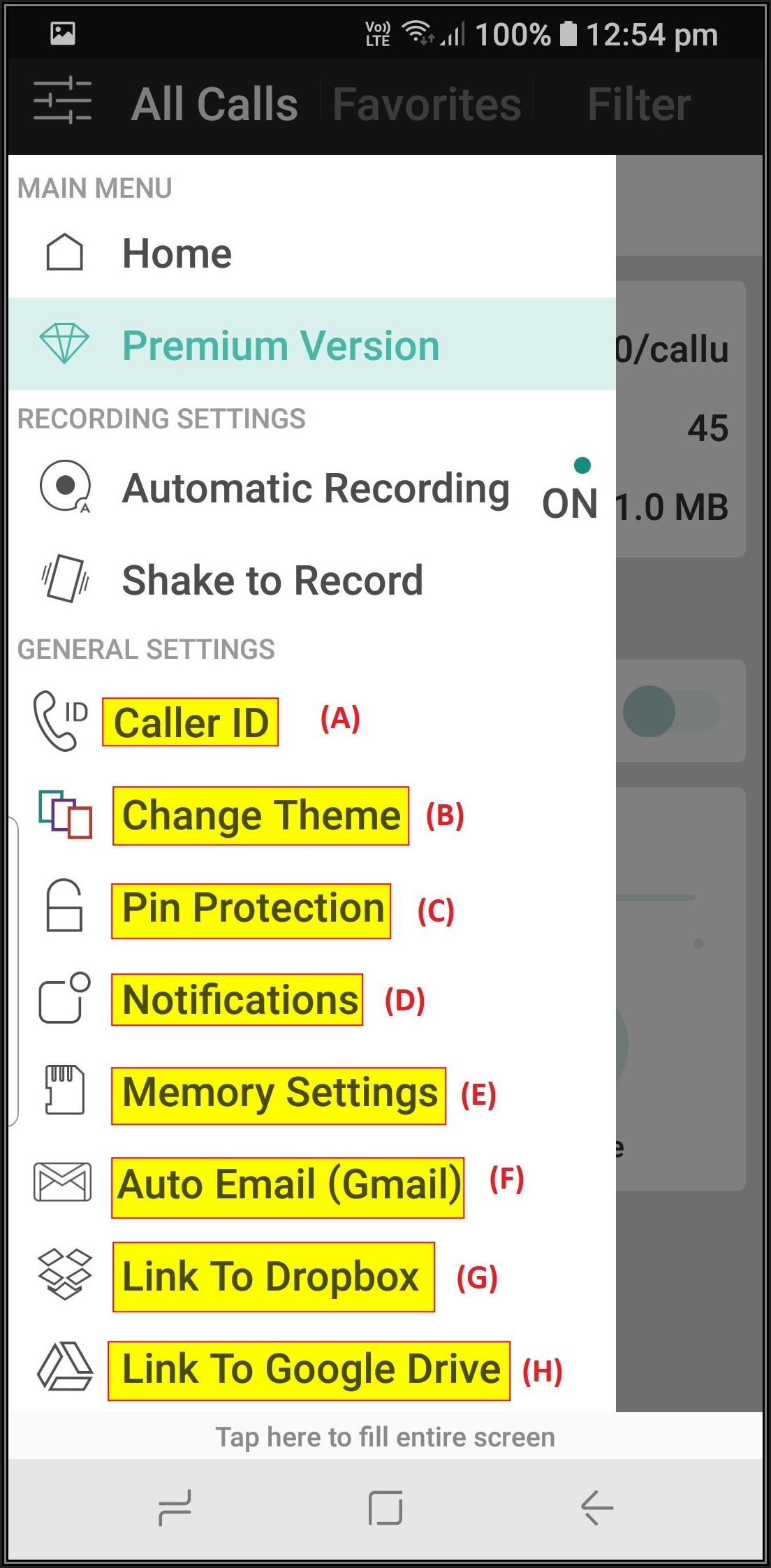 (A)

- Caller ID: This was explained in the previous "CALLER ID" section just above this one
(B)

- Change Theme: Allows you to change the colors of the App to your own liking
(C)

- Pin Protection

:

Allows you to optionally protect the opening of the App with a 4 digit pin
(E)

- Memory Settings

: Here you can set how much memory and space the app will use with saved calls, along with how many recorded files the App will keep. For example, if you were to set the number of files to keep as 100, then when the hundred and one call came through, the app will delete the oldest recording to make room for the new call. You can also configure Space Usage and File Dates to keep.
(F)

- Auto Email (Gmail)

: If you connect this App to your Gmail account, then you can enable Automatic Email Sending whenever a call is recorded after the end of the call. There is also an option to only send (upload) recordings using WiFi only if your data allowance is a concern. The Email Subject and Email Message fields are both configurable to your own liking.
(G)

- Link to DropBox

: Linking the App to your DropBox account will send a copy of your recordings to your DropBox account after the end of each call. Pleasing to note is that Auto Sync if enabled can also be set to upload only when there is a WIFI connection available, thus saving data on your mobile plan. If you have set a "Favorites Folder" in the App, the only the favorite calls will be uploaded. An excellent feature here is that should you choose to delete recordings from your mobile storage, you can set the App to leave a copy of the recording on DropBox, thus never having to lose any recording you've made.
Here's a screenshot of my DropBox with some automatically uploaded and saved recordings:

(H)

- Link to Google Drive

: This functions in exactly the same way as the "Link to DropBox" option, except uploads, are sent to your Google Drive instead.
---
A Summary of my views about Call Recorder S9 - Automatic Call Recorder Pro
If like me, you have a need to record inbound and outgoing call all the time (or selectively) then I can't see you going past this excellent App. I tried several other Apps before I settled on this one and they all failed dismally in one way or another, often not recording calls when they were supposed to, crashing on the odd occasion and just being generally unreliable.
Some other apps I also tried were as follows:
Call recorder automatic by Green Apple Studio
Despite the many high user reviews, I didn't find this to be a very good app at all. It's biggest downfall was the number of Ads during use, which hindered trying it out properly. It also failed to record a couple of calls, despite it not giving a warning or error. I also found the recordings to be of poor sound quality, regardless of which setting I used. Your mileage may vary, but I ended up deleting it after a couple of days.
Call Recorder - ACR by NLL
This is another call recording app I tried that only lasted a couple of days on my phone. Chockablock full of adds and in-app purchase offers that pop up incessantly at the most inappropriate times to try and get you to buy the purchased version. On a few calls that it recorded, I found that it only recorded the one side of the conversation?! In the end, it was too unreliable for me so out it went!
Audio Recorder by Sony Mobile Communications
I think this was the first one I tried from memory and it barely lasted a whole day installed to my phone. It has some neat features, but it's way too unreliable, often cutting out before a long telephone conversation is finished. It also has no automatic option to warn the other side that the call is being recorded. A couple of times, it made a recording without any obvious errors, but when I went to play the recording back, there was no audio on the recorded call at all. Just an audio file with nothing in it. Definitely not recommended after my short experience with it.
On the flip side, Call Recorder S9 has not hiccuped or failed me once since I've started using it. I used the Ad-Supported version for a while and can happily say that the ads are unobtrusive, not bugging you all the time and the free version does as good a job as the paid product. I decided to purchase the app, not just to get rid of the ads, but to encourage the author of the app to continue development. It truly is an excellent product.
Should you have any questions about this app, please do leave a comment below this article and I'll do my best to answer any questions you have from a user's standpoint.
---
About the Author
I am an IT Professional, Professional Freelance Journalist, and Blogger, and an all-around nice guy! :)
You can contact me privately if you wish by accessing my Experts Exchange Profile Page.
Andrew Leniart - © Copyright 2018 - All rights reserved
Disclaimer: Neither I nor my company has any affiliation with the author of Call Recorder S9 Pro. I have had no contact from the author, nor any request to write this review. I am simply a very happy owner of this App that is totally pleased with its performance!
---