Do you know? Almost 50% of the cryptocurrency traders belong to the millennial age group of 25-34 years. And how do we know? Encrybit derives it in a Cryptocurrency Exchange Evaluation Survey.
The Encrybit Cryptocurrency Exchange Evaluation Survey had an option to choose from five different age groups. One was for Gen Z, one for Gen Y or millennials, 2 groups for Gen X and the last for boomers. The millennial age group received the highest input.
What is the reason?
The survey does not intend mere information gathering on happenings of the cryptocurrency world. Its purpose is to focus more on deriving meaningful insights from the responses received. Moreover, implementing the required features. Hence, the surveyor does not leave the facts published. A through scrutinization is to follow.
Now, cryptocurrency trading is not a child's play. It does require research and understanding. The people of age group 25-34 years either are at the start of their career or well settled (the later ones.) They seem to be open to adopting new technologies or try something new. Also, more prone to take risks as no fear to save for retirement at this age.
Another major reason for this result is that, since the onset of 2018, many cryptocurrency and blockchain based start-ups have emerged. People from this age group are actively involved in them and thus made them take a plunge in cryptocurrency trading.
We can broadly say, "Millennials are building the future of cryptocurrency".
Besides, the trading styles of these millennials differ from other age groups. Majority of these traders classify themselves as the day trader and the ones who buy the dips holds for the long term.
In fact, some of them are so involved that they are ready to quit regular jobs and completely focus on crypto.
We now know the reason behind the active participation of millennials. However, what about the dormant participation of people from other age groups? Let's have a take on them one by one.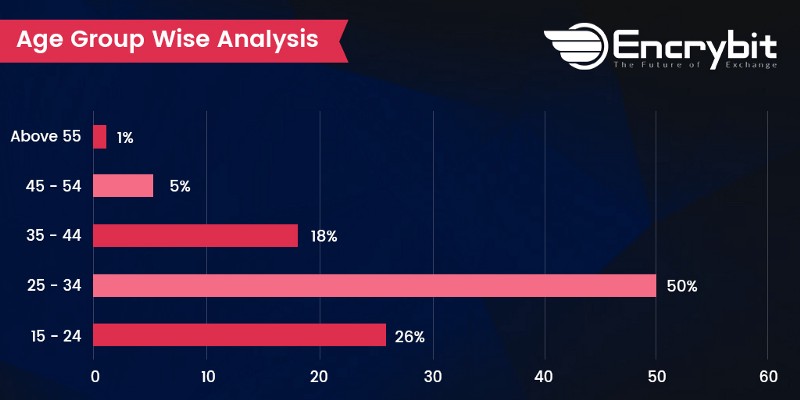 Starting with the younger ones – the Gen Z. The 15-24 years old are either studying or just finished studying and likely to start work. So, probably not having many funds of their own. Another reason contributing to their lack of participation is deficient knowledge. As you may know, we do not even have a handful of institutes teaching about cryptocurrency and blockchain. The last resort is the Internet i.e. self-learning.
Generation X has a mixed taste. They have to work for their regular jobs and cryptocurrency trading as a side business. As the trading is high on risk-taking, leaving the job to do it full-time is still not convincing to them. This is the age to save for retirement and hence a stable source of income has to be there.
Moving on to the boomers who are partly retired, working, or laid off. Very few enthusiasts from this age group are daring enough to take the risk of learning about the new technology and invest their hard-earned money. It is practically not feasible for them to lose their savings, as they won't be able to earn again.
What are the ways to encourage people of other age groups?
A good number of millennials are already engaged in cryptocurrency trading. However, a massive boost is required to promote cryptocurrency trading in other age groups. Two things that can create a major impact are the inclusion of cryptocurrency and blockchain in the educational curriculum and regular workshops, which spreads knowledge about the same. The first one will help the Gen Z and the latter will help Gen X.
Moreover, specialized trading features like margin trading, social trading and paper trading which helps to learn in real-time by borrowing funds.
Summary
A survey has derived a fact that 50% of the cryptocurrency traders are millennials. The obvious reason is the exposure and risk-taking ability. The ways to encourage people of other age groups is to provide proper guidance and advanced trading features.
An initiative by an upcoming cryptocurrency exchange will succeed to make a difference!