The latest Citrix Receiver has been released (May 2010) and is finally available for BlackBerry devices, version 1.0. Once installed, BB users can access Citrix applications from their device, on any* mobile network or WiFi connection.
This is currently only available to BlackBerry users on a BES and does not work if you are a BIS user. Reports also suggest that it doesn't work with Secure Gateway, of which I can confirm my setup did not. However, providing your BlackBerry is connected to your BES, you should be able to resolve your servers on the private LAN from your device, and therefore shouldn't need to go via a Secure Gateway.
I'm assuming at this point, that you already have a Web Interface Services site setup and is accessible and working, for example, with desktop clients.
1. Download and install the Receiver from
http://www.citrix.com/blackberryinstall
on your device.
2. When it has installed, run the application, and select "Set up my existing account".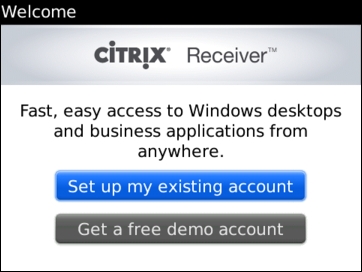 3. Enter the information in all of the boxes, as follows. When you enter the address, enter the FQDN of the internal (private) server address, or IP address (you don't need to include any http, /citrix/xenapp/config.xml,
just the FQDN). Press Save.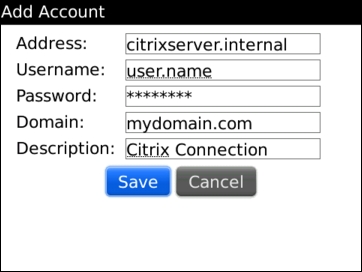 4. Press the Menu button and click Connect.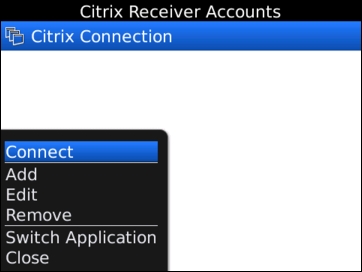 5. You should be presented with your published application list. Scrolling and clicking on the required application will launch it.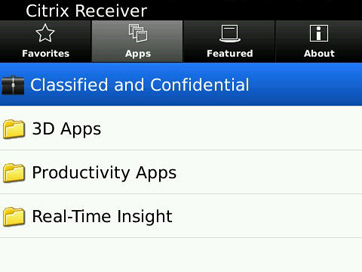 Citrix is currently providing support for the following BlackBerry mobile devices. OS Version 4.6 or later is required. For Storm2 devices, OS Version 5.0.0.436 (Platform 4.2.0.189) is required. For optimal performance, a minimum of 128MB memory is recommended.

Touch models:
- Storm2 9520, 9550

Non-touch models:
- Bold 9000, 9650, 9700
- Curve 8350i, 8520, 8530, 8900
- Tour 9630

I'm currently using this with a BlackBerry Bold 2 9700 and a Curve 8900, BES 5, and XenApp 5.
This version of the Receiver doesn't support Application Encryption, but it supposed to support this in the next, or future, releases.