This article discusses and shows how to use some of the excellent features in a Freeware app called "IrfanView" that (going by questions I've received) many people seem to overlook or just don't know about. Enjoy...
Create nicer looking borders in Articles submitted to Experts Exchange
Due to the limited features provided with Online Editors, I've been asked several times about how I place the neat little borders around embedded graphics when editing article submissions at Experts Exchange, as authors often try to duplicate the effects with the online editor and find that they can't.
Well, that's because I don't do them in the Online Editor - I create them on my own system using IrfanView and then re-upload them into the articles I'm editing. It's quick, easy and this article will show you how you can quickly do it yourself.
What is IrfanView?
IrfanView - by Irfan Skiljan is an excellent lightweight Graphics Viewer (free for non-commercial use) that is available for Windows. I use it as my default graphics viewer in Windows 10 and rarely come across a graphics format that it can't handle.
There are two functions I frequently use that I'm going to describe here. First, we'll discuss Borders and later we'll look at how we can quickly darken things in images so that things like text are easier to see.
Creating your own Borders with IrfanView
To create your own borders for your embedded graphics, open any graphic with IrfanView and select Image > Add border/frame from the top menu bar. Alternatively, just press Ctrl+D while viewing any graphics and the following window will pop up.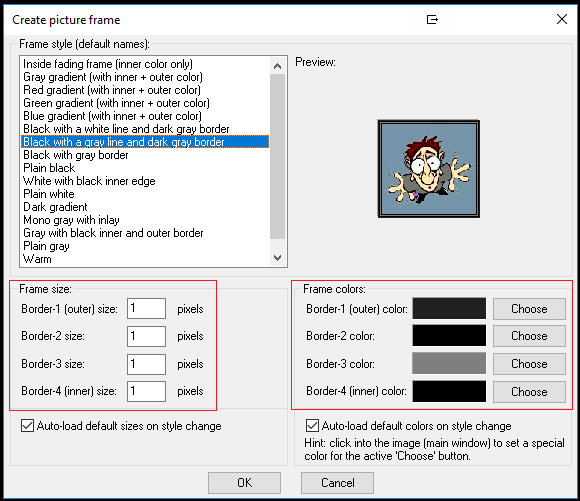 From here you can select any number of Default Styles for the border (or Picture Frame) that you want, the border size (in pixels) along with adjusting the Inner and Outer frame colours to suit yourself.
Whilst the online article editor at Experts Exchange does provide an option to border graphics, there are only two options available to authors. Rounded and Bordered. An example of both is shown below.
Rather than be limited to the above two options, consider using something like IrfanView on your system to manipulate the screenshots or graphics you want to upload into your articles, before embedding them.
Here's what the above graphic would look like using the above-shown settings in IrfanView. Arguably much better than the default "Bordered" style available in the Online Editor.

Note you're not limited to the above. Experiment with the different Default Frame Styles available to you in the program until you find something that you think looks great. Once you've found a style you're happy with, apply it and IrfanView will remember your selection and settings for the next graphic you view with it.
Don't forget to save your manipulated graphic before closing IrfanView. Press Ctrl+S or select File > Save (original folder) from the menu bar.
Alternatively, click Options > Properties/Settings... from the Menu bar in IrfanView (or just press P when IrfanView is open) and place a tick in the "Ask to Save changes on program exit or file/image change" in the Start / Exit options category to be asked to save changes each time you close the program. (If a change has been made)
Whilst the above may seem like a lot of work, it really only takes a few seconds if you make use of the shortcut keys and the minimal effort required can make your articles both aesthetically pleasing and looking much more professional.
For example, I can apply the above border to any graphic with the following keyboard strokes in under 5 seconds:
Ctrl+D
Enter
Ctrl+S
Left arrow
Enter
Not so hard. Give it a try the next time you are going to upload a graphic or screenshot into an article submission or even a question or comment.
Darken or Sharpen Text and Graphics in Screenshots
Often when you take a screenshot of something that contains light lines or text, the text itself may not be very easy to see. To help with this, there is another highly useful function that IrfanView provides. Look at the following two examples;
Note the difference between the above two graphics. Subtle, but can make quite a difference. The "Sharpened Screenshot" was achieved by simply pressing Shift+S two times while viewing the capture with IrfanView. To do the same thing using your mouse, simply click Image > Sharpen from the menu bar.
Reduce the Size of your Graphics
One more thing. Often when you take a screenshot, the graphic you've captured can be large in screen size, or when the actual file size you've captured saves with a large MB that can cause problems uploading on poor Internet connections. Both can also be manipulated and doing so is handy for both article submissions and graphic uploads in question comments.
To resize graphics so that they take up less screen space once uploaded, click Image > Resize/Resample... from the menu bar. Or just press Ctrl+R while viewing an image. A window will pop up that allows you to Resize the Width and Height of an image. Experiment with this to see what best suits "your" particular needs and circumstances.
Likewise, to reduce an Image's File Size, do the same thing as above, only this time reduce the DPI size in the above Resize window. Learn more from the FAQ page by checking out the "Q: How to reduce saved file size from XX to YY KB?" topic.
Concluding
I've only touched on a couple of basic functions IrfanView provides to help budding authors in the formatting of their embedded graphics for article submissions to Experts Exchange. The program has a host of other powerful features. Check out the following links to learn more.
If this is the first time you've heard about IrfanView, I can highly recommend checking it out. It's light on resources and works very well indeed. I personally consider it to be a much better (and far more powerful) default graphics file viewer for Windows 10 than what Microsoft provides and as it's 100% free for non-commercial use, you have nothing to lose.
Show your Support to the Author
For those of you who want to use this software in a commercial environment, please consider purchasing a license to use the software legally. To obtain pricing for commercial use, please email the author (irfanview@gmx.net) for prices, discounts and payment methods as per the software's EULA page.
For all you non-commercial users using the Freeware version of the software, I'd urge you to make a donation to the author to encourage him to keep developing this excellent tool. I have! Check Here for Donation Options. Donations via PayPal can be made from this page.
Share your Thoughts and Ideas
Do you have any tips and tricks to share when using IrfanView or have found another free graphics viewer that you prefer to use? Please do share your thoughts in the comments section below this article.
Support
If you need support on the use of IrfanView, use the big blue Ask a Question button at the top of your browser while logged in at Experts Exchange.
Finally, If you found this article to be helpful, please do click the Thumbs-Up icon below. This lets me know what is valuable for EE members and provides direction for future articles. Thank you very much! Regards, Andrew