Recover Mailbox folders from corrupt Exchange EDB Files in 2016, 2013, 2010, 2007 Microsoft environments. Use SysTools Exchange Repair Software for an automated solution to recover hard deleted user's individual mailboxes and restore back into the Live Exchange environment.
Mailboxes in Microsoft Exchange Environment
Mailbox is an integral component of Messaging Communication. In the Exchange environment, user mailboxes are created via Administrative along with message properties so that user stores can information in different folders such Inbox, Contacts, Calendar, Sent Items, Outbox etc. As Exchange mailboxes not only contain the mentioned folder, but other folders are also stored that are not visible to the user.
Even while assigning a mailbox for a new user via Exchange Admin Centre, various other options of mailboxes are also available such as Shared Mailbox, Legacy Mailbox, Resource Mailbox, Linked Mailbox, Room Mailbox, Equipment Mailbox, Site Mailbox. Each mailbox can be selected in a different scenario, To learn more about them, visit Mailboxes in Exchange Server.
While working with different Exchange mailboxes, corruption in the mailbox can occur for a variety of reasons and as a result, users can lose data items or folders stored in an EDB file. A user can check for mailbox corruption using a Powershell command. To resolve this problem, this write-up will discuss different methods of recovering Exchange mailbox folders from an EDB file using an Automated Solution offered by SysTools.
SysTools Exchange Repair Tool to Recover Exchange Mailbox Folder
In this segment, we will show you how to recover mailbox Folder items from an Exchange EDB file with the help of SysTools Exchange Recovery Tool. At the same time, we will learn the process of restoring them to a live Exchange Server directly. The software not only retrieves the lost, deleted, and corrupt Exchange mailbox folders, it also shows a complete preview of all items in any selected folder.
It also demonstrates the crucial meta information like From, To, Subject, Cc, Bcc, Size etc. Upon selecting an item, users can see the complete content of that item; while clicking on the attachment tab will display any file that is attached to that email. Here are the steps that users need to perform for recovering an Exchange mailbox folder using the software. The application will allow users to perform various tasks.
Recover Exchange Mailbox Folder Item Using SysTools Exchange Recovery Tool
Download and Launch the software.

Now Open Software and Click on Add File button.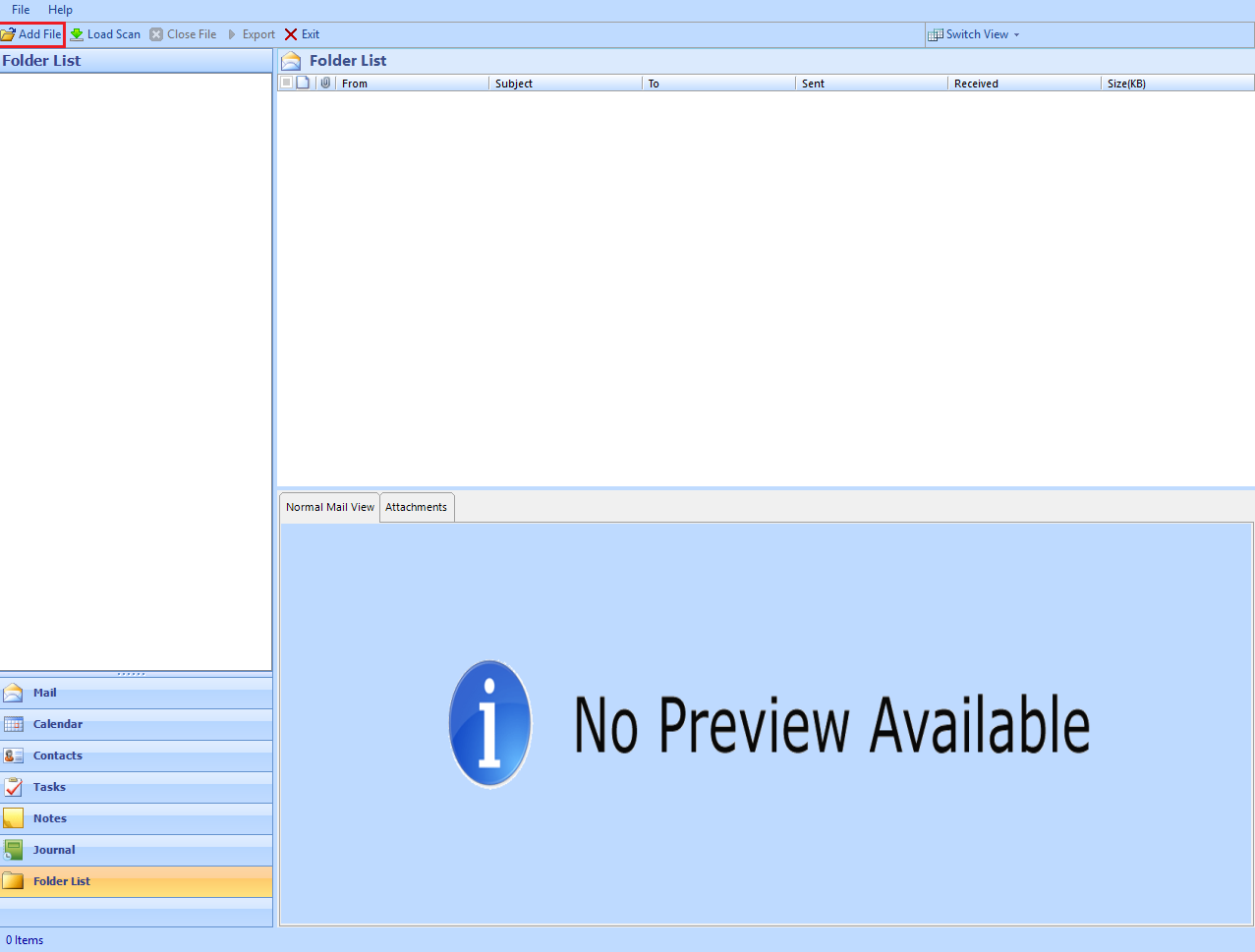 Users can either select the radio button of Select File and then click on Browse icon beside EDB file to add the corrupt EDB file from its location. If the EDB file location is unknown, select Search File radio button and proceed accordingly.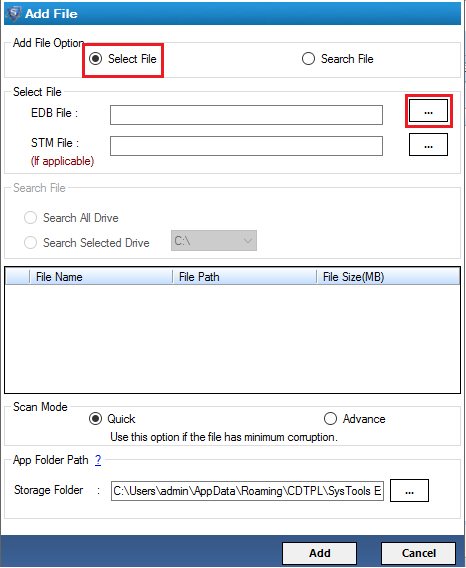 After the EDB file is added, choose between the Scan modes to recover items from the corrupt and dismounted EDB file. Then, click on the Scan button and the software will recover complete data from the EDB file, including corrupt mailbox folders.



Quick Scan: Choose this option if the EDB file is mildly corrupt.
Advanced Scan: Select this if the EDB file is highly corrupt.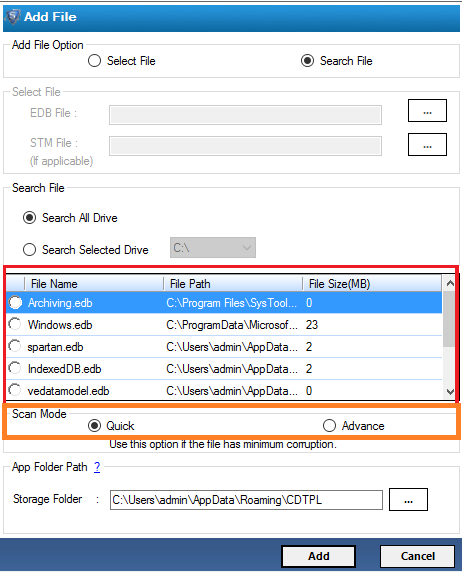 Preview Exchange Mailbox Details in SysTools Exchange Recovery Tool
Click on Add Button and tool starts recovering mailbox items from corrupt Exchange EDB file. After recovering the items, the tool will display different sections such as:
Maintain Hierarchy: After the recovery, users can check out the items according to their hierarchy. Since the program retains the original folder hierarchy of the original Exchange Mailbox folder after recovery, it becomes easy for the users to find any particular item/folder.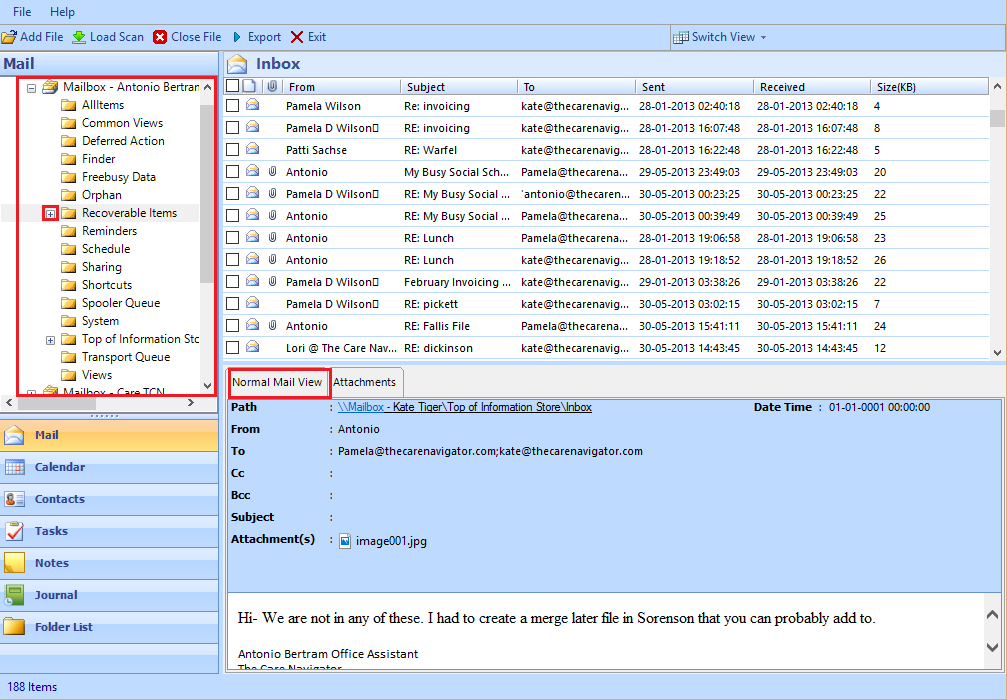 Preview Attachment and Single Mailbox Details: Exchange Recovery Software demonstrates the complete metadata of every mailbox item, like Path, From, To, Cc, BCC, Size etc. Besides that, users can also see the attachments of emails.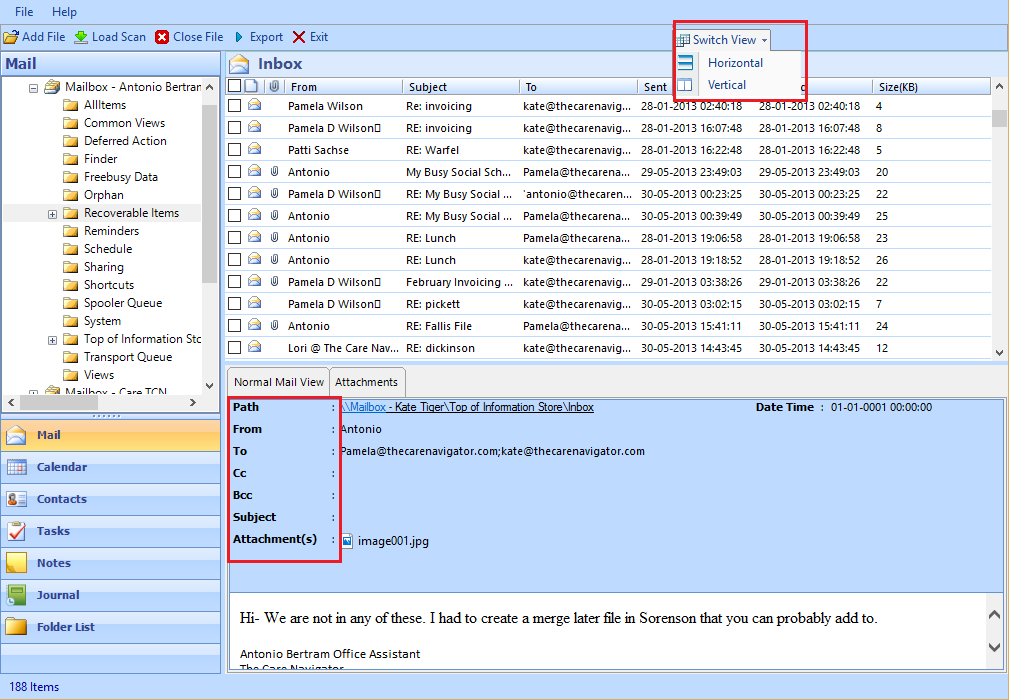 Category-based Preview: In this section, the tool will display all the categories of EDB file including Mails, Contacts, Calendar, Tasks, Notes.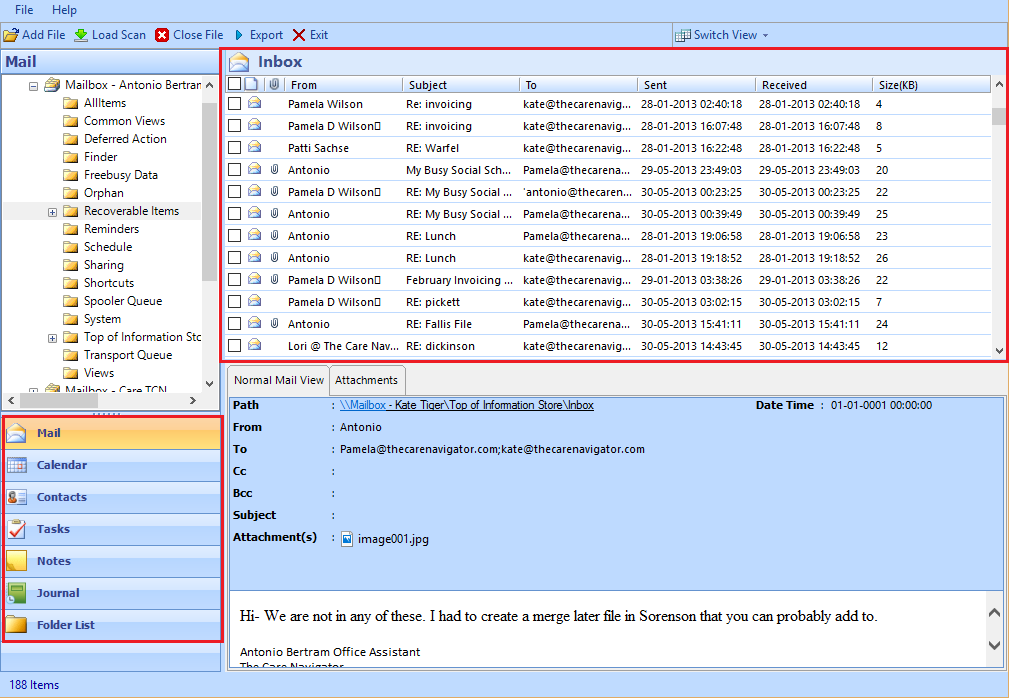 Restore Mailbox to Different Live Exchange Environment
Now select the Folder that you want to restore into the existing Exchange environment. Click on the Export button.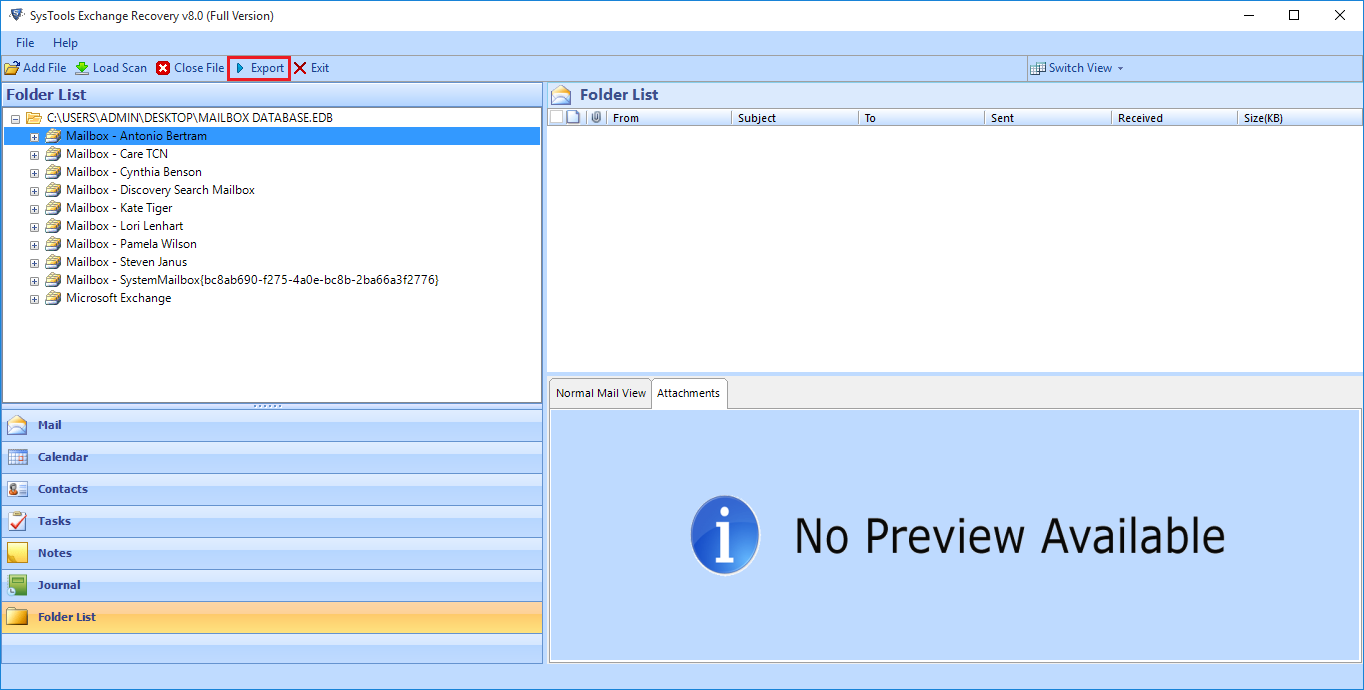 Choose Live Exchange as the 'Select Export Option'. Also, click on Adv. Settings to configure Live Exchange Server.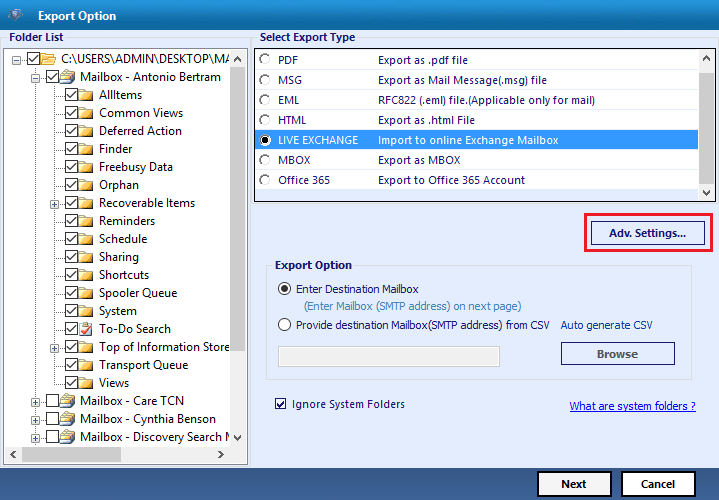 Select 'Exchange Settings' tab to enter Exchange Admin credentials, Exchange Server version, and IP Address.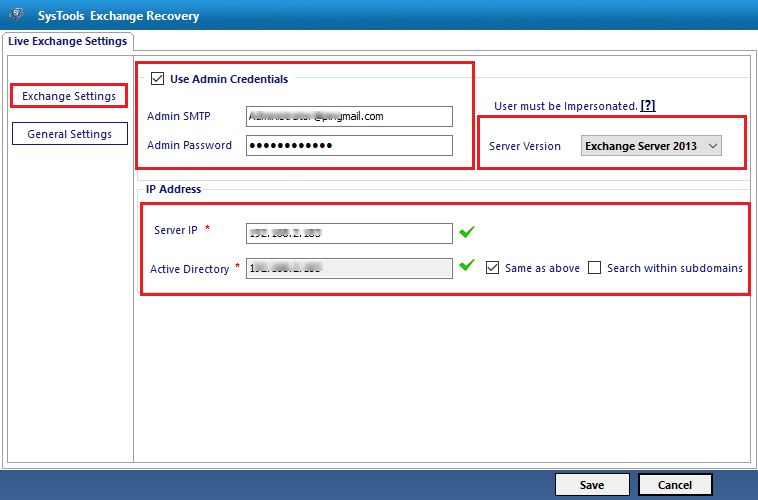 Now, select the 'General Settings' tab to filter the data if needed. The Exchange Repair Tool permits selecting data based on category and date. Click on the Save button and you will be notified that the settings have been saved.
Restore Exchange Mailbox to Live Exchange 2016 / 2013 /2010 Environment
Now we come to the Export Options section. This will let the users restore the Exchange folders to Exchange in two ways:
Restore Mailbox Folder in Single Exchange Mailbox: In order to restore the recovered EDB Mailbox Folder items into a single Exchange user mailbox, users need to select Mailbox Name and Address. Provide the valid Exchange mailbox name as shown below. Now Exchange Recovery will validate the credentials to continue further.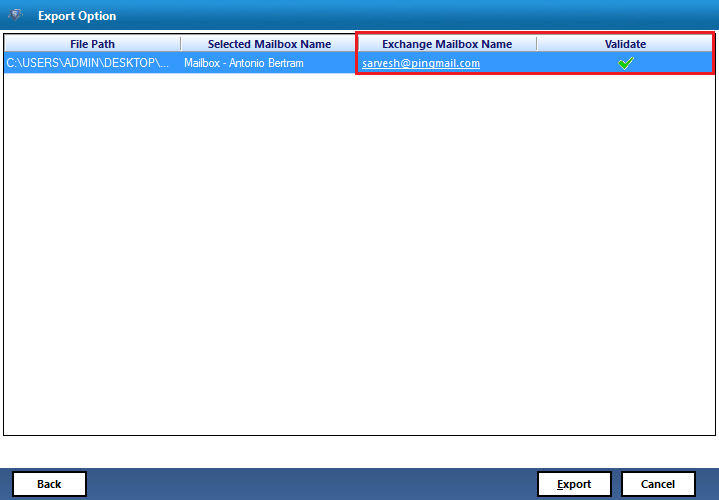 Recover & Restore Complete Mailbox into Different Exchange Environment: To restore the items in multiple mailboxes, choose the option Provide Destination Mailbox (SMTP address) from CSV. Then, add a CSV file containing the complete list of mailboxes and their full credentials.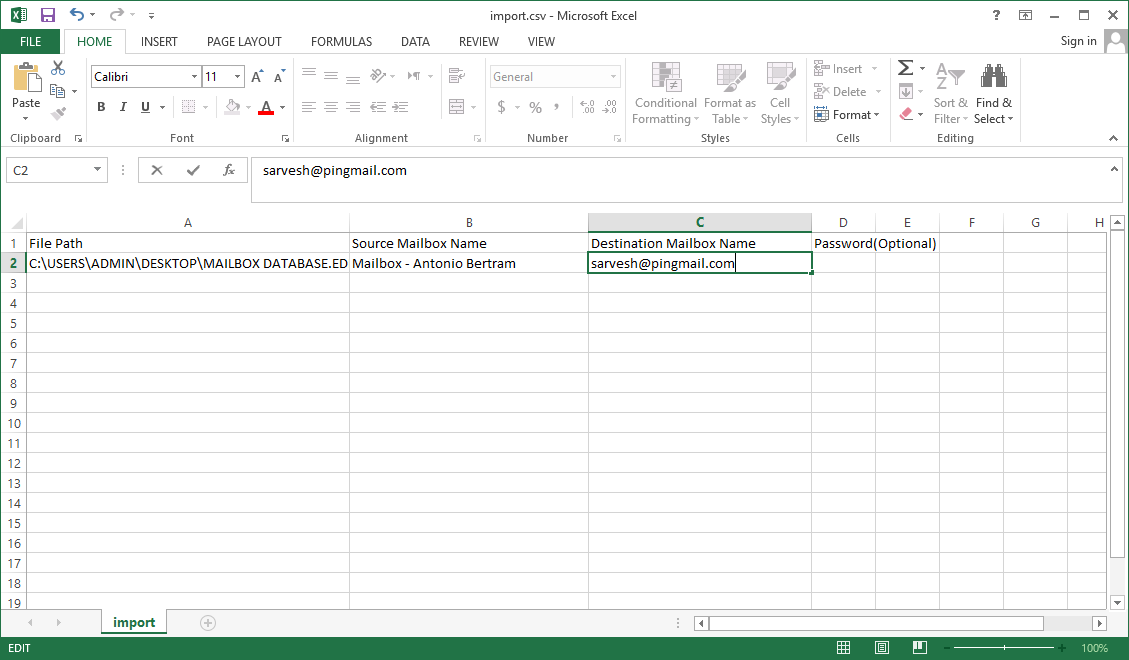 Now the validation process of the mailbox will start.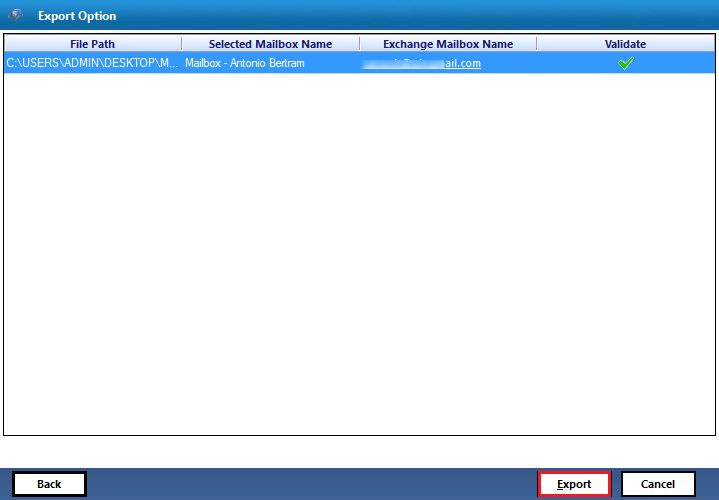 When all validation is done, click on Next >> Export to start transferring those files into the assigned mailbox(s) of Live Exchange Server. Users will see the Live Status of this process. When it is completed, a notification will pop-up with an Export report.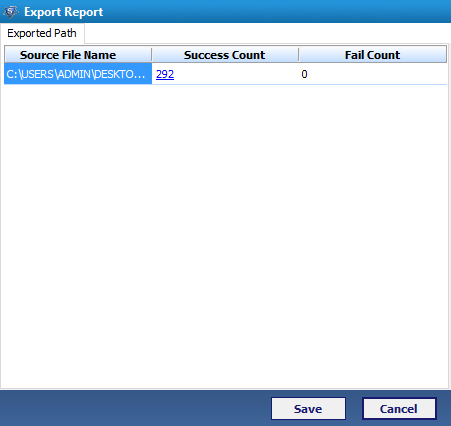 Conclusion
Corruption in Exchange mailbox folder can lead to data-loss of important mailbox folder items. However, there is a manual method available for restoring corrupt mailbox items using Powershell Command. If users want to recover an Exchange mailbox folder from a Dismounted / Offline EDB file of 2016, 2013, 2010, 2007 environment and then again restore back into Live Exchange Server, they should opt for SysTools Exchange Recovery Tool. This one utility will allow both recovery and restoration of mailbox items without any hassle.