Does your PST file get corrupted? Looking for a solution to quick fix corrupt PST file of Outlook 2016, 2013, 2010, 2007? Read this post to learn about some tips & tricks to repair corrupt PST file in Outlook.
Microsoft Outlook is one of the best email client application consistently expanding its roots ranges from personal use as well as large business enterprises. Outlook earned so much popularity because of its efficient features and capability to manage email communications better than any other email client of the same category. Microsoft Outlook serves as a Personal Information Manager (PIM). Irrespective of its high user end efficiency, sometimes Outlook behaves abnormally or works unexpectedly.
Most of the time, it is seen that the reason for unexpected behaviour in Outlook is due to a corrupted PST file. So, it is very crucial to know the important tips and tricks to fix a corrupt PST file in Outlook 2016, 2013, 2010, 2007.
Tips to Repair Corrupt PST File in Outlook 2016, 2013, 2010, 2007
There is an enormous number of reasons for unexpected behaviour in Outlook. In the most weird cases, Outlook becomes inaccessible, as a result of which the complete continuity is affected. In most of the cases, it is seen the PST file is solely responsible for the abnormal behaviour of Outlook. With the help of manual tips and technique, one can repair corrupt PST file in Outlook 2016. Outlook 2016 users can easily repair the corrupted Outlook via the control panel.
Follow the below mentioned steps to fix it.
Open control panel menu
Click on Programs and then select programs & features
Then search for Microsoft Office 2016, 2013, 2010 from the enlisted programs
Click on Change option
Now choose from the two repair options i.e. Quick Repair or Online Repair
The follow the instruction as asked by prompts.
If there are any application issues for the unusual behaviour of Outlook, they can get fixed with the above procedure. If after the completion of the above procedure and the issue still persists, then you need to fix the corrupt PST file with the help of the Inbox repair tool or scanpst.exe
Note: The inbox repair tool can only work on low-level corruptions in an Outlook data file. It doesn't work if there are serious issues with the PST file.
Techniques to Repair Corrupt PST file in Outlook 2007
In the above section, we have discussed the technique to repair a corrupted Outlook PST file with versions 2016, 2013, 2010. Now in this section, we will discuss the manual methods to fix a corrupt PST of Outlook 2007.
Start MS Office 2007 and then go to the Help menu
After then click on office diagnostics & continue
Start the diagnostics process and follow the instructions as asked by prompts.
We have finished the discussion on the methods to fix the error in the Outlook application itself. But we also need to trace out the reasons which force Outlook to show unexpected behaviour.
Top Reasons For the Failure of Outlook Operations
If the root cause of the failure of Outlook is not handled properly then be ready to face the troubles you can encounter with Outlook. So, in this section, we will discuss the major reasons behind errors in Outlook.
There might be the possibility that system hard disk contains bad sectors as a result of which hard disks get corrupted with PST files stored within bad sectors. As a result of which Outlook is unable to recognize the PST file and becomes inaccessible.
We cannot neglect the other reasons such as devices attached to the system such as network cables, hubs, routers etc. The issues related to software dependencies is the major reason which contributes to the failure of Outlook.
Many times Outlook PST files get corrupted or lost. There is always the probability that Outlook PST files are forcefully overwritten by infected software applications. Sometimes antivirus' installed on the system can also create an environment where Outlook can't perform for best results.
Factors Responsible for the Corruption of Outlook Data File
It should on our top priority to make Outlook work without any troubles to maintain business email communication flow. These are some common reason for a corruption in an Outlook PST file.
Oversized Outlook Data file
Power shutdown of Outlook
Infected Software Applications
Virus/Malware programs
We can avoid most of the reasons for the corruption of Outlook PST file by following the Outlook Management best practices. To know more read this article.
How to Repair PST File in Outlook 2016, 2013 Step By Step
As Outlook can be the lifeline of any organization, it is the sole responsibility of the System Administrator to ensure the backup and repair of an Outlook data file is done on a regular basis. The manual solution to fix the issues of Outlook can only be helpful in some cases.
So what to do next when an Outlook PST file get hit by severe corruption and the manual solution is unable to fix it up? Don't worry, in such cases, there is a ray of hope in the form of SysTools Outlook Recovery. This is a trusted software application available online to repair corrupt PST file in Outlook 2016, 2013, 2010, 2007 and so on. It facilitates the creation of a new Outlook PST file which can easily be restored at the desired location. Let's discuss some of the important features included in Systools Outlook Recovery software:
Easily recover hard deleted or permanently deleted items in an Outlook PST file
Support to recover data from encrypted Outlook PST files
Recover Outlook PST file items such as emails, contacts, task, notes journal etc.
Date & email filter option allows the exporting of selective data to a newly created PST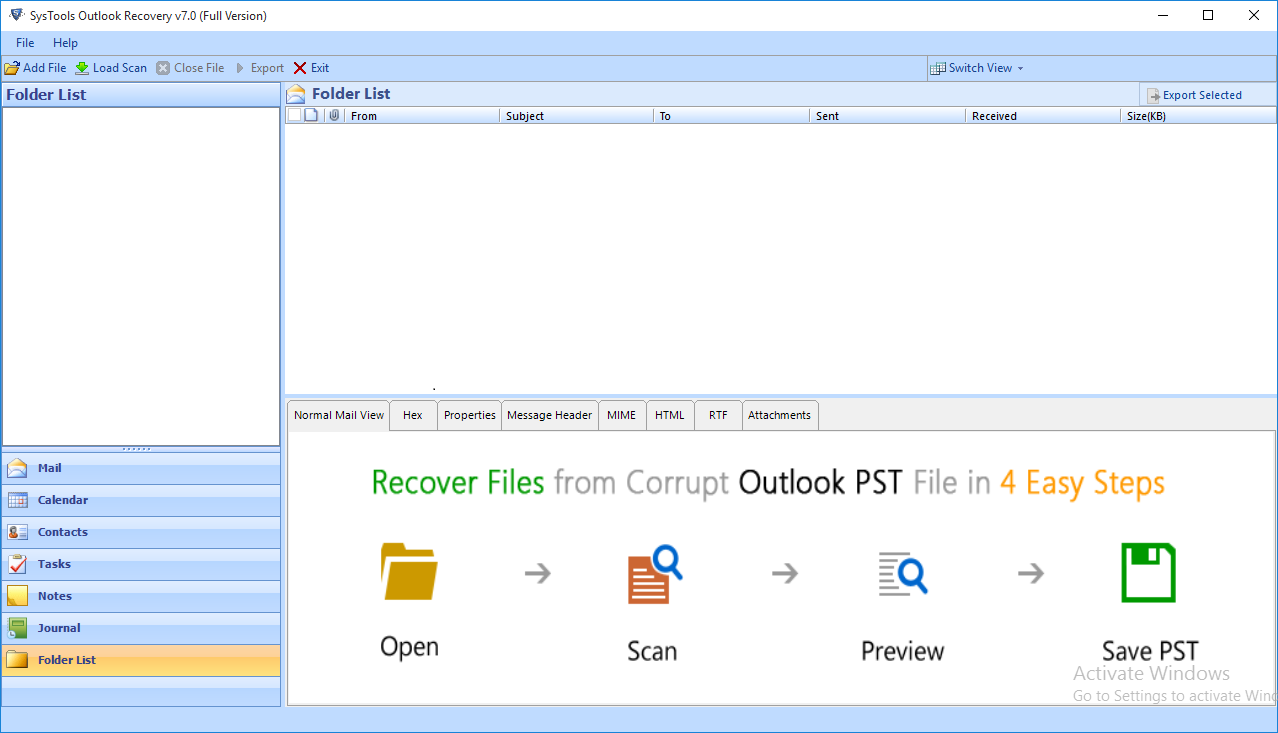 Conclusion
To get the best results from Outlook, it is required that PST files remain in the healthy state. Otherwise, Outlook is unable to deliver optimum results. There are several reasons for the corruption of Outlook PST files. So, this article explains a preferable solution to repair serious errors that sometimes encountered with Outlook.