Since Microsoft pulled the upgrade to Version 1809 because of some users experiencing File Deletion errors, people are hesitant to upgrade. Now it's been made available for download and installing once again. This is a documented and timed experience of an upgrade I just did myself.
Pre-Ramble
Many folks, including myself, were and are hesitant to install the now re-released upgrade to Windows 10 Version 1809. I decided to go ahead and upgrade my own Windows 10 System to this latest release, while closely watching, monitoring and timing the entire experience. This article explains the entire upgrade process, along with the problems I struck and had to resolve once the upgrade was completed. The entire process was also timed using the Stopwatch feature of my iPhone.
Specifications of System before the Upgrade
Windows 10 Professional x64 - Version 1803
Fully Patched with all Windows Updates available
OS Version - 10.0.17134 OS Build 17134.376
Motherboard - Intel Corporation DH67CL (LGA1155)
Graphics - 1024MB ATI AMD Radeon HD 5500 Series
System Drive - Samsung SSD 850 PRO 512GB SATA
Network Adapter - Intel 82579V Gigabit
RAM - 20 GB DDR3
The upgrade process from start to end
Downloaded the "MediaCreationTool1809.exe" from the Microsoft Download Windows 10 website page
Made a full system backup using Acronis True Image 2019 and validated the backup (Just in case)
Set Avast Internet Security to Disabled until the next Windows restart
Ran the downloaded Media Creation Tool and got a Windows Setup Window stating "Getting a few things ready"
After (46.86 seconds), I needed to click "Accept" to continue
Another Windows 10 Setup Window appeared - "Getting a few things ready" - for (59.25 Seconds)
Clicked "Upgrade this PC now" and then the Next button
"Windows 10 Setup Window" appeared again and the following then happened. Any messages that appeared on screen have been included below in (brackets)
Downloading Windows 10 (Feel free to keep using your PC.) - Progress 100% - (9 Min, 52 Seconds)
Creating Windows 10 media (Feel free to keep using your PC.) - Progress 100% - (4 Min, 32 Seconds)
Applicable notices and license terms (Last updated June 2018) - Clicked "Accept"
Getting updates (This may take a few minutes.) - Checking for updates Progress 100% - (3 Min, 58 Seconds)
Making sure you're ready to install (This may take a few minutes) "Please wait" - Progress - (3 Min, 57 Seconds)
Ready to install (You won't be able to use your PC while Windows Installs.) (Save and close your files before you begin.) To recap, you've chosen to: Ticked: "Install Windows 10 Pro"
Ticked: "Keep personal files and apps"
Hyperlink was also available: "Change what to keep" - I ignored it
Clicked the "Install" button
Monitor Screen now changed to a dark blue with the following:
"Installing Windows 10"
"Your PC will restart several times. This might take a while."
A "Cancel" button was also available
Time to first auto restart at 98% complete was (41 Minutes, 52 Seconds)
Windows Rebooted
A blue progress screen showed for about 5 seconds and Windows rebooted again
Now a light blue screen appeared with the following info:
"Working on updates 30%"
"Don't turn off your PC. This will take a while"
"Your PC will Restart several times"
Time taken to get to 75% was (49 Minutes, 52 Seconds)
Windows Rebooted again
The same light blue screen appeared with the following info:
"Working on updates 75%"
"Don't turn off your PC. This will take a while"
"Your PC will Restart several times"
Working on updates 75%
At 100% complete, Windows Rebooted again
(Total Time to get to this point - (1hr, 2min, 19 Seconds)
This time, after Windows Rebooted, I was presented with the Login Screen.

Note: Screen Resolution was wrong. Everything was HUGE
I entered my login password and got a Light Blue Screen fading in and out with the following messages:
Hi
"We've got some updates for you"
"This might take several minutes"
"Don't turn off your PC"
After a couple of minutes, I got an "ALMOST THERE" message on my screen
My normal windows screen opened up (still wrong resolution) with Microsoft Edge open as shown below;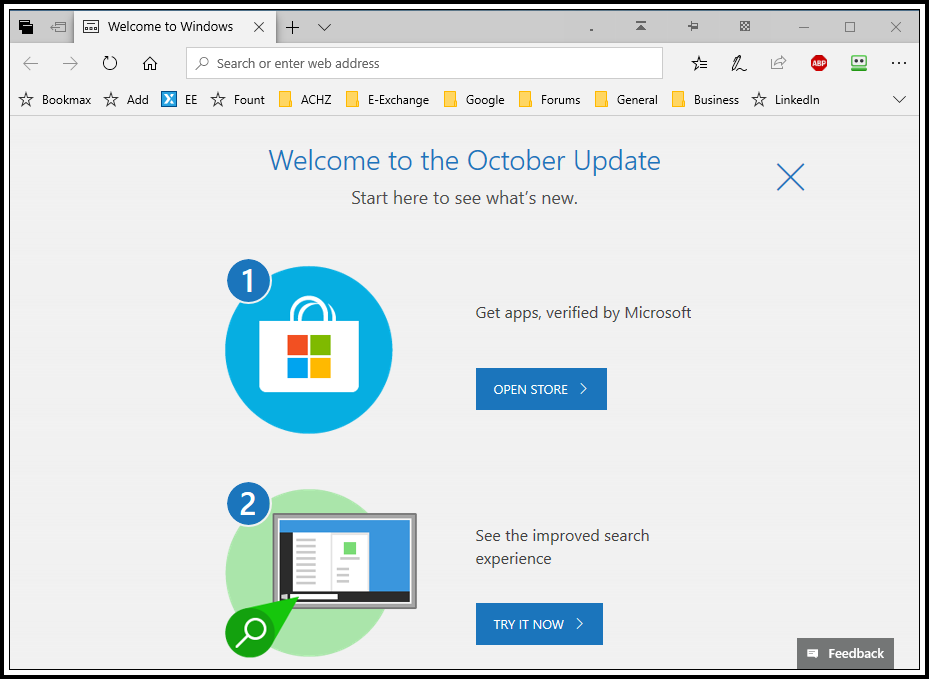 I clicked on the OPEN STORE > button. This just opened up the Microsoft Store - I closed it
I then clicked on the TRY IT NOW > button. Got the following screenshot: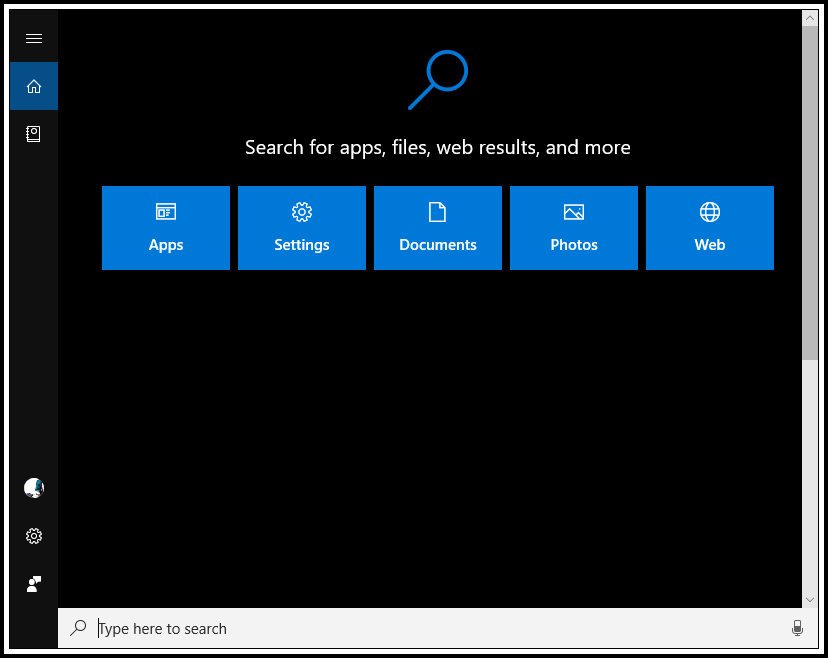 I closed that and then scrolled down the first Edge screen and clicked the GET STARTED > button and a Tips tab opened as shown below: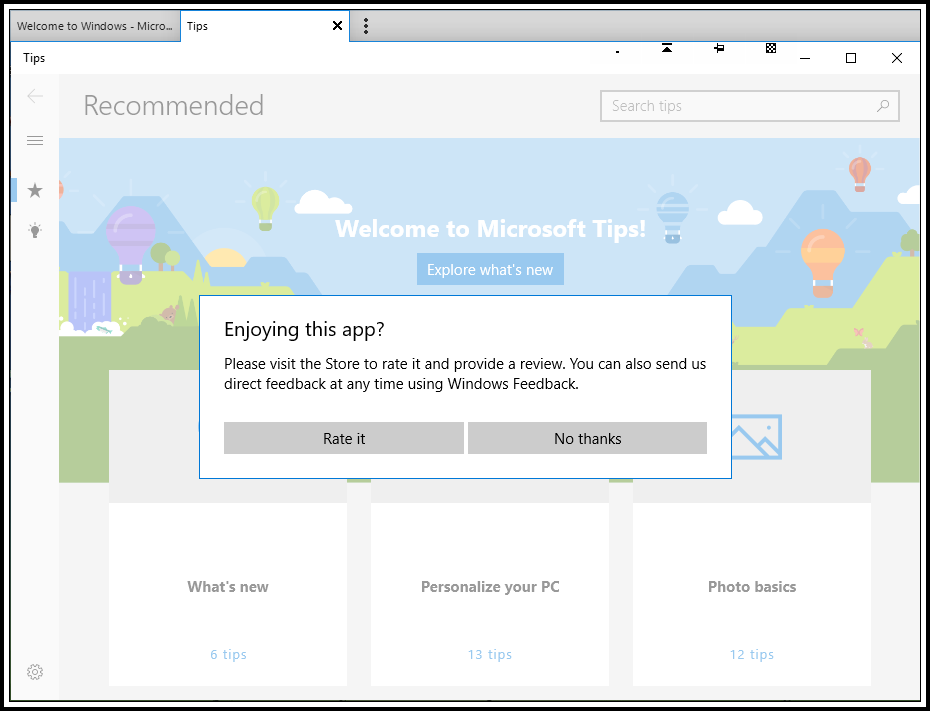 I considered it way too early to rate this app, so I clicked the No thanks button and ended up with the following screen: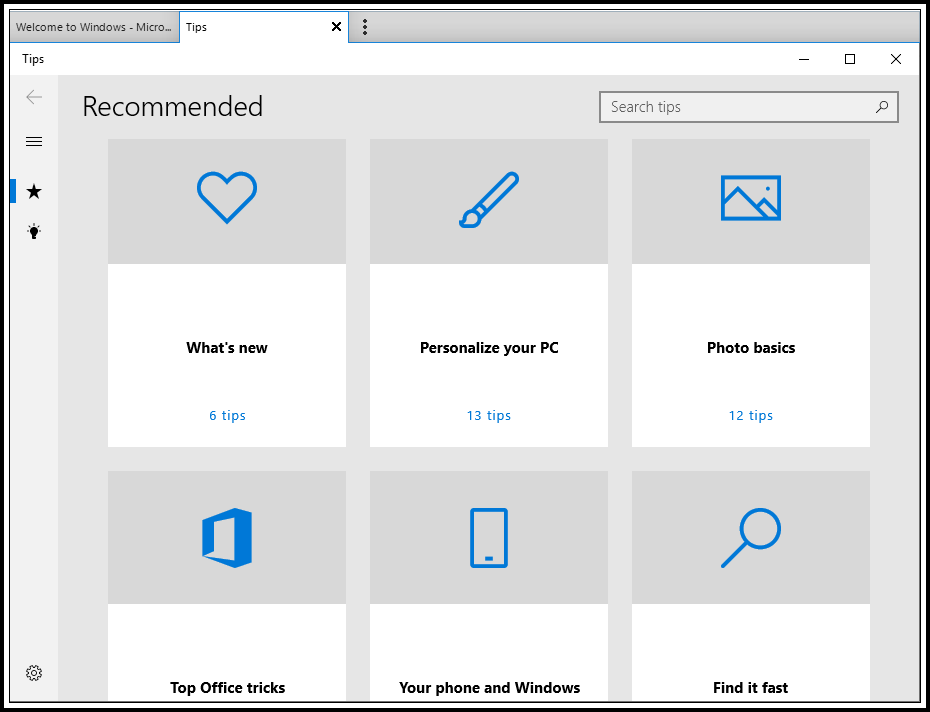 Scrolling down the entire list to see what was available, I found the options I could click on were as follows:
What's new (6 Tips)
Personalize your PC (13 Tips)
Photo Basics (12 Tips)
Top Office Tricks (8 Tips)
Your phone and Windows (3 Tips)
Find it fast (4 Tips)
Get Organized (11 Tips)
Browse All tips
I clicked on each of the above categories and there are indeed some excellent and interesting tips, especially for new players, so I highly recommend exploring them briefly. The "Your phone and Windows" tips will be particularly useful for those of you that have an Android phone.

I then closed the Microsoft Edge browser and ended up on my desktop, with still a crappy resolution, despite the settings in Windows being set to my preferences before I started the upgrade.
Issues encountered that had to be fixed
Graphics Card and Updates Issues
The first thing I did was to try and fix my screen resolution. In Windows Display Settings, it was set to 1024 x 768 (Recommended) resolution, which was obviously wrong, so the problem was clearly that the update had decided to change my graphics card Drivers and Display settings. Changing the display settings to a higher resolution with Windows just produced skewed and unusable desktop resolutions, so I declined to keep the changes and reverted back to what it was for the time being.

I opened "Windows Device Manager", expanded "Display Adapters" and right clicked on my AMD Radeon HD 5500 Series adapter, and selected "Properties"
From the Driver Tab, I could see that the upgrade had indeed changed my drivers to a driver provided by "Advanced Micro Devices. Inc" Obviously an older version of drivers were downloaded and installed by the update.
No driver rollback option was available, so I clicked the "Update Driver" button and selected "Search Automatically for updated driver software" - Surprisingly, Windows reported that it had determined that "The best drivers are already installed" for my graphics card, despite the fact that in the properties window I looked at earlier, it clearly stated that "No drivers are installed for this device"
The next thing I tried was to select the "Check Windows Update for drivers" option and clicked on the "Check for updates" option in the Settings > Windows Update screen, which after checking, stated "No updates available". I then clicked on "Check for updates" anyway.
Windows started "Checking for updates ...."
Despite the "No updates available" on the Windows Update screen as mentioned above, Four Updates were indeed available after the check. They were:
2018-11 Cumulative update for Windows 10 Version 1809 for x64-based Systems (KB4467708) which "Failed to install on 14/11/2018 - Error 0x8024200d"
An Update for Adobe Flash Player for Windows 10 1809 for x64-based Systems (KB4462930)
Windows Malicious Software Removal Tool x64 - November 2018 (KB890830)
2018-11 Security Update for Adobe Flash Player for Windows 10 Version 1809 x64-based Systems (KB4467694)
2018-11 Cumulative update for Windows 10 Version 1809 for x64-based Systems (KB4467708) started downloading and attempted to install again all on its own. This time it installed correctly and Windows started checking for more updates on its own without any prompting from me.
I was prompted to Schedule or Restart Windows Now so I clicked on "Restart Now"
Windows restarted, applied the updates and I logged back into my system again. My screen resolution was still wrong!
I decided to run Windows Update manually again and clicked "Check for updates"
Result? "You're up to date" so no more updates available.
Ok, so I decided to go to my graphics card manufacturer site and check for updated drivers there.
I downloaded the "Radeon-software-adrenalin-18.11.1-minimalsetup-181108_web.exe" utility to self-detect the drivers I needed from https://www.amd.com/en/support
Ran the *web,exe I downloaded above and then selected the driver it recommended I install. I selected "Express Install" and then just clicked the "Next" button
The "AMD - Catalyst Install Manager - Version 08.00.0916" fired up and started downloading and installing drivers.
My Screen resolution was immediately changed to my preferred settings - 1920 x 1080 (Recommended) - during the install process. An excellent support tool provided by AMD!
I clicked the Finished button after it completed and even though I wasn't prompted to, decided to restart Windows anyway.
Upon restarting and logging in, I got a Windows error that the "Recycle bin on my F: drive was corrupted and if I wanted to "Empty the recycle bin now?" My F: drive is just a second 240GB SSD drive I have installed so I clicked the Yes button on that prompt and decided to restart Windows again.
Windows restarted twice this time before presenting me with the login screen again.
Upon logging in, no errors popped up and everything "looked" like it should and how I would have expected it to look after the upgrade completed.
Checking Windows Device Manager again now showed the correct drivers installed for my AMD Graphics Card, and no Exclamation or X marks on any of the other devices, so all looked good there.
I then spent some time going through and opening all of my favourites and frequently used apps and programs and only noted one problem. All worked as expected, except for my Google Chrome Browser, which would terminate for no apparent reason while I was using it.
After uninstalling and reinstalling Google Chrome as per my previous article here, that behaviour was corrected and Chrome stopped crashing.
At this point and time, I've noticed no other ill effects due to the upgrade to Windows 10 Version 1809. If I do find any more problems, I will update this article accordingly.
I hope that this article of my upgrade experience helps others in deciding to go ahead and upgrade to the latest version of Windows 10. Though I encountered "some issues", they were relatively easy to resolve. The entire process, including checking my apps and correcting the Video drivers problem took just short of 3 hours.
I encourage you to share "your" experiences with upgrading to Version 1809 in the comments section below this article. I'd be very interested in reading about your experience and if it differed to my own.
Should you need any help with any problems you encounter when upgrading, please use the free Ask a Question feature at Experts Exchange. I and many other highly experienced experts monitor questions asked and will be happy to assist you.
Finally, If you found this article to be helpful, please click the Thumbs-Up icon below. This lets me know what is valuable for EE members and provides direction for future articles. Thank you very much! Regards, Andrew