This article is about getting a new Windows 10 computer and setting it up for the first time. I wrote this for users new to Windows 10 who have a desire to set it effectively.
Even if you have already used Windows 10, there may be some helpful information in here for you as well. At this point, I am writing this article near the end of 2018. Based on current Market Share reports, Windows 10 (which has been out for just over 3 years) has about 50% of the Windows market for Windows on regular desktop and laptop computers; Windows 7 maintains about a 36% share; whilst older versions of Windows combined have about a 14% share.
I have been using Windows 10 Pro 64-bit in production since 2015 when it was introduced, and I have written several articles here in Experts Exchange about Windows 10.
Microsoft has told manufacturers that new Windows computers must be designed (BIOS and CPU) so that they can only run Windows 10 and not prior versions of Windows. Even now, one of the basic communication building blocks (SMBv1 = Server Message Block v1) has been eliminated and now we must use only SMBv2 and up.
This means new devices cannot (easily) talk to old devices any more. Microsoft is using this opportunity to eliminate old ways and make permanent changes going forward. This is another reason to adopt Windows 10 and upgrade ancillary equipment (like very old printers).
Here is a decent article on "The Verge" about Microsoft's Strategy (link good on December 1, 2018):
We all upgrade our computers at some point if only because the computer hardware we currently have wears out. If you recently got a new computer, it almost certainly came with Windows 10 and since you cannot go back to Windows 7 (which you may like, and be used to), you must now adapt to and use Windows 10. What should you do? Please allow me to try to help you out below.
First, Windows 10 is just another operating system, but it is a bit different from Windows 7 if that is what you were using, and radically different than XP if you were still using XP to the bitter end. It is much more secure than earlier operating systems, is quite easy to use, has a fairly standard Start menu, and runs a wide range of modern software.
Today, a Windows 10 computer will come with Version 1803 or even Version 1809. I am using Version 1809 on my two production computers, and a more advanced version of Windows 10 (Windows Insider Version) on my spare laptop computer.
Here is a picture of my consulting laptop computer desktop screen, and it is the same as I had on Windows 8.1, Windows 7, Windows Vista and Windows XP. Press Start (lower left and run whatever (modern) application you may wish to run.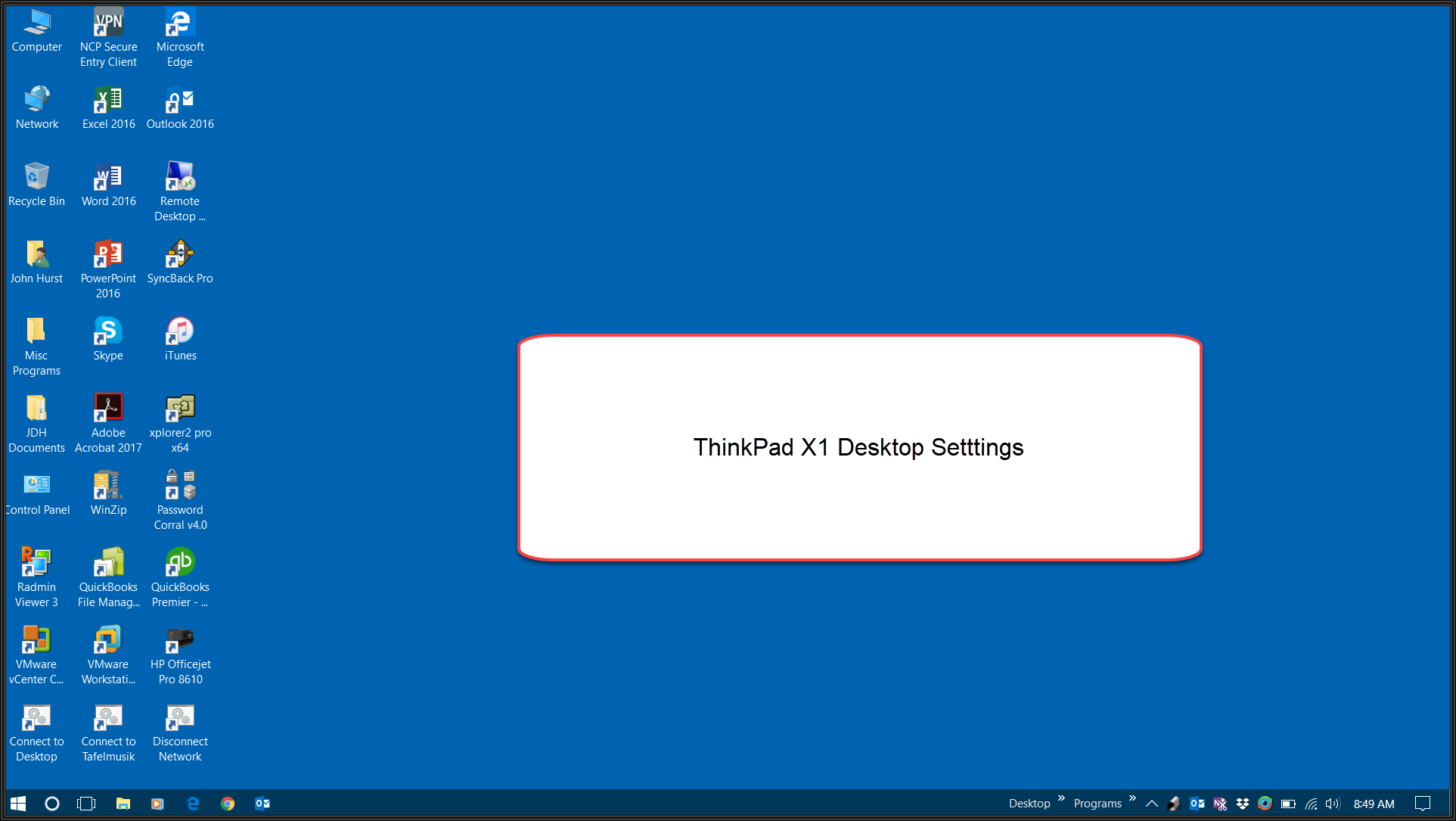 (A) Taking the computer out of the box
Starting the computer and setting up the first user:
Before turning on the computer for the first time, take a moment to determine what your user name will be. Your main Microsoft account can be the main user name and (assuming that to be your first user when you set up) it will also be the administrator of the machine.
If you are prudent and careful and have good security, you can leave it this way. A Microsoft Account is a good choice as the user name for an individual computer and you can set up the Microsoft Account and Password when you first log in.
A Microsoft Account allows easy access to the Microsoft Store amongst other things such as obtaining Microsoft Office by Subscription and accessing information about your account. You need only have an email address – you do not need to use Microsoft email address to have a Windows 10 Microsoft Account. I do not have Microsoft email and still have a Microsoft Account to log on to Windows 10 and to manage Microsoft Office.
If you have a carefree attitude towards computers and website browsing, then make a new, standard username and password and use that as your working account. This can also be a Microsoft Account, albeit different from the first one, so think through this before setting it up. This approach can help prevent unwanted installation of nefarious software that can damage the operating system. By and large, hackers get into your computer without your assistance. You invite them in by opening strange emails or browsing to dodgy websites. This is not a technology issue, it is a user issue, so please exercise caution at all times.
If you are in a small business, use a Local Account instead of a Microsoft Account for the first local account. As before, this first account is a member of the Administrators group and you will need to set up a regular standard user account for people to use. It may make sense in a business just to use local accounts.
Now it is time to pull the computer out of the box, set it up and turn it on. The first thing you must do is register the computer to the manufacturer (assuming you purchased a mainline computer) and set up a user name and password. Use a Microsoft Account as described above.
Important: Make a record of this user name and password and keep it in a secure place, preferably a web-based password manager application. Also, go to Windows 10 Settings and in the search box, enter (without the quotes) "create a password reset disk". This requires a blank USB key, follow the prompts, and create the password reset USB Key. This is a very important step as a lot of people forget their main Windows password. Please do not be one of these. Keep the password reset USB Key with the documentation you received when you purchased your computer. This documentation should include your purchase receipt as well.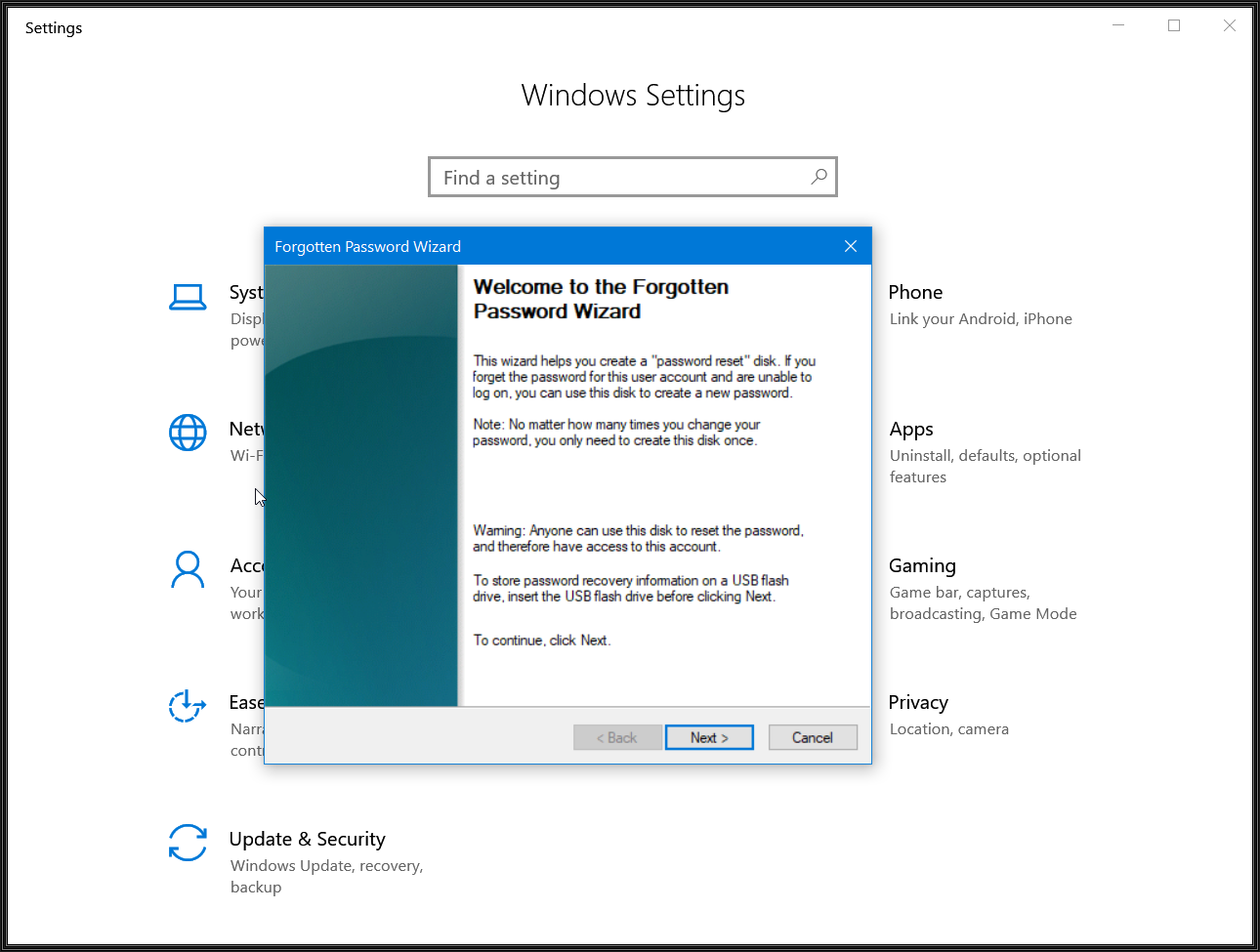 Now I am going to interrupt here and digress for a bit. We have barely even started but I am going to give you the information that you need, and you probably did not know.
You just made a USB Key. If you start up the computer with the USB key inserted, the computer will likely start normally. Why? Because modern UEFI (Unified Extensible Firmware Interface) BIOS has Secure Boot enabled (for security reasons) to prevent starting with a USB Key or DVD.
You should learn how to get into BIOS on your computer. Modern computers have Fast Start enabled, so trying to get into BIOS from a cold start is usually tricky. Start the computer normally (even if not logged in), allow 5 minutes, then Restart. This slows down the startup. When I do this on Lenovo machines, I see a message "Press Enter to interrupt Restart". I press Enter two or three times and then I see a screen that allows me to enter BIOS. This always works for me. You should know how to do this on your machine. You may need this one day to reset your password.
(B) Initial Setup
We are back on track now. You made the First User, it is a Microsoft Account, and it is a member of the Administrator's group, so you can install software from this account. Here is a screen shot of my main account.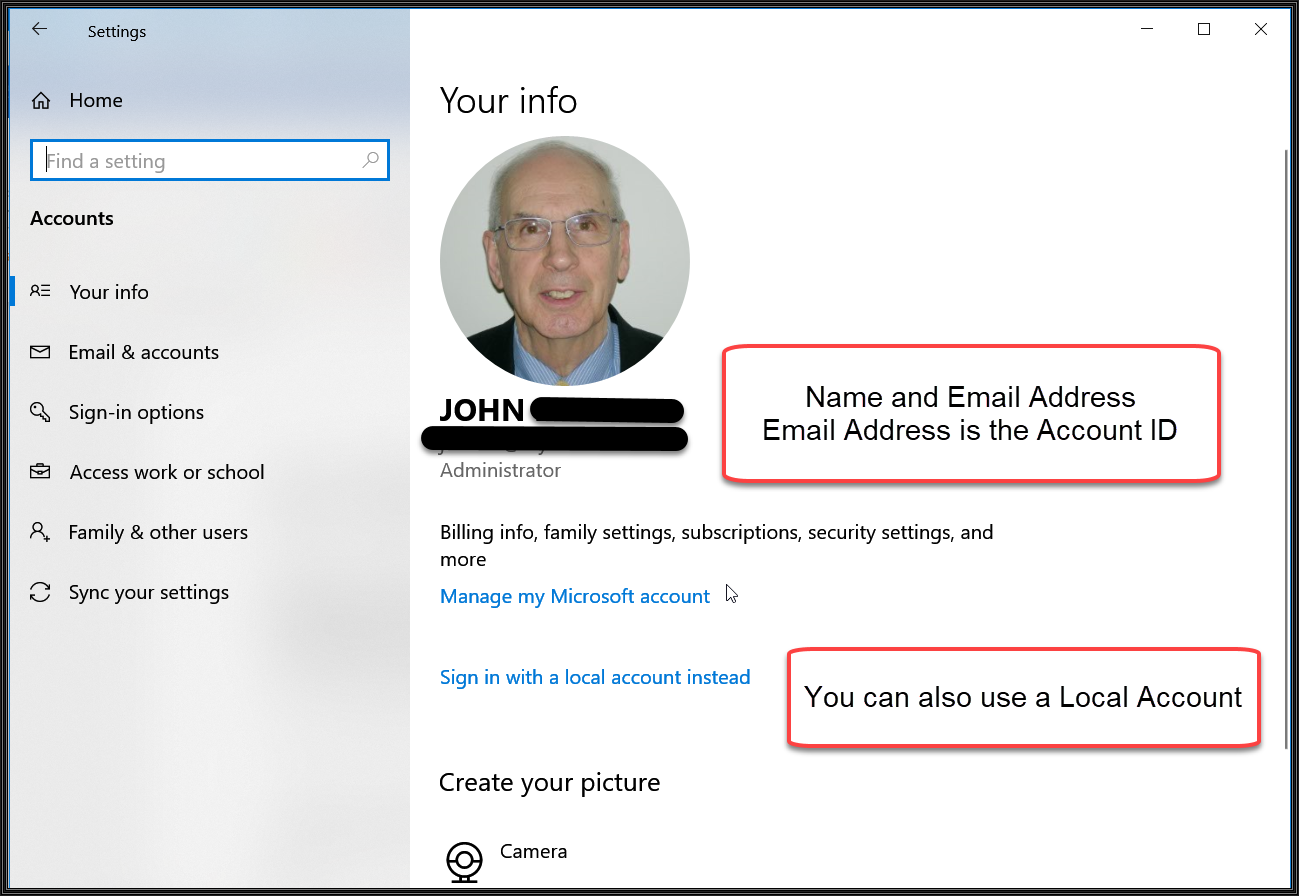 If you have a computer with a Fingerprint Reader, this is the time to set up Windows Hello. This requires a PIN in addition to a Password and you can enrol one or more fingerprints. Make sure the Fingerprint software (Device Manager) is up to date. The easy way to do this (normally) is to run the Manufacturer's Driver Update application. Lenovo calls it System Update.
Assuming this works for you, accessing your system by fingerprint at initial startup or restart takes you automatically through login screen and to the main desktop screen. If you have an SSD drive, this takes about 2 minutes to reach a completely smooth running state; if you have a hard drive, then it will take about 5 minutes to reach a completely smooth running state.
Here is a screen shot of Windows Hello.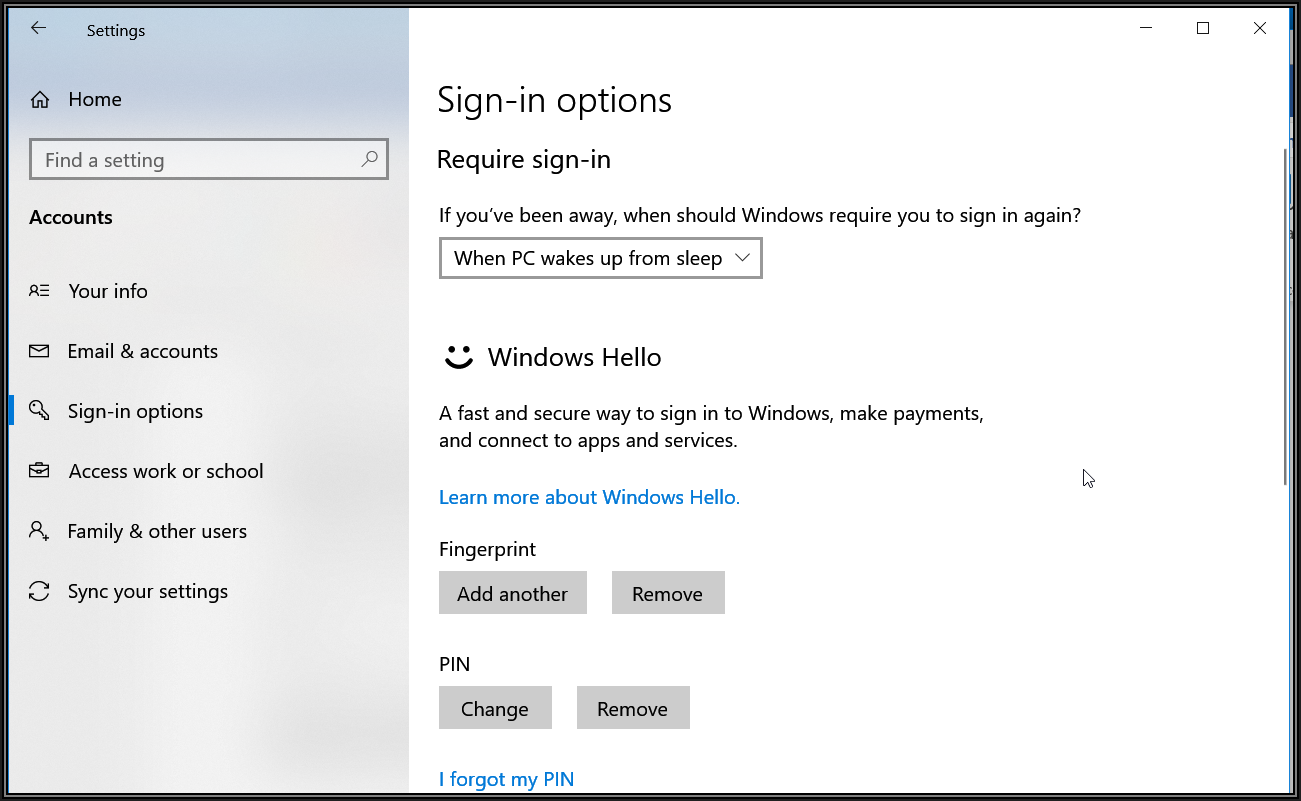 If you have more than one Windows 10 computer and you use a Microsoft Account, look in the Settings, Accounts section for "Sync Your Settings". I turn this setting off because I do not want my two laptops to look the same way. You may want it ON to have your computers look the same way. Test it both ways and use the way that is convenient and helpful to you.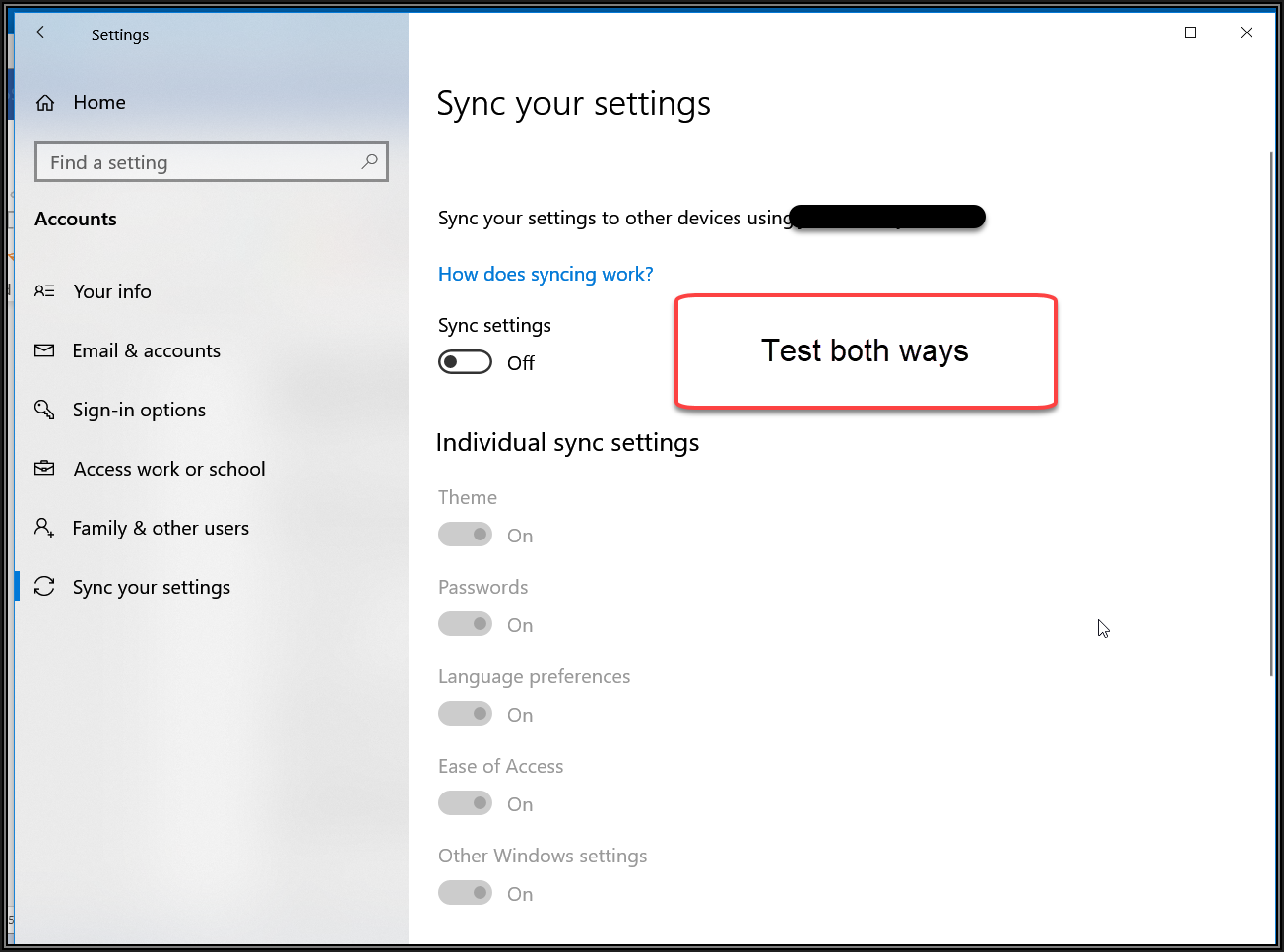 Start Menu: Windows 10 has a convenient and workable Start Button and Menu. Start can take you to Settings, all your Programs, or Quick Access Tiles. Many Control Panel functions have been moved to Settings (from the Start Button), so it will be a good idea to get used to this paradigm and make the change to using Start for almost everything you do.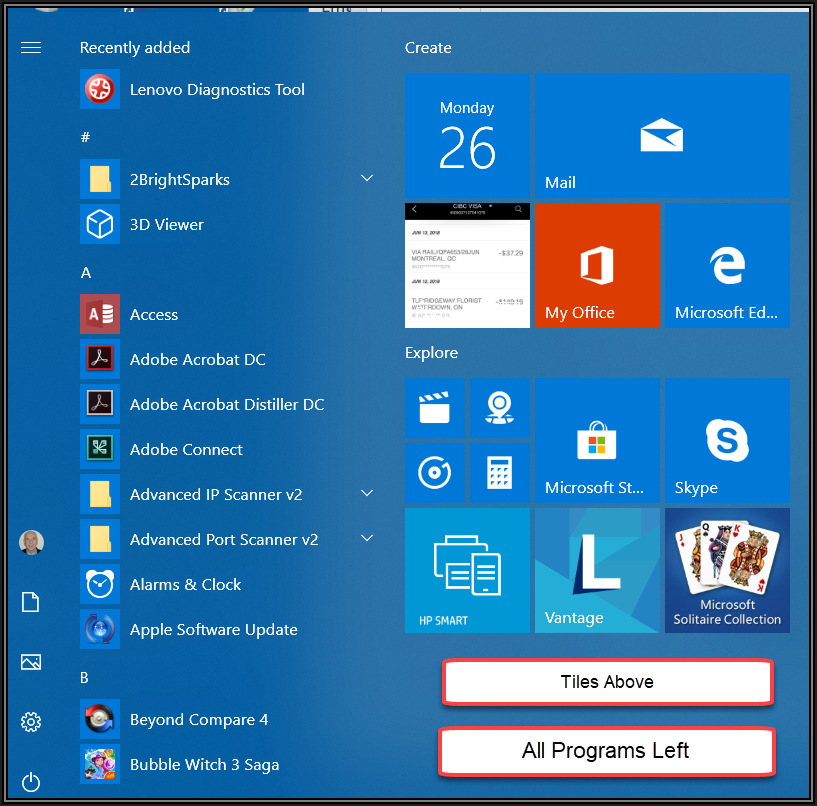 A good selection of tiles can make things convenient for you to access apps. You can remove tiles you do not want: right click on a Tile and unpin it from Start. I have about 8 useful Tiles and unpinned the rest for simplicity. Unpinning Tiles from Start does not uninstall the application behind the Tile. There is no need, and nothing gained by trying to uninstall Windows Apps. They look after themselves and do not cause issues 99% of the time. Your machine (assuming that it still running properly at this point) will not run any faster or better if you uninstall the apps using PowerShell.
Windows 10 has a Tablet Mode. That is found in Start, Settings, System. If your Desktop screen fills with Tiles, check the Tablet Mode setting. It may have been enabled inadvertently.
If you wish (for the transition to Windows 10 or forever like me) to have a simple but full functional Programs Menu, you can make a toolbar on the right side. I use this all the time. Follow the directions here:
1. Right Click on the Taskbar
2. Select Toolbar, New Toolbar
3. Add the following content in the space provided:
C:\ProgramData\Microsoft\Windows\Start Menu\Programs
4. Save the toolbar. It should call itself Programs.
5. You can see "Programs" now at the right side in the taskbar.
I added Desktop as a Toolbar also so that I have Desktop (all my Desktop apps and Folders) and All Programs right beside each other. Very handy indeed.
Some things you need to do at the beginning:
An Additional User Account: No matter what, you should set up another local user account and password that you can use to log in. This is like a simple backdoor into your own computer and can be a life saver if your main user account becomes damaged (a not-uncommon occurrence).
This account should be a standard user account and not a member of Administrators. You can use Run as Administrator in this account and enter the required credentials. To repeat, this back-door account can be a life saver if something goes amiss. In simple cases, you may be able to correct the problem in the working user account, and then go back to your regular account.
Display Setup: If your screen display is high resolution, you may find text and icons to be very tiny. You may wish to set Scaling (new in V1703) to 125% to make things easier to read. Scaling is in Settings, System. My laptop has a 14-inch screen and I use 125% scaling to make things easier to see but still allowing me the higher resolution for some of my applications. A screen with 1366x768 resolution is easy to see and read but the resolution is too low for several of my applications.
Text Setup: New in Version 1809 is text scaling. I set this factor to 110% which makes much text just a bit larger to read more readily on a high-resolution screen. Make Text Larger and Display Scaling can be found together in V1809 under the main Ease of Access screen in Windows 10 Settings. See the Screen shot below.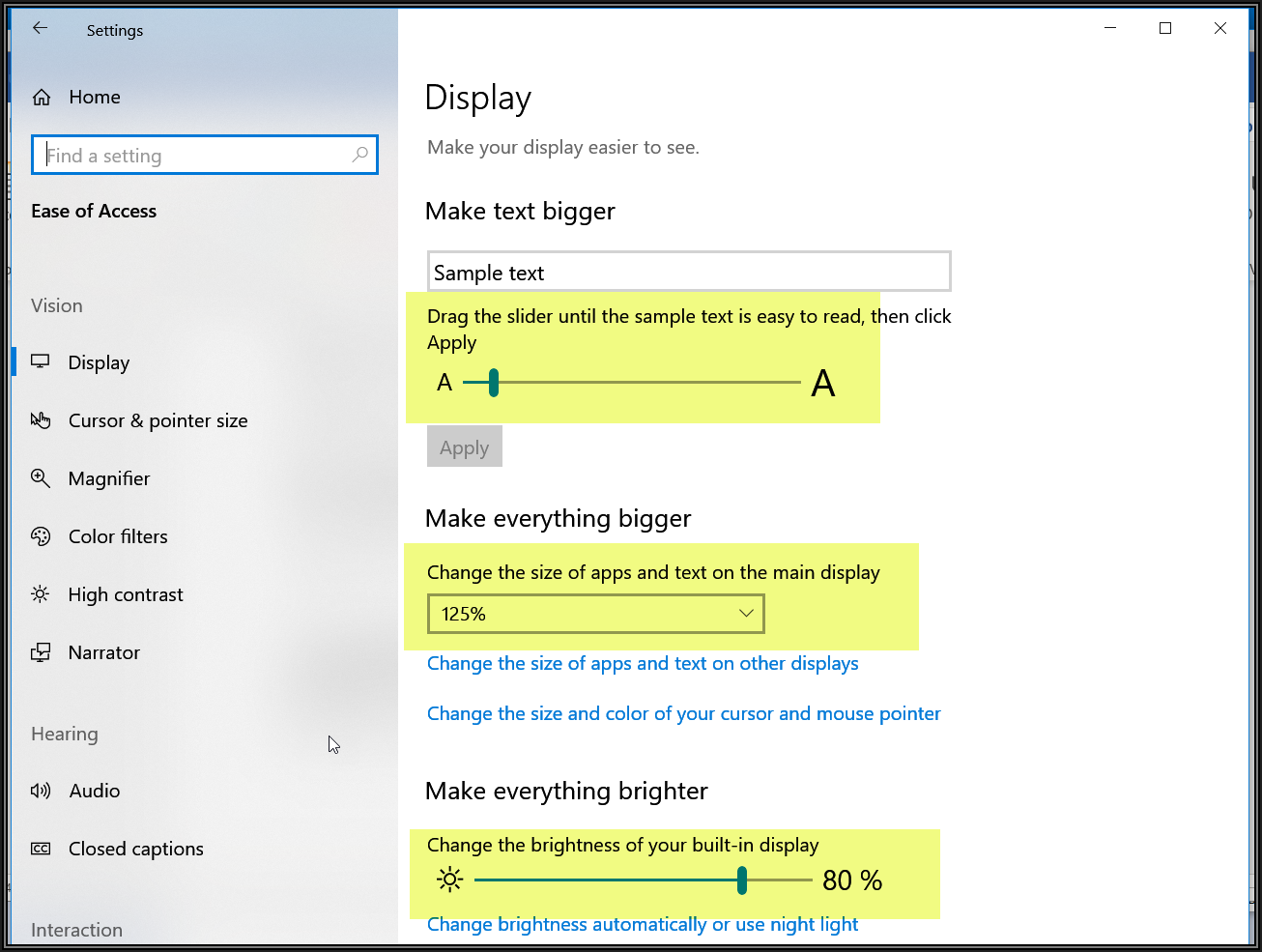 (C) Security, Updates, and other setup considerations
Security: Windows 10 comes with Windows Defender and in Windows 10 Version 1709 and beyond, Defender is an excellent product. I am now using Version 1809 and Defender is top-rated. You can safely just stick with it and not bother with additional third-party products. More on security later in this article.
First Updates: While you are in System, go to About and check your Version. It should be Version 1803, or possibly Version 1809. The build changes quite frequently. As of this writing, the current version is Version 1809 Build 17763.134. If not up to date, go to Settings, Update and run Updates. Make sure Updates have been set to restart at a convenient time in Active Hours. I have my Active Hours from 6:00 am to 9:00 pm. Windows will not restart within these hours unless I request it to. Windows Defender is also in the Update section.
Windows 10 Updates cannot be permanently disabled, and you should not try to stop updates. On an individual machine, Windows 10 will update at some point. See my article:
See how to schedule and set updates below: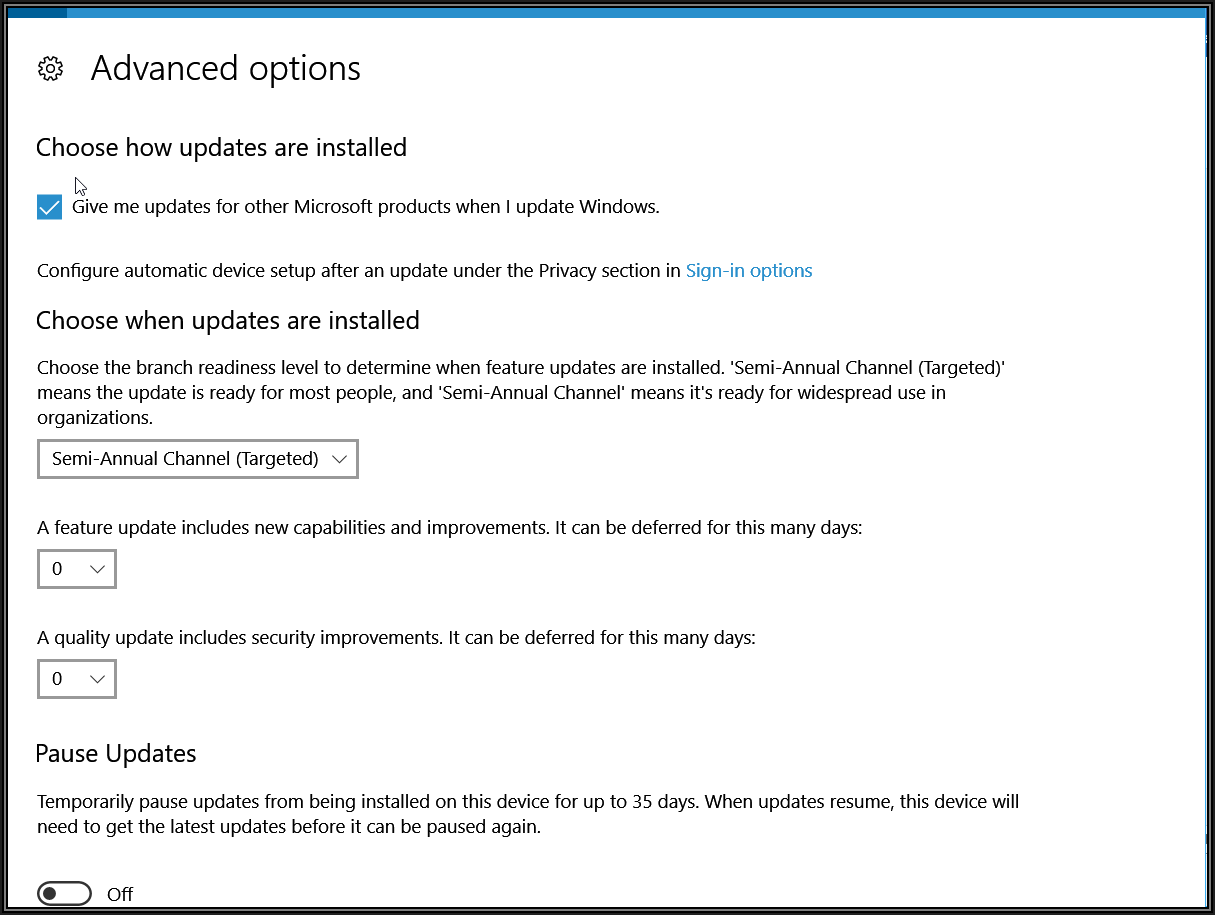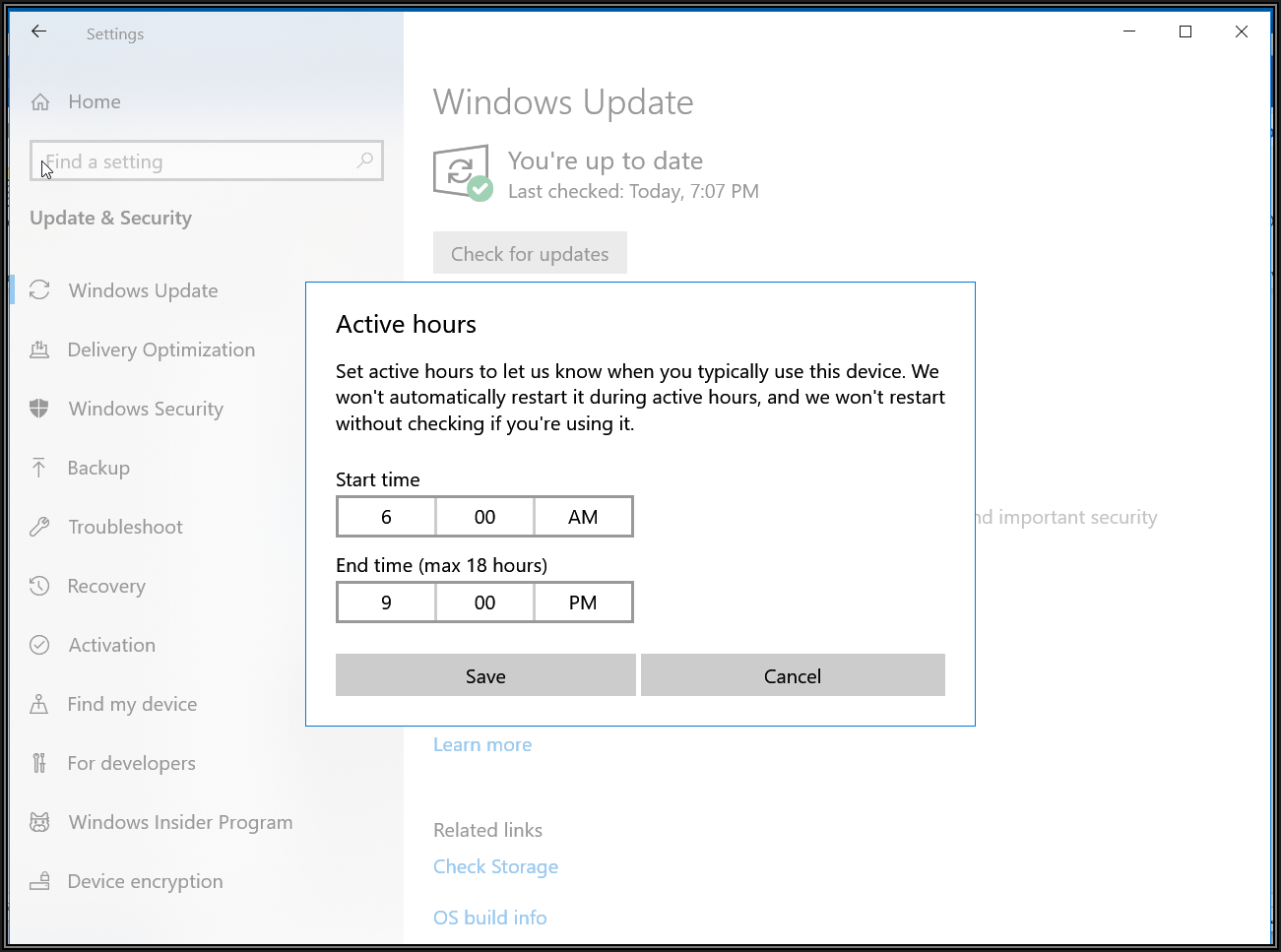 Network Connection: If you have a Desktop Computer, it likely has a LAN (Ethernet) connection; if you have a Laptop Computer, it likely has a Wireless connection. To manage your connection, go to Settings, Network and Internet. Ethernet connections do not require much setup. Wireless connections may need some careful setup. I assume you have already made a wireless connection and you can see this at the top of the Wireless Settings page.
Click on the connection (where it says Connected, Secured). A new screen comes up (new with V1803) that shows you whether the connection is Public or Private. Use Private for Secured locations and Public Otherwise. When you connect to a Private network, you are asked an additional question: "Do you want to connect to nearby resources". In a secure environment, you can answer "Yes" and this facilitates file and print sharing amongst other things.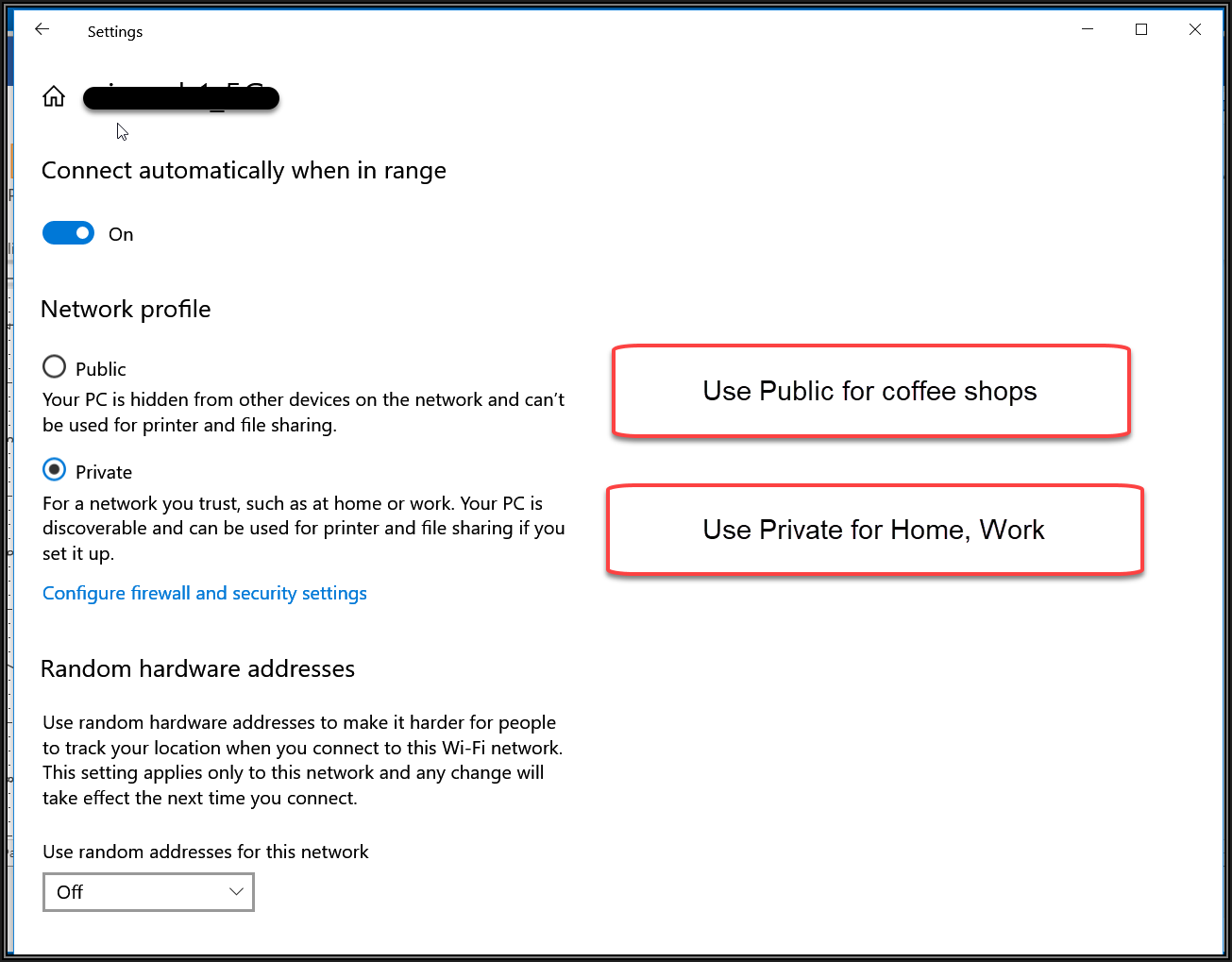 Turn Random Hardware Addresses OFF to start with and when you are at home. If you spend all your time in coffee shops and do not use business VPN, you may wish to turn this feature ON. You need to understand what you are doing before you turn it on. Turn Connect to Open Hotspots OFF. This does not stop you from connecting but prevents unintended connections. You need to be cautious about what you connect to.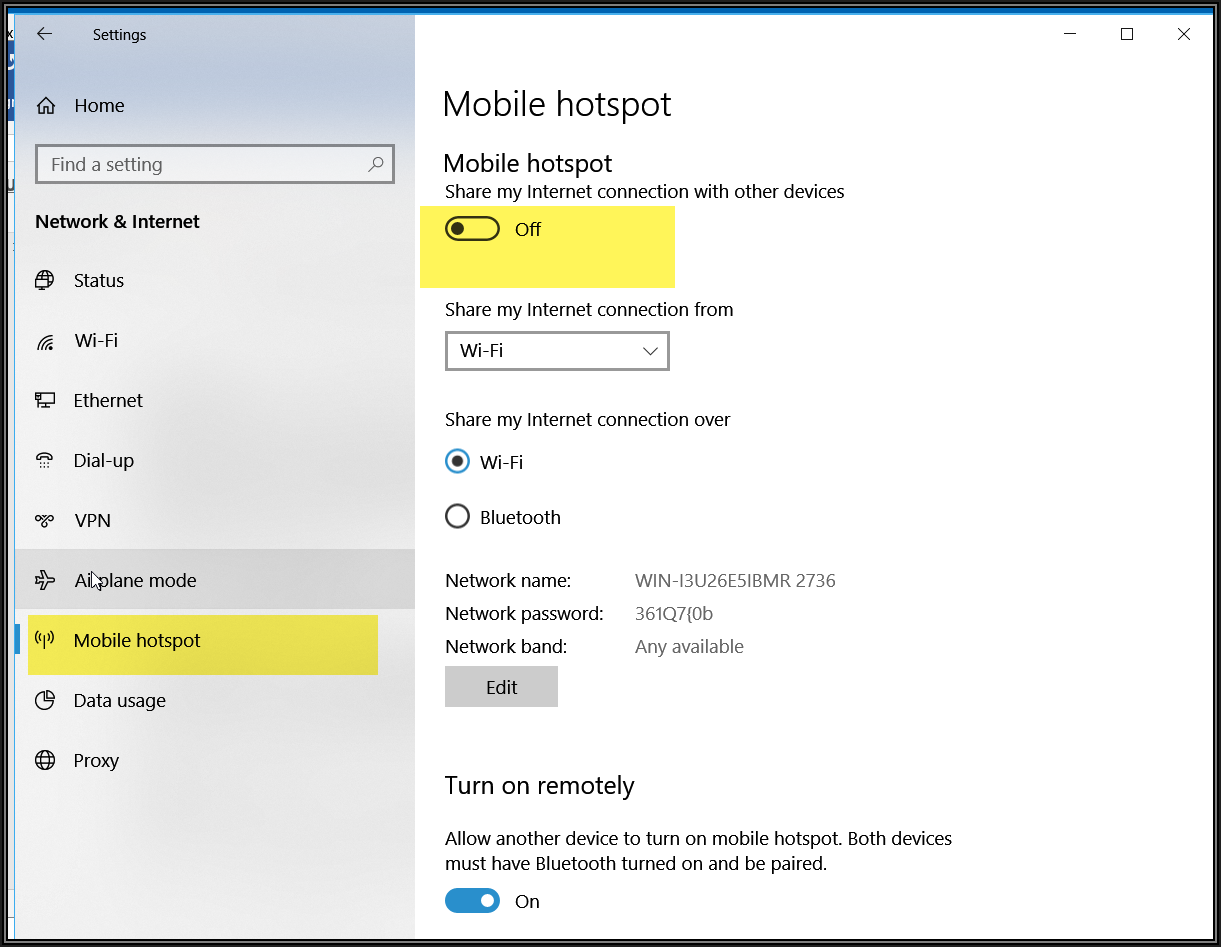 File Sharing and Network Discovery: Scroll down and click on Change Advanced Sharing Options. If you wish to connect to other computers, make sure Network Discovery is ON and File and Print Sharing is ON if you have a network printer. Again, you need to understand about these connections because opening up these services can reduce security.
Home Group: If you are familiar with Home Group, it has been removed in Version 1803. Use standard network sharing to share documents between computers. See my Experts Exchange article about Folder Sharing on modern computers.
Wireless Power Management: Windows (from Windows 7 forward) was designed to put wireless cards in low power mode or even turn them off to save battery power.
I keep Wireless at Maximum Power for good performance and I prevent the computer from turning off the Wireless Card if the computer perceives it is not being used.
Windows Wireless settings are in Advanced Power Management settings (Control Panel, Power Options, Change Plan Settings, Advanced Power Settings, Wireless Adapter Settings):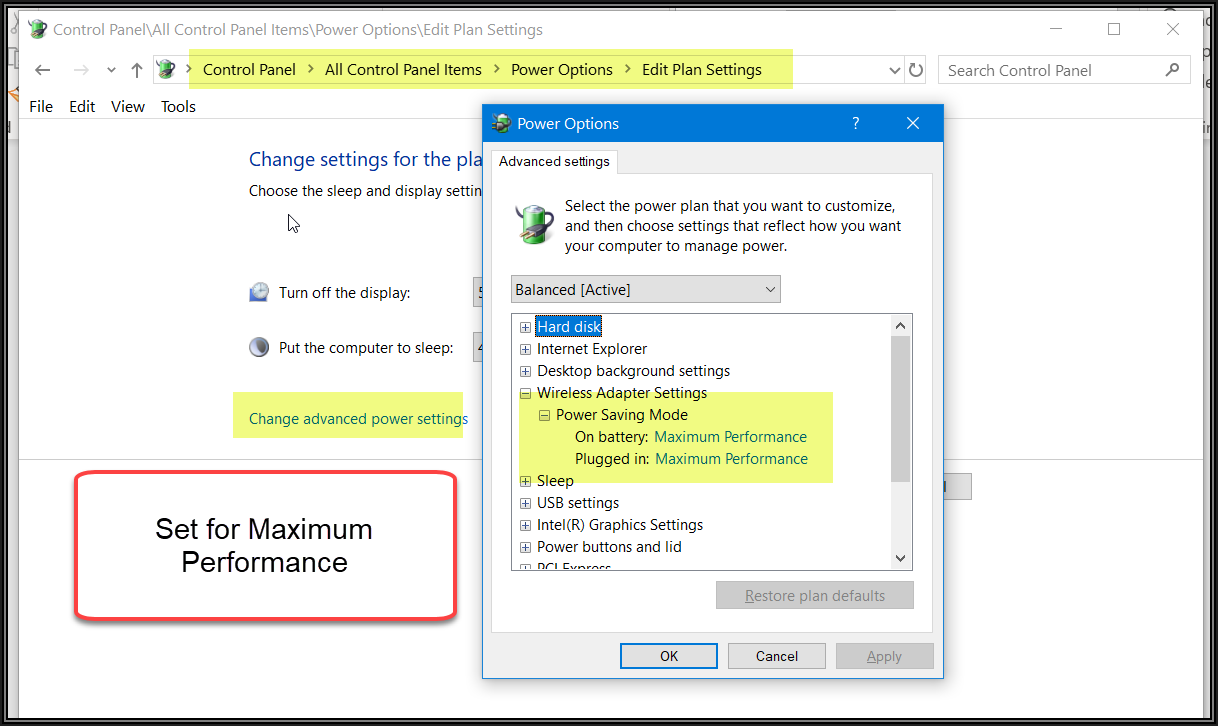 Windows Device settings are in Control Panel, Device Manager, wireless card properties.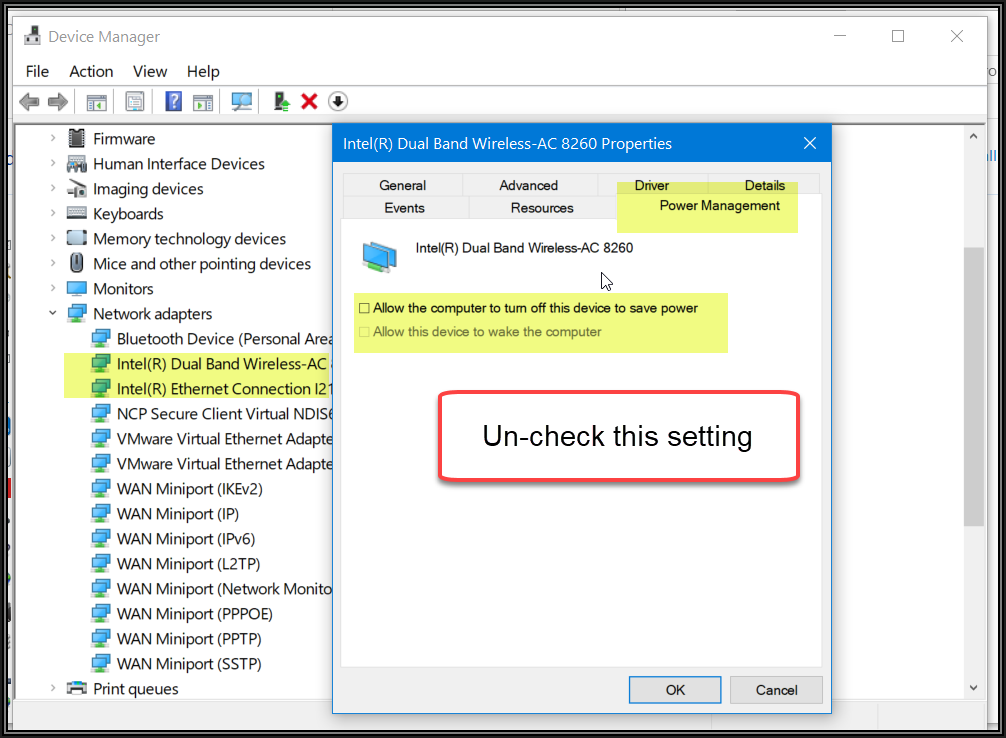 Security for Windows 10: As noted earlier, Windows Defender is a top security product and individuals do not need additional third-party Anti-Virus solutions.
Here are three screens for Windows Defender settings:
Main Windows Defender Screen.
App and Browser Control using Smart Screen
Exploit Protection in App and Browser Control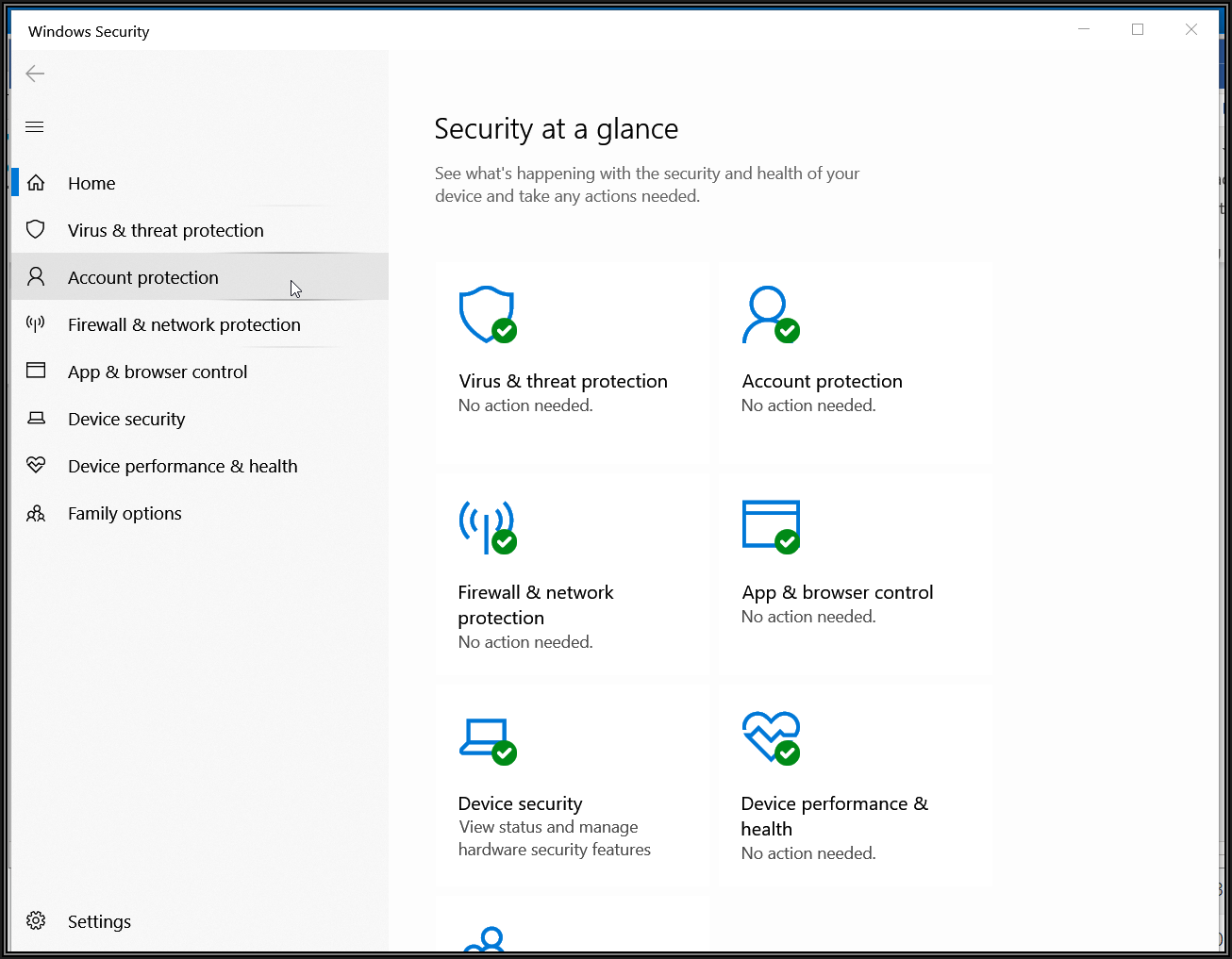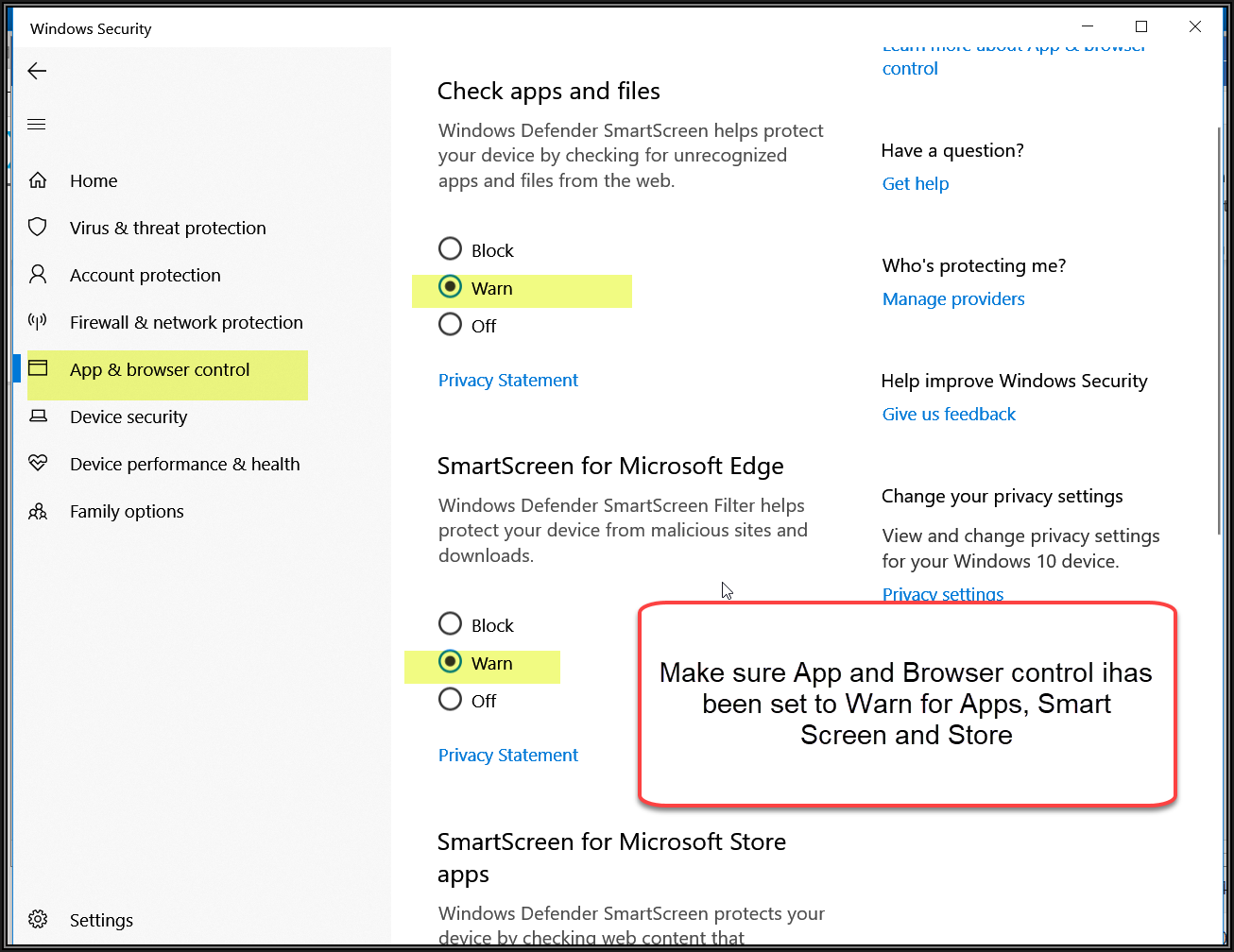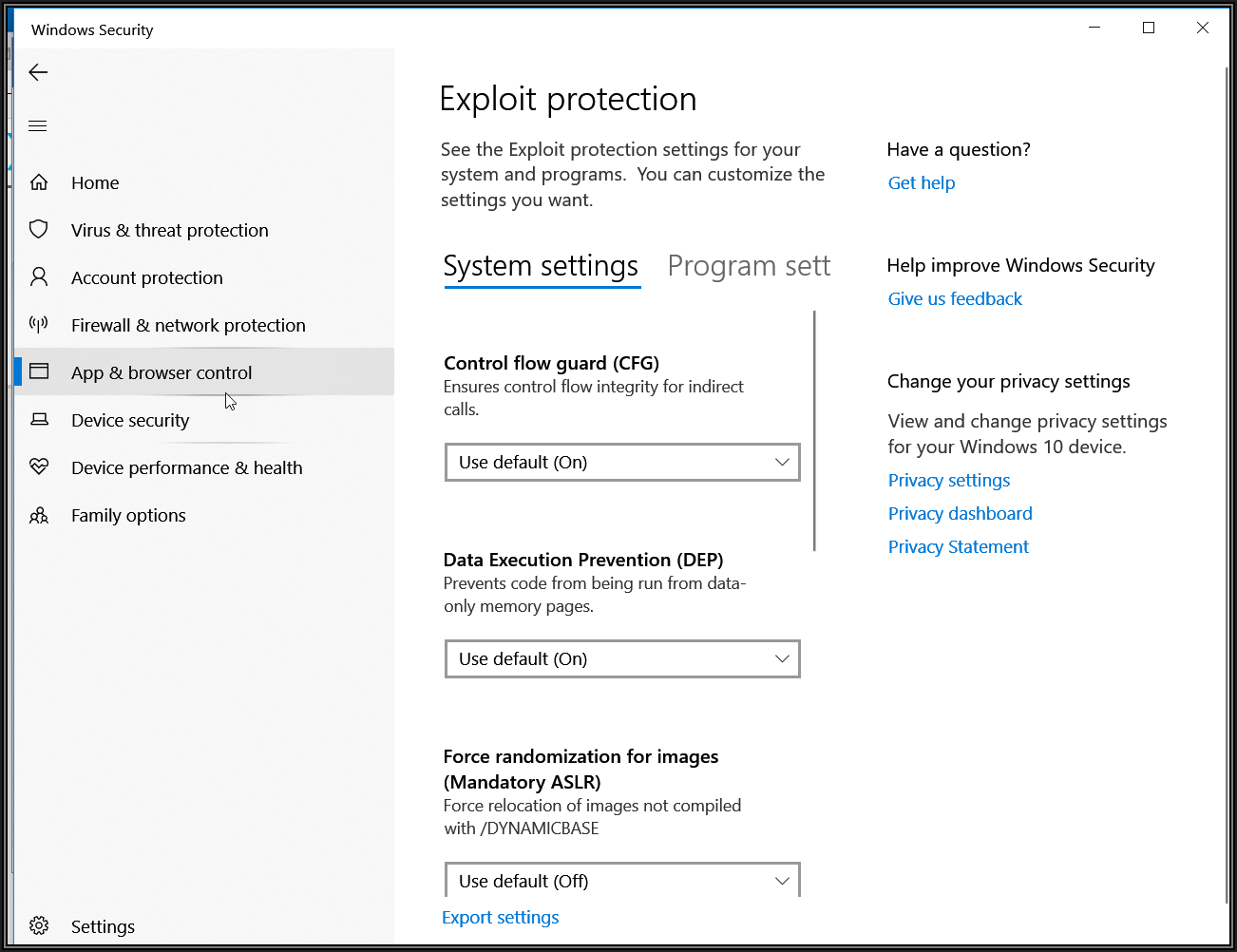 Windows Defender Exploit Protection comes from Windows EMET (Enhanced Mitigation Experience Toolkit) that Microsoft designed as an add-on product for Windows 7, Windows 8.1 and initial releases of Windows 10. It is now an integral part of Windows Defender and is designed to trap and stop exploits before they can harm your operating system. It is beyond this article to go into a detailed explanation of EMET (you can Google for that), but I used EMET from Version 2 in 2010 until Version 5.5 in 2016. I now have it as part of newer Windows 10.
I have Windows Firewall enabled on Windows 10 and find that the default settings serve me well. My own network is secured with an entry-level commercial VPN router and no one gets access except by knowing the VPN access (and so no one to date has gained access).
(D) New Features
There are many new features cumulatively in all the recent Feature Upgrades to Windows 10. A few have been very welcome to me.
Scaling and Text Size: I used to have to use Icon Size in Display Properties to change text sizes of some Windows displays. Scaling came out in Version 1703 and was an excellent addition. I set my 1920x1080 to 125% which makes a pleasant display (not too small) on a higher resolution screen. Text Size (under Ease of Access) is another excellent feature. I set Text Size to 110% and this keeps text overall pleasant large enough for easy reading. See the screen shots above in this article.
Wireless Public / Private Settings: Access to these settings was much improved in Version 1803. Click on the wireless icon (lower right), select properties of your own Wireless Connection, and you see a new screen for switching Public to Private or vice versa. This change had historically been more technical to make. This is a welcome feature and Screen shots are included above in this article.
Search via Cortana has been improved in V1809. The selection (all, documents, web, etc.) is much easier to manage and Documents restricts the search to what you have indexed. You can, of course, search more widely. I ensure that my Search Index (Control Panel, Indexing Options) includes my main document storage, so searching Documents is very fast. If you need to search more of your computer, open Windows Explorer, go to the top level where you wish to search and then enter the search criteria in the top right Search Bar.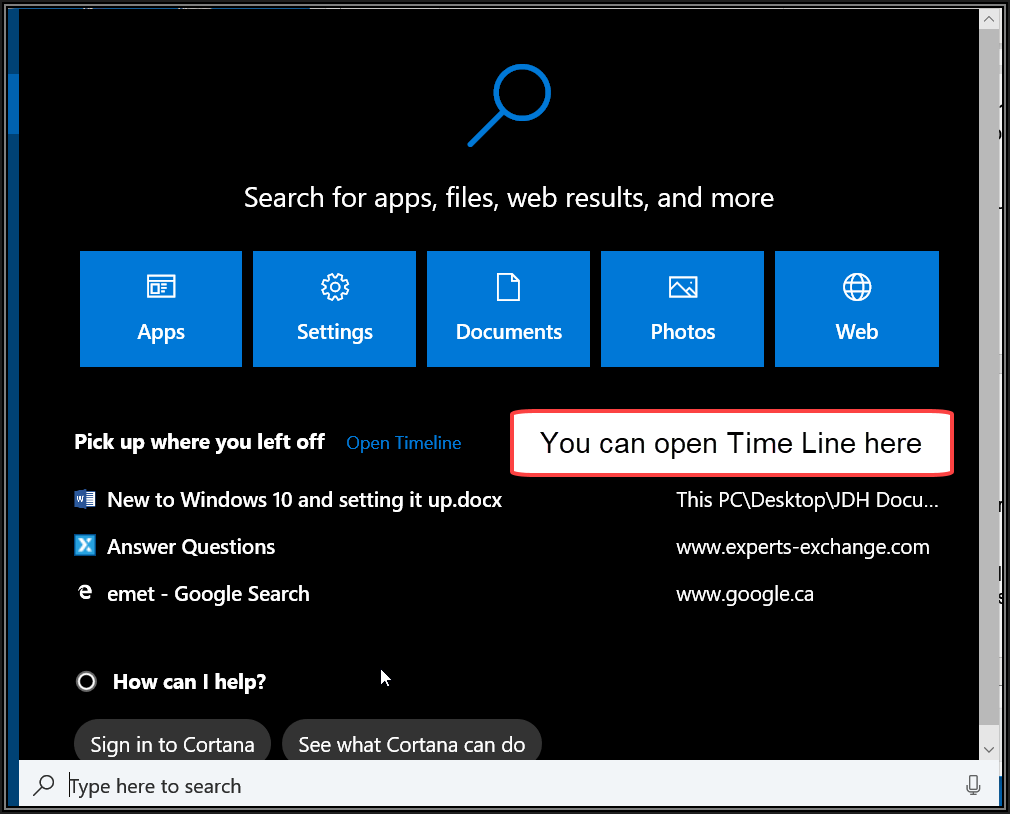 Windows 10 Time Line is an extension of Windows 10 Desktops and includes your desktop application as well as documents and web links going back for 30 days (you can configure this number). This was new in Version 1803.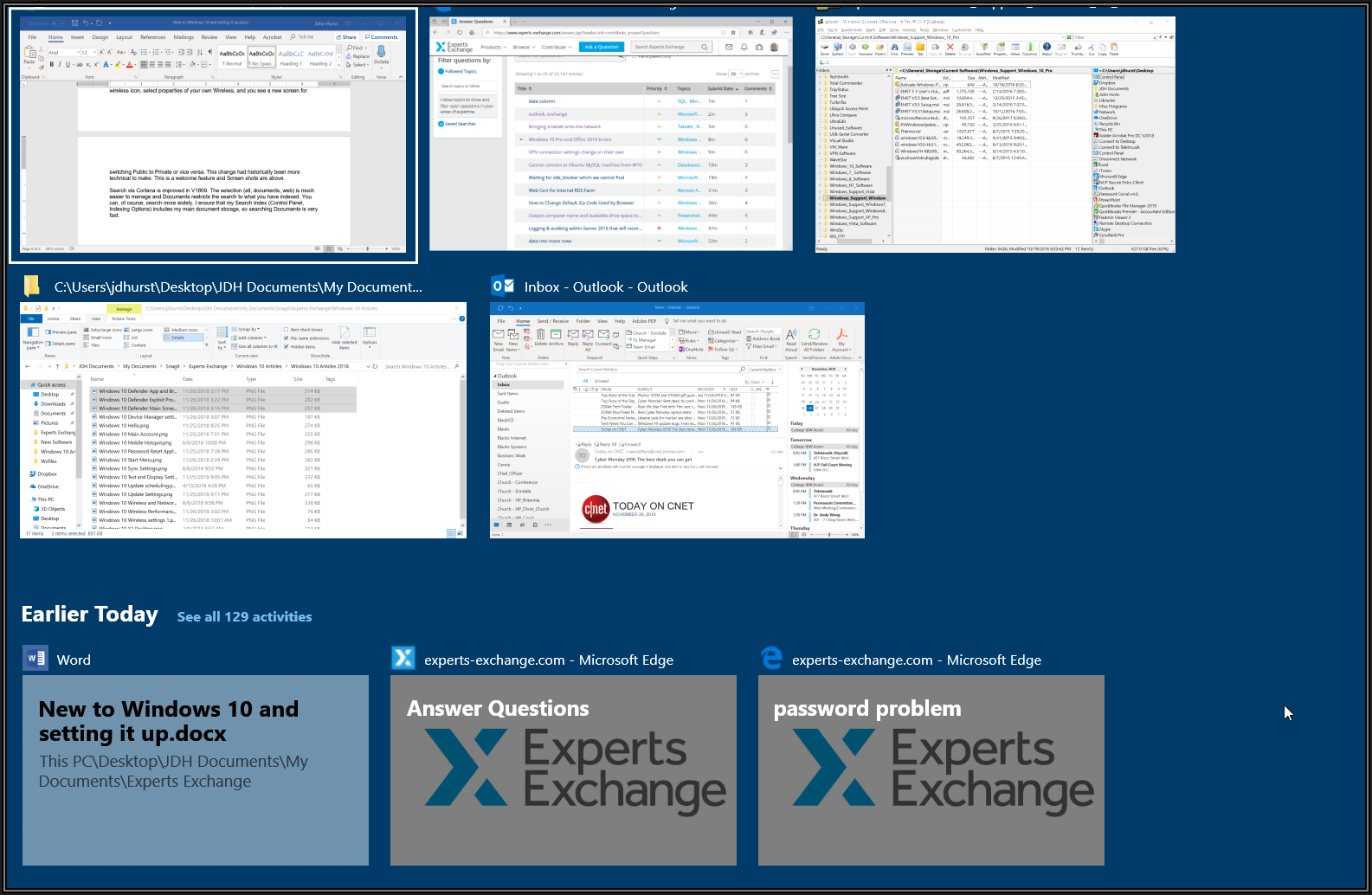 Microsoft Edge has improved greatly since it was introduced, and I use it as my only web browser now.
Windows Updates: There is better control for Windows 10 Updates, and this has evolved over time. You can set restart times, pause updates for up to 30 days, and control whether drivers will be included in Windows updates.
Patch Tuesday is normally on the second Tuesday of each month. I reserve the late afternoon / early evening of that day to ensure updates run on both machines. I find that more useful than scheduling updates but scheduling certainly works. Screen shots of update settings were included earlier in this article.
There are many changes to usability, graphics, pen and ink, touch screen and more. That would be food for another article.
It is fair to say that Windows 10 Version 1809 in 2018 is nothing at like Windows 10 Version 1507 in 2015. Features, speed, security, updates and display properties have all been improved.
Windows 10, then, is an eminently usable operating system. There is no reason to avoid, and you can (within limits) set it up as you desire. My own Windows 10 system has been set up for practical and overall efficient operation. Everything is where I need it to be.
Good luck with Windows 10 (Pro 64-bit).