Step by step instructions, including screenshots, showing you how to create a bootable Windows 10 installation USB using Microsoft's Media Creation Tool to upgrade to the latest version build of Windows 10. Enjoy...
Introduction
In much the same way as happened with Windows XP, many have hung on to Windows 7 and have yet to upgrade to Windows 10. Microsoft stopped mainstream support for Windows 7 on January 13, 2015, and the clock is now ticking on extended support as well. Windows 7 extended support life will be stopped by Microsoft on January 14th, 2020. Understandably, many folks are now starting to sit up and take notice.
A question that is frequently being posted in a variety of forums that I participate in includes what's the easiest way to upgrade (or install a new copy of) Windows 10 and how do I do it. People get confused with how to deal with the resulting ISO when using that method so here I'm going to cover what I consider to be the simplest way of doing it.
Installation media has traditionally been distributed with a bootable CD/DVD in past years, however, these days most computers can also be booted from a USB device, and DVD media has slowly started being phased out for that purpose.
The easiest way to accomplish the task is if you have access to any existing Windows 10 installed computer or laptop in order to create the media, as no other software is then required. If creating the media using Windows 7, additional software is needed which is also desribed in the second half of this tutorial.
Pre-Requisites
At least an 8 GB Capacity Flash/Thumb Drive
On with the show...
Prepare your USB Flash Drive
The first thing you'll need to do is to Format a USB Flash Drive with at least 8 GB of space available. Note that a format will wipe all information currently stored on it, so ensure you've first copied anything from it that you may want to keep.
That done, right-click the flash drive in Windows File Explorer and select "Format"
- Select FAT32 (Default) for the Filesystem and Default allocation size as shown below. You can make the Volume Label anything you like - Then click the Start button as shown below: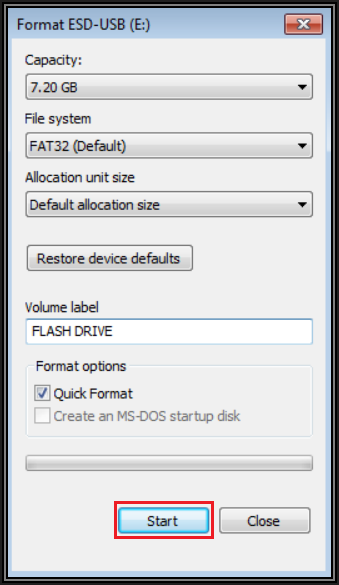 You can now leave the Flash Drive plugged in and move on to the next heading.
Downloading the MCT and Creating a Bootable USB Device using Windows 10
Step 1. First off, navigate to this Microsoft Web Page with your favourite web browser, click the "Download tool now" rectangular box and save the file to your hard drive.
!Tip - Click any image for a full-sized view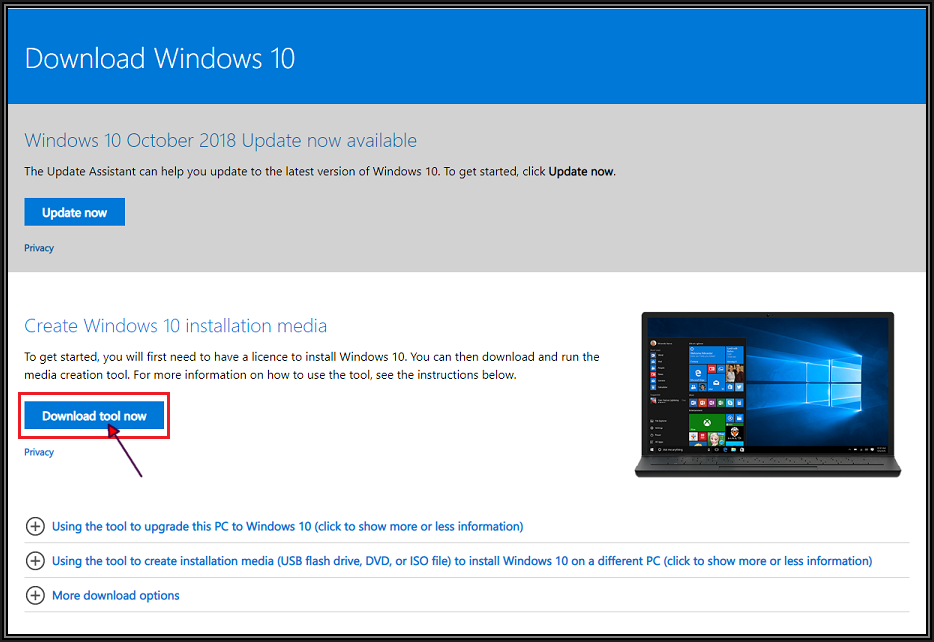 Step 2. The file you downloaded should be called something like "MediaCreationTool1809.exe" The numbers in the name represent the Windows 10 Build number that will be downloaded. Run the file and click Yes on the User Account Control (UAC) prompt.
The following screen appears. If you would like to be different from most of the world's population, have a read of the Software License Terms - Once satisfied, click the Accept button. Clicking Decline at this point will terminate the tool and you will be unable to proceed any further.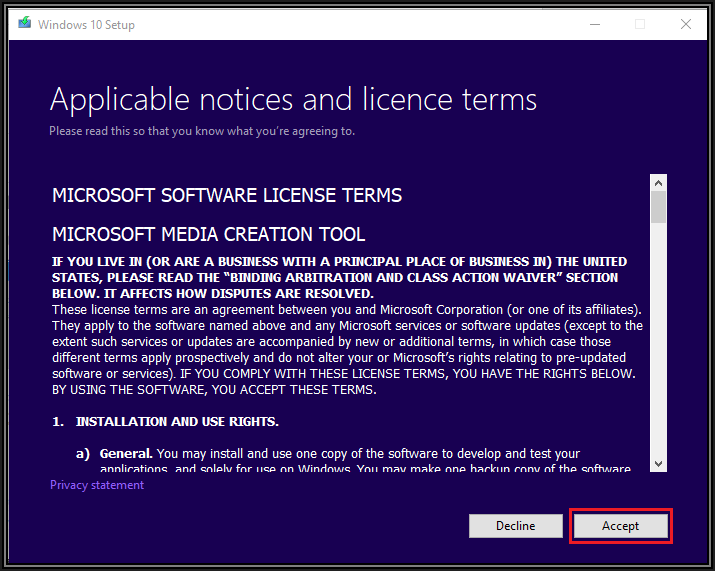 Step 3. After a short time of watching a spinning circle of dots while being told that the tool is "Getting a few things ready", the window will change as shown below.
The tool will default to "Upgrade this PC now" - which you could go ahead and use, but that's not the purpose of our exercise, so change the radio button to "Create installation media (USB flash drive, DVD or ISO file) for another PC" and then click the Next button.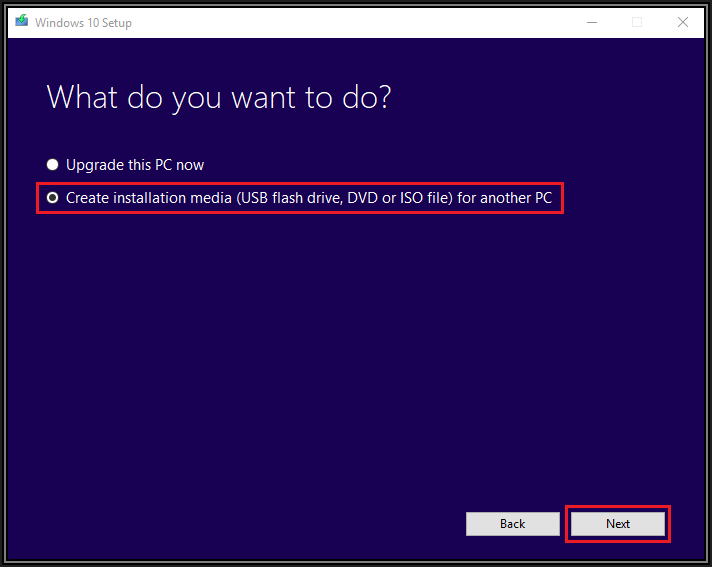 Step 4. If you are doing this process with the computer that you are going to install Windows 10 on, then just click the Next button.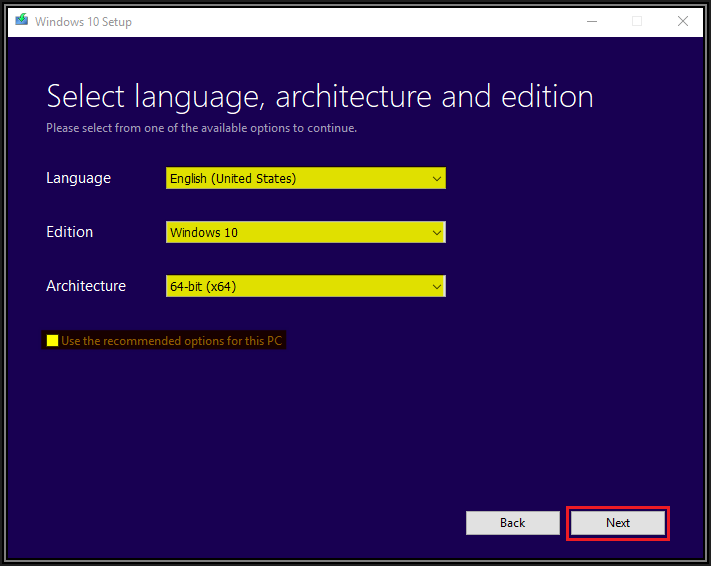 Alternatively, if you are creating installation media to use on other computers, then untick the "Use the recommended options for this PC" checkbox and then select the type of Installation Media you want to create. Besides Language and Edition, the following options are available for "Architecture"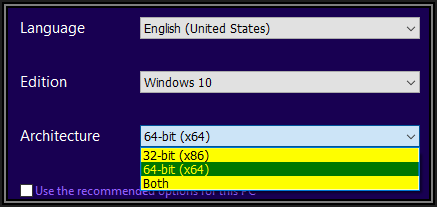 Select either 32-bit, 64-bit, or Both as needed, and then click the Next button as shown in the previous screenshot. For the purposes of this tutorial, I'll be selecting a 64-bit (x64) Architecture. 32-bit Windows systems are fast becoming a thing of the past, mostly because of their inability to use more than 4GBs of RAM.
Note: If you're doing this on a Windows 7 operating system, skip down to the following heading now: "Creating a bootable Windows 10 installation USB using Windows 7" - otherwise, if already on a Windows 10 machine, continue on to Step 5.
Step 5. If you haven't done so already, it's a good idea to insert your 8 GB USB Flash Drive Device into a USB port of your computer now. Note that everything on your Flash Drive device will be deleted if you continue, so make sure you've saved anything you need to keep from it to a safe location first.
Ensure the "USB flash drive" radio button option is checked as shown below and then click the Next button.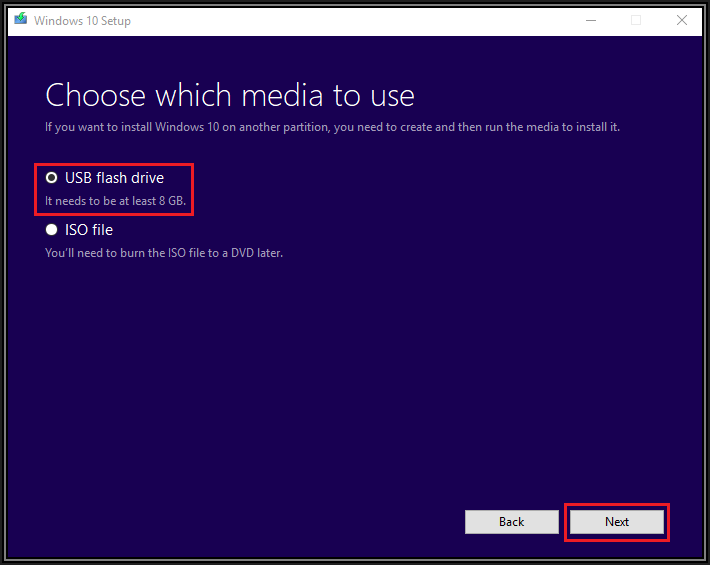 Step 6. Select the appropriate drive letter (D: in this example) of your USB Flash Drive as shown below, and then click the Next button to continue. If you've only now inserted the flash drive into a USB port, click the "Refresh drive list" option to get your device to appear in the list.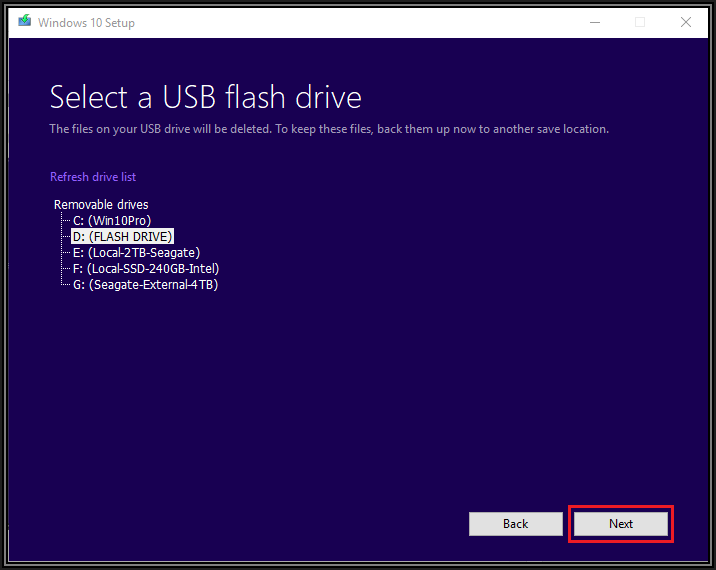 Step 7. The MCT will again display another round of spinning dots while telling you it's "Getting a few things ready" as the required software is being downloaded and installed to your USB Flash Drive. You can continue doing other things on your computer while this is happening if you like. See the next screenshot.
(Note: Expect this process to take quite some time - about an hour or more)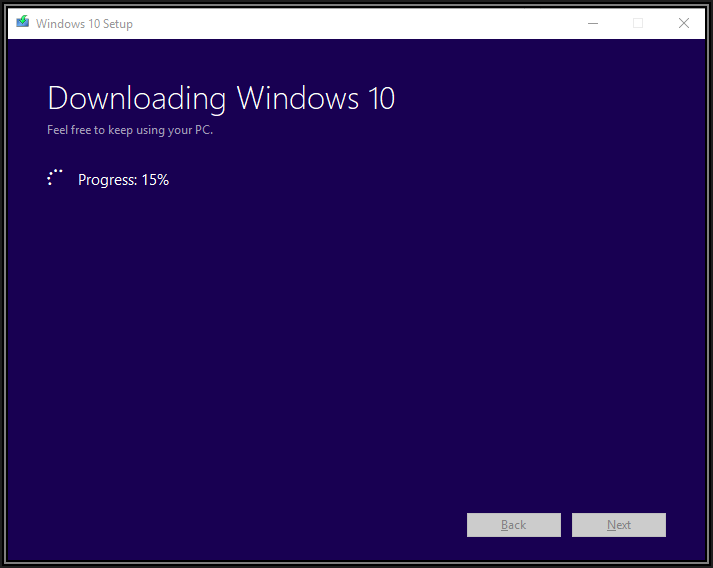 Step 8. At the completion of the process, you'll get a "Your USB flash drive is ready" notification as shown below. Click the Finish button and you're done. It's as simple as that.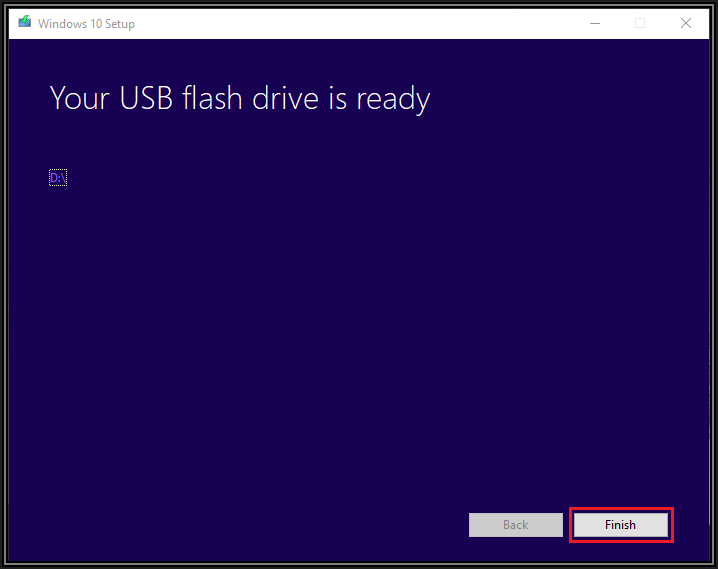 Installing from your Bootable USB Flash Drive
Once your bootable USB flash drive is ready to go, there are two ways you can use it.
A) Boot from your USB using the flash drive you've just created. In order to do this, you will most likely need to enter your computers BIOS settings screen to tell your computer to boot from an inserted USB Flash Drive. The way to do this can differ depending on the manufacturer of your computer or motherboard, however, the most common ways are to press the Delete or one of your Function keys after restarting the system or after you first power the computer on.
Check your computers documentation or the support section of your motherboards manufacturer's website to find the way to select your boot device order. Once you've set that and restarted, Windows 10 Setup will automatically launch from the USB Flash Drive you've created and you can commence with the installation of Windows 10.
B) Alternatively, you can also launch Windows 10 Setup from within a current version of Windows if you still have one running on the machine to which you want to install. Simply insert the USB Flash Drive you've created and view its contents with Windows File Explorer. Double-clicking the Setup.exe file on your USB Flash Drive causes Windows Setup to launch.
Creating a bootable Windows 10 installation USB using Windows 7
There are several ways to accomplish this by making use of a variety of available third-party tools, but here is one method you can use that's both simple and free.
You will first need to download the Windows 10 installation media in the form of an .ISO Image. An ISO Image File is just a compressed file that contains the contents of a CD/DVD. Unlike Windows 10, Windows 7 doesn't have built-in functionality to extract the contents of these files, so you'll need a third party tool to use it.
1. Follow the steps listed above until you reach Step 5. At that point, select ISO File and click Next as shown below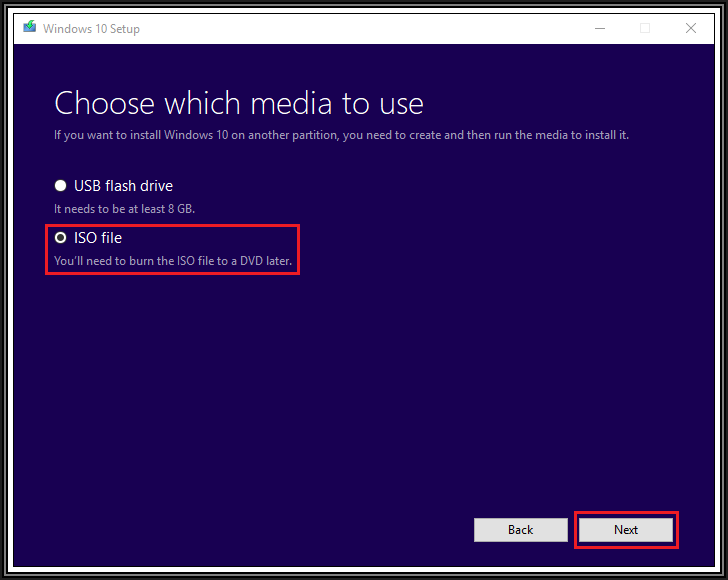 You will be prompted for a location to save the "Windows.iso" file on your hard drive. Select an appropriate location, like your Desktop or Downloads folder and the file will download. Once it does, simply click the Finish button.
Download and install the Windows 7 USB-DVD Installer
As mentioned earlier, there is no native support for ISO files in Windows 7, so using your web browser, navigate to the following Microsoft website to download the official Microsoft Windows USB/DVD Download Tool by clicking the Download button.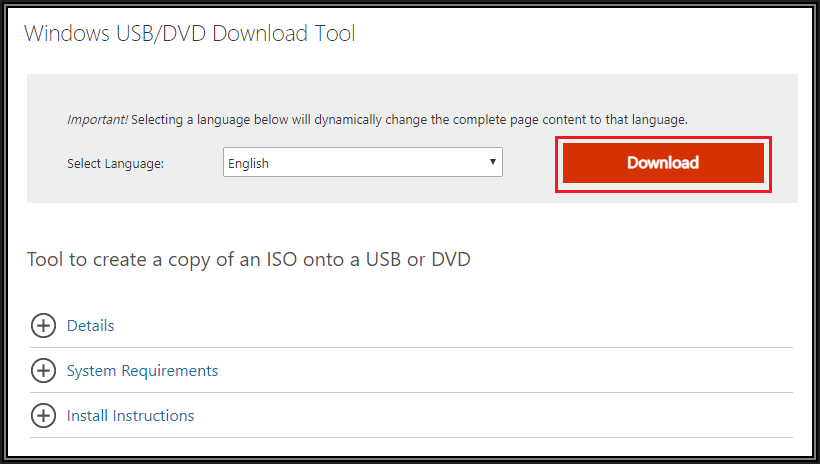 On the page that opens after click Download above, select the appropriate Language you want the tool in and click the Next button.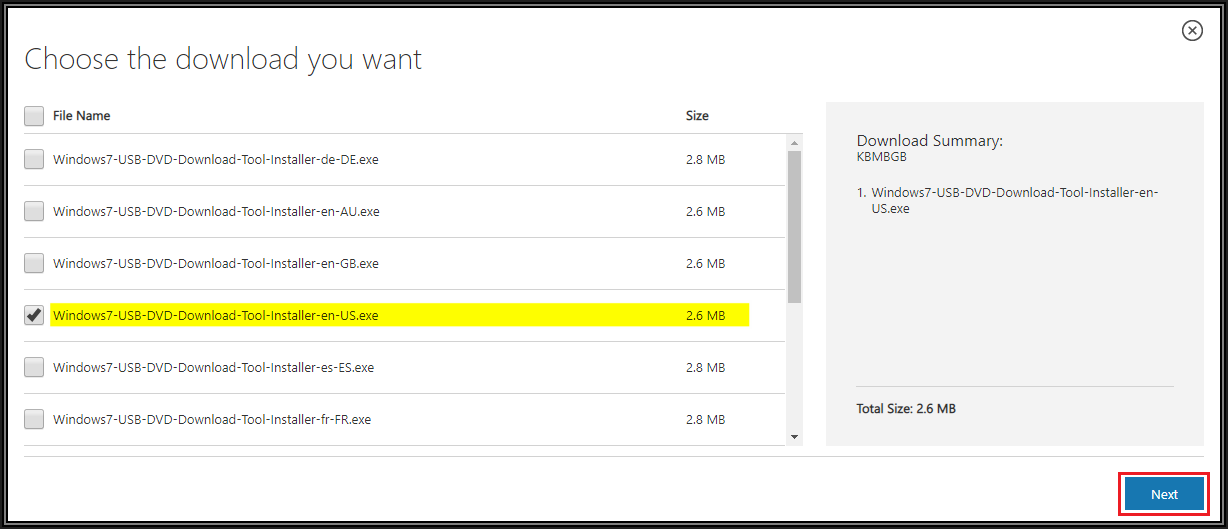 Save the "Windows7-USB-DVD-Download-Tool-Installer-en-US.exe" to your Download folder or Desktop and then run it once you've saved to install it into Windows 7. The Tool Setup Wizard will open - click Next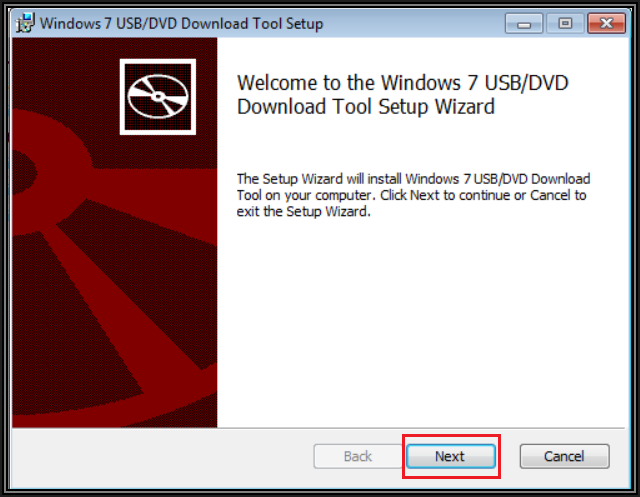 Click the Install button to complete the installation.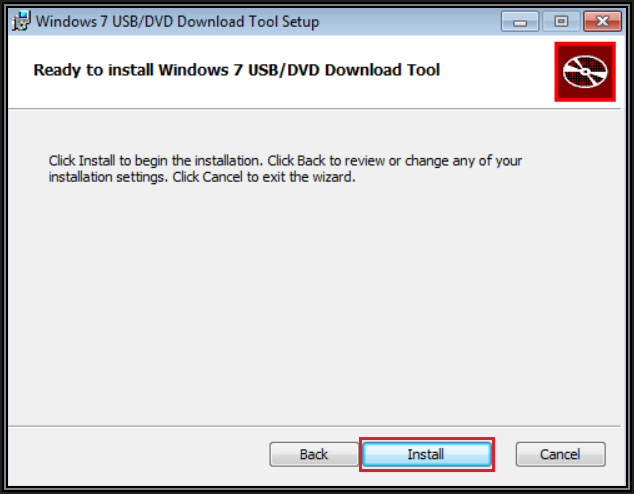 Click Finish and you end will up with a new shortcut on your desktop called "Windows 7 USB DVD Download Tool"
Double-click this new shortcut to continue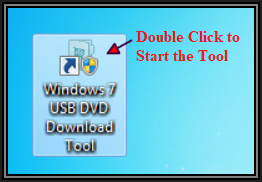 Once the Tool opens, you'll need to select the Windows.iso file you downloaded earlier.
Click the Browse button to browse to where you've saved it and select it, then click the Next button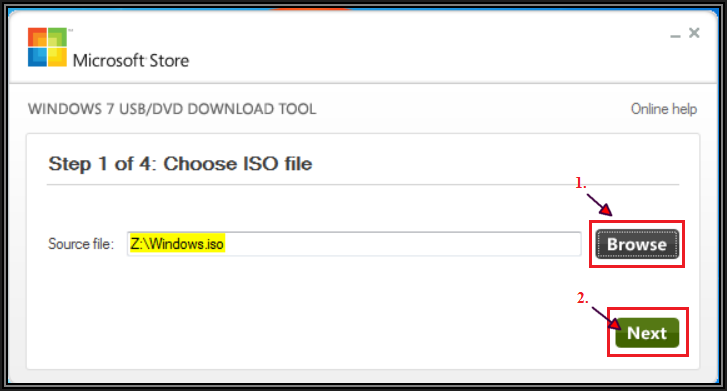 At this point, click the USB device button to select the Windows 10 installation USB device you prepared at the start of this article.
(Note: You could also burn to a DVD at this point by clicking the DVD button)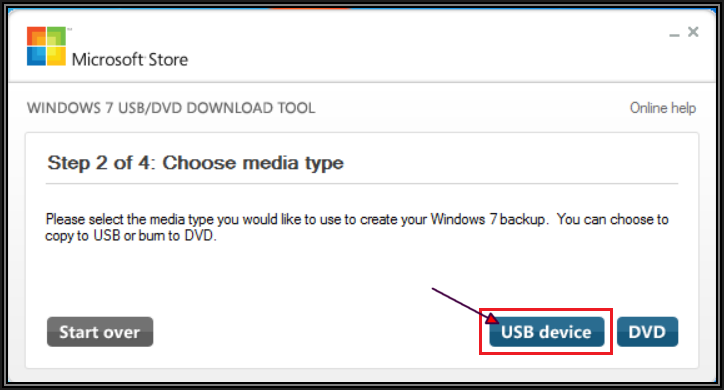 Once you've selected your USB Flash Drive, click the Begin copying button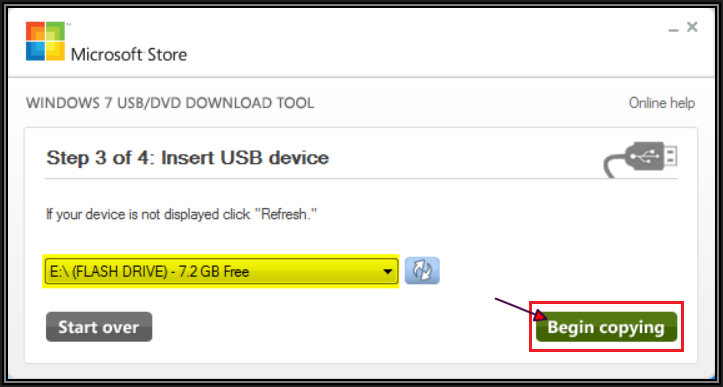 The tool will start copying the needed files from the Windows.iso file, on to your USB Flash Drive as shown below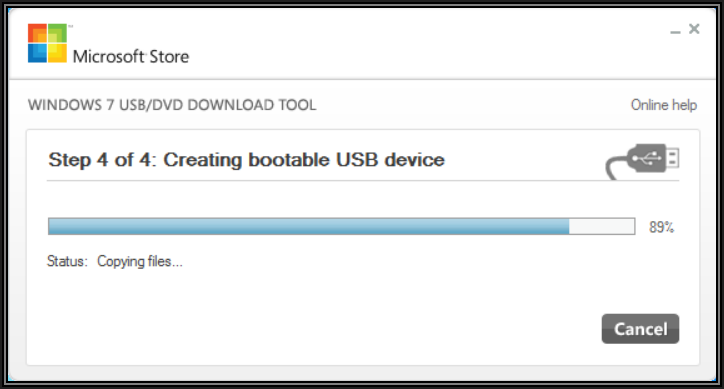 Close the Tool once complete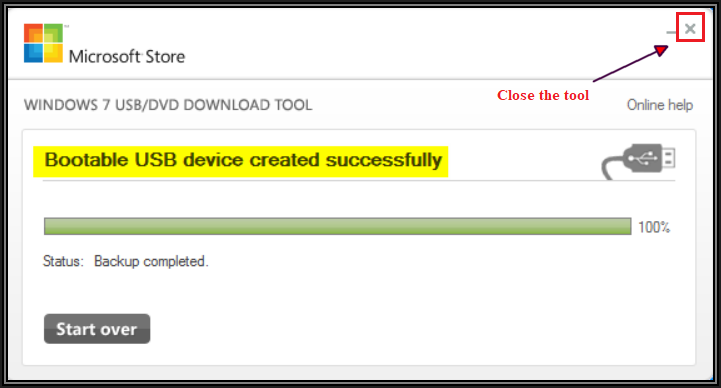 If you view your USB Flash Drive with Windows File Explorer now, you will see that everything that would have existed on a Windows 10 Installation DVD has now been copied to your Flash Drive.

You can now boot with this USB device and Windows 10 install will start automatically, or start the Windows 10 installer from within Windows 7 by simply double-clicking the setup.exe file in the root folder of your flash drive as shown above.
Should you need additional support on any of the above, use the big blue Ask a Question button at the top of your browser while logged in at Experts Exchange.
Finally, If you found this article to be helpful, please do click the Thumbs-Up icon below. This lets me know what is valuable for EE members and provides direction for future articles. Thank you very much!