For years I have used Outlook and managed my email with hundreds of rules, Here is how I have started to manage the rules.
For many years I have had an exorbitant amount of email, as many of you do as well. My email reader of choice, on a Windows-based computer, is Outlook. When our institution first set up MS Exchange as our mail server software, I started making rules to sort my email into various different folders and subfolders. I quickly ran out fo Rules space (I believe the default was 64kb at the time). I requested and received additional rules space. I went about making more rules to keep my email manageable.
I now have the maximum amount of rules space allowed in MS Exchange, at least as far as I know - 256kb. The problem is that I have used more than all of it. I have upwards of 380 rules which sort my email into hundreds of different folders. I have always been unhappy with the rules manager in outlook and thought it could be improved - a lot! Since I had some redundant rules and rules with similar names, I decided to look for something that could help me not only sort the rules out but whittle them down a little. I found a plugin from Sperry Software called Power Rules Manager. This plugin has been a godsend!
They have a fully functional 15-day trial so that you can try it out before you buy. The add-in, which needs to be installed after closing Outlook, lets you do a number of different things that the rules manager in Outlook cannot do. Before installing the Sperry Software add-in, my Outlook looked like this:
After the install, it looks like this:
And Once I click on the Sperry Software tab it looks like the image below:

I needed to start the Power Rules Manager so I could make it so I could combine some rules, delete others and alter other rules. To do this I clicked on the Power Rules Manager icon and I then see the screen below: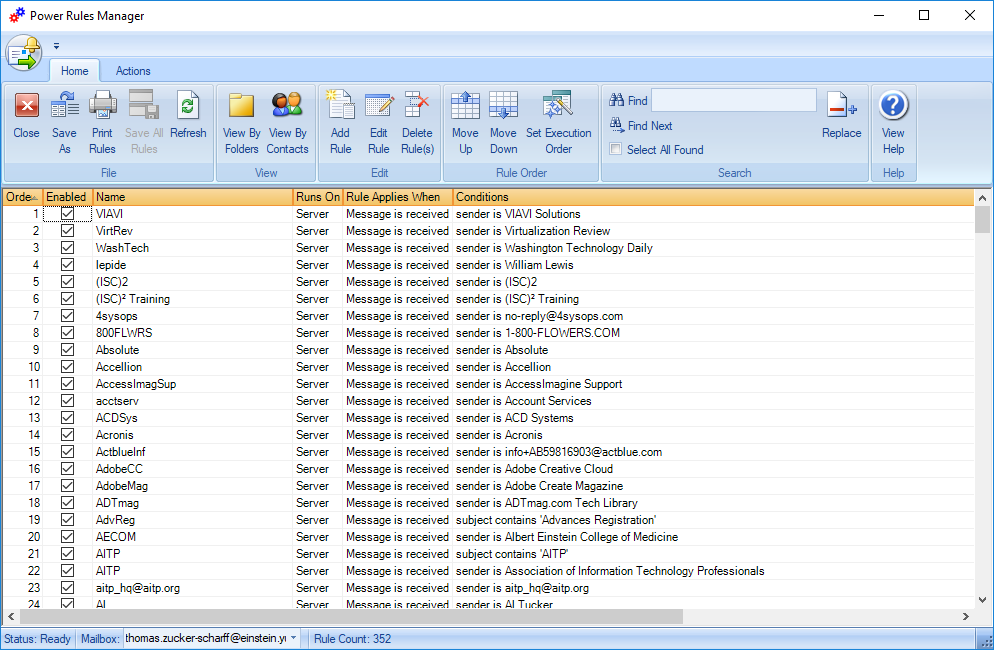 This image shows the main/home screen of the add-in. Just on this screen, there are a plethora of possible things one can do that were previously unavailable. One thing that the website didn't stress, but which I found extremely useful, is that when you sort the rules and save them (using the Save All Rules option - greyed out in this picture because no changes have been made), the rules will appear in the Outlook rules manager in the same sort order. I tried both sorting by the name of the rule and by the folder the rule targeted. Both of these sort orders helped me a lot.
In the sequence below I am illustrating the sort of Power Rules Manager. The first image shows the Rules Manager in Outlook before the sort, the second image shows how the add-in updates the rules sequence on the server, and the third image shows the rules manager in Outlook after the sort.
The second tab in the Power Rules Manager add-in has some very useful functions.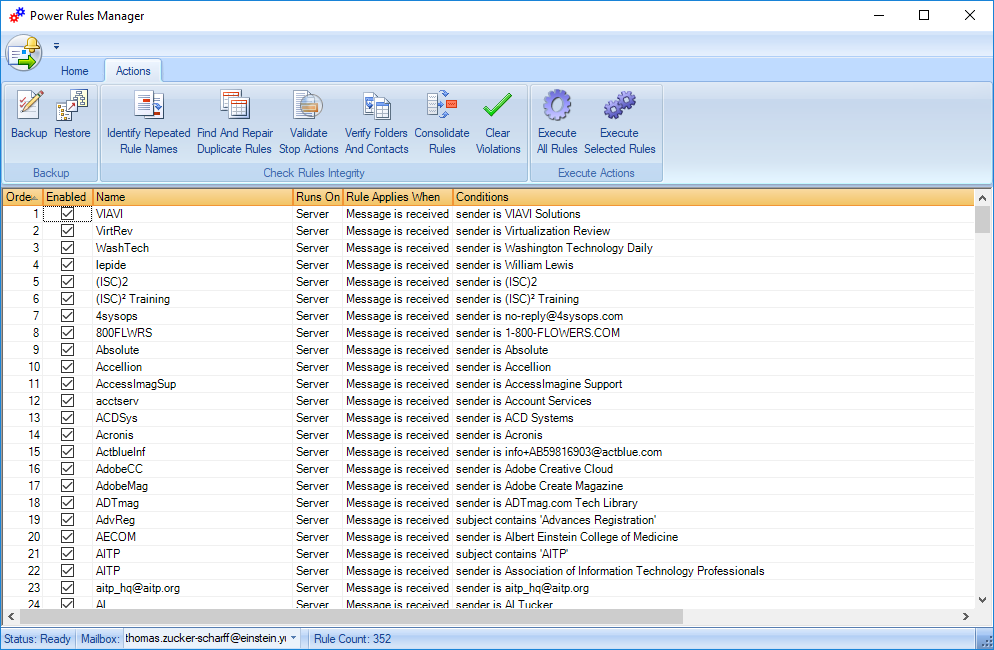 As you can see from the image above the second tab is labeled "Actions." I have used all of these actions and they are all extremely useful.
I was able to combine similar rules, delete redundant rules, and rename rules that had similar names (Amazon, Amazn, and Amzn). All of this helped me to significantly reduce the number of rules I had (although the rule count pictured here is still at 352 - down from 388 - I was able to get the number down below 325 before I was through).
I highly recommend this add-in to MS Outlook if you are a heavy user of Outlook rules.
Disclaimer: I am not in any way associated with Sperry Software and this article was not in any way requested by the vendor.
Should you need additional support on any of the above, use the big blue Ask a Question button at the top of your browser while logged in at Experts Exchange.
Finally, If you found this article to be helpful, please do click the Thumbs-Up icon below. This lets me know what is valuable for EE members and provides direction for future articles.