BootSafe - The "easiest" way to Boot Windows into Safe Mode

IT Professional - Helping others to help themselves. https://andrewleniart.com & https://www.computerhelpzone.com.au/testimonial/
Published:
Review of a small standalone freeware utility that is designed to remove the guesswork in trying to get Windows 10 (and all other versions of Windows) to boot into various Safe Mode configurations. Includes a short interview with the author of the program.
One of the great things I love about reading user forums and blogs is that I often discover little-known gems that have the potential to really make life easier for technicians and end users. That's how I discovered BootSafe and having now trialed it myself, was impressed enough to make it a permanent fixture in my own personal IT troubleshooting toolbox.
BootSafe - What is it?
BootSafe by d7xTech (formerly Foolish IT) is a small standalone freeware utility that works with all versions of Microsoft Windows. The current version at the time of writing this: 4.1.0.2 is compatible with all versions of Windows XP – Windows 10. Since contacting the author, I've learned it's also now completely free for use in both private and commercial environments.
In my testing of the software, I can easily see that its ease of use can be both a time and frustration saver to both IT Technicians and end users alike. I've found it works exactly as advertised and can be particularly useful to booting Windows 10 into a variety of Safe Mode configurations.
Indeed, when I discovered BootSafe, I was in the process of writing an article on other native methods of booting Windows 10 into safe mode(s) due to many questions I often see being posted about how to do that without having F8 functionality. That article, along with instructions on how to restore F8 functionality into Windows 10, will also be available soon.
Launching BootSafe
No installation / Run Anywhere / Portable Use
Simply download BootSafe.zip and extract its contents to any temporary folder or a USB stick and you're good to go. Launching the program on any Windows installation you want to restart into Safe Mode provides the following easy choices:
Normal Mode - Select this if you change your mind about restarting Windows into Safe Mode and Click Configure Only (No Restart).
Safe Mode - Select to Restart Windows into basic Safe Mode and then click the Restart Windows button. Use the Configure Only button if you just want Windows to restart into that mode the next time you reboot.
Safe Mode with Networking - Does exactly what it says. Same as restarting Windows using the native built-in methods of getting into safe mode with networking.
Safe Mode with Command Prompt Only - Once again, restarts Windows into Safe Mode with a command prompt only and does not load the Windows GUI.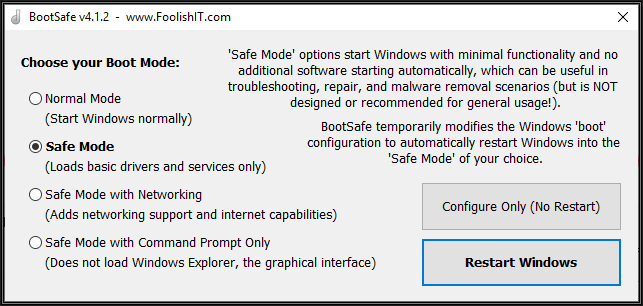 Selecting any of the above options and clicking "Configure Only (No Restart)" shows a dialogue such as the following, with wording appropriate to the mode selected.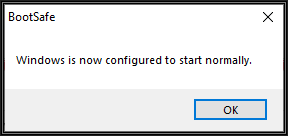 That's all there is to it. Pretty simple right?
One thing to keep in mind is not to move the Bootsafe.exe file after using BootSafe to restart in safe mode until a normal restart has been performed so that all registry entries which persist in Safe Mode can be reversed by the tool. See the author's own comments about that below.
A short interview with Nick - the Author of BootSafe
I contacted the author before I wrote this review because I had a couple of questions. Shared here for additional knowledge about the motivation to create BootSafe, and why it's now no longer "Not recommended for general usage"
Question: Why did you create BootSafe and what motivated you to do so?
Nick: I created BootSafe for a few reasons including my own convenience. While working as a computer repair technician I added this functionality to our flagship tech repair tool d7x (then d7) but I saw need to use the functionality in the occasional remote support scenario. I didn't want to allow customers to use a powerful tech tool d7x, which would be confusing to them and difficult to talk someone through on the phone; I needed something simple with one purpose only, so no one would click the wrong button. Later I kept improving the product simply because I released it on the internet, and I wanted to make sure it does its job well for anyone using it. I like free stuff especially when it works well, and I like contributing.
Question: Why does your website say that it should "not" be used in a "general usage" fashion?
Nick: I've thought about the second question a bit since I received your email, about it not being for general usage, and I've decided to remove that text from the website. Originally that was put there for several reasons, including the idea that the very concept of someone needing to reboot to Safe Mode is NOT what I would consider general PC usage! Notice BootSafe is at version 4.1.x.x and because I never kept revision notes I can't explain exactly why but I don't recall if version 1 (when the text was written on the website) was the most reliable.

Finally, there was always the remote possibility that some anti-malware product would interfere with the operation of BootSafe, which creates startup entries that persist into Safe Mode so that it can automatically remove the modifications it makes; if that tampered with the PC would be stuck in Safe Mode for subsequent reboots.




Should this happen, all one would need to do is run BootSafe again opting for a Normal Mode restart, but it wouldn't be unheard of that someone wouldn't know to do this. Having considered that almost 10k downloads later we've received NO support requests at all regarding BootSafe, your question made me reconsider and remove that text from the website.
Finally, I'd like to take this opportunity to thank Nick from d7xTech for providing his insights behind the creation of this tool, and also for making it Freeware - available for anyone to use free of charge.
If you think this article was helpful, please do click the Thumbs Up icon to the bottom left of this text. It helps me out and lets me know the direction I should take for future articles that I write. Thanks much!
Regards, Andrew Leniart