A great idea of a USB Flash Drive that caught my eye in an advertisement I read on Facebook -- but how good is it? I purchased a couple to find out so here's a review of what I think about it, from a variety of perspectives.
Introduction
The idea of carrying something like this around to help emergency first responders certainly isn't a new one, but the implementation of it I thought to be quite novel, so decided to buy one myself.
The product is a result of a brainchild by Tony Walton from Perth in Western Australia, and here's what Tony has to say about it on its official Web Site.
---
This is not an international marketing company, no fancy offices or staff, it's just me and my kitchen table.

I'm Tony, I'm 58 years old and I live in Perth, Western Australia.
I saw a problem:
People being involved in an accident and not having emergency contact identification to let authorities know who to identify. I've had lots of feedback from people saying that it took up to 8 hours for authorities to notify them that a loved one had been injured.
The Solution;
The ICEmergency USB drive. The pre loaded file on the drive takes less than 2 minutes to complete with all your personal information, it is simple to attach to your car or bike key ring and it's instantly recognisable.
The information on the file does not hold your address or drivers license number etc which could be used by a thief.
Everyone should have one of these on their keyring.
---
There are several different types of these devices available, but the one I chose to get was this one.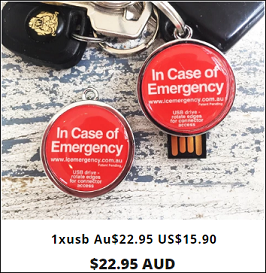 During the checkout, I was offered an additional USB + 2 Stickers for only an extra AUD $15.00, so I thought why not? Support an Australian company at the same time. So for a total investment of only $37.41 (including shipping), I received two USB keyrings and a couple of stickers.
What did I get? What was on the USB?
Two quite solid USB Flash Drives with a capacity of only 128 MB each
Two circular stickers measuring 50 mm in size stating "In case of Emergency info on drivers keyring"
A pre-prepared form saved in Rich Text Format on the USB for me to fill out and named "Emergency.rtf"
Here's the content of the editable Emergency.rtf file included: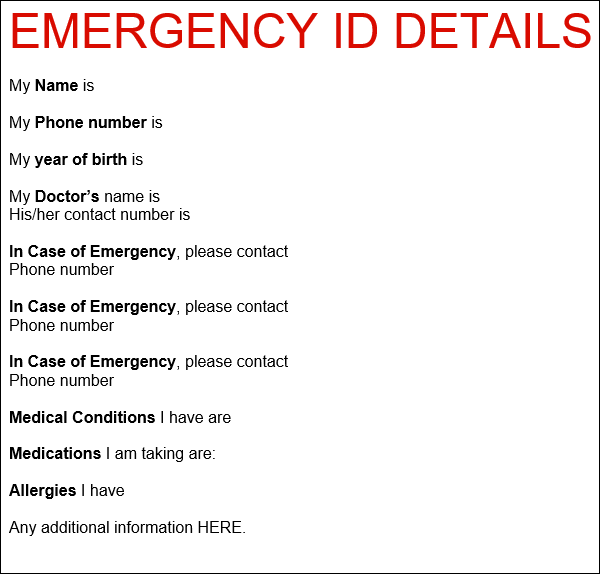 The idea is to put in as much (or as little) information about yourself that you like, and think will be helpful to medical first responders and doctors should you ever be involved in a medical emergency. Sounds like a pretty good idea, right?
My thoughts about the Idea
While I think it's a great idea, I question the implementation of carrying such information around on a USB Flash Drive. Technology is excellent, but in my opinion, it's not always the best solution and sometimes, old fashioned ways can be considerably more useful and practical.
USB Flash Drives are notorious for going bad or becoming corrupt. Accidentally drop a USB into a puddle of water and cross your fingers that it will still work, even after you've dried it out. Water-resistant paper doesn't have any of those problems, is just as effective, and the information is available without the need for a computer or other means of being able to read a USB drive.
There are also many similar types of Emergency Contact bracelets and things you can wear on your wrist, on your keychain or around your neck that have been around and available for years - just not on a USB Flash Drive. Instead, they contain forms made of water-resistant paper that you fill out and keep on your person in the bracelet, neckless or whatever.
Google a term like Medical Alert Bracelets, and you'll get over 9 million hits. Or check out the Emergency ID Australia website for a ton of similar ideas that have been available for years.
Now let's consider the price. $22.95 for a USB Flash Drive that has a capacity of only 128 Megabytes.
Is that "really" a reasonable price when you consider that you can get an 8 Gigabyte USB Flash Drive from a place like Office Works for a mere $5.00 AUD that can be used in precisely the same way, with a Dymo label (or similar sticker) stuck on it that says "Emergency Contact Info" or similar? Let me know what you think in the comments section below.
The Pros and Cons -- as I see them
Conclusion
Anything that helps Medical First Responders or Medical Staff like doctors in hospitals can only be a good thing, so as I stated at the beginning of this review, I think it's a great idea so if you have nothing else, this could be a good idea for you and well worth the investment. In my opinion, however, a USB Flash Drive isn't the best way to make that information as readily and easily available as other methods and accessories that are available on the market today.
Is it worth the value? You be the judge and decide for yourself. Explore the site (along with the others I've pointed out) and see what you think.
I hope you got some value out of this short review.
Finally, if you think this article was helpful, please do click the Thumbs Up icon to the bottom left of this text. It provides me with some feedback and what type of articles you enjoy. Thanks very much!
Andrew Leniart