Browse All Articles
> New Feature: Outlook On the Web as a progressive Web App
With this update, your users will be able to install Outlook on the web as a progressive web app in Chromium-based browsers.
According to Release notes;
We'll be gradually rolling this out in mid-December.
The rollout will be completed by the end of January 2020.
This message is associated with Microsoft 365 Roadmap ID 59250.
How does this affect me?
PWAs are websites that provide native app-like features on supporting platforms and browser engines. When Outlook is installed as a PWA, users can launch it from the Start menu, pin it to the Taskbar, or run it in a standalone browser window that removes standard browser interface elements. Microsoft will continue to update Outlook on the web with additional app-like capabilities.
Each Chromium-based browser has a unique set of steps that users need to follow to enable PWAs. Examples of "Chromium-based" browsers are the New Microsoft Edge and Google Chrome.
I will show how to add your OWA (Office 365 WebMail) as an app so it behaves more like outlook desktop app.
1. Open Chrome and navigate to https://outlook.office.com and log in

2. Click 3 vertical dots next in the upper right corner

3. Click "Install Outlook"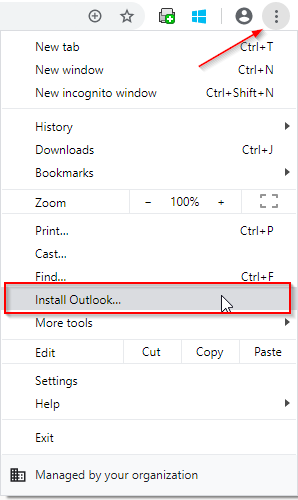 4. Click "Install"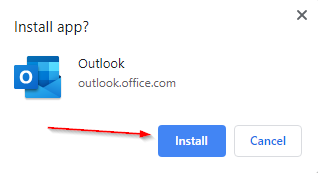 That's it, your OWA (Outlook Web App) now appears as a true app where you can easily pin to start menu or taskbar like a real application.
Pin it to your Taskbar
1. Click on the Start menu (Windows Flag) and you will see your new "app"

2. Right-click on the new app and you can pin taskbar.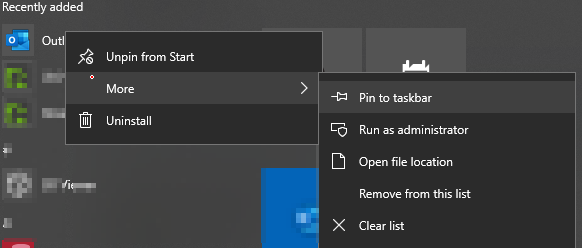 The app will now appear and behave like an installed Outlook Client and you no longer have to type out the https://outlook.office.com address.
It is Web-based and you can still easily get to your other Office web apps (e.g. OneDrive)