Earlier this year, Kofax acquired Nuance's Document Imaging Division, which included PaperPort. Kofax recently released the first version of PaperPort under its stewardship — V14.7. This article explains Kofax's method for upgrading from PaperPort Professional 14.5 to Professional 14.7 at no cost.
1. Introduction

1.1 Brief Background

Visioneer, Inc. developed PaperPort in the 1990s. PaperPort eventually became a product of ScanSoft, Inc., which later acquired Nuance Communications, Inc. After the acquisition, in an unusual move, the acquiring company, ScanSoft, changed its name to that of the acquired company, Nuance. On February 1 of this year, Kofax Inc. acquired the Document Imaging Division of Nuance, including the OmniPage, PaperPort, and Power PDF products:

Kofax Announces the Closing of its Acquisition of Nuance Document

Nuance's Document Imaging Division is now part of Kofax

1.2 PaperPort Version 14.7

Kofax recently released the first version of PaperPort under its stewardship — Version 14.7. The last world-wide release from Nuance was Version 14.5 (Nuance Technical Support says that Version 14.6 was an Asia-only release, although there are reports from users who claim to have an OEM/bundled V14.6 outside of Asia). Following 14.5, Nuance released Patch 1 for it. Two of my articles here at Experts Exchange document those releases:

PaperPort 14 - Free Upgrade to Version 14.5
How to install the Patch 1 update for PaperPort 14.5

As the title states, this article explains how to do an in-place upgrade of Nuance PaperPort Professional 14.5 to Kofax PaperPort Professional 14.7, at no cost to a licensed user of a PP14.5 Pro retail version, The upgrade is free by utilizing the product serial number from your PP14.5 Pro.

1.3 Important Caveat

This method cannot be used to upgrade (i) PP14.5 (standard); (ii) PP14.5 Pro that was bundled with OmniPage Ultimate; (iii) any PP14.5 OEM version, i.e., that was bundled with a scanner or multi-function/all-in-one device.

1.4 Fresh Installation (NOT in-place)

In addition to this article about upgrading on top of a PP14.5 Pro installation, I also published a five-minute EE video Micro Tutorial on upgrading to PP14.7 Pro when there is no PP14.5 installed (but, of course, using your PP14.5 product serial number to activate PP14.7). The approach in the video is for users (I'm one of them) who prefer to uninstall all PaperPort components first before doing an installation. Here's a link to the video:

Free upgrade of Nuance PaperPort Professional 14.5 to Kofax PaperPort Professional 14.7

2. Upgrade Method

The method to upgrade is simple — download and install the free trial version of PaperPort Professional 14.7 from this link at the Kofax website (once again, be aware of the important caveat documented in Section 1.3):

https://www.kofax.com/Products/paperport/professional-trial-version
Warning: It is a huge download — more than 1 GB (1,177,683,400 bytes to be exact).

3. In-Place Upgrade Steps

My video mentioned in Section 1.4 shows the installation steps when there is no PaperPort currently installed. Hence, this article focuses on the differences when there is an installed PaperPort, i.e., an in-place upgrade, although some steps below are common to both types of upgrades.

3.1 Run the downloaded installer (paperport-professional-trial-14-7-0.exe). It is a self-extracting zip file that produces this dialog when done unzipping: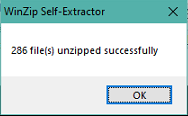 3.2 If User Account Control is enabled, you'll get the UAC prompt. After accepting that, you'll get the main installation dialog where it asks to select a language: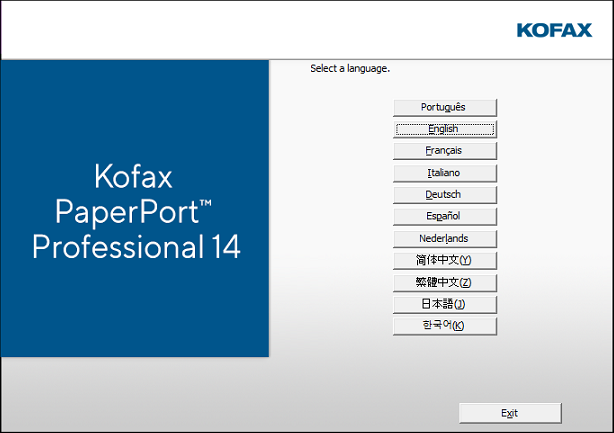 3.3 This is where you'll see the first difference during an in-place upgrade, namely, the installer detects the previous installation: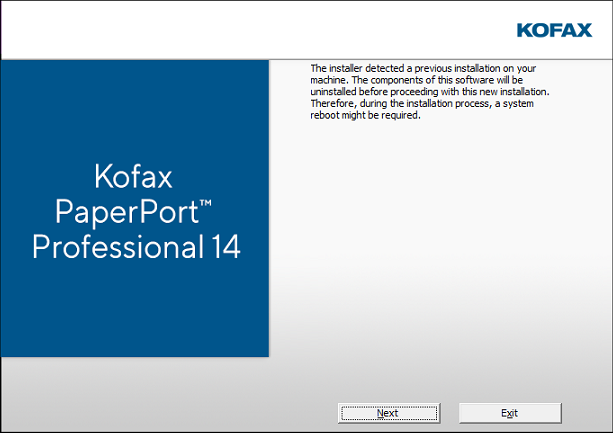 3.4 The installer will now remove the existing PP14.5 installation. You'll get several standard uninstallation dialogs during the removal process, then you'll get the Start Installation one: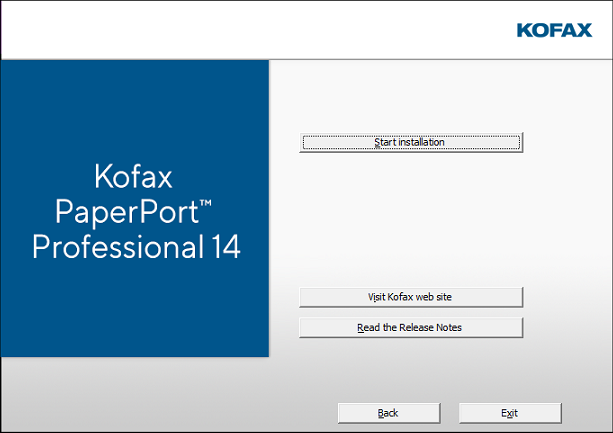 3.5 After that, you'll get the Choose Destination Location dialog (don't worry about the Company Name field there...anything is fine...many folks use Home), followed by the End User License Agreement (EULA).

3.6 Now the installation actually begins. If you don't have the required Microsoft redistributables, it will download and install those first. Then four products will be installed, the first of which is PaperPort 14 Professional itself — this will be in the lower right portion of the screen:


3.7 During the PP14 installation, you'll see the next difference due to an in-place upgrade, namely, it detects your existing scanning profile settings and custom profiles, and it offers to keep them (a good idea so that you don't have to rebuild them):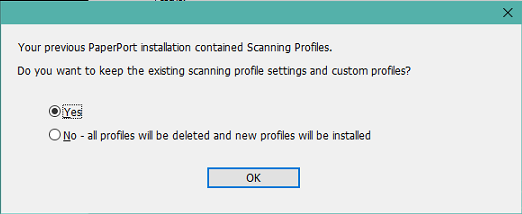 3.8 The next step is confusing because there's a Finish button on the dialog, but after clicking it, you are not finished! Be patient — what's a bit disconcerting is that it takes several seconds for the next installation to start, but it does start, and it is for PDF Viewer Plus:


3.9 Once again, you'll see a difference due to an in-place upgrade, namely, that an older version is already installed:


3.10 The next installation is for the PaperPort Image Printer:

3.11 The fourth, and last, installation is for Power PDF Create 3.1:

3.12 You'll now get the Product Registration dialog: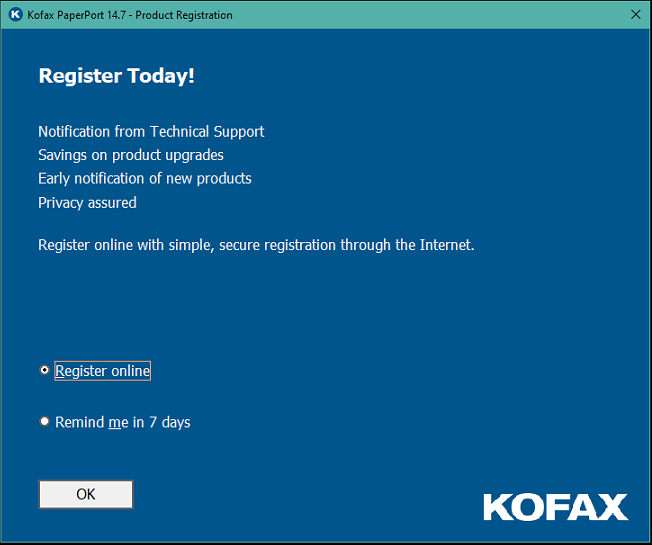 You likely won't need to register online, as your PP14.5 serial number is probably already registered.
3.13 Then the successful installation dialog: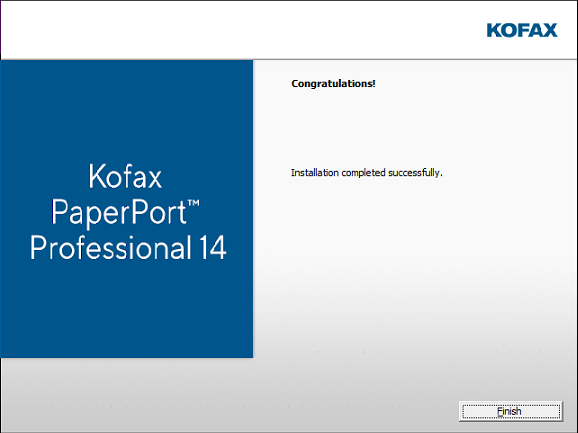 3.14 You'll now have a new Kofax PaperPort shortcut icon on your desktop:



Note that you'll get several "Automatically close applications and attempt to restart them after setup is complete" dialogs during the process. The default worked here in all cases, but if it doesn't for you, try the other choice.

The first time that you run PP14.7, you'll get the Product Activation dialog: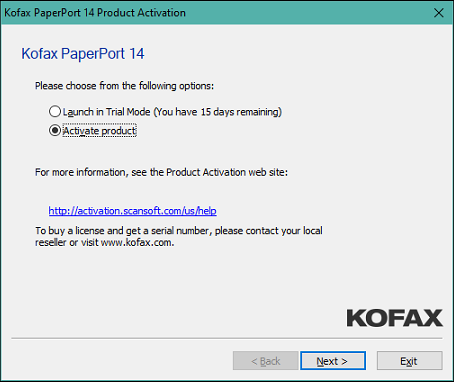 (Interesting that the activation server website is not even Nuance, let alone Kofax...it is still ScanSoft!)

This is where the good deal occurs — your Nuance PP14.5 product serial number will activate Kofax PP14.7! Here's what your Help>About dialog should like after successful activation (I redacted some personally identifiable information):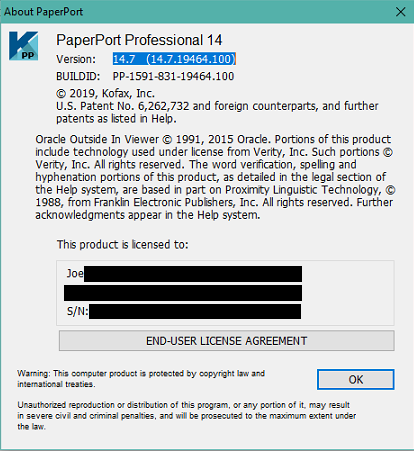 That's it! You've upgraded to PaperPort Professional 14.7 at no cost.
If you find this article to be helpful, please click the thumbs-up icon below. This lets me know what is valuable for EE members and provides direction for future articles. Thanks very much! Regards, Joe