A Free and Effortless Way to Save Money

IT Professional - Helping others to help themselves. https://andrewleniart.com & https://www.computerhelpzone.com.au/testimonial/
Published:
A short review of a browser extension that effortlessly saves you money at participating online stores, like Amazon, Microsoft, and many others.
There are a ton of so-called "free" money-making schemes to be found on the Internet, and as you're probably aware, the vast majority of them are scams.
However, this is one money-saving technique that I can personally vouch for that is not a scam, so I thought I'd raise awareness about it with this article, and share my discovery with you, so that you too, can benefit as I have.
For the last couple of months, I've been trialing and using a browser extension called "ShopBack". I was very sceptical at first, but now I'm a convert as it's proven itself to really work, up to the point where I've already saved over $150 when shopping online.
I'm speaking of a browser extension that is simplicity itself to install and become a member of. It doesn't interfere with your online experiences at all, yet saves you money if you happen to make a purchase online.
The extension is called ShopBack, is 100% Free and is available at the following link:
Just click on the above link, follow the simple instructions to install the extension into your web browser, create your own account, and start enjoying getting real cash rebates directly into your bank account. Installation and creating your own account takes less than two minutes.
Important Note: This extension does not interfere with any of your general web browsing activities at all. It just sits there quietly until there's money to be saved when you visit any participating store.
It takes note of your purchase and provides a cash rebate of some of the money you spend. Rebates range from 2% all the way up to 40% depending on the site you make a purchase from.
There is nothing for you to do to start benefiting either. The ShopBack app automatically recognizes any participating stores and gives you real money refunds that you can withdraw to your bank account at any time.
Here's a small sample of participating well known online stores that support the extension:
Amazon, Apple, Microsoft, Amcal, Amaysin, Hotel Bookings, Airport Parking, Angus & Robertson, Chemist Warehouse, Dan Murphy's, eBay, Car Hire Companies, Menulog, -- and *hundreds* more!
If you have any doubts that this extension does what it claims, take a look at a snapshot (below) of my own ShopBack account at the time of writing. It shows how much I've saved to date and already withdrawn, over a period of fewer than two months, with virtually zero effort on my part.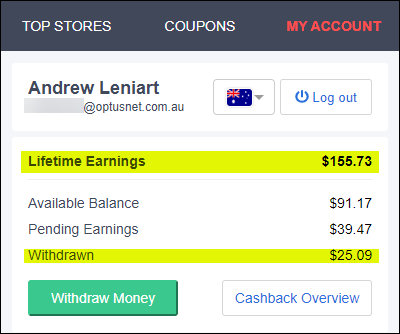 So give it a try. You've nothing to lose, yet real savings to gain and I can almost "guarantee" you won't be disappointed. I personally can't recommend it highly enough based on my own experience with using it. A bonus of installing this extension and creating your own ShopBack account is that you'll be given a $5 credit, just for joining.
Oh, and in the rather unlikely scenario that you don't agree or dislike it for whatever reason, simply remove the extension from your browser, delete your ShopBack account and you're done!
I hope you've found this short article and review to be helpful.
Happy savings!
If you consider this article to be helpful, or useful to others, please do click the Thumbs Up icon to at the bottom left of this text. It helps me out and lets me know what direction I should take for future articles. Thank you very much. Regards, Andrew