I constantly test drive different Web Browsers yet none have inspired me to write a review about any one of them. Brave is the exception to that rule and in this article, I'll try and point out the reasons why I think that Brave is indeed far superior to Google Chrome.
Pre-Ramble
: Brave is available for Windows, Macintosh, Linux, iOS, iPhones, and Android devices. This article is based on the Windows 10 version of it.
Recently, some clients of mine have found that Chrome misbehaves in a variety of ways, most recently being that on some Windows 10 installations, Chrome tends to randomly close down for no apparent reason. Now given that Google Chrome is a well established and solid browser, I suspect the problems a lot of folks are experiencing is because of recent Windows 10 update and/or the lack of Google Chrome updates to address the changes in Windows 10.
Introducing a Google Chrome Look-a-Like Browser
For a few months now, I've been using the
Brave Browser
as my default web browser on Windows 10, just to see how well it compares to all the others available. The beauty of Brave, when compared to Chrome, is that the learning curve is very small indeed. It looks and performs in a very similar way to Google Chrome, except that I find it considerably faster.
Here's a snapshot of what it looks like on my computer. (Click the image to see a full-sized version of the pic)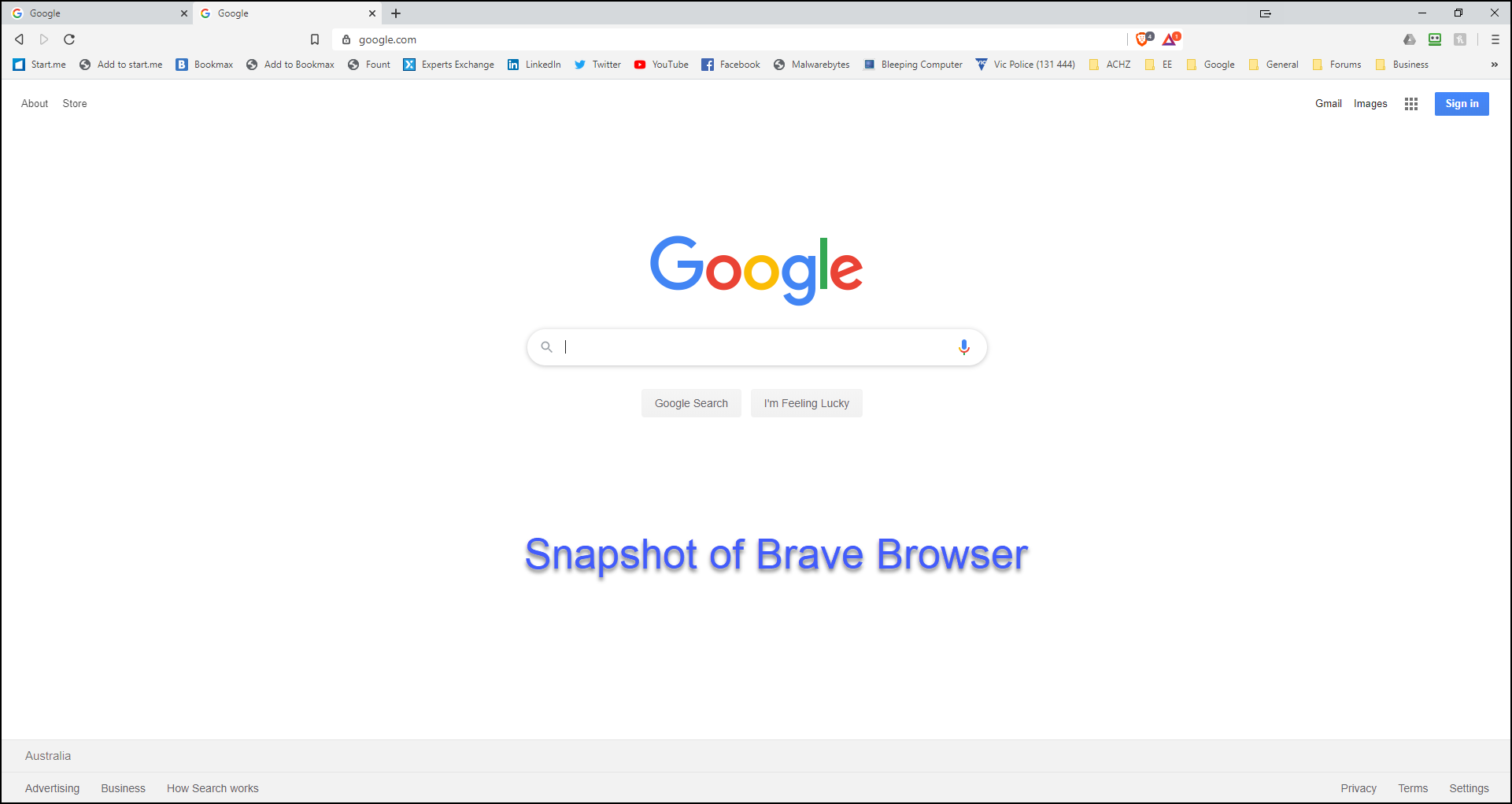 Installation
Installing Brave is pretty much like installing Google Chrome. Once you have it installed, it can import your Bookmarks from the following browsers:
Microsoft Edge
Microsoft Internet Explorer
Mozilla Firefox
An exported Bookmarks HTML file from any other browser
Extension & Browser Themes Availability
The extensions and themes available to you for Brave pretty much mirror what is available for Google Chrome. Just go to the
Chrome Web Store
, select any extension or theme that you like and install it in exactly the same way you install them to Google Chrome.
I've yet to strike an extension on the Google web store that would not work just as well with Brave as well, apart from
one
. That's the "Application Launcher for Drive (by Google)" - The application launcher doesn't seem to want to play with the Brave browser, but I've been too slack to email Brave support to try and get a resolution for it.
Brave Settings
The settings in Brave are much the same as in Chrome or any other browser, with a few neat extras. You can configure:
Profile Names & Icons, Appearance
Themes
Show or disable the Home button
Use a Wide Address Bar
Show or Hide the Bookmarks Tab and Bar
Font Size
Customise fonts to suit yourself
Page Zoom
Configure the Search Engines Brave will use
Brave Rewards Button (more on that later).
Social Media Blocking
With Brave, you can choose to allow, or disallow the following:
Google Logins
Facebook Logins and Embedded Posts
Twitter Embedded Tweets
LinkedIn Embedded Posts
Some Handy Built-in Extensions
Brave installs with a number of extensions that you can configure or leave turned off if you prefer.
Crypto Wallets - Provides an Ethereum wallet and Dapp browser inside Brave
Hangouts - Uses Hangouts component to enable screen sharing and other features in the browser
IPFS Companion - Uses IPFS companion extension to support IPFS in the browser
Media Router - Uses Media Router component to enable Chromecast in the browser
Private Window with Tor - Tor hides your IP address from the sites you visit
WebTorrent - Uses WebTorrent to display torrents directly in the browser. Supports torrent files and magnet links
Widevine - Asks when a site wants to install Widevine on your computer
The "
Private Window with Tor
" I personally find very useful. Using TOR browser technology, your public IP is automatically hidden from any website you visit. This eliminates the need to install the Tor Browser if that's all you want to use it for and I use it for that purpose quite a bit.
Also, just like in Google Chrome, you have the same quick configuration options accessed from the top right of the browser.
Here are a couple of snapshots to check out...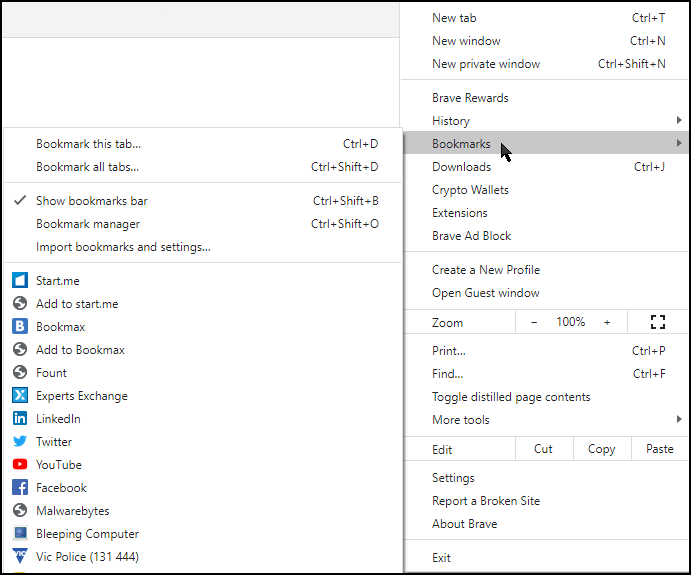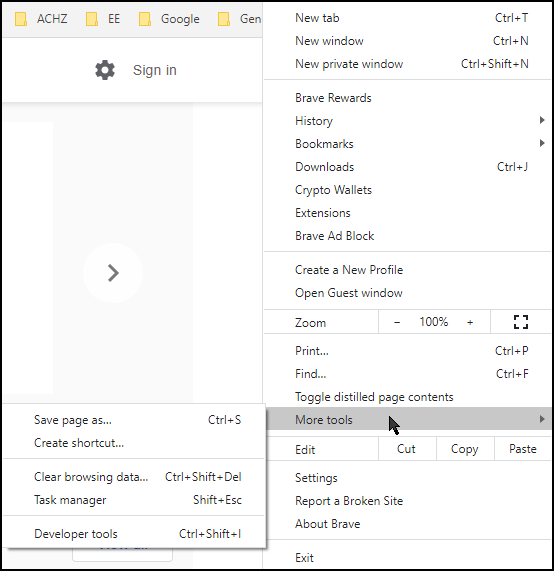 The main differences between Brave and Chrome
Speed:
First and foremost, I've noticed that (for me anyway) Brave performs noticeably faster and doesn't slow down during extended use when browsing the web like Google Chrome often does for me. The developers make the claim that Brave loads pages 3x to 6x faster than Chrome and Firefox, and I have noticed that with my own eyes, so as far as I'm concerned, that claim is true!
Advertisement and Popup Blocker:
There are many sites that will refuse to allow you to read if you have an ad blocker installed and active. One excellent example of this is the
Australian Daily Mail
news site. When I visit that (and some other) site(s), I get the following error.
(Click the image below to see it in full size)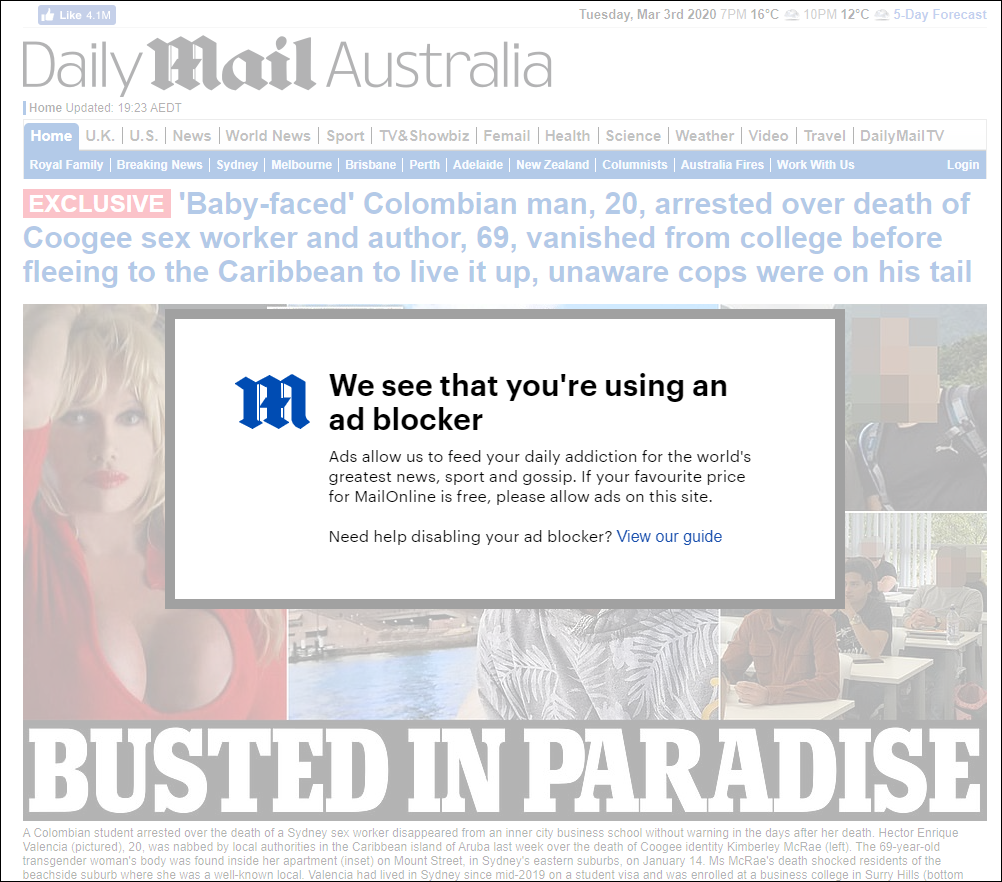 Visiting the same news site with Brave and having its Ad and Popup Blocker active does not trigger the block, yet both advertisements and popups are indeed blocked! How long that will last I can't say, but its blocking functions have yet to stop me from visiting any website that does not allow viewing or reading with an adblocker active.
Privacy and Security
The privacy and security Brave gives you far outweighs what you get with Google Chrome unless you install a number of extensions into Chrome so you can get the same benefits that Brave provides out of the box.
Here's a list of security features that come as default with each Brave install,
quoted from their website:
---
Experience unparalleled privacy and security
Brave fights malware and prevents tracking, keeping your information safe and secure. It's our top priority.

We're not in the personal data business
Our servers neither see nor store your browsing data – it stays private, on your devices, until you delete it. Which means we won't ever sell your data to third parties.

Customize your shield settings
Choose your settings on a per-site or browser-wide basis. See how many ads and trackers are being blocked by Brave every day on the New Tab Page.

Security meets simplicity
If you're willing to research, download, and install multiple extensions, and carefully configure and correctly maintain settings in both the browser and extensions, you can match some of Brave's privacy and security.

Brave does all that work for you. Simple, right?

Whenever possible using the HTTPS Everywhere list, Brave automatically upgrades to HTTPS for secure, encrypted communications when an ordinary browser would use an insecure connection.

Defaults that matter
Browse confidently with default settings that block phishing, malware, and malvertising. Also, plugins, which have proven to be a security risk, are disabled by default.

Sync your devices bravely
Brave Sync, currently in beta, can be enabled to encrypt and synchronize your preferred settings and bookmarks. However, Brave does not have the keys to decrypt your data.
---
Comparing the above list of features to a default Chrome install, Google Chrome;
Does not fight Malware without the use of third party extensions
Can and does see and store your browsing data on Google servers
Does not have a built-in application or extension that shows you how many items, scripts, and Cross-site cookies were blocked.
Does not install with default settings that block phishing, malware, and malvertising.
Does not automatically disable plugins by default which have been proven as a security risk if a user installs them.
---
Another great feature
that Chrome lacks is
"
Brave Rewards
".
Totally optional to join or use, the Brave Rewards program allows you to earn by viewing private ads. If you have (I don't) the needed skills, you can even become a creator yourself and start earning BAT from tips, contributions, and referrals.
Concluding
As mentioned at the start of this article, Chrome is a very well established, popular and widely used browser all over the world. I continue to like it, but since trying and using Brave for a few months, not so much. I'm a convert. Brave just works better for me and gives me less trouble than Google Chrome does and has in the past.
Indeed, the only reason I continue to use Chrome (along with many other browsers) is to continue collecting data for a future article I will be writing comparing the benefits and negatives of available web browsers, and not just Brave and Chrome. That article is still a ways away though so I hope you got some value out of this write-up.
I hope you found this article useful. You are encouraged to ask questions, report any bugs or make any other comments about it below.
---
Note:
If you need any "Support" about this topic, please consider using the
Ask a Question
feature of Experts Exchange. I and other experts monitor the questions asked and would be pleased to provide any additional support required.
Finally, if you think this article was helpful and useful for EE members, please do click the
"Thumbs Up"
button below. It also provides me with positive feedback. Thank you.