Our team is now fully remote and following recommended COVID-19 (coronavirus) safety precautions. We'll share some tips for going remote, as well as general suggestions for dealing with new routines brought on by this pandemic.
While we all adapt to the COVID-19 (coronavirus) situation, the team at Experts Exchange strongly encourages you to follow recommended safety protocols, including hand washing and social distancing. Please take care of yourself both physically and mentally during this time.
As a tech-driven community, we value fact over panic and information over rumors. That being said, taking this issue seriously is important, and we are doing just that. As a precaution, our entire team went fully remote on March 13th. Usually we have a handful of employees who work remotely, with the rest of our employees in two offices, one in California and one in Tennessee. Because of this, a good portion of our team is adjusting to "remote life."
We are also trying to find opportunities for connection, fun, and hope right now. Our expert community and our team will still be here to help you find answers, learn new skills, and stay busy if you are currently unable to leave your home. With that in mind, we wanted to introduce you to some of our employees and let you know how they are adjusting to their new worklife.
Jeff, our Senior Director of Technology, was initially worried he wouldn't be able to get all his work done. He quickly realized that working around his family was easier than he thought, and he is enjoying the extra time with them, "My 5 year-old son loves just sitting next to me and working on his math program with me. I set up another computer right next to me so he can feel like he is working too. It's important to remember that your family is going through changes too."
Jeff is also working to take care of his team during this time, "It is important to check in with people. Make sure you do a video call every day with your team. Make sure you send them messages and stay connected. You have to stay proactive or you will not know what is going on."
Hanna, our Accountant, always has a positive attitude and brings a sense of community to the office. She continues to bring positivity and laughter to this situation, even admitting to forgetting her home's wifi password her first day working remote.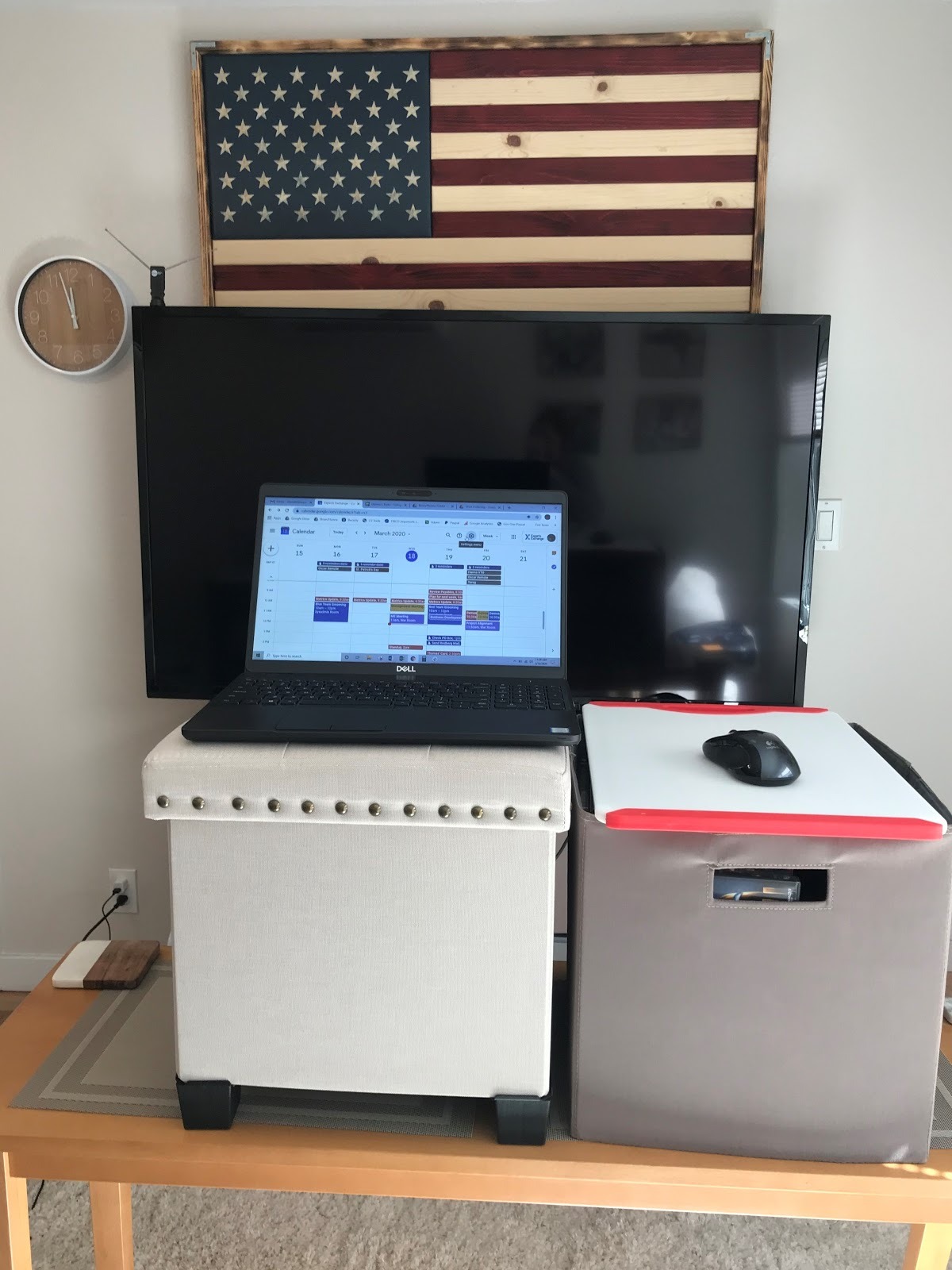 Hanna's homemade "standing desk"
She says, "The one thing that excited me about remote work is not having to spend over an hour in the car each day. I thought that working remotely would make me go crazy, but it is actually more manageable than I thought it would be."
She has been social distancing but going for walks, texting her family, and snapchatting her friends has allowed her to stay connected.
David, one of our Senior Front-End Developers, says he was worried going remote would disrupt a careful balance between his homelife and his worklife, but he has been able to establish boundaries. Though he misses the office coffee machine, he was excited to no longer have a long commute.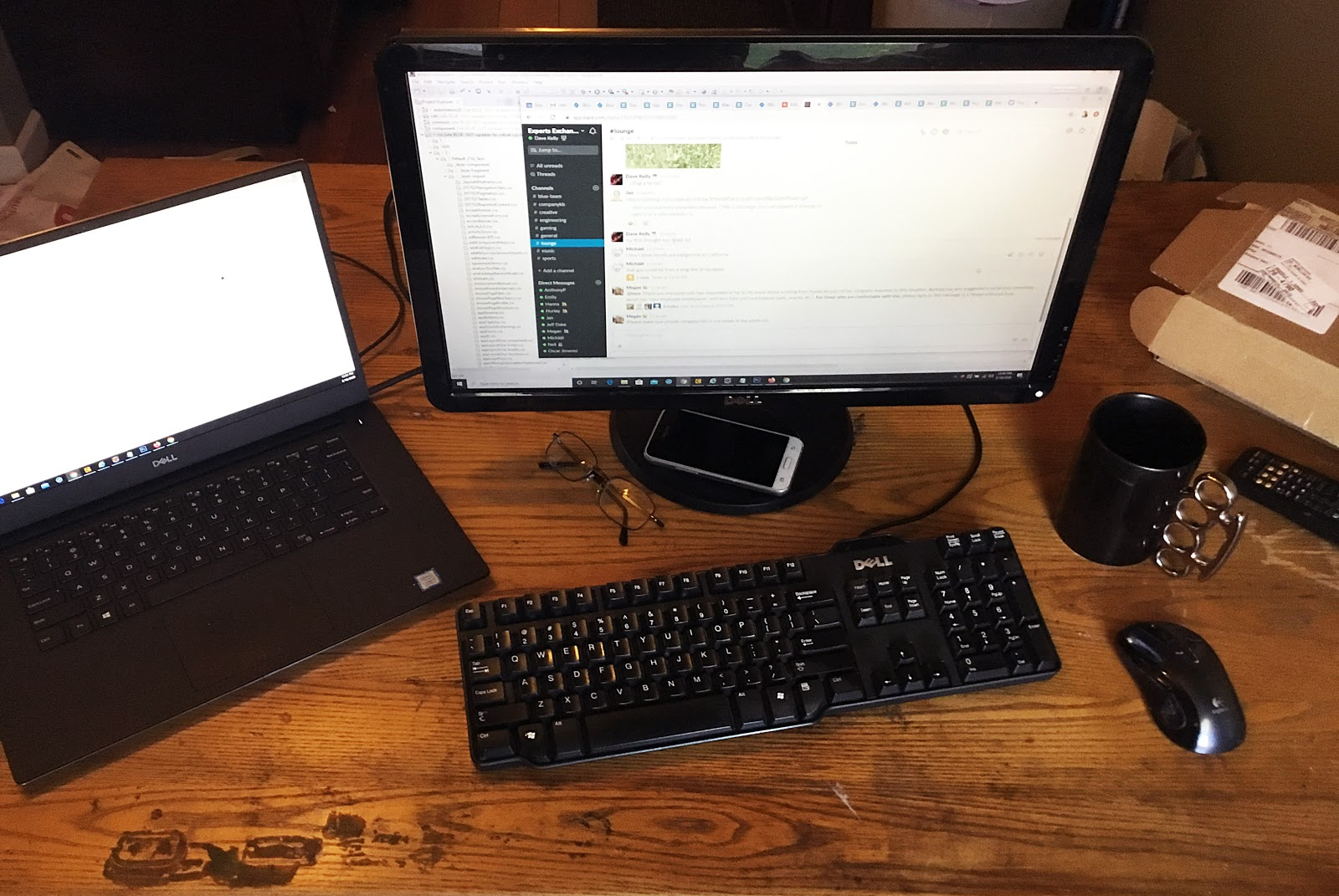 How does he feel about social distancing? "I have been practicing social distance my entire life, and could probably teach a class on it (or at least a weird TED talk). Ironically, I think this is making me reach out a bit more than usual."
Emily, our UX/UI Designer, has learned how to maintain boundaries and space while working from home, "On the first day, my partner shuttered himself in our bedroom. At 5 pm, he peeked around the corner and I heard a quiet voice say, 'Can I come out yet?' When I was a freelancer last year, it was quite disruptive. Living in a small space with no dedicated office left me open to distractions and the notion that I was available for casual conversation. Now my partner understands I need space."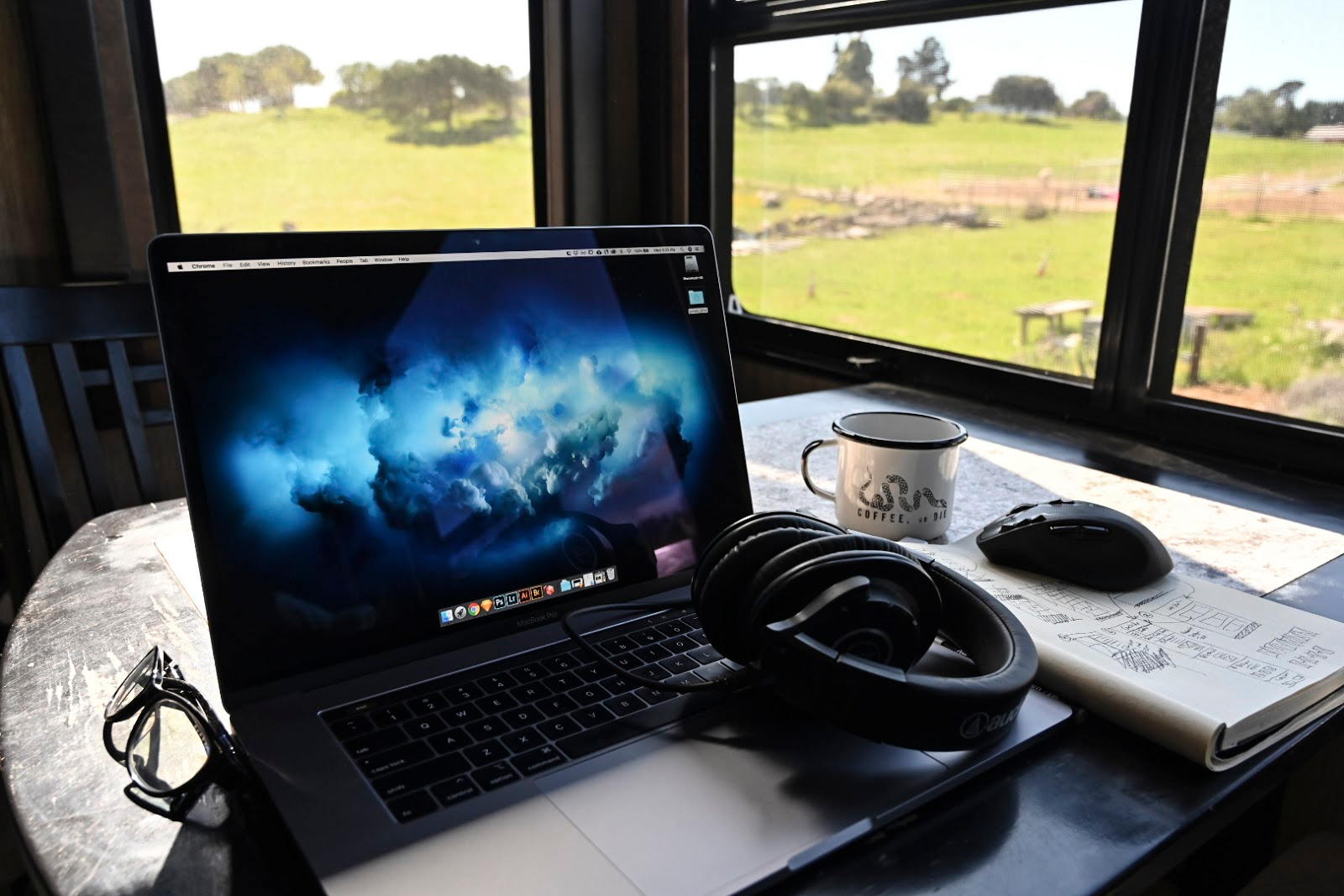 Emily has also made some changes to her goals and daily routines, "I'm dedicating the time I would spend commuting to creating artwork and learning new hobbies instead."
Jan, our Engineering Manager, had some concerns about productivity, given that his new office buddy would be a first grader, but Jan says getting to spend more time with his daughter was also what he was most looking forward to.
He set boundaries at home to make sure he's able to stay focused, but his daughter does visit his office every once in a while when she needs a hug. She also enjoys singing songs from Frozen II around the house, a sound most parents with young children will be familiar with.
Being in a management position, Jan has found it crucial to take the time to fully communicate any problems that come up, now that he can't simply walk over to someone's desk. All team members regularly use Slack and Google Hangouts to keep communication clear and frequent. After settling in to his new routine, Jan says, "Productivity hasn't been as much of an issue as I was worried about."
Martin, our Member Experience Manager, was most concerned about communication when thinking about going remote, but like others, he was most excited about no longer having a commute.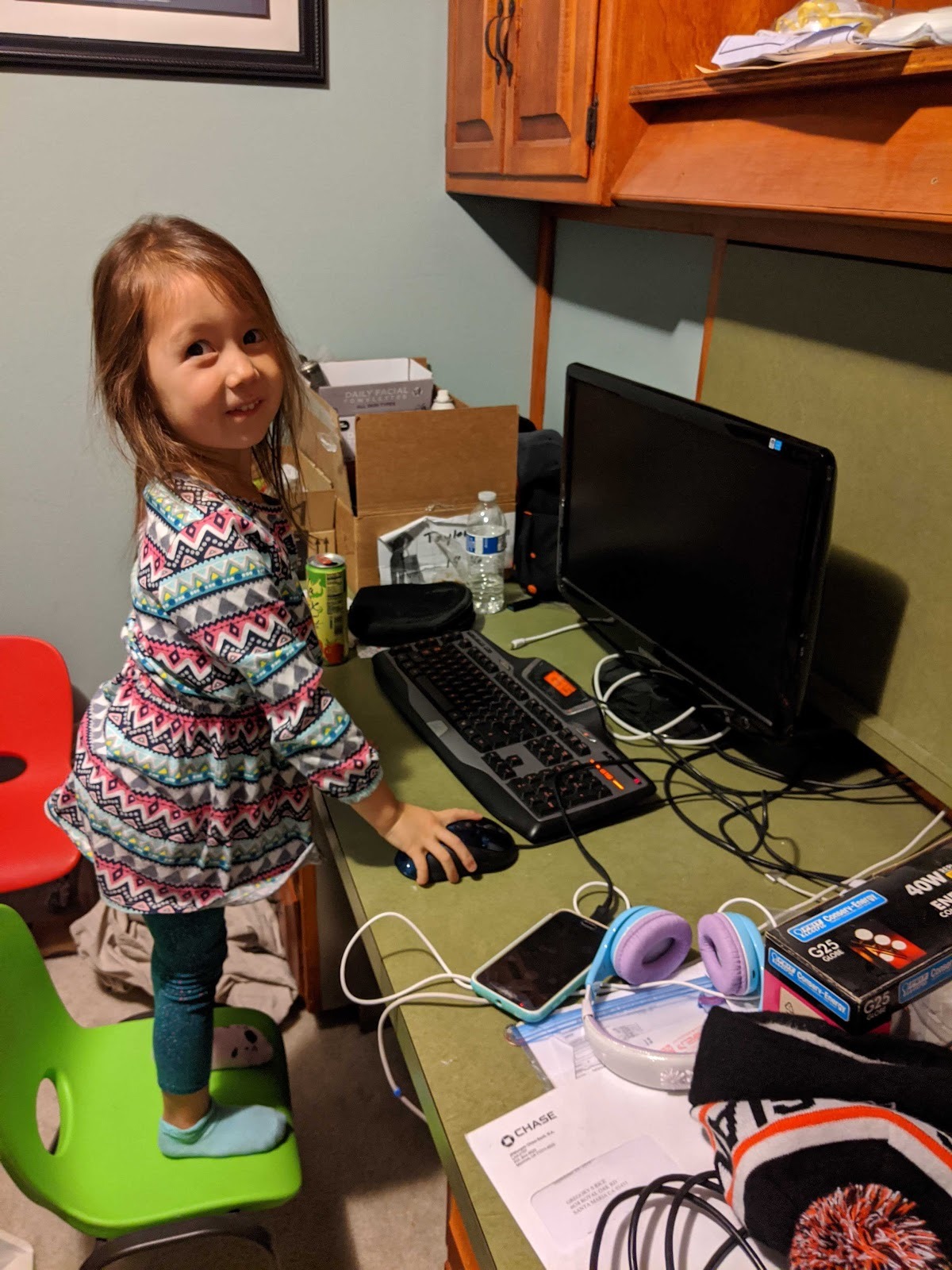 "My children do love the computers...so they are always trying to crawl all over them when I'm not working. My older daughter likes to bring in some toys and work next to me...After I've shut down the computer for the day she'll sit at my desk and say, 'OK, it's my turn to write some emails. I'm busy now. Can you close the door when you leave, Dad?'"
Martin is making sure to walk, stretch, and drink water throughout the day, all things that can be easily forgotten when transitioning to a remote workday. To stay grounded during this pandemic, he is limiting his social media consumption and keeping in touch with loved ones, "I use WhatsApp to keep in contact with a lot of my family and friends...I can video call my parents so they can see their grandkids."
Anthony has been a Developer at EE for over 10 years. He says he wanted to be sure he had everything he needed before going remote, to avoid multiple trips to the office. So far, he has experienced some struggles familiar to remote workers, like forgetting when meals are supposed to happen and trying to keep his two year-old from turning off the power strip he's using.
He is also figuring out a new workout routine. We have a newer company tradition of doing workouts together on Friday, and we're working on ways to continue this tradition from home.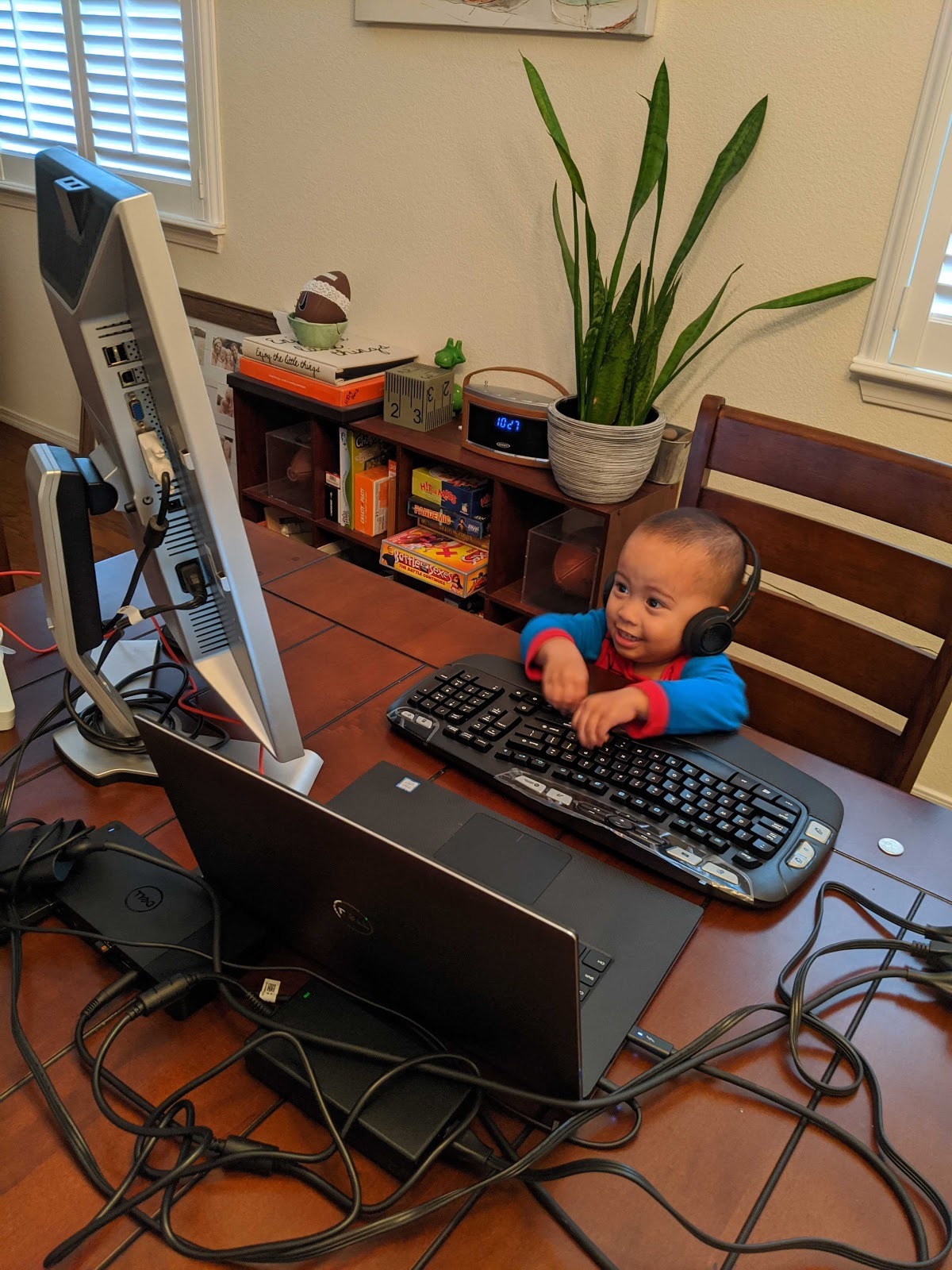 "My new 2 year-old coworker is much more talkative than my other coworkers."
Anthony says he's staying grounded by keeping things in perspective, "I'm trying to remind myself that we have the easy part. We just have to stay home. All the people out there have the tough jobs. If we get a little stressed with work right now, it's important to remember that all the medical professionals, first responders, grocery workers, and all other essential personnel are literally risking their lives to keep the world safe and healthy."
During this time, we obviously feel very grateful to be at home, safe with our families, and able to work. If you have the same privileges, please consider donating to those who may be struggling financially to feed their families during this pandemic. Two organizations currently helping with this disaster relief are Feeding America and No Kid Hungry.