Make sure your ESXi server is up to date with the current firmware with - 5 Easy steps to upgrade VMware vSphere Hypervisor 6.7 (ESXi 6.7 P02) to ESXi 7.0 GA Build Build 15843807.
On the 2 April 2020, VMware released ESXi 7.0 Build 15843807, which is known as the general availability build of the product, or ESXi 7.0 GA.
To get your system up to the latest release, this article will show you how to update ESXi 6.7 to ESXi
ESXi 7.0 GA
in 5 easy steps. In this tutorial, the version of ESXi 6.7 installed is ESXi 6.7 P02, which is the latest release of ESXi 6.7, as of 22 May 2020, but this article can be followed to upgrade any version of ESXi 6.7 to
ESXi 7.0 GA.
VMware has removed my older legacy processors (CPUs) from ESXi 7.0 GA, and also storage and network controllers, please check the
VMware Hardware Compatability Lists
(HCL)
here.
The VMware Hardware Compatibility List is the list showing actual vendor devices that have been tested and certified by VMware or VMware partners. Items on the list are tested with VMware products and are known to operate correctly. Devices which are not on the list may function, but will not be supported by VMware, and may cause issues.
Before we get started:
It is important to ensure you have valid backups of your virtual machines before you make any changes to a Production VMware vSphere Hypervisor ESXi 6.7 Host server, which is hosting virtual machines. All virtual machines must be powered off with the server in maintenance mode.
Here are the steps to upgrade your software:
1. Download ESXi 7.0 GA Offline Bundle
Download the ESXi 7.0 GA Offline Bundle from VMware here

The file is called VMware-ESXi-7.0.0-15843807-depot.zip, check the following:

MD5SUM: d3e7d11daaa98d235694201b367dfdb2
SHA1SUM: 84c27637f0f48f11f7638425c9e106d68c27f6fc
SHA256SUM:a4555a167e566eb89b3c73020b9129bcc1d230c0fe9062b3e67f9d141edee460
2. Upload the offline bundle to an ESXi 6.7 datastore
3. Connect to the ESXi 6.7 host server via SSH
At the console prompt, type
vmware -l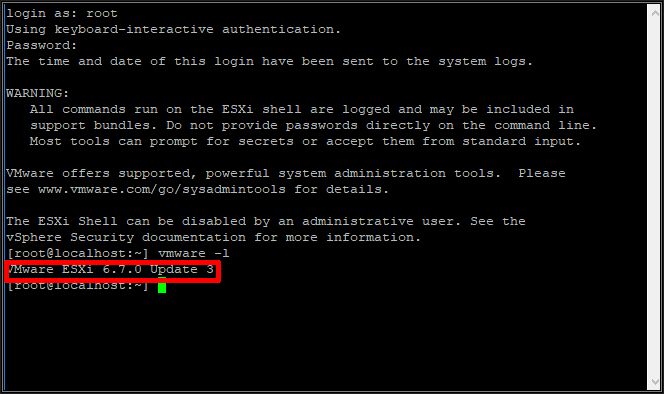 to confirm the ESXi version. VMware ESXi 6.7 GA or later should be returned, though this will depend upon whether any patches have been applied. In this tutorial the build installed is 6.7 P02.
4. Use esxcli at the console command line to update the server
esxcli system maintenanceMode set -e true



esxcli software profile update -p ESXi-7.0.0-15843807-standard -d /vmfs/volumes/datastore1/VMware-ESXi-7.0.0-15843807-depot.zip




The above command does not produce any feedback if entered correctly. After approximately 20 seconds, the upgrade should be completed, however, we have found that if you are using slow USB flash drives and SD cards, this can take considerably longer for the files to be written. You will be presented with the following screen upon completion: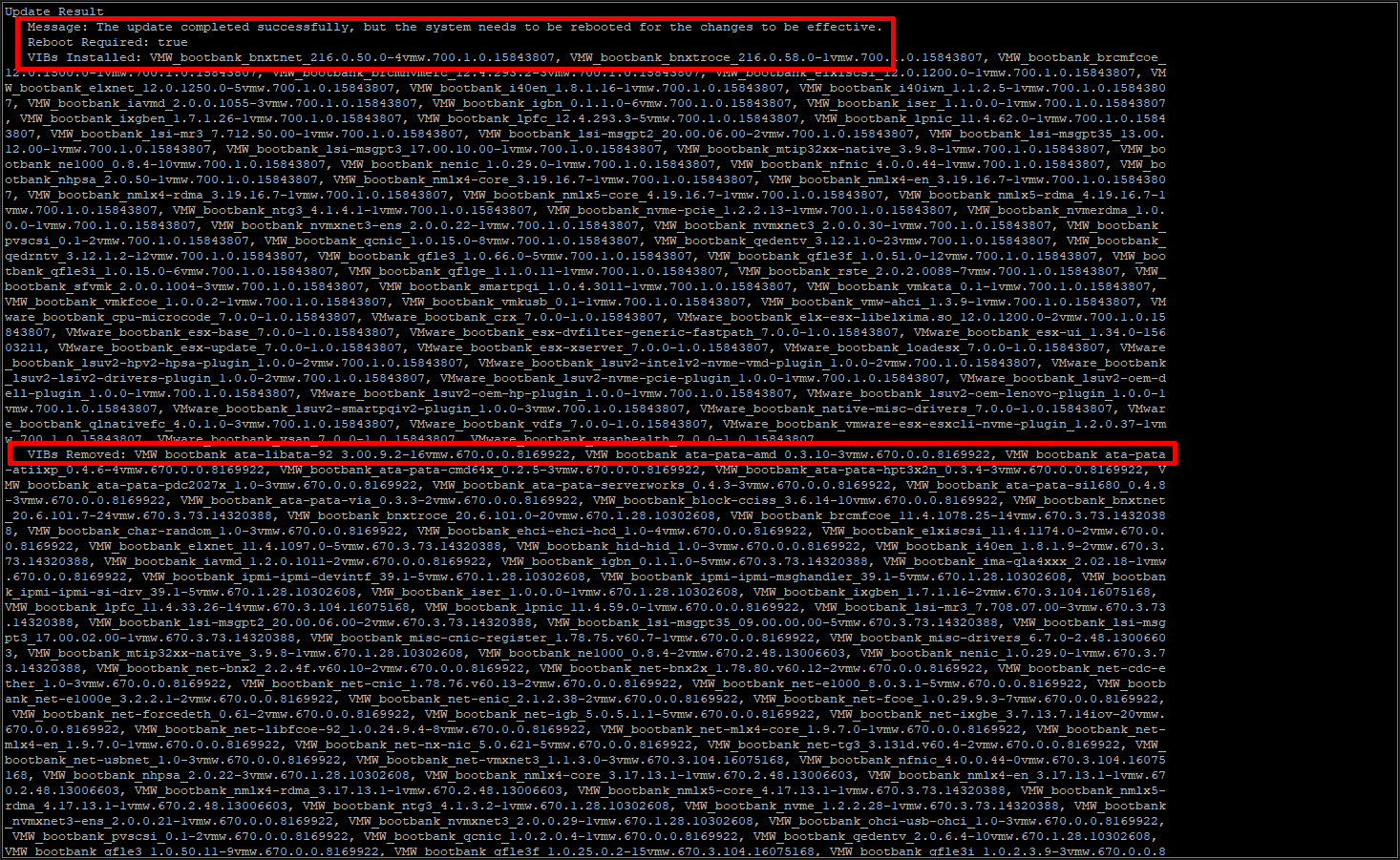 If all is well you should see an update screen, as above, you may have to scroll the screen to see all the information. But check the update result, at the top. The update completed successfully, but the system needs to be rebooted for the changes to be effective.
You should be able to see new VIB packages installed, removed, and some have been skipped. If you are using an OEM version of VMware ESXi 6.7GA (e.g. from HP, IBM or Dell) your output could be different.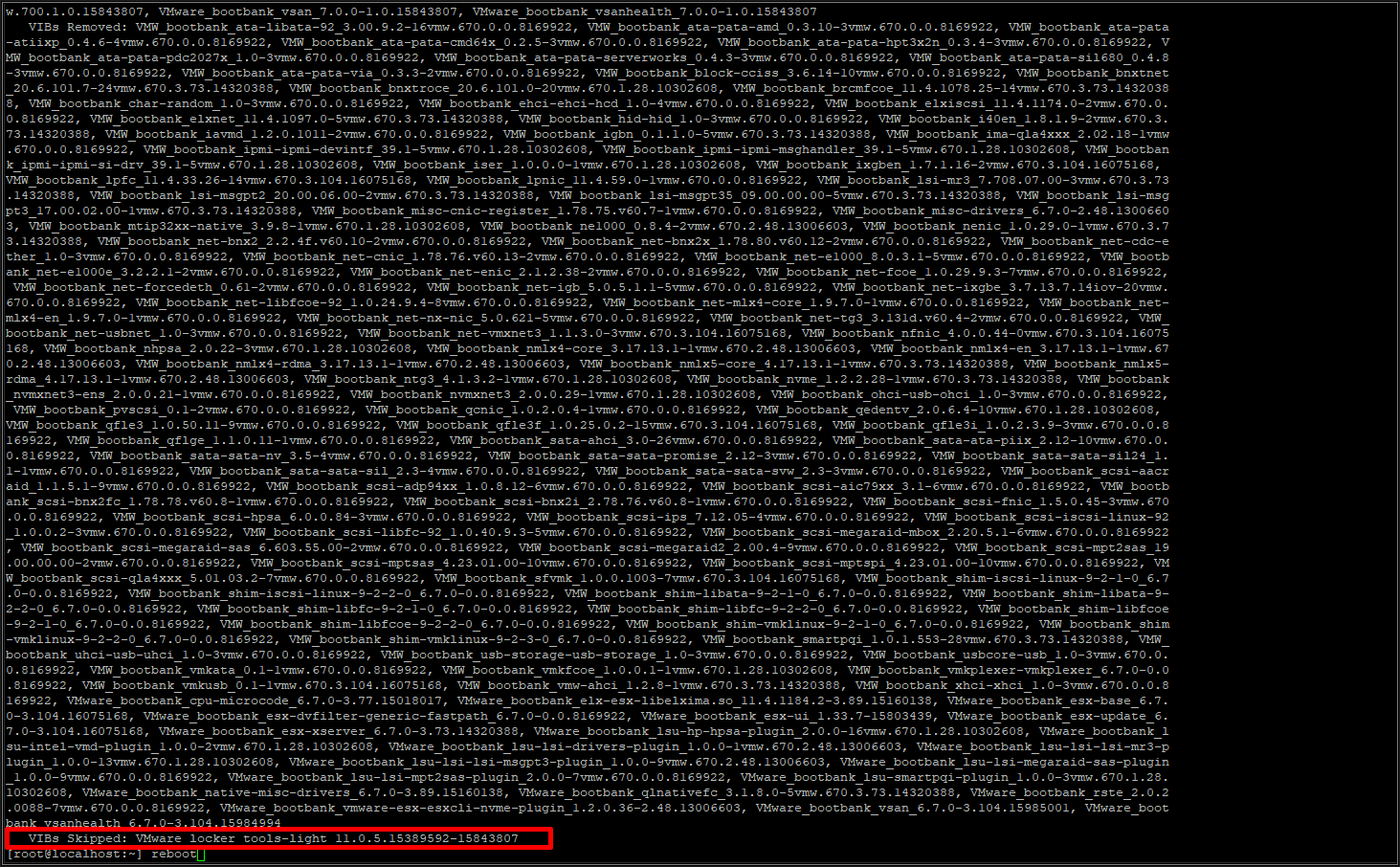 reboot



5. Check the ESXi 6.7 P02 Host server has been updated.
Check the following:

The Console Screen should report VMware ESXi 7.0 (VMKernel Release Build 15843807)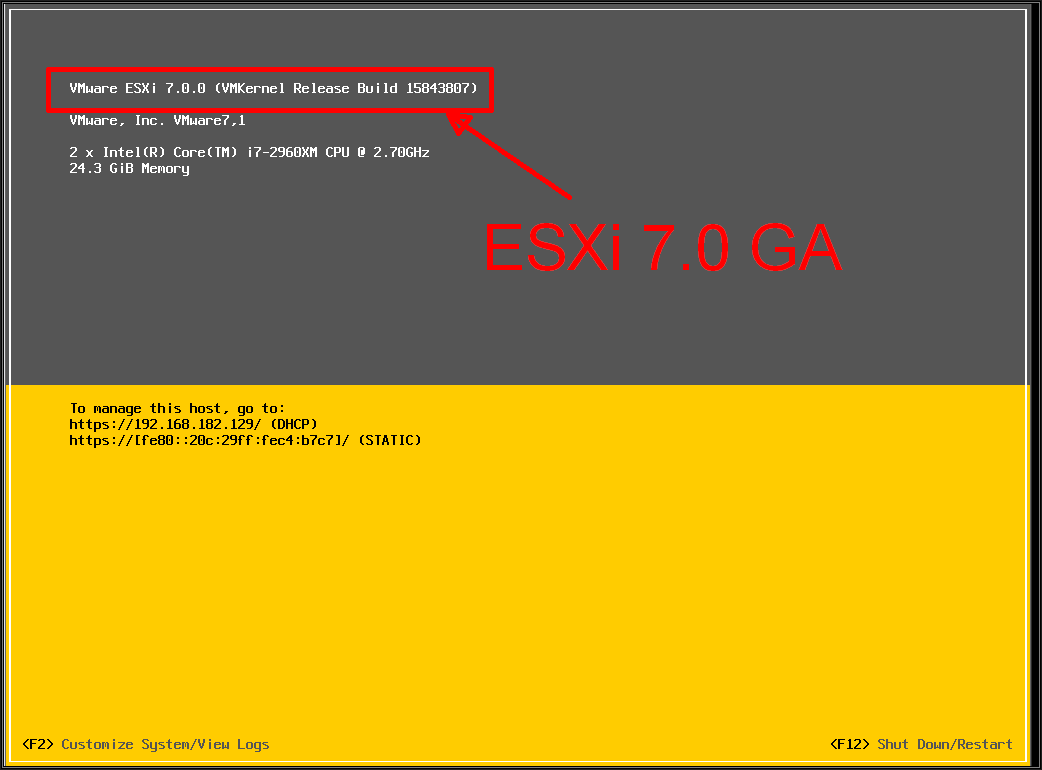 Congratulations, you have successfully updated your host server from VMware ESXi 6.7 to VMware ESXi 7.0 GA.
Basic VMware Articles Series:
These articles are also applicable to VMware vSphere Hypervisor ESXi 5.0, 5.5, 6.0.
These articles are applicable to VMware vSphere Hypervisor 6.5.
These articles are applicable to VMware vSphere Hypervisor 6.7.
Previous articles in this VMware vSphere 7.0 series are here.
If you found this tutorial helpful, please do click the
Thumbs-Up
icon below. This lets me know what is valuable for EE members and provides direction for future articles. If you have a related question based on this article, please click
here.
Thank you very much!
Regards, Andy