The path from constructive divergence to convergence is far stronger than the fake uniformity. It is therefore extremely important for the Senior Management of any organization to understand the dynamics of change and importance of constructive disagreements.
A thinking mind is a reflection of an active mind having the capacity to prune through different ideas by assessing them and developing well-crafted narratives around one's own assertions.
Our experiences and knowledge, not only as an individual but also as a society play a significant role in shaping our assertions which may be completely correct, partially correct, or completely incorrect.
However it is important to remember that our experiences can never be the universal laws, they are usually driven by a myriad of circumstances leading to different assertions.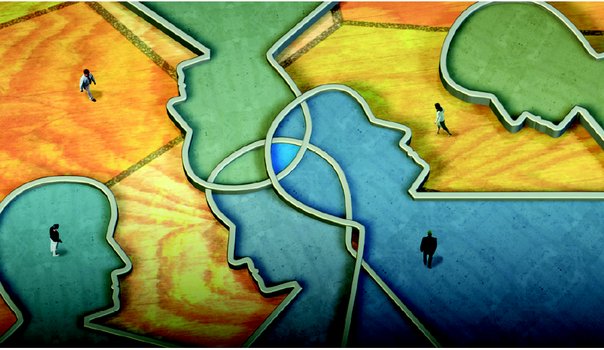 Therefore it is natural and completely normal for any person to have internally cultivated "apparently conflicting ideas", what is abnormal however is the person's inability to observe, understand or address these "apparently conflicting ideas."
It is important to remember that this phenomenon is not restricted to individuals only but is also reflected in societies and organizations because both are primarily based on individuals.
Today, we do see many organizations yearning for Critical thinkers in their organizational setup. The organizations often determine the capacity to think critically by inductive and deductive tests that are taken before hiring the individuals in the organization. However, if the organizations have a hierarchical culture and inability to respect differences and subsequently resolve conflicts, then such tests carried out don't serve greatly in the overall objective.
As Management or senior leadership, we need to understand the dysfunctions of a team that can impair the overall productivity of our teams. Some of the dysfunctions are given below, this is not an exhaustive list, however.
1. Lack of Trust – Team members cannot afford to be vulnerable in the group by expressing their genuine fears and concerns.
2. Conflict Avoidance – Lack of effective, healthy, and thorough deliberations over ideas and its execution to avoid conflicts and artificially agreeing to present a semblance of harmony and unity.
3. Lack of Accountability – Team members tend to fixate blame on their peers for the counterproductive conduct.
It is important to remember that Unity is not forged through uniformity of thought, it is rather forged through the art of critical thinking where you do your own soul searching, critically analyzing strength and weakness of your own ideas and of your alleged adversaries' ideas and beliefs. This entire process is so amazing that even if you do not end up agreeing with the other party on all the terms, you tend to develop a respect for the other person's opinion, as long as it emerges from an honest thought process.
It is therefore extremely important for the Senior Management of any organization to understand the dynamics of change and the importance of constructive disagreements which are vital for understanding intricacies of any problem or challenge. This leads to better decision making and stronger buy-in for those decisions made. The deliberations which move from the path of divergence to convergence increase the team's commitment.
Therefore creating an environment in which people can discuss disagreements and conflicts constructively is a key part of successfully engaging stakeholders.
However, it is extremely important to remember that as part of Senior Management or Leadership, one should be perceived as bipartisan and act in a similar manner. If you are a party to a conflict and carry venom for any of your peers (either horizontally or vertically) then it completely discredits your reputation. Remember that not everyone is very strong in articulating their views but people are mostly able to smell the pungency, agony, or vengeance in your narratives. Once you are identified as a person with unnecessary agony then people will stop lending their ears to your ideas.
Therefore put your own mask first by practicing these fundamentals. These principles will establish your credibility and integrity among your peers (either horizontally or vertically).
1. Be always fair to your own adversaries: Having developed differences of opinions or conflict is natural therefore you are bound to have developed some differences among your peers which can stem due to different reasons. However, your maturity is reflected in how you put across your arguments and deal with your adversaries. Never exaggerate the issue or conflict by making it a personal battle of egos.
2. Give the credit where it is due: Never shy away from publicly or privately admitting the achievements or positive contributions of your adversaries in the attainment of overall organizational objectives.
3. Practice Critical Thinking and develop well-crafted arguments: This can be done by trying to understand the aspirations, fears, and viewpoints of your adversaries and critically analyzing your own ideas for any flaws. If there any areas that merit correction, then don't hesitate to correct them.
4. Practice Leadership through Ownership, Accountability & Grace: People often are looking for big titles to be displayed around their chest to reflect a sign of their grandeur but actual greatness is reflected through a consistent character established around accountability and ownership of tasks.
Maintaining grace especially when you have triumphed over your rivals is critical because unnecessary chest-thumping can push your rivals in becoming resolute adversaries. Such adversaries can then continue to unnecessarily challenge your ideas and squeeze your energies in the wrong direction.
5. Never be Superficial: Your personality should be like a clean mirror that perfectly reflects consistent character. If you practice the above 4 fundamentals superficially but also harvest contrary ideas internally then you will be found out very soon and people will classify you as candy with sweet odor but with a sour taste.
These fundamentals first equip you to understand the personality of your subordinates and subsequently enable you to resolve conflicts between them.
James W. Tamm & Ronald J. Luyet in their book Radical Collaboration help to identify the people through the behaviors exhibited by them and classify them to be in the green or red zone as depicted below.
As individuals, we all can cultivate Red zone thoughts, therefore it is the job of the leaders to redirect the energies of their team to demonstrate Green zone behavior.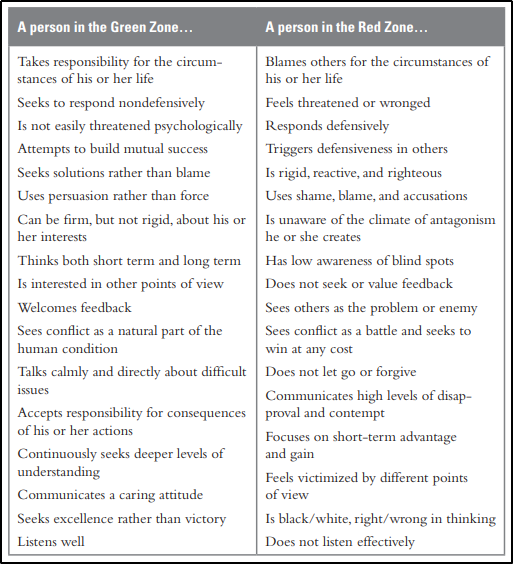 Once you understand the personalities of your subordinates and zone behavior which they exhibit then you are better equipped to resolve conflicts between them.
Speed B. Leas, a Conflict resolution expert offers a framework in the book Moving Your Church through Conflict to judge the seriousness of conflict and better understand how conflicts may escalate from Level1(Problem to Solve) to Level 5 (World War).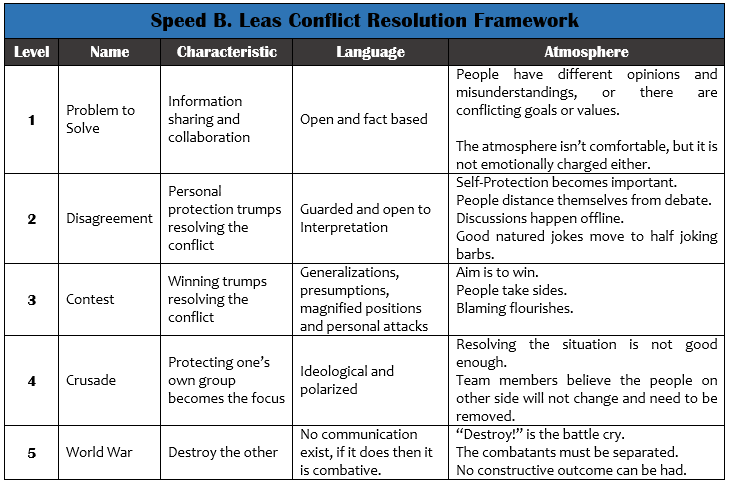 The framework provides the following initial steps to identify the stage of conflict:
Take time to observe the situation and make sure you are seeing both sides of the dispute.

Allow time for proper observation, conversation & intuition about issues before taking action.

Look for glances, eye-rolling, and words that halt conversations to ascertain if the conflict is out in the open or if it's playing out beneath the surface.
After observing & diagnosing the level of conflict, you can decide what to do about it.
"If the conflict is at levels 1 to 3, do not take any immediate action to resolve it. Instead, first, give the team a chance to fix it themselves. If the team cannot overcome the conflict on their own, they have developed and exercised their own skills for resolution. It's okay for them to have some discomfort during the process because this will better equip them to manage similar conflicts in the future."
However, if the situation doesn't improve and instead seems to be escalating, the following guidelines can be useful in resolving conflicts at level 4 and 5