In this article, we will discuss the best practices to follow, while installing the Microsoft Exchange Server with a Database Availability Group (DAG), for replication and business continuity.
1. Infrastructure Design
As the planning of a good infrastructure is the first thing to start with, let's begin with 'what would be the ideal setup of an Exchange DAG'. To have a DAG, you must have two separate sites, in different buildings. It would help in disaster recovery or business continuity program, in case you have an issue with a building. In the scenario of a disaster, it's obvious that you would not want to keep all your eggs in one basket.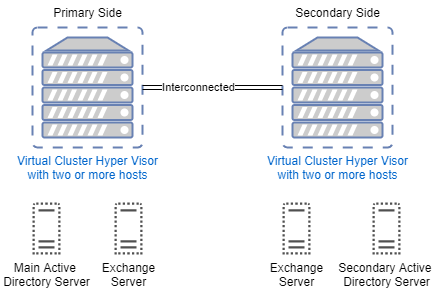 The design includes a virtual server - VMWare or Hyper-V, depending on your business standard and have the primary site connected with the secondary site. On the main site, you will have the Exchange Server and main Active Directory. Whereas, on the secondary site, you would have the second Exchange Server.
In case, something happens to an Active Directory or an Exchange Server, you will not lose internal and external connectivity.
2. Hardware
This makes the entire difference in the setup as bad or low performing hardware can create issues. In the case of a virtual setup, you would not need to bother about the underlying infrastructure as this will be catered to by the Hypervisor. The only thing you need to be careful about is to have virtual machines with the same hardware specifications which are up to standard with Microsoft requirements.
In the case of physical servers, it is highly recommended to have the same hardware specifications. With regards to hardware, it would be best to have a maintenance agreement on the hardware with the supplier, in case of any fault.
Hard drive speed is important and having SAS or SSD is highly recommended.
Networking is also important, especially when having a physical server. It is recommended to have two or more network cards on the server, which are bonded acting as one. This will ensure that connectivity is not interrupted if one network card is lost.
3. Connectivity
Connectivity is very important for your Exchange Server as well as business continuity. If something happens at the primary site, you must have client and mail flow working from the secondary site.
The best scenario is to have two internet connections, along with two MX records. The primary MX record pointing to the primary site and another MX record with more value than the primary one pointing to the secondary. This will ensure that mail flow will work, if the primary site, along with the site to site, is lost. No emails will be lost here.
Of course, you would need to take into consideration the networking side to flow the emails to the servers, respectively.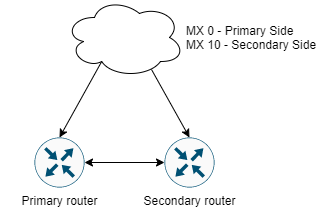 As you can see in the above diagram, email flow will continue in case the sites go down.
4. Database Setup
The database setup is another important aspect when designing the Exchange Server DAG setup. DAG works with an active and passive database. Like hardware, the same concept applies to the databases.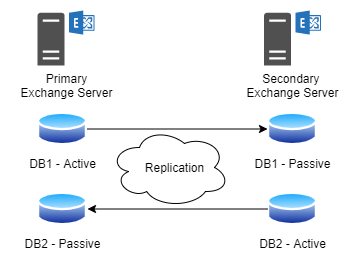 The above setup will ensure that there is an active database on each side. It is always suggested to split the mailboxes in different databases for consistency, health and to minimize impact in case of corruption.
Corruption can happen due to various reasons such as human error, incompatible backup or antivirus software, unexpected shutdown due to lack of hardware, lack of storage, and defective updates.
5. Licensing
Licensing, being Standard or Enterprise, is solely with regards to the number of databases you would be having. The Standard license allows you to setup up to 5 databases, while the Enterprise supports up to 100 databases. For small companies with around 100 mailboxes, it would be an overkill to go for Enterprise version as the price will exceed your budget.
6. Backup
Backup is still one of the important aspects in any scenario. Backup is needed for historical data recovery, disaster recovery and for restoring purposes. Having the data and servers backed up will always rest anyone's mind. One thing to take into consideration here is that the backup should to be application-aware to Exchange Server and also works well with DAG.
7. Monitoring
While the Exchange Administrator's role is to monitor the daily backup and health status of the Exchange Server, a monitoring tool would be recommended to keep an eye on the services, storage, connectivity, replication of data, and other aspects of the Exchange Server. The Exchange Administrators will not be able to keep a watch on the servers 24/7. But a monitoring tool that can send emails or SMSs if a service is down, the site is not accessible, or there is a connectivity issue, will be the right solution.
Conclusion
The important things, after you implement an Exchange DAG setup, are backup, monitoring and health. The database setup, hardware, backup, and monitoring will surely keep your Exchange Admins busy. With the right people and hardware, your data is somewhat safe. However, corruption and other unexpected failures can occur, irrespective of how much you try to prevent it. The third-party applications can come in handy in those sticky situations where a database gets corrupt due to various reasons. The application allows you to open any version of Exchange Database file (EDB), and export it to PST, live Exchange server or Office 365 tenant.