Written by Glen Knight (demazter) as part of a series of how-to articles.
Introduction
One of the biggest consumers of disk space with Small Business Server 2008(SBS) is Windows Server Update Services, more affectionately known as WSUS.
For those of you that don't know what this is, it provides Windows Updates to both the SBS server and all the client machines when correctly joined to the SBS Domain. Coupled together with Microsoft Updates (discussed in my article here:
https://www.experts-exchange.com/OS/Microsoft_Operating_Systems/Windows/Windows_7/A_3236-Get-more-from-Windows-Updates.html
) this can be a very effective method of keeping your network of Microsoft products up to date.
There is however one drawback, by default SBS 2008 is configured to download updates for all Microsoft Products, and if you change this you will see the "Updates = Not Available" message under the network Essentials Summary in the SBS Console. Which whilst not technically a problem, if you are providing consultancy to a company who use this monitoring screen as a method to check the health of their server will result in the "My servers not working properly, what am I paying you for?" (screen shot below)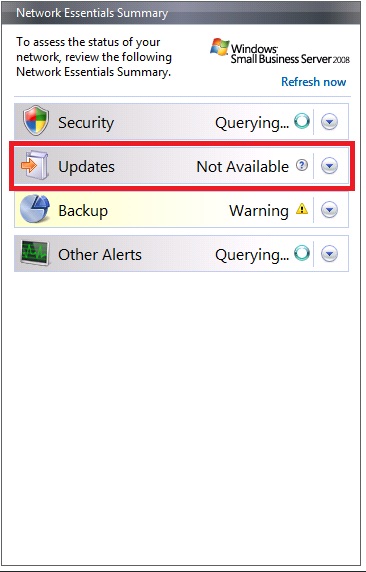 Fear not, we can simply move the WSUS Data to a different drive so it is no longer clogging up valuable space on the System Drive.
Moving the data
Where ever possible with Small Business Server we should always use the wizards to make changes to the system. The majority of these are located in the SBS Console.
The wizard for moving the WSUS data is no different. In the SBS Console click on the Backup and Server Storage icon across the top of the console and you will be presented with the screen below.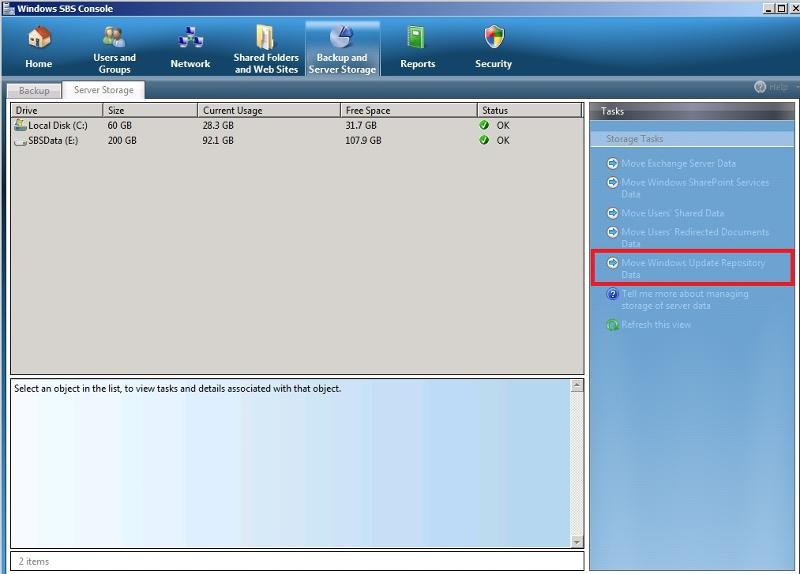 In the tasks pane on the right hand side click on
Move Windows Update Repository Data
this will start the wizard. You then simply select the new location for the data and complete the wizard.
Once done, your WSUS data will no longer be taking up valuable space on your system drive.
Further Reading
Repairing WSUS:
http://technet.microsoft.com/en-us/library/dd443475%28WS.10%29.aspx