With a new boss, who uses a MAC instead of a Windows box, I needed to get up and running on a MAC quickly. But I felt lost without my Windows programs, so ...
Our Cancer Center got a new Director back in October of 2020. Since he uses a MAC exclusively, I needed to get up to speed quickly on macOS.
Since I was hired here over 25 years ago, the Director has always been a Windows person. But, I got a new MacBook Pro and started to get it in working order so I would be able to be of use to him if he needed it. The problem was I either missed some programs or was not conversant enough in macOS to know which programs to use in their place. So I took the easy way out and created a virtual machine (VM) on the MAC running Windows 10, version 20H2.
This was fairly easy to do because of some software from VMware, called VMware Fusion. The software is made for a MAC to run virtual machines (VMs). I just installed VMware Fusion.
The process to make a virtual machine is relatively simple.
Make sure the image file you are going to use to create the VM is accessible (I copied my iso file to my desktop)
Start VMware Fusion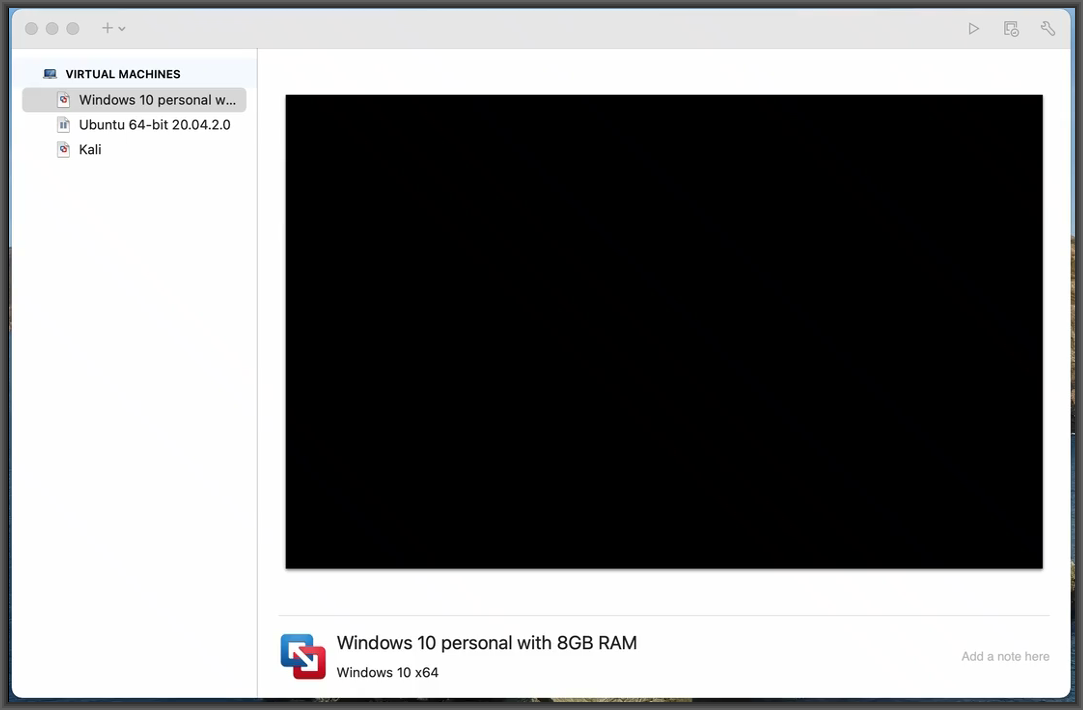 Click the down arrow next to the plus sign in the default VMware Fusion window
Click "New"
Click "Continue"
Choose Install from Disk or Image and click Continue
If you are comfortable dragging and dropping on a MAC - drag the image file here, otherwise, click "Use another disk or disk image ..."
In the resulting window, select the image file from your MAC
Click Continue
In the next Window, select the Operating system type, if asked (for some versions of LINUX, the software is unable to determine the version by scanning the image)
Click Continue after choosing the boot firmware version (if given a choice)
Remember if using a Windows setup image to press a key when it says to press any key to boot from CD otherwise the time out message will appear
Put in your Windows activation code in the form of xxxxx-xxxxx-xxxxx-xxxxx-xxxxx
Click Next
Let Windows Install normally
If Windows needs to restart, let it.
Skip, unless you want to use Cortana
When it is done it will automatically log you in.
If your image file is not up-to-date, immediately do a windows update.
The less you do after installation and the fewer snapshots you take, the smaller the file will be. Windows tends to be larger than most Operating Systems (a Windows 10 VM is small at 30+ GB, while a LINUX install is normal at 15GB.
There are several suggestions I have when installing Windows in general.
Although you need to remember this information, it is generally not a good idea to enter the real answers to your security questions
Microsoft doesn't need to know everything you are doing, so turn everything you can turn off, turn off.
Keep the password easy to remember but complex. Choosing a phrase from a favorite song and making simple substitutions works very well (known as a passphrase). For instance, Iv3g0ts1xp3nc3j0llyj0llys1xp3nc3 (instead of "I've got sixpence jolly, jolly sixpence") - now that I've suggested that DON'T use it). Whatever you do - be consistent. Substituting a $ for the s is a good idea, but you would need to do that with each and EVERY "s" (only two in this case, but it is a pain to remember which one). On the password front, I would go along with @Andrew Leniart, use a Password Manager - I have a lifetime license for Sticky Password.
I hope you found this article useful. You are encouraged to ask questions, report any bugs or make any other comments about it below.
Note:
If you need further "Support" about this topic, please consider using the "
Ask a Question
" feature of Experts Exchange. I monitor questions asked and would be pleased to provide any additional support required in questions asked in this manner, along with other EE experts...
Please do not forget to press the "Thumb's Up" button if you think this article was helpful and valuable for EE members. It also provides me with positive feedback. Thank you!