The version of Microsoft 365 you have installed may not be ideal. This article explains how to change from a 32-bit install to a 64-bit install or vice versa. Snapshots are included for every step so very easy to follow. Works regardless if you use POP or IMAP accounts in Outlook. Enjoy...
Note: This article was written as a result of a cry for help by a valued
Experts Exchange member
so that it can hopefully help other users with the same questions as this user posed. (Thanks for your question Basem)

!UPDATE
- Added "What if something goes wrong?" to the bottom of this article on May 10th 2021.
Introduction


In this article, I'll show you all the steps you need to perform to change a 64-bit installation of Microsoft Office 365 to a 32-bit installation without losing any data whatsoever. The process is pretty much exactly the same if you want to swap from a 32-bit installation to a 64-bit install, so it's just as easy either way.
That said; let's get into it...
Pre-requisites
A copy of Windows 10 - Home / Pro or Education Edition


A record of your email account passwords in case you need them


Make a backup of all of your Outlook data to a PST file, especially if using IMAP. Whilst it's unlikely you'll need to use the backup, better to make one and be safe than sorry. Look here (Microsoft Link) to learn how to make a backup of your Outlook data.


Finally, ensure all Office programs are closed before starting this process.
Step 1 - Uninstall your current version of Microsoft Office 365
1.
Open
Control Panel
on your computer (Press your
Windows Key,
type
Control Panel,
and hit your
Enter
key).
2.
Click the
Programs and Features
icon.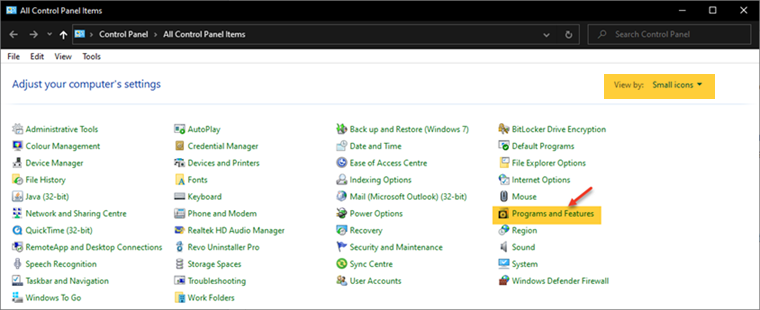 3.
Click the entry titled
Microsoft 365 - en-us,
and then click the
Uninstall
button.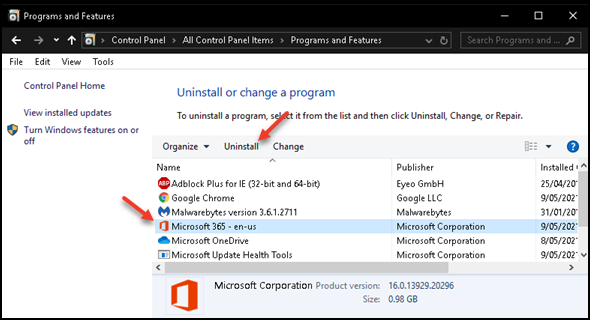 4.
Click
Yes
on the UAC prompt to confirm you want to uninstall.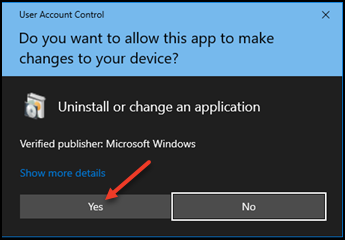 5.
Click the next
Uninstall
button again on the
Ready to uninstall?
Prompt.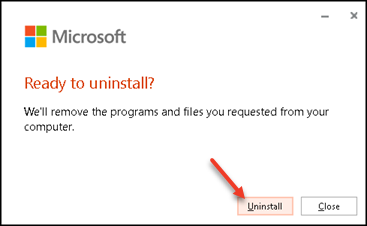 6.
Microsoft Office 365 will now begin to uninstall itself, as shown below. Wait until it has finished uninstalling.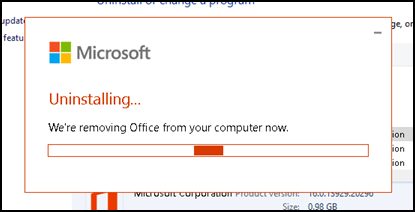 7.
When the following window appears, click the
Close
button and be sure you
restart your Windows 10 computer
before continuing. Once done, log back into Windows as usual.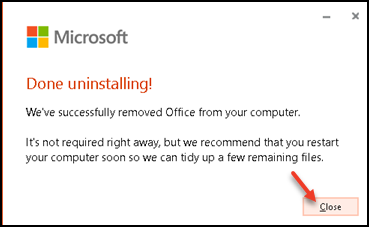 8
. Now that you have
restarted your computer
, it's time to reinstall Office 365, only this time; we're going to make sure the correct version (32-bit or 64-bit) of the software is installed per your needs or preference.
Step 2 - Reinstall Office 365 in the version that you prefer
1.
Open your favourite web browser and navigate to:
https://www.office.com/
2.
Click the
Sign in
button to log into
office.com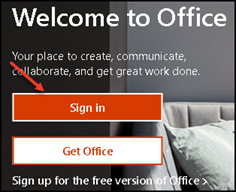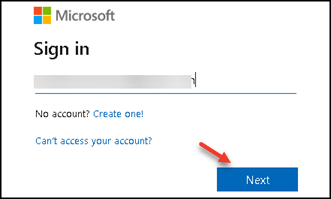 3.
Enter your Office 365 account email address and click the
Next
button.
Continue with the login process until you have successfully logged into your Microsoft Office account.
4.
Once logged in, click the
Install Office
button

5.
On the next screen, click the
Install Office >
button once again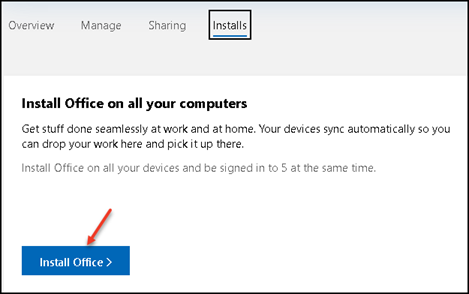 ! << IMPORTANT >>

On the next screen,

do not

click the Install button yet.
6. First, click
Other options
as shown below.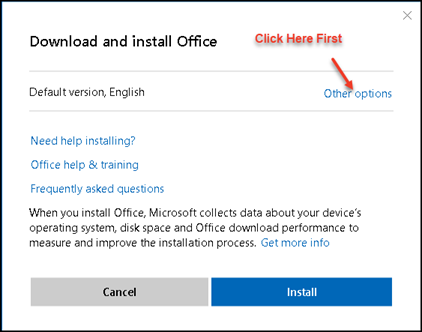 7.
Click the Drop arrow box that is titled
Office - default version (default)
under "
Choose a version
"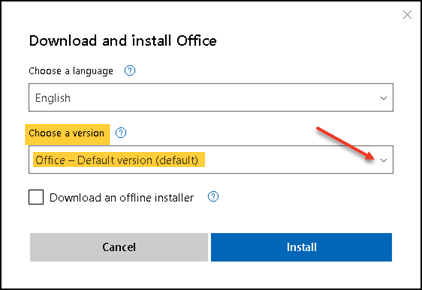 8.
Here, you need to select either "
Office - 32-bit
" or "
Office-64-bit
" to suit which version you want to be installed on your computer or device.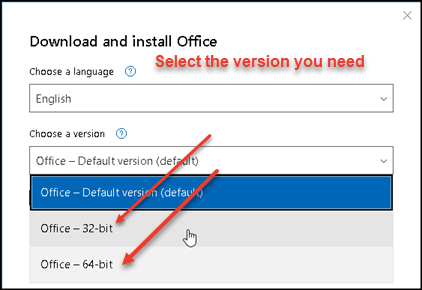 In the above example, I've selected the
32-bit
version to replace the
64-bit
version I already had installed before, which was giving me problems.
9.
Now click the
Install
button.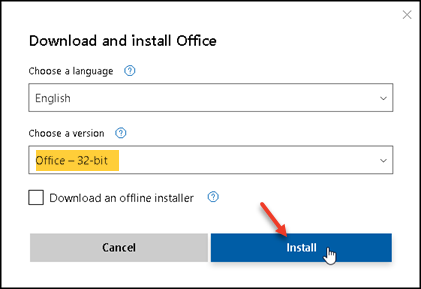 You will be prompted to save an
OfficeSetup.exe
file to your computer. Save it to your Download folder or any other location where you will remember it's been saved.

10.
Now minimize your web browser (don't close it), and open Windows File Explorer. Navigate to where you saved the above OfficeSetup.exe file. Run
OfficeSetup.exe
by double-clicking it.

11.
Click
Yes
on the UAC Prompt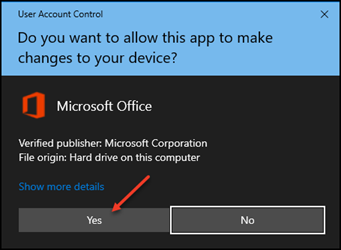 12.
Microsoft Office 365 will begin to install - Wait until it completely finishes installing. You will see the following windows as it's installing.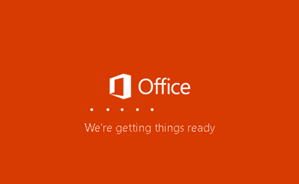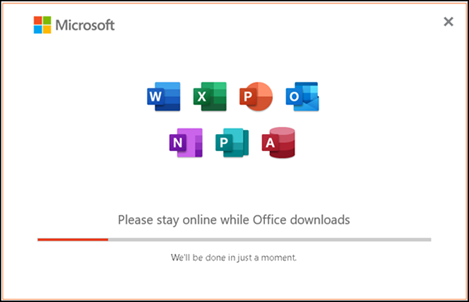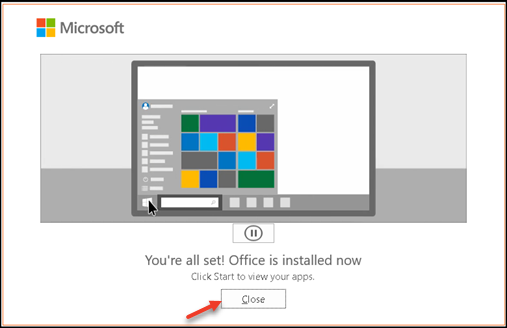 13.
Once you see the above window, click the
Close
button, then click your Windows
Start
button to click on the Outlook icon to fire it up. Or any other Office 365 application if you prefer, but I've chosen Outlook for this example because there are a few things I'd like to mention about it.

Note
: You will need to recreate any shortcuts you may have made to opening Outlook (and any other Office 365 apps) that you may have had before, such as on your Desktop, Taskbar, etc.
Outlook "should" retain all of your Email account settings and passwords. If it doesn't, that's where you may need to re-enter your email accounts and passwords. Providing you know those from memory, or made a note of them as suggested in Pre-requisites at the start of this article, then that should be a trivial matter for you to reconfigure.
What if something goes wrong?
A) Problem - Outlook won't open
The above-written instructions were thoroughly tested and worked exactly as shown here, however, when the EE asker
followed the process
, he struck a strange problem that shouldn't have occurred, so I'm going to describe what to do to quickly resolve the error he encountered in the event that it also happens to someone else. The issue he encountered was this:
I did all the steps as outlined and I was unable to open Outlook after installation of the 32 bit.exe.

[OfficeSetup.exe]


I got this error message. Please help me fix this.
The above problem will not normally occur as Outlook should recreate and repopulate a missing OST file from its IMAP server automatically, however, in the event that it does happen, the fix is relatively simple. There are two methods you can use.
Method 1
: Restore the previously deleted OST file.
However, if there was corruption in the OST file you restored, then you've just put the problem back again in your newly installed copy of Microsoft Outlook. You can try and deal with this using the Microsoft included Scanpst file by following the instructions in this Microsoft

Repair Outlook Data Files (.pst and .ost)

document.
Method 2: Remove the Outlook Profile that stores the OST file location
To remove the troublesome Outlook profile, complete the following steps:
Press your Windows Key, type Control Panel and then press your Enter key
Click on the Icon Mail
(Microsoft Outlook) (32-bit)
Click the Show Profiles... button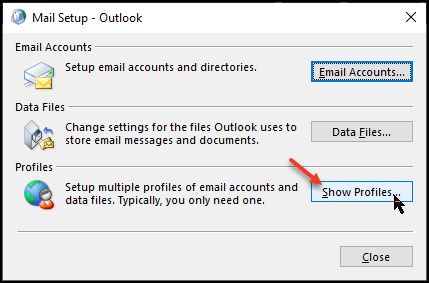 Select the profile entry there and click the Remove button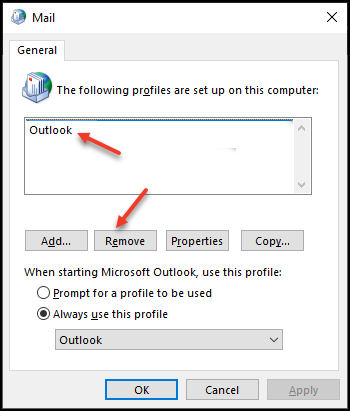 Click Yes on the next warning to confirm.

Now close all windows and try opening Outlook again. It should now open without error.
Either of the above two methods will resolve this obscure error.
I hope this helped you out.
Another Concern - I've lost my recent document lists!
After reading my article, a fellow EE expert and editor (
Thomas Zucker-Scharff
) sent me the following message:
Note that you will also lose your recent documents for each O365 app, something I use a lot. I have found that the best way to get these back is to have a second computer wish everything opened. Invariably the registry entry misses the important files.
A valid concern for some, but rather than including information on dealing with that issue here, I've decided it will be more useful to write a separate article dedicated to that topic
and show the various methods on how to prevent this mild annoyance from happening.
That way, it will be easier for people to find the information when searching.
It's currently being written and should be available by the time you read this at the following location.
Till the next time…
Please, do take a second to click the "Thumbs Up" button if you think this article was helpful and useful. Thank you very much.

©Andrew Leniart 2021
IT Professional | Freelance Journalist
Personal Blog: https://andrewleniart.com