This article covers how to resolve Outlook password issues and serves as a guide when you keep entering credentials Outlook fails to remember. A "Needs Password" message is typically seen at the bottom of Outlook, or a Windows Security prompt keeps popping up over the Desktop version continuously.
Sometimes Microsoft Outlook will bombard you repeatedly with a
Windows Security window prompt
or you'll see the Outlook Desktop version become dysfunctional due to a
"Needs Password"
status message at the bottom usually appear causing disruptions and becoming an annoyance of course to the colossal amount of closures or entries tried. The steps in this guide apply primarily to Windows OS workstations but have some tips for addressing it for Mac OS X users as well.
Problem Captured (Fig. 1):
Below is one of the variations you may see in Windows 10 and across other versions of the issue. On a Mac OS X you may see an "Account Info" window or keep being presented or asked to enter your login information similar to this with an I.e., O365 or Outlook logo popping up suddenly nearly 24/7 while you're trying to work even if you
CHECK the box too for Remember my credentials or credentials haven't expired.

SECTION 1. Basic Fundamental Causes:
Handling Password Expirations & Changes Incorrectly: Did you or the end-user change their system or Outlook password recently? Is one able to sign into the web version of Outlook (OWA) successfully as well if they have access to that in the environment - verify that it is just the Outlook Desktop version and not a password or credential issue across others i.e. OWA or their mobile device which may have the Outlook mail app installed.



Note: At times, it may be best to hardwire a workstation and perform a password change as a precaution and temp. Switch off or disable Wi-Fi etc., on one's company network if you're onsite. Password expirations are tricky offsite at times, especially if you get locked out for a bit due to invalid attempts; it can eat up time, so be very cautious if you're unsure and verify using the exact instructions your IT Dept. recommends.


It is possible Outlook has not synchronized the new password over, especially if one was working remotely; an error could have occurred when following the password change guidelines for the company etc., or across the VPN when at home. You may want to ensure that the password was changed and updated correctly or successfully sometimes; on a Windows OS or Mac OS X you need to follow a specific order of steps over a VPN. I.e., locking and unlocking your computer with the new password via Windows Logo Key + L.

Once again, verify that the steps are taken to change the password when remoted with your IT Support Department's Service or Help Desk and fellow team members or the documented procedure in place to correctly change your password when offsite. Note that policies vary across organizations to leverage different security systems.


Tip: If you launch other Office applications, i.e., Word or other apps that use their system password and they also show a sign-in error or no longer function due to credential error(s) detected, then it's a possible indicator that the password has not been updated properly as well.
Field Entry or Population Errors: Check the username field is populated correctly and any other fields present on the Windows Security pop-up etc. In older versions of Outlook especially, the username field could be incorrectly populated with an odd user name value retrieved. It's possible the first time the end-user encountered this pop-up they entered incorrect values or tried other info that got caught also, clear it out and resubmit once you verify their account username. Sometimes end-users may confuse their work accounts with personal ones or try inputting incorrect login information multiple times as well accidentally as most of us have a lot of accounts nowadays or more than one email address to maintain.
Note: In older versions, it could be mismatched with, I.e., CompanyDomainName\Username in the field or the backslash is missing, or an improper abbreviated entry for the username in place of that that can be manually cleared out potentially then re-entered or see SECTION 2 A. for examining Credential Manager as well. One may need to confirm with a System Admin or IT Support Dept. on the format or help verify the username format field if it's an older workstation.
Network & Wi-Fi, Discovery Hiccups: At times you may need to compare Wi-Fi network connections if you're able to. Try switching to another network, then see if the entries are successfully taken and no prompts remain. In our EE Community and across the Microsoft Community, odd hiccups have been seen where accounts fail to register on a particular network.
Note: As discussed in Section 2C., you may need to verify updates are completed for the OS, Office, and workstation. An IT Support Professional should be able to dig further into this and event logs, especially if you can only sign into OWA or one or more systems is failing to login on a specific Wi-Fi network. In the event it persists or performance degrades, test how Outlook performs over VPN, in another location, and contact Microsoft to report the occurrence and repeated buggy behavior. I have in past roles provided checkout temporary loaner stations to have end-users test or compare unusual behavior occurring as well until I was able to determine what was causing instabilities with Outlook and other Office applications. Messages like "Something went wrong" or "Windows Security needs your credentials" prompts can be due to a wide variety of events on the backend and it takes time to rule each one out as they are quite vague errors.
Safe Mode: Try launching Microsoft Outlook in safe mode If you do not see the issue in safe mode after monitoring it, then it's possible an add-in installed for Outlook is behind the unusual behavior you're seeing with Outlook or impairing its performance. Close out of Outlook's safe mode. Under File > Options > Add-Ins > Manage COM-Add-Ins, you will be able to proceed to remove them. If you deselect and save them or de-activate the add-ins, and the issue persists, then you can always go back and add them again.
Safe Mode (Fig.2)

One may launch safe mode from a run window via Windows Key + R > Ok or in the Start Menu, this can also be entered, Another possible method is to utilize Ctrl then launch Outlook. One may be prompted with another confirmation window or warning notice that safe mode will be initiated.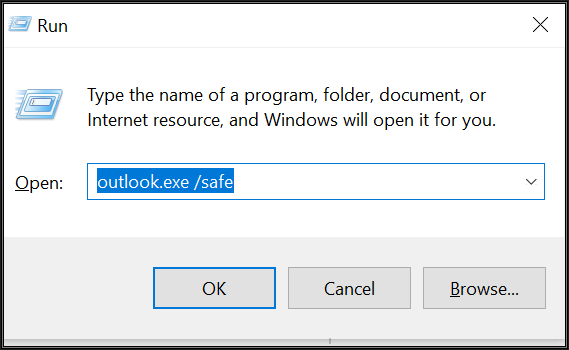 SECTION 2. More Complex & Advanced Problems That May Require An IT Support Professional Present:
Windows Credential Manager: Close down all Office applications > Launch Windows Credential Manager > Windows Credentials section. Try clearing out any entries mentioning Microsoft or Outlook listed by deleting them. It is quite possible invalid or old credentials are cached or stored causing this dilemma if it's not a password update or synchronization-related issue.


Name Changes: Often if a user had a name change on their account there could be lingering issues too if they had their password changed recently or updated it.

Try a simple reboot too, often turning off your computer workstation off then back on and logging in can cure issues with applications.

Otherwise, you may need to comb through Active Directory (AD), etc. the backend O365 Admin Center for example, and check to ensure there were no errors with their name change or have your IT Support Department team members retrace steps performed.


Examine Updates: Windows OS updates can trigger bugs, but also being behind on them can impair applications severely. Verify if any OS updates went through recently on the workstation under the Update History section. Otherwise, often you can type a keyword i.e. update in the Start Menu search to get there, click on Check for Updates. Let them complete as well. If you're on a Mac OS X the same applies to ensure you're not behind on updates or if you updated recently that may have tripped up Office or even other apps you leverage.
Note: Often one's IT Dept. or organization manages updates or you see an error there, then please have them assist or verify as some updates have known additional bugs that Microsoft has yet to release fixes for so some may be put on hold or reverted. Once there was a "password amnesia-like" bug tied to past versions of Windows 10 for example that triggered a scheduled task to initiate from example Carbonite or other programs as shown here as an example it can take a while for Windows to identify glitches caused by OS updates released: Outlook will not save credentials, Windows Security Alert popup | Experts Exchange | This took some collaboration as initially in our EE Community fellow Expert

McKnife

helped identify this through a bug thread I stumbled across and shortly after we had a series of reports come through tied to a recent Windows Update confirming it was a widespread dilemma many were awaiting a fix or unaware of a workaround for awhile.
Ensure Office is updated or on the most current version which can usually be found under File > "Office Account" within Microsoft Outlook >. One can also verify their version to compare it against another non-issue station from that section. Click on Product Info and from there you may manually check for updates available.
Diagnostics & Logs: Microsoft has a Microsoft Support & Recovery Assistant SaRA Diagnostic Tool available as discussed in their documentation pages. You can install it and run Advanced Diagnostics over the Outlook application. Once it completes essentially a diagnostic scan you will receive the results back. Sometimes using this tool may take a few attempts to get used to ensure Outlook is running as well, which will produce a list of issues identified to address, advanced details, settings summarization.



See How to scan Outlook by using the Microsoft Support and Recovery Assistant | Microsoft Documentation KB for more details.
See O365 Something Went Wrong | Experts Exchange as a community case example where it wasn't necessarily a Windows Security pop-up nor "Needs Password" message, though stated "Something Went Wrong" repeatedly and the diagnostic tool helped resolve it.


Event Viewer: Windows has Event Viewer logs which can be launched from the Start Menu. Sometimes you may be able to see error codes under i.e. the Application section etc. Security logs etc. Due to several error codes in existence, you may need to research what it means or if it is a general event error i.e. stop, crash or close, etc. with little helpful info there.


ProcessMonitor "ProcMon" is a tool that helps capture processes and events on the backend. Essentially, you could capture the logs after its installed and look for any processes that are near Outlook at the time of the pop-up that could be a conflict (see ProcMon | SysInternals | Overview & Download | Microsoft Documentation) for more details.



Known Bugs & Releases: Microsoft has quite extensive documentation surrounding their products, however not everything is documented and new issues or ongoing unusual hiccups arise when new features are added to applications of course. In newer versions of Office or OS deployments etc., there may be bugs so it is ideal to do a quick scan of their Outlook Documentation section pertaining to the version you have. Outlook for Windows troubleshooting | Microsoft Documentation Section. Perform a keyword search for i.e. password as well.



Note: Once a solution has been identified or enough reports have been received, then Microsoft may release new KB support articles outside of the documentation space or you may come across news articles online of new password bugs in a release version, etc. or provided a workaround most users are leveraging at the time that could assist you and other end-users. If multiple users are running into problems with Outlook or in their OS then it is quite possible an update caused applications to go haywire.



Installation & Version: Try running a Quick Repair or Online Repair on Microsoft Office. This can be found under the Control Panel > "Programs" section of the OS > Choose "O365" > Change. An Online Repair is often considered a reinstall of Office, then reboot after the repair completes and sign back in to see how Outlook performs when launched again. Once again it is a good idea to compare versions against other users in an environment not running into problems. Microsoft also has a "Scrubbing" helpful uninstaller tool that can also be tried to cleanly remove office as well. (see Option 2 } Scrubbing Uninstaller Tool | Uninstall Office | Microsoft KB) for more details. Look at the bit-version i.e. 64-bit or 32-bit and the number you're using and compare the stability of the versions overall.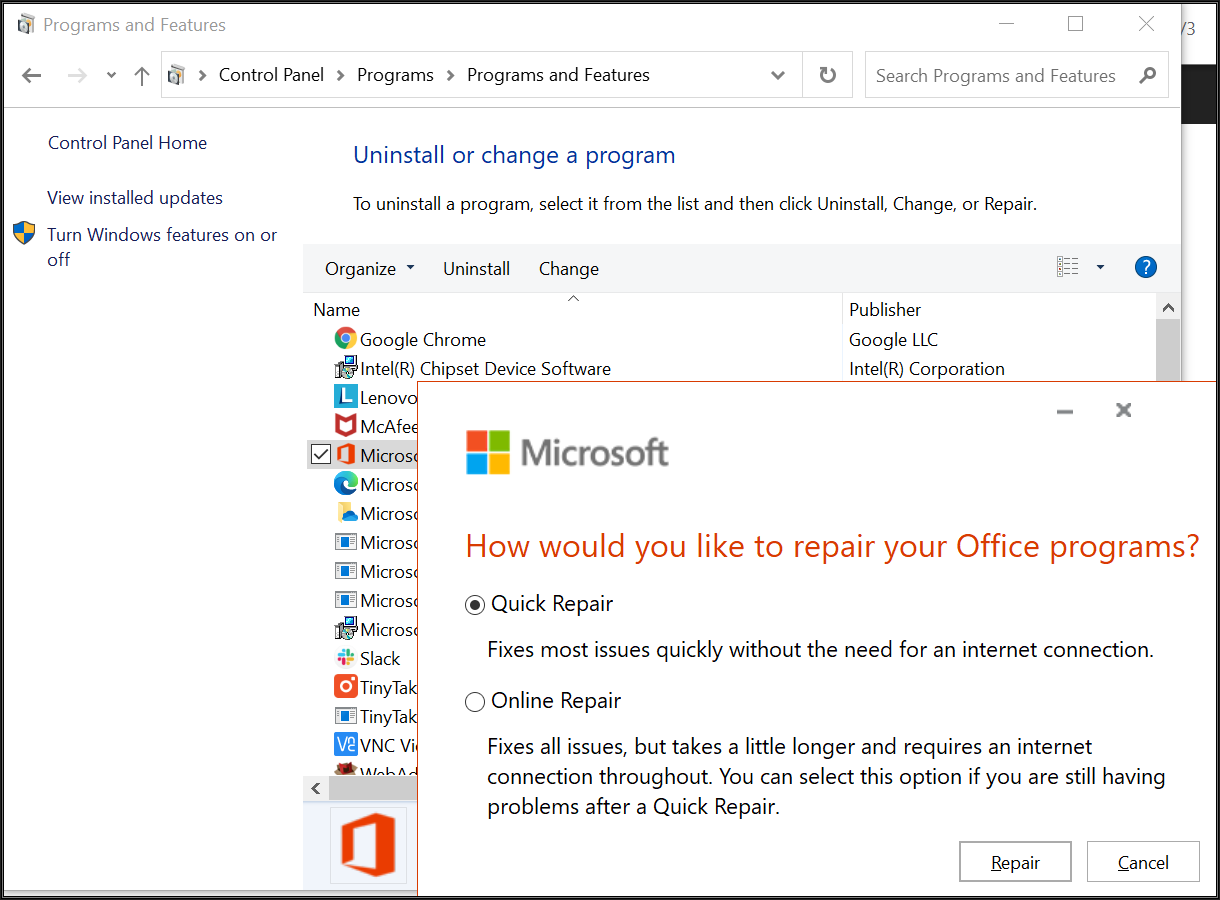 Note: Aside from password pop-ups, the older an OS becomes and the Outlook version is overall, it is bound to be prone or more venerable to hiccups or glitches. Ultimately, it may be best to consider migrating or testing the most current version of Office out and removing the old version if all steps in this guide have been exhausted.
SECTION 3. Last Resort Options
Profiles: One can test creating a fresh Outlook profile in Windows. To do so one way is to go to the "Mail" section under the Control Panel > Click New or Add a new profile name following the prompts presented and test whether the new profile can be successfully created. Due to several versions existing it is best to perform a search in the Control Panel to locate the "Mail" section's location. Please be aware there is more than one way to access or add or manage a new profile i.e. from within Outlook itself typically under File > Account Settings
Mail Control Panel Search (Fig. 4) Example of a search

Note: For a Mac OS X you could try removing and re-adding your account back to Microsoft Outlook as well. Sometimes that has extinguished problems with password prompts.


Security: Sometimes there could be an underlying problem with two-factor authentication (2FA) or rather app passwords. If the environment requires the use of Microsoft Authenticator etc., then sometimes creating a new app password may need to be performed. Or at times the IT Support Department may try to temporarily disable two-factor authentication and re-enable it to test or compare the behavior on your account as well.


System Registry & Configuration Settings: Sometimes system registry problems cause Outlook to behave this way depending on the version. ProcMon can help showcase backend events further. Be very cautious when modifying the registry or have a backup of all keys prior to making changes to revert back to, Refrain from modifying the registry on your own and consult Experts Exchange members on the impact overall. There are also on older Outlook versions some known and various common config settings Microsoft has documented that have triggered passwords to prompt or authentication fail to register successfully. Please consult with Microsoft support via a ticket, EE, or other dedicated IT support team members before resorting to registry edits or config settings to gather more insight on the impact especially when concerning multiple end-users.


Fresh Start: One may need to test the creation of a new Microsoft OS user profile and compare the performance of Outlook and whether the prompt remerges that way and monitor how Outlook performs. Sometimes OS profiles can become corrupted or damaged over time. You can migrate your data back to the working non-issue profile (there are various ways to do so) manually copying it over or leveraging a migration wizard tool, however, this should be performed as a VERY last resort or test.


Other Resources Available: When working with odd bugs or repetitive errors it is always a good idea to collaborate with others. Leverage Certified Experts Exchange and fellow members of course. Outlook can experience at times very mind-boggling and complicated issues. We have tons of members in our EE Community who specialize in everything Outlook-related such as Lisa Hendrickson (see CallThatGirl | Lisa Hendrickson | YouTube Videos |) she has for example developed a ton of awesome detailed videos, article resources and tackles live training sessions. Also, fellow Expert Andrew Leinart has a great comprehensive troubleshooting article over most Outlook issues in general: Troubleshoot and Fix Outlook Problems | Experts Exchange.
Take some time to perform a search of past EE posts or reports and examine a few other Outlook troubleshooting focused articles in our EE Community. Remember there are resources Microsoft has if all options to your knowledge and in this guide have been exhausted you can contact Microsoft support and open a case in the chat. If you're on a work-related station, then your IT Support Department team may be the best place to start, work with them as well to gather more insight on the password window occurring non-stop:
https://support.microsoft.com/contactus
Note: Once I ran into a "Needs Password" status message for several Windows end-users, not a few which was a major red flag when cases poured in and to get them going back up again or to avoid the window once isolating all other causes, some users didn't see the prompt after a few days after clearing\re-setting up Credential Manager, trying a new profile or migrating to another workstation, and re-installing Office. It was determined to be if I recall a specific version issue with Office and was escalated through several tiers so they could work with our fellow IT team members and System Engineers to perform more advanced troubleshooting as well to deploy a fix. Response times may vary with Microsoft, but their support team is a good resource to leverage.




Provided Community Services: There is also the Microsoft Community which one may come across online quite a bit of end-users reporting issues for Outlook as well over the years and still today there are common helpful tips pertaining to resolving the dreaded Outlook password pop-up or Windows Security prompts for one's username and password.
Password issues are never fun of course, but security is essential. If this article helped you resolve the dastardly password prompt window on a workstation or found it useful, remember to select the "Thumbs Up" button below or feel free to comment if you think this article was useful or have feedback. Thanks again!