What's this?
As a volunteer Page Editor for Experts-Exchange.com, I have noticed that many authors also have blogs, and pull articles from their blogs to post at Experts-Exchange. I appreciate each author sharing their blog content with our site members, and have developed this plugin to help them transition their articles from their Wordpress based blogs to Experts-Exchange.com's article system.
Get the Plugin!
Download Wordpress EE Articles Plugin
What it Does
The plugin translates your Wordpress based blog to text compatible with Experts-Exchange.com's article system's shortcode markup, which saves you the hassle of most of the reformatting of your article. It is extremely easy to use, just activate the plugin, and it will appear on your admin panel for pages and posts on the right hand side: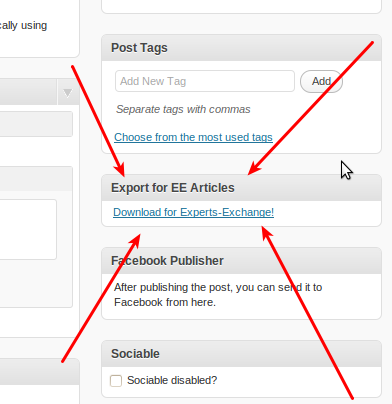 Requirements:
This plugin creates a text file called
eedownload.txt
in your base uploads directory for wordpress. Please make sure your uploads directory is writable!
Supported Tag Translations:
Check back to this article (or the official plugin URI
here
) for updates to functionality.
bold
italic
hyperlinks
bullets
h1,h2,h3 (all converted to subtitle)
Removal of <!--more--> tags
Graphics and pictures are currently supported and unhandled because experts exchange requires you upload then embed your graphics into an article instead of using links.
How to Install the Plugin
1. Download the plugin.
2. Log into your wordpress blog.
3. Click
Plugins
>
Add New
4. Click
upload
5. Browse to the downloaded .zip file.
6.
Upload
7.
Activate
Versions
v0.1 Initial Beta
v0.2 Initial Release
Support
For support or feature requests, email drdamnit@experts-exchange.
com or visit the official plugin page URI: http://totalticketsystem.com/blog/?p=472


Open Source License

This plugin is licensed under GPL. So you're completely free to download, use, and modify it. If you add cool stuff; however, please email your changes and revisions back to drdamnit@experts-exchange. com so I can update the code and others can benefit from your additions. Of course, you wil receive credit in the plugin remarks as well as on the official plugin page.

Get to know the author on Facebook or Experts Exchange.