Introduction
At 19:33 (UST) on Tuesday 21st September the long awaited email arrived with the subject title of "ANNOUNCING THE AVAILABILITY OF WINDOWS SBS 7 PREVIEW". It was time to drop whatever I was doing and dedicate as much bandwidth as possible to downloading the latest version of Small Business Server.
The contents of the email went on to brag about the technologies used in this release:
Built on Windows Server® 2008 R2, this exciting new edition of the all-in-one solution server for small businesses will include Microsoft® Exchange Server 2010 SP1, Microsoft SharePoint® Foundation 2010, and Windows Software Update Services. Small business customers will find significant security and management enhancements over previous versions, as well as much richer features for providing file-and-print, email and Internet services to employees.
Once the ISO was downloaded and virtual machine ready I proceeded with the installation.
Installation of SBS 7
The hardware requirements as advertised by the SBS team are:

The first noticeable difference in this specification is the RAM requirements, in SBS2008 the minimum requirement was 4GB to allow installation to proceed. I have only configured my Virtual Machine with 4GB so let's see if the installation starts.
The initial installation phase was something I was familiar with. In fact it was identical to the SBS2008 installation and any other Windows 2008 R2 install.
We received the usual language selection screen, followed by the Install Now button and the license agreement. Once we had selected which partition/hard disk the installation would reside the usual "Installing Windows" followed by a 30 minute or so wait (I am sure this would have been quicker if I had not done it on a Virtual Machine and if I had given it the 8GB minimum RAM requirements) we had our first restart.
Then upon restart there is the option to perform a clean installation or to perform a Server Migration (screenshot below)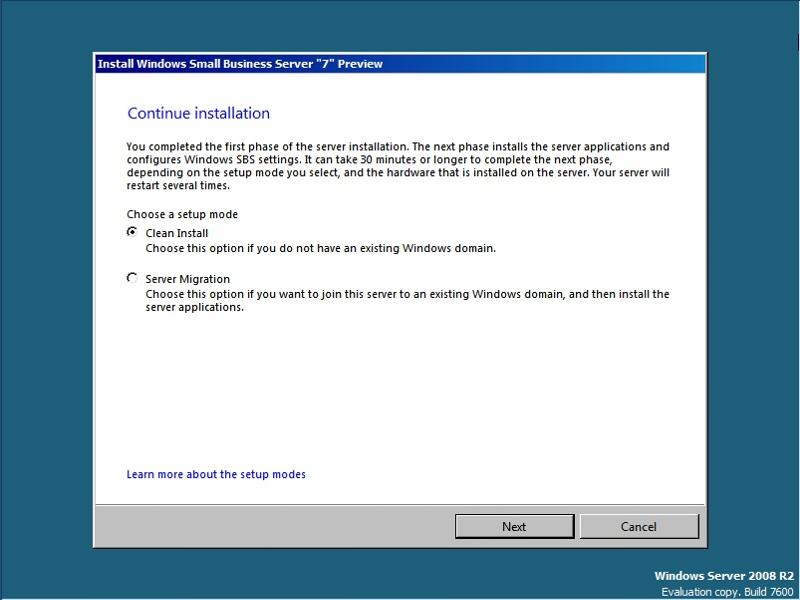 For now we will continue with a clean installation (check out my next article which will be the migration guide :) ). So we select clean install and click next, verify the time zone settings click next.
The following screen we can either detect the existing network configuration or specify manually your IP address and gateway. Then we have the usual install updates or not install updates. As my preference is always to install updates once the installation has completed I am going to decline the updates option.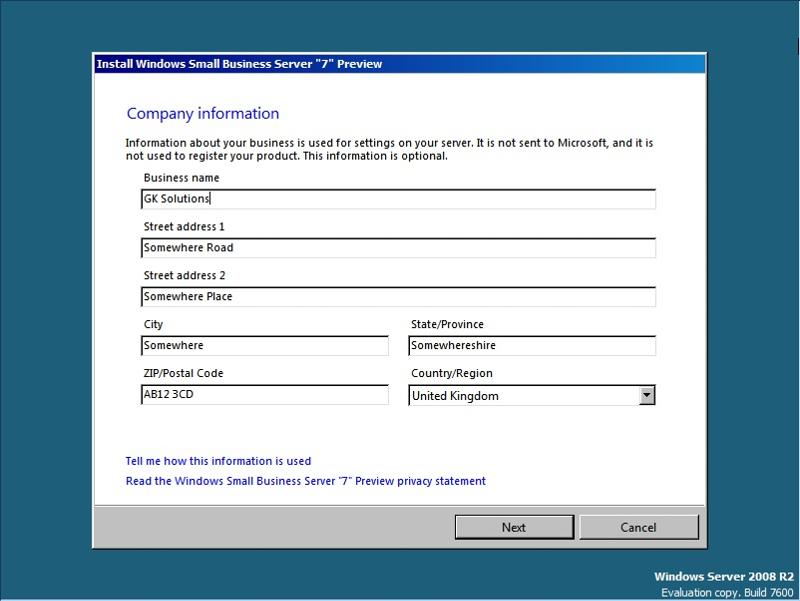 Following the initial configuration we receive the
Company Information
screen (above). Filling in the details relating to your company and clicking next asks us to specify the servername and the internal domain name. Interestingly it seems to be recommending short internal domain names with no suffix (screenshot below). I cannot remember if this is the same as SBS2008 (will have to do a virtual install later to find out). Key thing to remember here is that as with all previous versions of Small Business Server is that these details cannot be changed once you complete these wizards.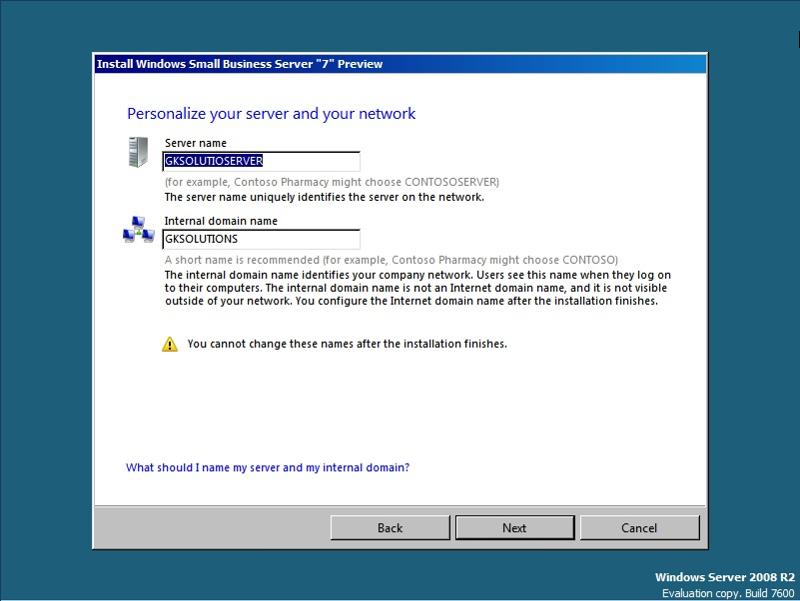 As with previous versions we need to specify a network administrator account, this is because by default the
Administrator
user is not enabled by default.
Conclusion
: The installation of SBS 7 is almost identical to that of SBS2008 and pretty painless. Once you have given the wizards the information pertaining to your business and clicked next a few times you have successfully installed SBS 7.
It would appear that the 4GB of RAM I assigned to my Virtual Machine has not caused any installation problems, I received no warning and the installation completed. There is nothing to say that this won't change in the final release so bear this in mind.
Configuration
There was a nasty rumour that the SBS team had done away with the SBS console in favour of the new home screen in Windows Aurora. However, thankfully that is not the case. If you have been working with SBS2008 for a while then you will be familiar with the SBS Console.
The wizards appear to be identical. This is great because it means we don't have new wizards to learn. They work and I see no reason why they needed to be changed.
Upon trying to complete the wizards I discover that the
Connect to the Internet
wizard unsurprisingly will not complete with no internet access.
Sadly, the test lab I am working on does not have internet access so I will need to rectify this before going any further.
Right, internet access sorted. And in completing the wizards in the SBS console, I have been pleasantly surprised by the lack of difference from the SBS2008 wizards.
Under the hood
The nuts and bolts of SBS7 look very similar to SBS2008 which is great from a supportability perspective. With updated versions of Windows, Exchange and Sharepoint, SBS7 brings the features and updates that larger Small Business users have been crying out for since Exchange Server 2010 was released last year.
Overall, I think it's a great addition to the SBS products and with the slimmed down version codenamed 'Aurora' designed for startup/smaller businesses to use cloud computing and the premium edition for those that want SQL2008 and an additional Windows 2008 Standard license I think the choices presenting small businesses are looking pretty good for the next round of Microsoft products.
If you are interested then the Public Preview of SBS7 is available on the connect program, you can see further details here:
http://www.microsoft.com/sbs/en/us/beta.aspx
please note however that previews or beta's are not supported running in a production environment and you should not be using this as your primary operating system for your business.