Introduction:
Phones have become an integral part of our lives and computer lovers have been using them a lot more for other purposes than calling and texting. I have had the opportunity to try the Apple iPhone, HTC Touch, Sony Ericsson and Nokia smartphones. Each one of these has its merits and demerits but at my place we use mobile phones heavily and Nokia has outlived all of its peers.
A smartphone is a mobile phone that offers more advanced computing ability and connectivity than a contemporary basic 'feature phone'. Smartphones may be thought of as handheld computers integrated within a mobile telephone that are able to run applications based on platforms such as Java ME. A smartphone allows the user to install and run more advanced applications based on a specific platform. Simply put – if a phone has a QWERTY keypad, a touch screen or costs more than $50, it is most probably a smartphone.
This article focuses on Nokia phones only since I happen to use one and I would like to share stuff about it which would definitely make your life easy.
1. Powerful key combinations
*#0000# will display the firmware version and model number of your Nokia phone.
*#06# will display the IMEI number of your handset.
*#92702689# will display the total talk-time hours since it was manufactured.
Press and hold 0 (zero) to open up the phone's web browser.
Press and hold * to turn on Bluetooth. This combination may not work on some of the older phones.
In File Manager, select an item and press the Call key to send it to another device via Bluetooth, Infrared or any other available connection medium present on the phone.
*#7370# will reset your phone to factory defaults (also called a hard reset) as if opened from the box for the first time. However using this combination will require you to also know the security code of your phone as you will be prompted for it.
Another way to do a Hard reset is -- Switch off the phone. Then hold the Call, 3 and * keys together while powering on the phone and keep them pressed until you hear the Nokia Startup tune. However, a hard reset does not reset the lifetime meter of the phone.
Warning / Disclaimer:
Before doing a Hard reset, make sure you have a proper backup of your Nokia phone content. A hard reset erases all user content (like Contacts, Calendar, Messages, Notes, Themes, Documents, Images, Videos and installed Applications) from the phone memory that is impossible to recover. In order to perform a backup, follow the below steps -
* Ensure you have the latest version of Nokia PC Suite -- see Section 3: Nokia PC Suite for more details.
* Backup your device memory to your PC using Nokia PC Suite.
* Copy your files (music, videos, documents, images etc) from the Nokia phone's hard drive to your PC (use of USB mass storage recommended) -- applicable for N91 and phones with Hard Drives.
* Copy any original SISX, Java, etc. installation files for your applications, themes, etc. from your Nokia phone's memory to your PC. (Do not simply copy over the installed directories/files.)
After performing the Hard Reset -
* Restore your device memory from your PC using Nokia PC Suite by selecting Backup from the PC Suite menu and then selecting Restore.
* Copy any hard drive or memory card contents from your memory card or PC back to your clean hard drive or memory card.
* Re-install your applications/themes.
2. Special keys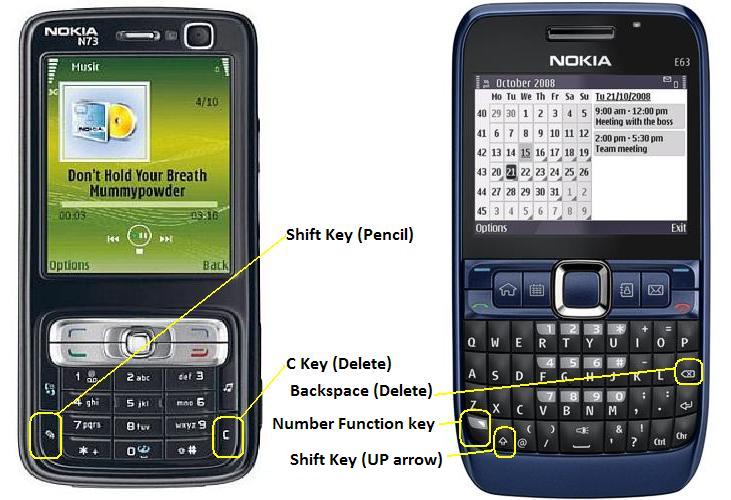 C or Delete key is a single key that avoids one having to dig into options (using Soft-keys) and then find the delete option. It also acts as an uninstall button when used on the icon of an installed application.
Shift key is generally in the form of a Pencil or a Vertical Up arrow. When used together with the direction and selection keys, it helps to select text and / or items in a list. It also gives you the option to copy text / selected items to the phone's clipboard for further action (like pasting in multiple locations).
Volume rockers are generally placed on the sides of the phone but just in case your phone doesn't have them, then the number function key & up / down arrows used in combination will help you control the volume.
3. Nokia PC Suite
Download it from
http://www.nokia.co.in/get-support-and-software/download-software/nokia-pc-suites/compatibility-and-download
Nokia supports transfer of data to and fro from the phone using Windows XP and the later versions of Windows. Using the software, you can backup contacts, calendar, messages and other data on the phone to your PC. It also helps to transfer music, videos, sync your bookmarks and connect to the internet (using your phone as a modem). However, this is only for Windows users. Apple and Linux users can also connect the phone to transfer contacts and other information but Nokia does not support that fully.
4. Memory Card
The Memory Card, which is pretty much standard these days (nowadays microSD cards are becoming more popular than the others), can be used both ways via the PC suite or as a USB key. Data transfer using Nokia PC suite is generally slower.
When you create a backup of your phone memory on the memory card, it is generally stored in this location --- MemoryCard\Backup\backup.a
rc This is a composite backup specific to the phone model using the Memory Card.
When you copy Contacts from your Phone memory to your Memory Card, they are stored as files with vcf extensions. Each Contact is a different file and the best part is that it is in the Outlook Address Book format that is compatible with other phones too. They are generally stored in the location -- MemoryCard\Others\Contacts
Folder.
5. Applications
Fring
- fring is a free mobile application that lets users communicate with friends on popular networks over their mobile phone's internet connection. Fring users make free mobile calls, video calls, live chat & more, from their mobile phone with all their friends on fring & other internet services like MSN Messenger, GoogleTalk, AIM, ICQ, Facebook & Twitter, all through one central, integrated phone book. Website –
www.fring.com
Quick Office - It comes preinstalled on most of the newer phones. It helps you to create Word Documents, Excel Spreadsheets and Presentations on the Phone itself. Quite handy when you are on the move.

Adobe PDF - It also comes preinstalled on most of the newer phones. It helps to view PDFs and print them too, if you have a compatible Bluetooth printer.

Notes - This is part of the Nokia Operating System. It helps you to store text that would not fit anywhere on your Calendar quite similar to creating a text file.

Screenshot Utility
- It helps you to take screenshots of the Phone Screen to get help while posting on a forum or any other purpose. This is a signed application. Transfer it to your phone using PC suite or via Bluetooth and click on the File to install. You will find the installed application under Installations folder or whatever folder that maybe applicable to your phone.
Download it from
http://www.antonypranata.com/screenshot/download-screenshot-symbian-os-s60
Click on the section labeled
Screenshot for Symbian OS (S60 3rd Edition) version 3.01
that is
not
followed by UNSIGNED.
Opera Mini
- download it from
http://www.opera.com/mobile/download/
Most of us are familiar with the Opera web browser on PCs. The same thing is provided for mobile phones in a lighter package. I found it to be the best in class because of the following reasons –
1. Excellent User interface.
2. Supports tabbed browsing.
3. Compression technology – traffic routed via Opera's servers save up to 90% of internet traffic resulting in a faster browsing experience.
4. Supports importing Bookmarks from your PC.
6. Connecting to the Internet
You can tether your phone to your PC and connect to the internet using GPRS / 3G services from your Cellular Service Provider. Earlier phones required you to first install PC suite. This helped your PC identify and work with your phone which also provided with an interface to connect to the internet. This ultimately defeated the purpose of mobility and instant connectivity since you had to have a copy of the Nokia PC suite installer beforehand.
When connecting with a USB cable, the phone offers a variety of options and operates in that mode namely –
1. USB Mass Storage (Memory Card functions as a USB key)
2. PC suite (the phone requires PC suite installed in advance on the PC that provides you with an advanced interface from Nokia to manage / backup contacts, messages and other data stored on the phone)
3. Music Player
4. Digital Camera
5. Connect to the Internet.
The last option is important as this allows the phone to connect to the internet without PC suite installed. Of course, it provides a light weight installer that installs only the Internet connectivity module of Nokia PC suite. However, it saves botheration of carrying around the Nokia PC Suite installer CD. Again this is for Windows users only.
7. Push Email Technology like the Blackberry
Nokia provides a subscription based service that helps you to pull mail from multiple email accounts all in one place on your phone. See
http://email.nokia.com/account/home.action
for details.
8. Firmware Updates
If your phone is acting sluggish and it has been a couple of months since you purchased it, backup your phone's data & try a Hard reset as detailed above. If still no dice, then you may need to upgrade the firmware of your phone quite similar to upgrading the firmware on your Router or a similar device.
See
http://europe.nokia.com/support/download-software/device-software-update
&
http://europe.nokia.com/support/download-software/device-software-update/how-to
for more details. You will need the following to do a firmware update-
PC running Windows XP Service Pack 2 (or higher) or a higher version of Windows.
A high speed connection to the Internet.
Your Nokia phone USB Cable.
Your Nokia Phone with a fully charged battery.
Closing Comments:
It may interest you that this is one of the few articles I have written on Experts Exchange. You may find links to the others at
My Member Profile
Page. Scroll to the "Skills / Accomplishments Section" to view them all.
Was the read worth it? May I request you, the reader, to kindly click the small blue "Yes" button at the end of this article, where it states "Was this article helpful?" if you really did find it helpful. A "No" is also welcome, so that at least I will know that you got through the stuff I wrote.
Please post comments, so that I may improve on it further. Your input will help me to improve and benefit all future readers.
Ravi.