Cell comments are used very often on worksheets but they look always the same way because most users don't know that they can change the shape of the comment. Instead of being this normal yellow rectangle, it can have lots shapes and colors.

To change the comment shape, make sure that the comment is visible by right-clicking the cell where the comment is placed and choosing Show/Hide Comments options. Then just select the comment border and, in Excel 2003, go to the Draw menu and choose the Change AutoShape option and select the shape you for your comment.

For Excel 2010, you have to add the Change Shape button to your Quick Access Toolbar (QAT). Click on the right arrow on your QAT to open the Customize Quick Access Toolbar, like shown on the picture below. Click on the More Commands option to open the Excel Options dialog window.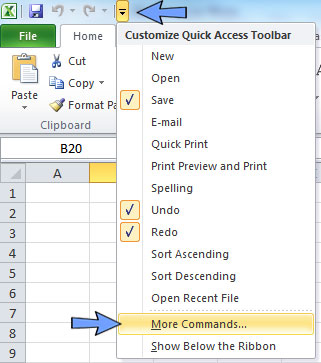 On the "Choose commands from" dropdown, select the Drawing Tools Format Tab. On the bottom list, select the Change Shape button and click the Add button. Click OK to close the Excel Options dialog box. Your Change Shape button will appear on your QAT like this:

Now that you have your button, you can select your comment border, click on the Change Shape button and select the shape that you want for your comment. the result can be something like this:

Don't forget that you can also change the fill color of your comments, the color and weight of your comments border, as well as many other customizations that you can do to your comments for them to stand out on your worksheet. You can create custom comments for each type of comment that you place on your sheet, for instance, you can create red comments for important comments, green ones for closed subjects, etc. You don't need to stick with the custom yellow rectangle.