How many times recently have you prepared a presentation or emailed a document to a client and you have found that they have older versions of MS Office and they can not open the file you have prepared. Although most visitors to this site are experts and we prepare for these eventualities, this is one tip to ease your frustrations, as not all organisations have the ability to upgrade as frequently as we do, especially in these economic times!
This article was also designed for the end-user, as the numerous times that end-users report back to helpdesk's complaining that, "My file will not work on a client's computer", or the old adage of "My file is corrupt; because the client says they can not read it!". Rather than explaining the nuances of backward compatibility, simply send them a link to this article!
To ensure all end-users can read your current office files if produced in Microsoft Office
2007 or 2010 applications, it is advised that you alter your compatibility options, as detailed
below in the diagram (fig.1)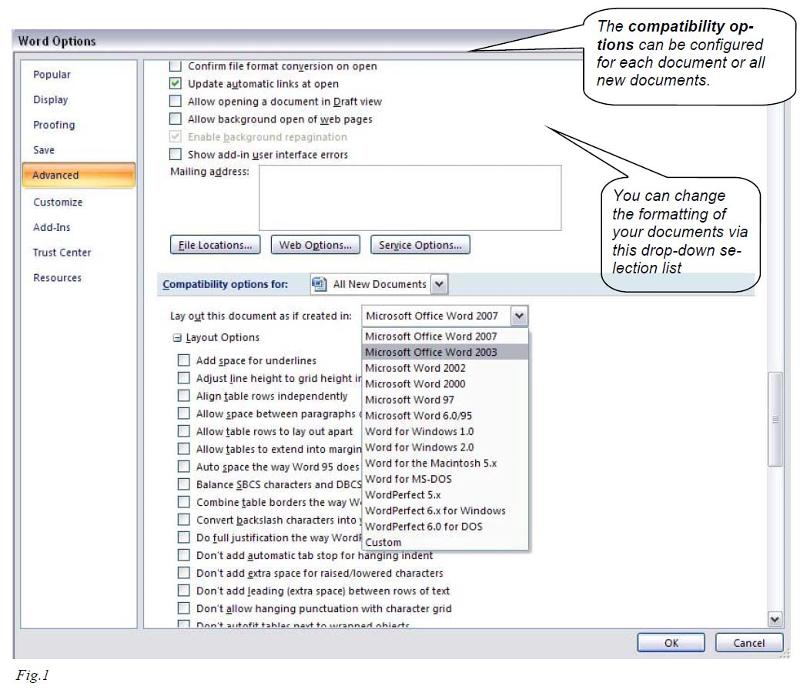 If you need to save your other Microsoft Office
2007 documents to be compatible with previous
versions of Microsoft Office select "Save As.."...