With the higher take up rate of SAN's, virtualisation etc, windows devices with more than one network interface are becoming more common. As a general rule when a service that is installed on a Windows operating system is running, it only listens on one IP address at any one time. This is a general rule and there are always exceptions.
Because of this, we can often find that the services we are used to having available to us don't work. I had my very own instance of this only last week when I was setting up a new Forefront Threat Management Gateway server. One minute I could remote desktop to it, the next I couldn't.
For this article we will concentrate on the remote desktop service since it is the one that I see questions asked about most often.
These steps are very specific to resolving the use of Remote Desktop Services on Windows 2008 R2. By default when the service is installed it listens on all available network interfaces (see image below). This is where the confusion can come in.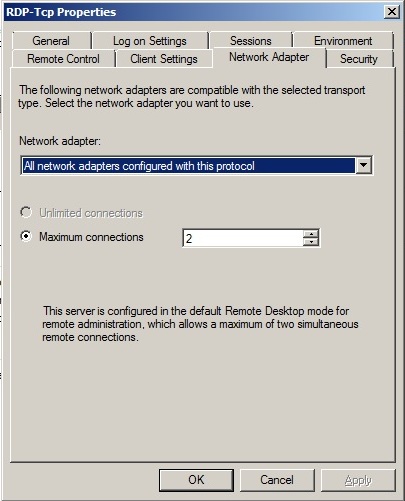 So, what we need to do is configure the Remote Desktop Service or listener to only listen on the network interface that we will be using to connect to it.
Solution
Thankfully as far as Remote Desktop Services is concerned there is a quick and easy fix for this.
The first thing we need to do is launch the Remote Desktop Session Host Configuration. This can be found from Start > All Programs > Administrative Tools > Remote Desktop Services (as shown below)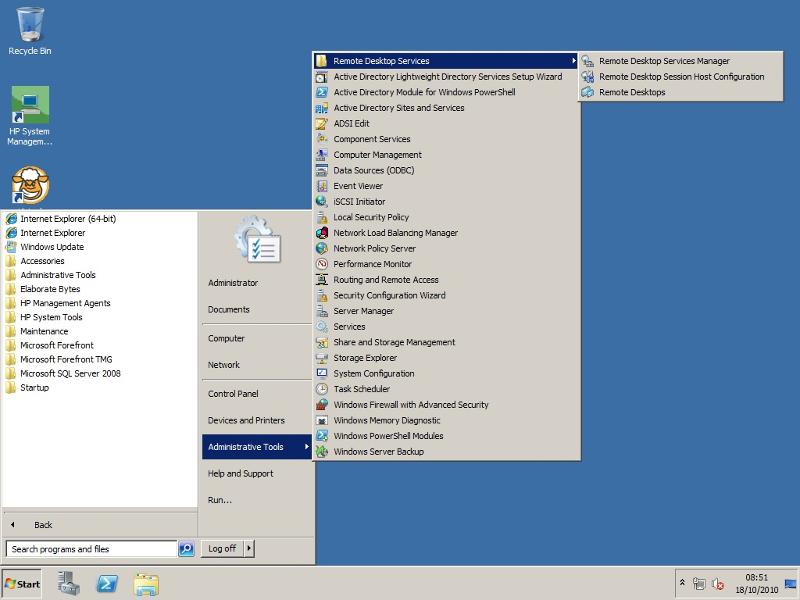 Once the console has launched you will see in the middle window a Connections section. And within here is the RDP-TCP connection (as shown below). Right click this and select properties.

From here select the Network Adapter tab and change the Network Adapter to the interface card that you will use to connect to this server using Remote Desktop Client (as shown below).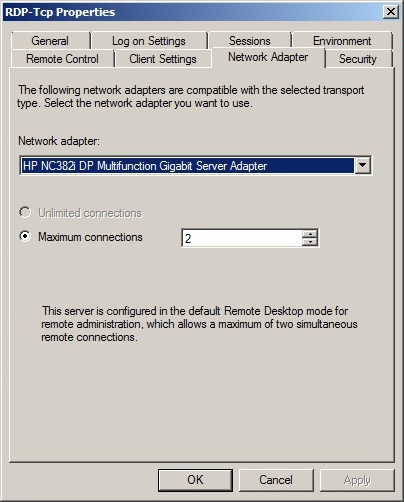 Once that is done, click OK to the dialog box and close the Remote Desktop Session Host Configuration console.
We then need to find and restart the Remote Desktop Service. To do this open the services snapin from Start > Administrative tools (or click Start > Select run and type services.msc click OK)
Locate the Remote Desktop Service (as shown below) and right click and select restart.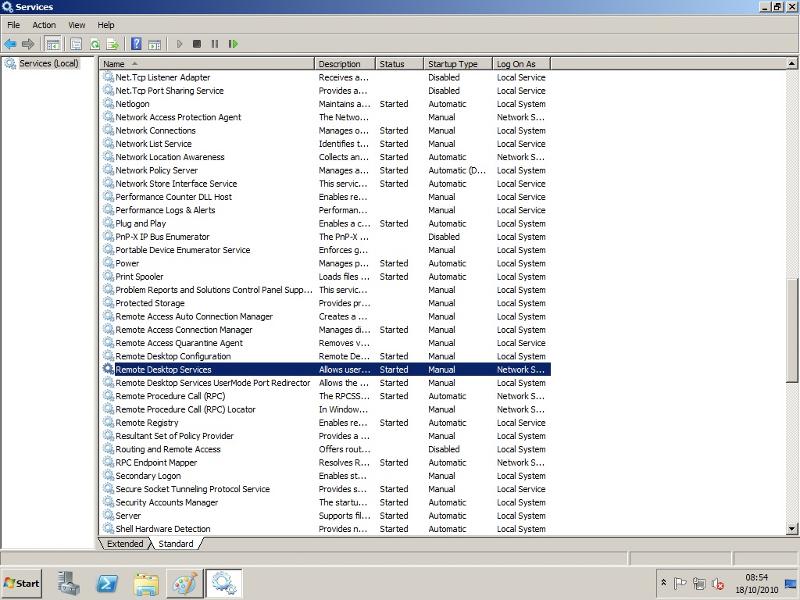 Conclusion
In this article we covered how to very easily resolve the Remote Desktop Services connection issues when using a server with multiple network interface cards.
This same resolution can be applied to many other services using the appropriate snap-ins.
=-=-=-=-=-=-=-=-=-=-=-=-=-
=-=-=-=-=- =-=-=-=-=- =-=-=-=-=- =-=-=-=-=- =-=-=-=-=- =-=-=-=
If you liked this article and want to see more from this author, please click the Yes button near the:
Was this article helpful?
label that is just below and to the right of this text. Thanks!
=-=-=-=-=-=-=-=-=-=-=-=-=- =-=-=-=-=- =-=-=-=-=- =-=-=-=-=- =-=-=-=-=- =-=-=-=-=- =-=-=-=

Written by Glen Knight (demazter) as part of a series of how-to articles.