As an IT Consultant I have the need to have access to multiple mailboxes on different Exchange Servers remote from my working location.
In previous versions of Outlook this meant I had to either use different outlook profiles or settle for using Outlook Web App (OWA) which made it difficult to copy data in between mailboxes and or have access to scheduling details from both servers.
This scenario could also be true for someone who works for 2 different companies and wants to see the exchange information from both servers side by side (calendars/contacts etc).
Thankfully in Outlook 2010 this is possible. We have the ability to add up to 3 different mailboxes from different Exchange Servers. This is not the same as adding an additional mailbox in the traditional way using the "Open the additional mailboxes" (screenshot below).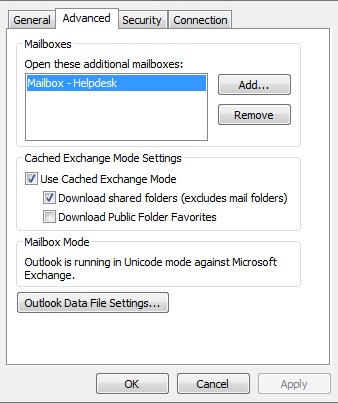 Solution
Now, Microsoft have given us the ability to add additional Exchange Accounts to Outlook 2010. This feature means we can setup either 3 accounts to connect directly to out Exchange servers, 3 different Exchange Servers using RPC-HTTPS or a mixture of both.
Step 1 – Create a new Outlook Profile
We will be creating a new Outlook profile to demonstrate this but the steps are identical for adding an additional mailbox to an existing profile.
We will setup a standard Exchange Mailbox and then add an RPC-HTTPS mailbox from another Exchange organisation hosted off-site. This is using Outlook 2010 and Windows 7
Click Start > Control Panel > User Accounts and select Mail, you will then see the Mail Setup – Outlook screen (image below). Click on the Show Profiles button.
On the new screen click Add and give your profile a name, click OK. On the following screen select "Manually Configure server settings or additional server types" and click next.
Step 2 – Add a Local Exchange Account
We then see the
Choose Service
screen (as below). Select Microsoft Exchange and click Next.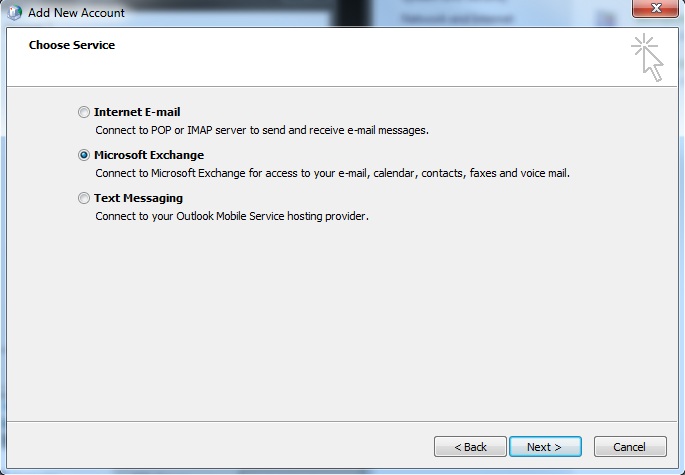 Enter the name of the Exchange Server you will be connecting to and the username of the mailbox you will be opening (this is the locally configured mailbox – we will do the RPC-HTTPS one later) then click Next. Do not click Finish yet.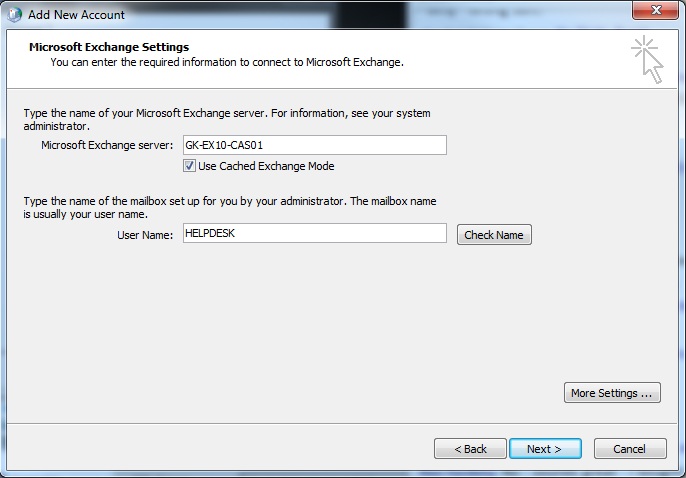 On the
Congratulations!
screen there is an
Add another account…
button. We can continue our configuration of the RPC-HTTPS account by selecting this option. Again select the Manually configure server settings or additional server types and click next.
Step 3 – Add an RPC-HTTPS Account
On the
Choose Service
select
Microsoft Exchange
then click Next. In previous versions of Outlook we would not have been able to do this because we have already setup an Exchange account on this profile.
Before entering the Microsoft Exchange Settings click the
More Settings
button and select the connection tab. On this tab (screen below) put a check in the
Connect to Microsoft Exchange using HTTP
and click the
Exchange Proxy Settings
button.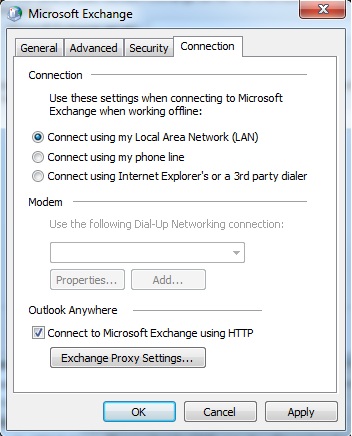 On the
Microsoft Exchange Proxy Settings
(image below) screen enter the URL used for Outlook Anywhere for the offsite mailbox. For many organisations this will be the same as the Outlook Web App (OWA) URL but it may be different so best to check if you are unsure.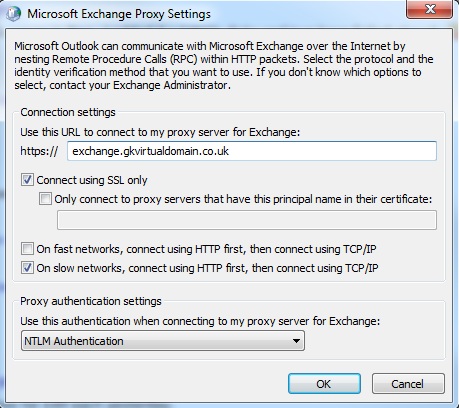 You will also need to check the Proxy authentication settings, as depending on the Exchange server configuration this will be either NTLM Authentication or basic. If when you finalise the connection you are unable to enter the credentials, or you are repeatedly asked for credentials then this setting is probably wrong.
Click OK on the Exchange Proxy Settings screen and OK on the open dialog box. Back at the Exchange Settings screen enter the servername. This is the actual name of the server (do not use an external URL here, it will not work) and the username or email address of the mailbox you wish to connect to (image below).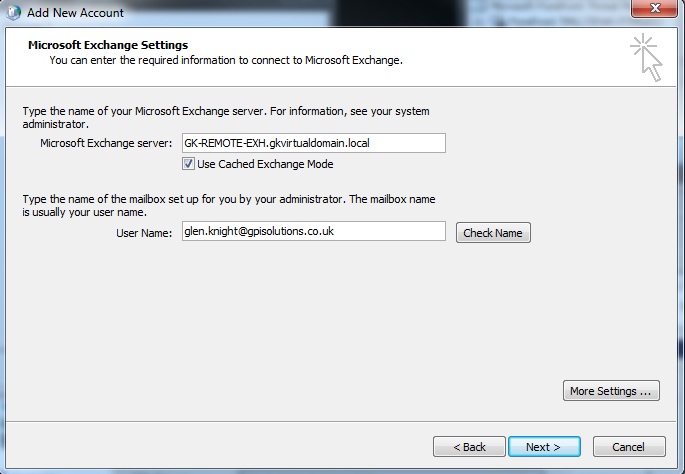 Once done click Next and then finish. Launch Outlook 2010 using the profile you have just created. This will then give you access to both mailbox within the same Outlook window. You will be able to drag and drop data between mailboxes as well as see calendaring information side by side.
When you create a new message you can select which account that the message is sent from and set different signatures for different accounts (for another article).
=-=-=-=-=-=-=-=-=-=-=-=-=-
=-=-=-=-=- =-=-=-=-=- =-=-=-=-=- =-=-=-=-=- =-=-=-=-=- =-=-=-=
If you liked this article and want to see more from this author, please click the Yes button near the:
Was this article helpful?
label that is just below and to the right of this text. Thanks!
=-=-=-=-=-=-=-=-=-=-=-=-=- =-=-=-=-=- =-=-=-=-=- =-=-=-=-=- =-=-=-=-=- =-=-=-=-=- =-=-=-=

Written by Glen Knight (demazter) as part of a series of how-to articles.